Have you already gotten the best crate possible for your dog and are now looking for the best orthopedic crate pad for them?
If that's the case then you should definitely continue reading this article where we reviewed our top picks for these pads. We made sure to include all of the beds possible so you can find a large or even an XXL pad.
The Summary
Best 6 Orthopedic Crate Pads
BEST OF BEST ORTHOPEDIC CRATE PAD
Barkbox Memory Foam Platform Dog Bed
Single Sheet Pad
Orthopedic crate pads come in all shapes and sizes but the most typical ones you'll find are memory foam ones. They can either be made out of shredded memory foam or out of a single foam sheet like this one. It's 3-in thick so you won't have to worry about your dog getting into contact with other surfaces.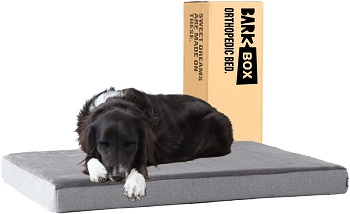 2 Foam Types
Since it is made out of a single sheet of memory foam, this orthopedic crate pad has a high-density foam that relieves pressure while on top it has a memory foam with a gel that regulates temperatures. This means that your dog will be kept both cool and warm depending on what is needed.
Foam Protection
To make this bed last your dog a long time, the memory foam needs to be protected from liquids like dog urine. This is where its cover comes into play that's waterproof and can be washed inside a washing machine. You'll get to separate it by unzipping it and taking it off.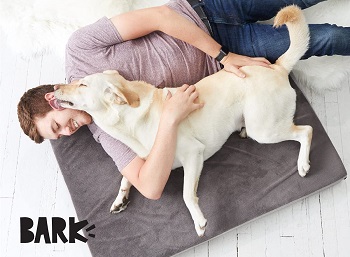 Color Coding According To Crate
If you want to color code this pad you can do so and especially with indoor dog crate furniture that has more neutral colors just like the pad. It's 35-in long so you'll easily get to place it inside a 36-in long crate. These are considered to be intermediate dog crates that can house dogs that are somewhere in between large and medium.
In Short:
Has a temperature regulation gel foam
Additionally, it has a high-density memory foam
The cover is waterproof and washable
Can fit inside most 36 in long dog crates
BEST WATERPROOF ORTHOPEDIC DOG CRATE BED
Big Barker Waterproof Crate Pad
Recommendation Explanation
We really don't have to think twice about recommending this pad with heavy-duty metal dog crates. The reasoning behind it is that these crates typically house aggressive and highly active dogs and this pad is tear-resistant so it goes well with it.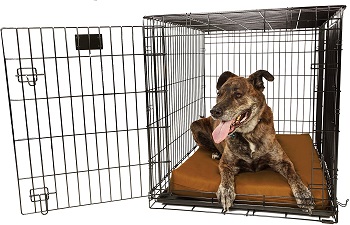 Perfect Lining Inside Crate
It has the perfect dimension for a 48-inch heavy-duty dog crate that's also 30-in wide. If that's the case, this orthopedic dog crate pad will fit perfectly between the raised lip edges of dog crate plastic liners. You'll find these plastic liners on wire crates mostly.
Foam Types
The Big Barker crate pad doesn't feature memory foam but it will still hold its shape well after years of use. The secret to this is the use of two foam types. One foam type that's 2-in thick is h10 comfort foam while the other 2 inches of thickness are reserved for h45 comfort foam.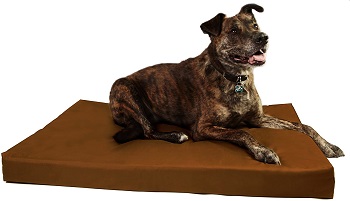 Cover Fabric
The fabric of this waterproof orthopedic crate pad is so durable that it won't break even if it were to hit the ground marching at it at a high speed and 10000 ft height. The fabric in question is Cordura nylon that's weaved tightly. It's completely waterproof and won't soak up any liquids.
In Short:
Has a 2-in thick h10 comfort foam
Additionally, the top 2 inches of foam are h45 foam
The cover is completely waterproof
The material used for the cover is Cordura nylon
Fits perfectly inside 48 x 30 dog crates
It is tear-resistant.
BEST MEMORY FOAM ORTHOPEDIC DOG CRATE PAD
American Kennel Club Orthopedic Pet Bed
Choosing The Color
If you don't like the grey color of this bed you'll get to choose between 6 other colors so one is bound to suit your taste. these colors include black, brown, sage, green, tan, and even navy color. They're not exactly wild-looking colors but that's perfect if you want to get it for a black dog crate.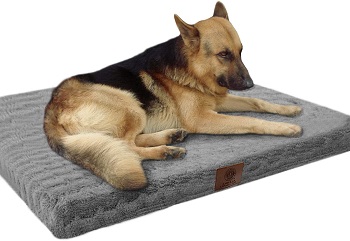 Foam Thickness
The memory foam inside the bed cover of this memory foam dog bed for crate is 3 inches thick which should prove to be enough for your dog to really rest on the bed and not get into contact with the floor. This is really important since these beds are typically made for elderly dogs with arthritis or even joint pains.
Bottom And Top Of Cover
You'll get to easily take the memory foam out of the cover of this orthopedic dog crate bed because it open with a zipper. The bottom and top of this cover are not the same. The bottom is non-slipping while the top features an incredibly comfortable plush.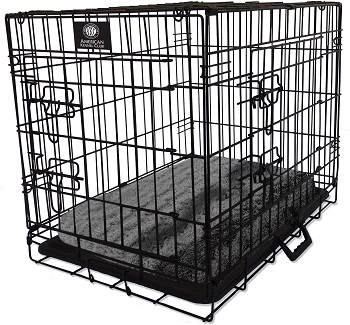 Crates It Fits Inside Of
If you want to cover the whole bottom of a crate with the American kennel club orthopedic dog crate mat you'll do so by getting a large wire dog crate. This is true because wire crates have the most standard crate sizes. This bed is 42-i long and a large wire crate is typically 42-in long as well.
In Short:
Made with memory foam
Comes in 7 different colors
The top cover is plush
The bottom of the cover is non-slipping
The pad is 3 inches thick
Can fit inside standard large dog crates
BEST LARGE ORTHOPEDIC CRATE PAD
K9 Ballistics Orthopedic Crate Pad
An Inch Shorter Than The Crate
For each pad size and which includes the small, medium, large, extra-large, and giant the length of the pad is an inch shorter than the crate size. This is great because it means that you'll get to fit them inside standard-sized dog crates that are typical, 24, 36, 42, 48, and 54-in long.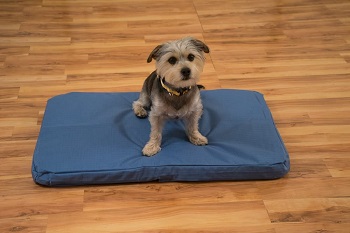 Crate Type Recommendation
The K9 ballistics orthopedic crate pad we're reviewing can fit inside large 42-in crates. We wouldn't go as fast as to recommend it for heavy-duty large dog crates but you can feel safe when putting it inside 42-in dog crates with divider since it's chew-resistant and these crates typically house puppies.
Cover Details
It has a cover that you'll have to take off to wash this dog crate pad because. The cover is here to protect the foam inside and it'll do so incredibly well since the cover is resistant to moisture, dirt, hair, and even grime. You can wash it inside a washing machine or with a damp cloth.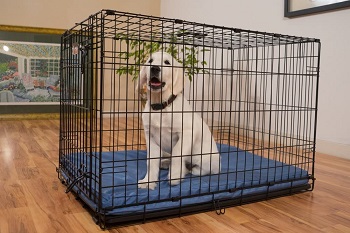 Foam Inside And Zip-Ties Use
You will even get zip-ties with this pad. if you're wondering why it's to attach the corners of the bed to your crate since dogs tend to chew on corners the most. The foam inside is orthopedic and it's 2-in thick. It will provide great relief for your highly active dog when it's time to rest.
In Short:
Comes with zip-ties to secure the corners to the crate
The cover is moisture, dirt, hair, and grime resistant
The whole pad is chew-resistant
Fits standard-sized large dog crates
The foam is 2-in thick
BEST SMALL ORTHOPEDIC DOG CRATE BED
Furhaven Orthopedic Dog Bed
Egg Crate Foam
The foam used to create orthopedic support of this mattress is not memory foam but instead, it's egg crate foam. These are 2 very different foam types since the magic of egg crate foam is its shape while memory foam uses a special type of foam. They are different but they do the same for your dog.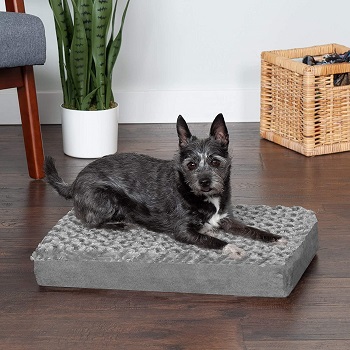 Foam Shape Use
We would describe the shape of egg crate foam as hilly. It has an abundance of little hills and valleys and it helps distribute your dog's bodyweight properly all the while providing cushioning and relieving the dog's pressure points. This means that it's great for elderly dogs.
Cover Cleaning
The top of this orthopedic dog crate beds cover is made out of faux fur but it's ultra soft and plushy since this is where your do will rest. The cover is designed to protect the foam from getting wet. You'll also get to easily clean it since it's completely machine washable.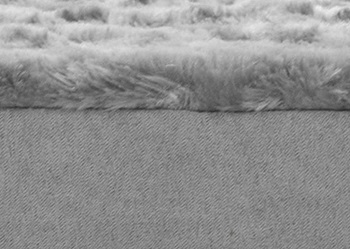 Customizable Size, Color, And Foam
The pad is 20-in long and 15-in wide so it's fit for use in 22-in dog crates. These crates are considered to be extra small dog crates. You can buy bigger versions of it and you can even change the foam type and color of its cover so it's completely customizable.
In Short:
Made with egg crate foam
The foam distributes body weight to relieve pressure
The top of the cover is made out of faux fur
The cover protects the foam from getting wet
You can wash the cover in a machine
Fits inside 22-in dog crates
BEST XXL ORTHOPEDIC DOG CRATE PAD
The Dog's Bed Orthopedic Dog Bed
Giant Breed Joint Concerns
Did you know that giant dog breeds tend to suffer more from joint pains, arthritis, hip dysplasia, and other joint conditions? That's why it's really important to get them a bed with orthopedic support. You'll have to get a bed fit for crates for giant breed dogs that are 54-in long and this is the one that is.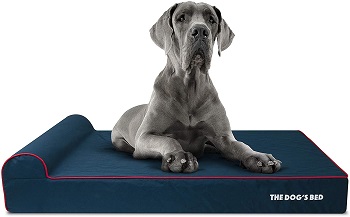 Easy Clean Cover
The cover of this crate is an easy-cleaning one. You can get the plush one but since this is an orthopedic dog crate bed for giant dogs that tend to drool a lot more than others, this is the perfect solution so that you don't have to wash it that often in the machine, but instead you can wipe off minor dirt particles.
Memory Foam And Support Foam
Additionally, this dog bed has a waterproof cover on the inside whose sole purpose is to protect the memory foam inside. The memory foam is 2-in thick and has a high density and stands on a 4-in thick base of support foam. In total, you'll get a 6-in thick bed.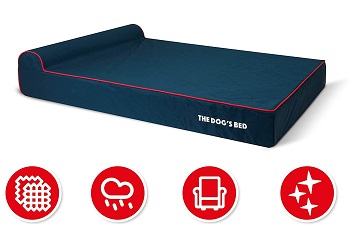 Durability For Years
The bed also had a headrest on one of its sides. The bed can definitely last you for years of use and you can even replace the cover when need be so that you don't have to waste your money on buying a new bed now and then. You can change the cover's color as well since it comes in 20 different ones.
In Short:
Has a 2-in thick memory foam
The 4-in thick base is made from support foam
Has a headrest on one of its sides
The outer cover is easy to clean and machine washable
Has a waterproof internal cover to protect the foam
Designed to fit inside giant dog crates
How To Pick A Orthopedic Crate Pad
If you want to prevent your dog from getting joint diseases early on, it's really important that you get an orthopedic pad for them. Not all pads will do their job the same and not all dogs can be on the same pad either because of their size or behavior so make sure you get it right by reading this useful buying guide.
Joint Problems According To Breed – Every dog breed can suffer from joint problems but some are more likely to than others. Typically, the ones that do suffer these problems are large dogs but small dogs can have them too. The breeds that are most likely to suffer from these are Rottweilers, German shepherds, Dachshunds, Great Danes, Labradors, Saint Bernards, Newfoundlands, and at last old English sheepdogs.
How They Work – The way these pads work is quite simple. By offering a soft but well-made foam pad that's either made out of memory foam or egg crate foam, your dog's body weight will get distributed evenly all the while providing stress relief on some of his pressure points.
When Should You Get One – we would definitely advise you to get a bed like these in the early stages of your dog's life to make the joint problems appear later on in life and not too soon. If you familiarize your puppy with the bed, it might be easier to crate train since dogs need something familiar when they first start their crate training journey in training cages for dogs.
How To Size It Right – If you have a standard size crate which is typically wire crates, you'll need to make sure that the orthopedic dog crate pad you're getting is 1-in shorter than the crate's length. Some can be smaller but make sure they're not bigger. You should also think about your dog's size when choosing a bed so if you got a 54-in long crate, you should get the same size bed.
To Sum Up
What we found to be the best orthopedic dog crate pad that we can't but not recommend is the Big Barker Waterproof Crate Pad. It has a military-grade and completely waterproof cover that will protect both the 2-in thick h10 foam and the 2-in thick h45 foam amazingly well. If you've decided on a bed but need a crate we definitely have to recommend you read the article about XL wire dog crates since these dogs should be the most common users of these beds and if you want a crate to travel with these dogs we advise you read the article about giant dog crates airline approved.