Is it really important to you that you get a 22 inch dog crate no matter if it's its height, width or length?
If that's the case, you will want to continue reading this article where we reviewed the best ones that match these three descriptions. We've even gone as far as to categorize them so it would be easier for you to manage what you want to read about according to your dog's needs. Here you'll find puppy crates, folding crates, and even wooden crates with more to come.
The Summary
6 Best 22 Inch Dog Crates
BEST OF BEST 22 INCH DOG CRATE
MidWest Homes For Pets iCrate
Extra Supplies
This crate is probably everything that you'll need when you first start crate training your puppy or dog. You don't have to buy extra supplies because it already comes with them. These supplies include a crate cover for dog privacy, food and water bowls that you can attach to the crate itself, and a fleece bed.
Accidents Are No Problem
We did mention that you can crate train puppies inside but that's not the only thing you'll get to do. The crate comes with an adjustable puppy crate divider that helps potty train growing puppies by adjusting to their size. If your puppy does urinate inside this 22 inch dog crate you won't have to worry about it getting on your floors as much because of the plastic cleaning tray.
Inside And Outside Safety
There's more than one way that you can consider this to be a safe crate. It's safe for your floors because of the roller feet that will prevent the crate from scratching your floors and it is safe for your dog because the inside has rounded corners so that your puppy or dog doesn't pinch his paws.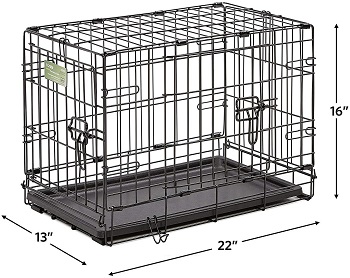 Fold-Down Design Use
You'll even get to travel with this crate. It's easily transportable because it only weighs 9.5 lbs even though it's made out of steel wire. When you fold it down you can carry it with a handle. This folding metal dog crate design can be useful for crate storage as well.
In Short:
Made out of steel wire
Comes with a cover, bed, and bowls
Has rounded corners for safety
Able to house puppies becuase of the adjustable divider
Can easily be folded down
Has roller feet for floor protection
BEST 36 X 22 DOG CRATE
OxGord Steel Wire Dog Crate
Wire Durability Explanation
If you were to make a highly durable dog crate out of steel wire you would either use a heavy gauge wire or a high tensile wire. This crate uses high tensile wire and what this means is that it has a lower carbon content making it more durable and strong.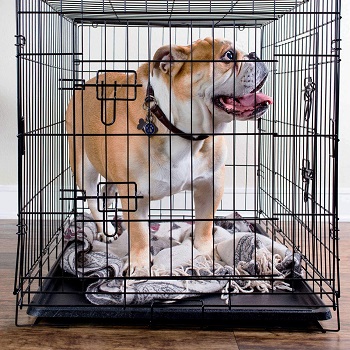 More Durability Details
It's not only a high tensile wire crate but alo a heavy duty metal dog crate. That's because it uses heavy duty solid steel for its build material. It even has an electro coat that makes the whole 22 inch dog crate resistant to rusting. This is great because you can rely on it to not be rendered useless prematurely if ever.
Entries And Design Detail
Just like any standard wire crate, it's got two entry points located in the front and on the side that can be locked with 2 sliding bolt locks each. When you're not using it or if you want to easily transport it, you can rely on it to fold down easily and fast. You'll even get to carry it with a handle.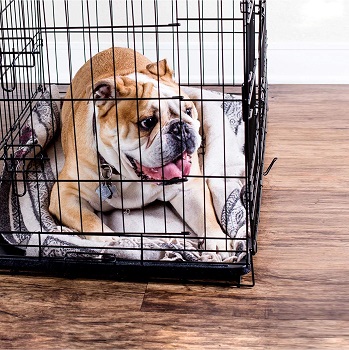 Proper Sizing
The dog crate 22 inch model we reviewed first was in fact a crate made to hosue extra small dog breeds but that's not the case with this 36 x 22 dog crate. It's 22 inches tall but in terms of size it's an intermediate dog crate because it's 36 in long. You'll get to house dogs up to 70 lbs inside.
In Short:
Made with high tensile wire
Has a heavy duty solid steel frame
Has a rust-resistant electro coat finish
Has a front and side door
Can be folded down and carried with a handle
Can house intermediate dogs up to 70 lbs
BEST FOLDING 22 INCH DOG CRATE
Lucky Dog Sliding Door Dog Crate
Standing Out With Doors
This is both the third and last wire crate we are reviewing. Each of these crates stands out in some way and on this one the first thing that stands out is its doors. The double side doors makes it a sliding door dog crate. Sliding doors tend to save you sapce if you leave the crate open for free entry and exit. There's also a regular door in the front.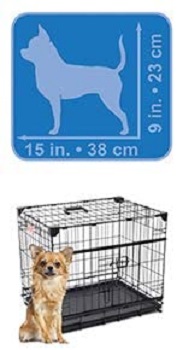 Less Noise
If you ever owned a wire crate of any size before you'll know that these crate produce a lot of rattling noise. If you get this 22 inch dog crate the rattling noise will be reduced because of it's corner stabilizers on top corners. You can easily take them off to fold down the crate when needed.
Here For All Life Stages
It's got a standard steel wire build and features a rust-resistant e-coat to make it last a long time. You won't get a divider with it but it's easy to get one for this size for crate so that your puppy can go through crate training and potty training in the same crate he will grow up in.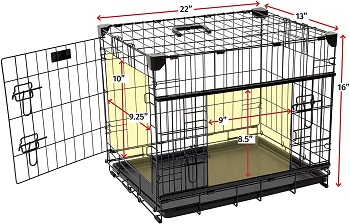 Size In Terms Of Weight And Dimensions
You will have to make sure that you've checked out your puppy's approximate size if you plan on getting a divider for it. The crate can house extra small dogs that have an adult height of 9 inches and lenght of 15 inches. You shouldn't focus on the weight limit that much but it's made for dogs under 25 lbs.
In Short:
The steel wire has a rust-resistan e-coat
Features 2 sliding door and a single regular door
Can house dogs up to 9-in tall and 15-in long
Doesn't come with a divider but it's purchasable
Has corner stabilizers for reduced rattling noise
BEST WOODEN 22 INCH DOG CRATE
Birdrock Home Wooden Dog Crate
Crate Trained Dog Crate
This is the first, out of two, dog crates that we will review with a warning. The warning is that they shouldn't be used for containing dogs that haven't been crate trained. This is mainly due to the fact that it's made out of MDF wood. The sides are made out of steel wire but it's not enough to handle chewing.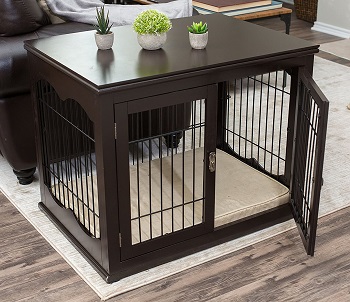 Multiple Functions
If you get this 22 inch dog crate for a crate trained dog the thing that you get with your purchase will be amazing. Not only will you get a dog crate but als indoor dog crate furniture. This crate is made to look like furniture and designed to function as one becuase of its top where you can place your things.
Doors And Their Locks
Thanks to the double side door and the single front door, you'll have more options in terms of how you're going to postion and place this medium wood dog crate inside your home. The door lock with a single door lock each. The locks are made out of brass hardware.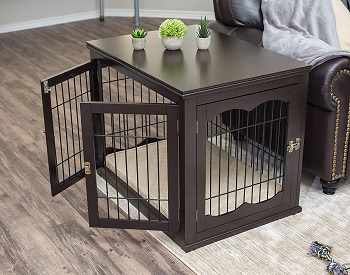 Comfortable Both In Size And Supplies
Your dog will truly be comfortable while inside this crate because of the fact that it comes with a dog crate bed. The bed can both be removed and washed. Even though it's 32-in long it is advised you use it to house small dog breeds that weigh up to 25 lbs or even less.
In Short:
The crate is made out of MDF and steel wire
Can only house crate trained small dogs
It's 32-in long and 22-in wide
Has three entrances
The door lock with brass hardware
Comes with a removable bed
BEST FOR PUPPIES 22 INCH DOG CRATE
Diggs Revol Dog Crate
Two Durable Materials
This crate is two things in terms of build durability. It's strong and reliable and that's true because its both an aluminum dog crate and a heavy duty plastic dog crate. It uses reinforced plastic for the frame andd aluminum steel wire that's high grade for its sides.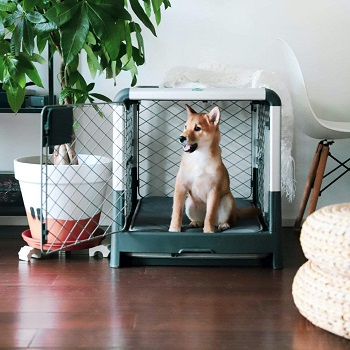 Doors And Their Purposes
It acts well inside homes because of the three entrances it has. The first one is located in front and feature an ergonomic handle that can only be opened by humans. The second one is a side door that opens like a garage door to save you space and the third one is the top door for easy pet to owner interaction.
Puppy And Adult Dog Safety
You'll not only get to house a puppy inside because of the adjusstable divider panel it comes with but also because it's safe for puppies. This is true due to the fact that this 22 inch dog crate is made to comply with baby industry standards. It's not only safe for puppies but for adult dogs as well.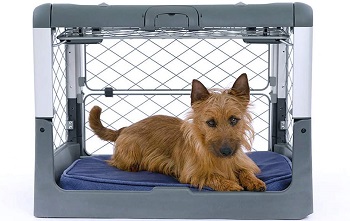 Traveling And Size
You'll get to travel easily with this crate for three reasons. It's because it comes with built-in wheels, a handle and it can easily be collapsed. It's a dog crate 22 inch model because of it's height of 22 inches. It's lenght comes at 32-in which makes it a crate for medium sized dogs.
In Short:
 Has a reinforced plastic and aluminum wire build
Comes with a divider for puppies
Completely safe for both puppies and adult dogs
Has built-in wheels and a handle for transport
Can be collapsed
Has 3 entrances
It's 32-in long and 22-in tall
BEST 36 X 22 X 24 DOG CRATE
DogGoods Foldable Travel Kennel
Perfect Privacy
If your dog likes a little bit more privacy when you're traveling with him, you'll love the fact that each of the 4 mesh fabric windows, has its own black out shade windows that you can attach to the top of each one if you want to have the option of letting in both some light and more air inside.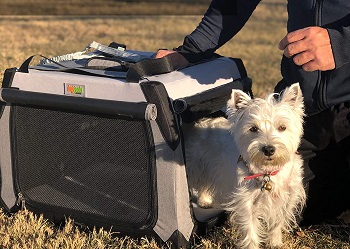 Lockable Zippered Doors
Three out of the four mesh fabric windows on this 36 x 22 x 24 dog crate are also entrances that close with zippers. If you're worried about your dog opening the entrances on his own you don't have to be because they can be locked with a clip hook so that it doesn't happen.
Inside Details
The inside of this 22 inch dog crate is waterproof and comes equipped with a removable pad. it's great that the interior is waterproof because this soft collapsible dog crate is the perfect traveling crate and this interior will help protect your car floors from accidents. It even comes with its own carry bag for storage when you're not using it.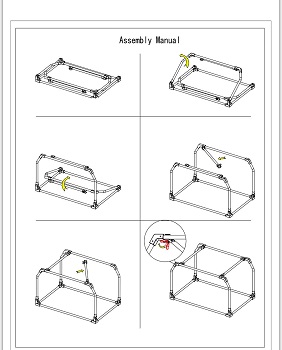 Travel Accessories
The perfect indicator that this is a crate made for traveling are propably the accessory pokcet and water bottle holder in the back. It's 36-in long so you'll get to house a large dog up to 70 lbs inside. You will have to make sure that your dog has been crate trained otherwise he's destroy the crate with no problems.
In Short:
 Made out of fabric and steel tube frame
Has 4 mesh fabric windows, 3 are entrances
Each windows has a privacy roll-up window
The interior is waterproof
You'll get a removable pad with the crate
Can house crate trained large dogs
How To Pick A 22 Inch Dog Crate
It's easy to find a 22 inch dog crate when you know exactly what you're looking but for those of you who don't ad need a little guidance on how to pick one we've assembled this guide that has all the information on their size, functions and many more things that will help you find the perfect one.
What 22 Stands For – In this case 22 can mean a lot of things. Mainly it's used to determine a crate's size by telling you how long the crate is. In this article we did't just review extra small dog crates though, we reviewed crates with a height of 22 inches and even a width of 22 inches that are automatically sized differently.
22 Width Meaning – If the crate you're getting for your dog is 22-in wide this doesn't really mean much in terms of correct sizing. In most cases, width will only ensure that the interior of your dog's crate is roomier and spacious which will make it more comfortable for your dog.
Crate Types Functions – here we reviewed wire crates, soft travel dog crates and even wooden crates. The soft and wooden dog crates will almost always require from you to crate train your dog first. You will typically get to do that with wire crates whether it's a puppy or adult dog. They're the most commonly known training cages for dogs.
Sizing Your Crate The Correct Way – If you don't know if 22 inch dog crate is the right one that you should get for your dog, it's quite simple to estimate and decide. All you need to do is make sure your dog's height and length are at least 4 inches lower than the crate's.
To Sum Up
The 22 inch dog crate we would definitely recommend you get has to be the Diggs Revol Dog Crate. It's 22-in tall and 32-in long which means that you'll get to house a medium sized dog inside. It comes iwth a divider for puppies and you can even travel with it becuase of its built-in wheels, handle, and its collapsible design. If you want to get a strictly wire crate we suggest you look into the article about small wire dog crates or if your dog is a bit larger medium wire dog crates.