Do you want to get an extra small dog crate for your adorable toy dog but feel like you keep missing out on good crates?
You don't have to miss out any longer since we've compiled a list of only the best. We've reviewed each and every crate and made sure to include different crate type like soft ones and folding ones to fit almost everyone's needs so continue reading if you want a crate as soon as possible.
The Summary
Best 5 Extra Small Dog Crates
BEST OF BEST EXTRA SMALL DOG CRATE
MidWest ICrate Metal Dog Crate
Price Worthy
One thing that we're sure of is that this is a cheap dog crate but that much is true for all of these crates. It's made with black e-coated steel wire. E-coating is a special process of coating materials that's known as a wet coating. Applying an e-coat to a surface makes it resistant to corrosion so that much is true for this crate as well.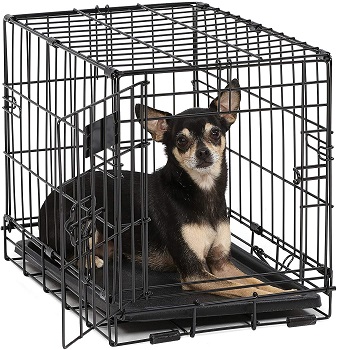 Built Safe
It's safe to safe that safety is the number one priority of this crate whether the safety in question is your dog's or your own. On the side, you'll find patented corner clips that create rounded corners which means there are no sharp and dangerous edges while the roller feet on the bottom will keep our floors free from scratches.
Potty Training Tool
Even though this is an extra small dog crate you can still, in a way, make it bigger or smaller with the puppy crate divider that's adjustable. Divider panels for dog crates typically help owners with potty training their dog while the dog is getting costumed to living inside a crate by adjusting to his growing size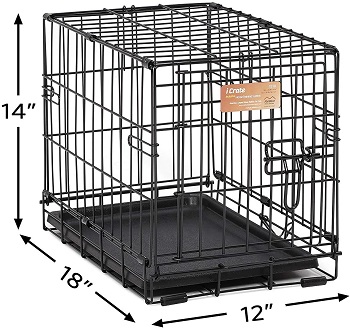 Cleaning And Living Access
There's a single door in the front from which your dog will gain access to the crate. It locks with a secure slide bolt lock. You won't have to access it through that same door to clean it but instead, you'll only have to remove that pan stopper and slide out the tray the plastic tray located on the bottom to clean it.
In Short:
Has a steel wire build
The e-coat makes it corrosion resistant
Comes with a puppy divider
Has a single dog that locks with a single lock
Has rounded corners on the inside for safety
The bottom roller feet prevent scratches on floors
Can be cleaned using the plastic slide-out pan
BEST FOLDING X SMALL DOG CRATE
Paws And Pals Dog Crate
Puppy Training
This is yet another crate that comes with an adjustable divider panel for puppies and it comes as no surprise. Since the job of a small wire dog crate like this is to mostly act as a crate training tool it's understandable that it has one The divider will help you adjust the crate's size to your growing puppy.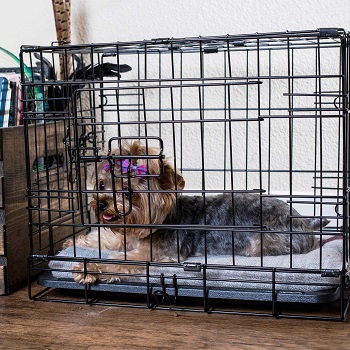 Layered Durability Build
For its build, the crate's manufacturer used a heavy-duty steel wire that is high tensile. High tensile wire has a higher carbon content which means that it's definitely more durable. There's more to it than that though. The extra small crate is also coated with a black e-coat finish that makes it resistant to corroding.
Folding And Unfolding Ease
You won't have to go through any trouble to assemble the crate and the same goes for when you want to fold the crate down. Transport ease, storage space-saving, and convenient traveling are just some of the benefits of having a crate that can be folded down. You'll also get a carrying handle for it.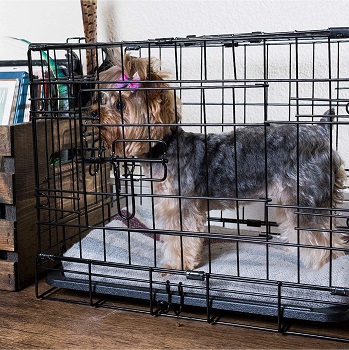 How It's Cleaned
Cleaning this extra small dog crate also won't trouble you since the bottom holds a pan with raised edges. They will prevent, to an extent, liquid overspills that would end up on your floors otherwise and would be hard to clean. Your dog will be able to access the crate using the single door in the front
In Short:
Build with high tensile heavy-duty steel wire
Has an e-coat that makes it resistant to corroding
The bottom holds a plastic cleaning pan
Features a single door for access
Can be folded down
Has a carrying handle
BEST INDOOR EXTRA SMALL DOG CRATE
Lucky Dog Sliding Door Dog Crate
Indoor Door Types
We chose to review this x small dog crate as an indoor one mainly because of the way the access doors open. There's a double door on one of the sides and a single door in the front. The front door swings open like a regular door but the double door makes it a sliding door dog crate.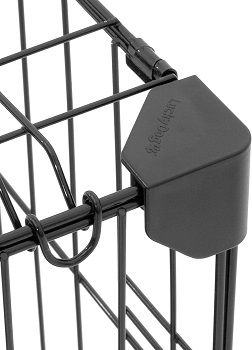 Moving and Space Saving
If there's one thing that the slide open doors do is that they will save you a lot of space when you leave the crate open for your dog to freely enter and exit as he pleases. If you wish to move the crate you can do so by carrying it with the provided handle that's located on top.
Coating And Corners
The steel wire that makes the crate has an e-coat that makes it rust-resistant. The top corners, on the other hand, feature plastic caps that serve as stabilizers. You won't have to worry about this extra small dog cage accidentally collapsing. They will also reduce noise that might come from the crate.
Bottom Contents
The bottom holds two things. The first one is the already familiar plastic pan that you will put to good use when you want to clean the crate and the second one are the rubber feet that you can attach to the steel wire so that your floors don't suffer scratches or other damage.
In Short:
The steel wire is e-coated and rust-resistant
Has an access point in the front and on the side
The side double door slides open
HAs corner stabilizers for extra stability and reduced noise
Comes with roller feet for floor protection
BEST SOFT X SMALL DOG CRATE
Petnation Indoor Outdoor Pet Crate
Basic Build Info
This extra small crate and the one after it that we will review are completely different than the ones that we reviewed prior to them. It's mainly because of the way they are made. The crate has a strong steel tube frame that's covered with fabric that's tightly woven together.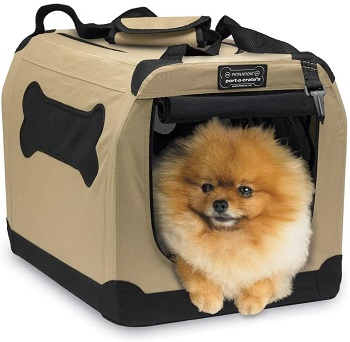 Portability Features
Each soft dog crate can also be an amazing soft travel dog crate and the same applies to this one. It's because it's extremely light with only 3.3 lbs and easy to transport because of the carrying handles it comes with that this is true. You can also fold the crate down because of the steel tube frame.
Doors And Vents
There are two doors from which you will get to access your dog and your dog will be able to access the crate. The doors are located on the top and in the front. The front door is made with mesh fabric so it also functions as a vent window. The other two vent windows ca be found on both sides and they are shaped like dog bones.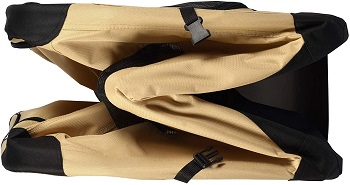 Size And Wanted Dog Behavior
The extra small dog crate is 20-in long and 13-in tall which means that you can use it to house dogs that weigh no more than 15 lbs. Don't rely on this weight limit too much though since it's just a general guidance weight to figure out which dogs can't or can go inside. Another thing about this crate is that it should only house crate trained dogs.
In Short:
Has a steel tube frame that's strong
HAs a tightly woven fabric cover
MAde to house crate trained dogs up to 15 lbs
Has a top and front access door
Mesh fabric windows are located in the front and on the sides
Has 2 carrying handles on top
Weighs 3.3 lbs
BEST AIRLINE APPROVED EXTRA SMALL DOG CRATE
X-ZONE PET Airline Approved Pet Travel Carrier
Compact For Air Travel
If you're here you probably own an extra small dog and if that's the case you'll find that there are some benefits to having such a small dog when you're traveling by air. These dogs are so little that they can go aboard an airplane with you inside a mini dog crate like this one that's airline approved.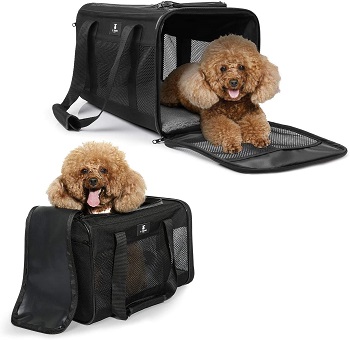 Color And Build
It definitely looks like a regular carry-on bag and it comes in 4 more different colors along with the black so it's a fashion dog crate. It's made out of oxford fabric and mesh fabric. The mesh fabric is there to provide proper ventilation to the crate. You can find these windows on all sides except for the one that has a door. On top, you'll also find an access dor that can be close with zippers
Bottom Interior
The bottom on the inside of the crate features a base insert that's hard so that your dog can stand up with no problems. You'll also get a fleece bed that you can remove and wash that will definitely prove to be useful during those long and exhausting flights when your dog needs all the comfort he can get.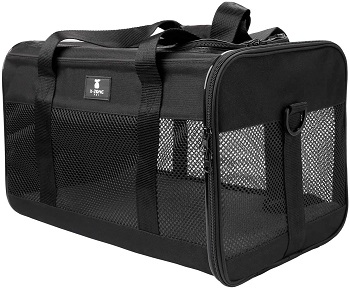 Carrying Options
There are three ways that you can transport this x small dog crate. You can do it using the carrying handles or carrying straps that can convert into seatbelts or you can attach it to your luggage with a strap in the back. The crate is small enough to fit below most airplane seats but make sure you check with your specific airline about additional regulations.
In Short:
Made out of oxford fabric
The bottom on the inside holds a hard base insert
Comes with a fleece bed
Fits under most airplane seats
Can house dogs up to 16 lbs
Can be carried usin carrying handles or a shoulder strap
The shoulder strap converts into a seatbelt
How To Pick An Extra Small Dog Crate
There aren't as many extra small dog crates as you and us would like but the ones that do exist are definitely useful and practical. There are some major differences between them like their type, toughness, and their main function so make sure you continue reading this useful guide where we will go through it all and explain it.
Correct Sizing – Extra small crates are considered to be less than 24-in long so if you have a dog that'4 larger than that, you'll probably want to get a small wire dog crate or a small soft dog crate. Of course there are size differences between them too since even extra small dogs differ in length and height.
How To Find The Right Size – These crates can be anywhere from 17-in long up to 23-in long so it's important you get the right size. The way you do it is that you take your dog's length and height and see if these dimensions are t leas4 inches smaller than your dog.
Inside Crate Behavior Differences – Since we reviewed two types of crates that differ largely in what they can and can't do it's important that we mention soft crates can only be used by crate trained and calm dogs and for traveling with said dog while wire ones can even be used as crate training tools.
What You Won't Find Here – Extra small dogs do need a sturdy and safe crate and wire crates will do that job quite nicely. There's really no need for you to go looking for a heavy-duty metal dog crate because you won't even find one. Another crate type that you won't find here is indoor dog crate furniture because the smallest size of these crates is small for dogs up to 25 lbs.
To Sum Up
The extra small dog crate that we just have to recommend is the MidWest ICrate Metal Dog Crate. It's made to be completely safe for your dog, it can house puppies because of the adjustable divider it comes with and you can even use it to travel because of the folding design and lightweight. If you just figured out that what you need is a durable small dog crate then we suggest you read the article about small metal dog crates and if you have a small dog so that you can get a furniture style crate then you should definitely read the article about small dog crate furniture.