Do you need a soft collapsible dog crate so that you can travel with your dog and store it easily after?
We've got what you're looking for so continue reading this article if you want to read reviews of only the best that the internet has to offer right now. We tried to make it so that there is a crate for everyone and that's why we placed them into categories like small, medium, and large.
The Summary
Best 5 Soft Collapsible Dog Crates
BEST OF BEST SOFT COLLAPSIBLE DOG CRATE
2PET Foldable Dog Crate
True Size
Although it is said that this is a medium 24-in dog crate, if you were to focus on just its length and height, you would quickly realize that this crate cannot house medium-sized dogs. You can only use it to house small dog breeds up to 25 lbs.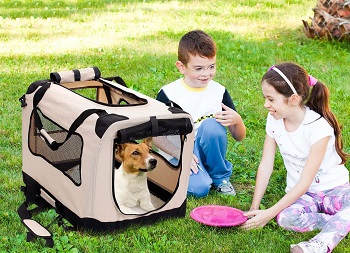 Durable But Lightweight
The 2Pet folding soft dog crate has a special steel tube frame that is strong and durable but at the same time light. Another light material that makes the crate is, of course, the cover that's made out of durable 600D oxford fabric. Although the crate is durable, you should only use it with crate-trained dogs.
No Ordinary Benefits
Don't be mistaken, this soft collapsible dog crate comes with a lot of benefits. The two main benefits are definitely the fact that you can take the cover off and machine wash it and the other one is that the zipper that closes the front door is protected so that your dog can't open it on his own.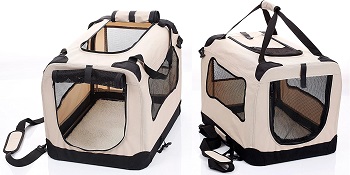 Crate Must-Haves
An absolute must of each crate is that it has ventilation windows and this one has them as well but with a twist. It is definitely one of the nice-looking dog crates because the side mesh fabric windows are shaped like dog bones. Instead of having accessory pockets, the crate has a water bottle holder and a food container holder.
In Short:
Made with a lightweight steel tube foldable frame
Has a machine washable cover
It's large enough to house small dogs up to 25 lbs
The front door zippers can't get opened by your dog
Comes with a food and water bottle holder
It's best to use it with crate trained dogs
BEST FOR TRAVEL SOFT FOLDABLE DOG CRATE
A4Pet Collapsible Dog Crate
Car Protection
Even though this crate might not be the safest dog crate for car in terms of how well it would handle a car crash, for example, it sure is safe in terms of how well protected your cars will be. It has a leakproof and waterproof bottom that will protect your car floor from getting into contact with liquids while the rounded corners will leave the rest of your car interior free from damage.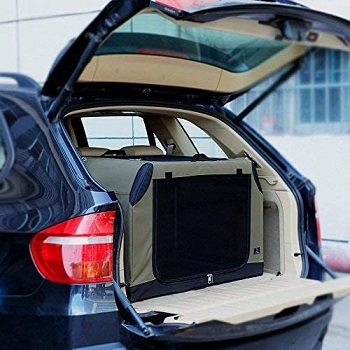 Primary Build
Just like any other folding fabric dog crate, this soft collapsible dog crate is also made with a strong steel tube frame that can be folded down and the material that covers the frame is durable oxford fabric. The fabric cover can also be taken off so that you can wash it.
Multiple Door Functions
It features three access doors located in the front, on top, and on one of the sides that close with zippers. Since they're made out of mesh fabric they have another function and that is to ventilate the crate. The remaining vent window can be found on the other side of it while the back doesn't have one.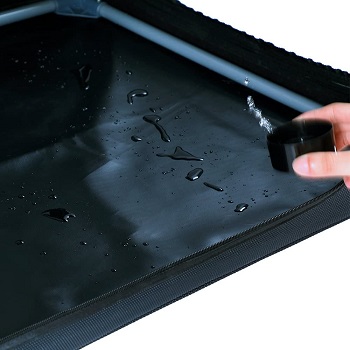 Crate Build Warning
With the crate, you'll be able to house large dogs up to 70 lbs but you should know that it will only last you a long time if you use it for a crate-trained dog. When you're traveling with your dog, you can store some of his accessories in the back accessory pocket.
In Short:
The fabric cover can be taken off to wash
Has a foldable steel tube frame
The bottom is waterproof and leakproof
The crate has rounded corners
Features mesh fabric windows on all sides except for the back
Has three access doors
Can house crate trained large dogs up to 70 lbs
BEST SMALL FOLDING SOFT DOG CRATE
Veehoo Folding Soft Dog Crate
Inside Contents
On the inside of the Veehoo folding soft dog crate, you'll find a steel frame that's solid and also a fleece pad located on the bottom. This is so that your dog can feel more comfortable while he resides inside. Another thing you can do with the fleece pad is that you can remove it and easily wash it when you need to.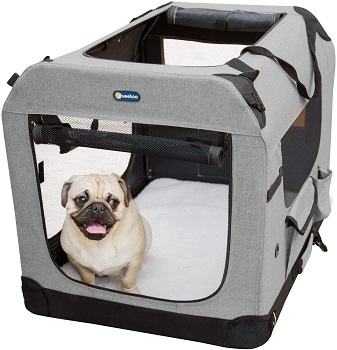 Different Assembly Frame
The frame of the soft collapsible dog crate is slightly different than what we're used to seeing. It sets up easily with no tools by connecting the retractable spring pieces. It's just as easy to assemble it as it is to fold it down. The crate's cover is made out of cationic 600D oxford fabric.
Vents And Door Quantity
You'll get 5 windows in total made up of mesh fabric that will ventilate the collapsible soft-sided dog crate. Three of the 5 windows are also doors that open and close with zippers. They're located in the front, at the top, and on the left side. If you want to leave the crate open you can do that by rolling up the doors.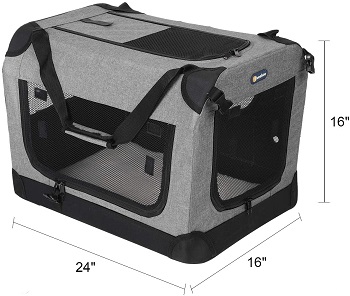 Zipper Type
This can be considered a safely locking dog crate because the zippers on it can actually be locked. Of course, it can't compare to a heavy-duty metal crate but if you have a small dog up to 25 lbs and is generally calm, you can be sure that it's safe.
In Short:
Made with a solid but light frame
Has a cationic 600D oxford fabric cover
Can house small dogs up to 25 lbs
The frame connects with retractable springs
Has 5 ventilation windows
Has 3 access doors
The bottom is equipped with a washable fleece pad
BEST MEDIUM SOFT COLLAPSIBLE DOG CRATE
Jespet Soft Dog Crate For Dogs
Size And Weight
The weight of this crate is around 2.2 lbs. It's really impressive that it's so light since it is, after all, a soft dog crate medium model. It's 36-in long, 24-in wide, and 27-in tall. The length and height lead us to the conclusion that it can contain medium-sized dogs that are crate trained.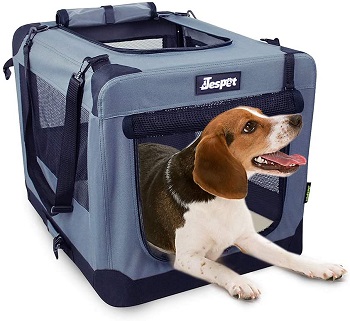 Zipper Closed Doors
You'll find doors located on the top, side, and in the front that can be closed with zippers. The front door zipper can be attached to a clip to prevent accidental opening. Every door also functions as a ventilation window since they're made out of breathable mesh fabric and there are also 2 more that make a total of 5 vent windows.
Fabric Cover Description
The cover of this soft collapsible dog crate is made out of quite a durable oxford 600D fabric. You can easily take the cover off and wash it when you need to. Another thing that will prove to be useful that you can also wash is the fleece bed located on the bottom.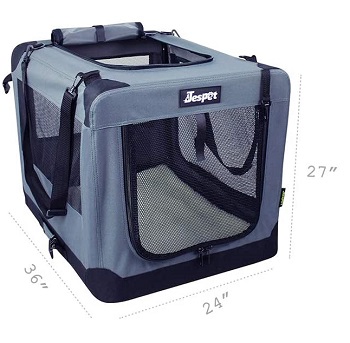 Best Use
Jespet Foldable dog crates are best used as travel crates but that goes for any folding portable dog crate. You'll get to easily carry the crate as well and that's not just because of its foldable design but also because it has multiple carrying options like carrying handles and a carrying strap.
In Short:
Weighs 2.2 lbs
Has a washable 600D oxford fabric
Comes with a washable fleece bed
Made to house medium-sized dogs
3 of the 5 vent windows are also doors
Can only house crate trained house
BEST LARGE SOFT COLLAPSIBLE DOG CRATE
EliteField Folding Soft Dog Crate
Visual Color Varieties
If there's one thing you can consider this soft foldable dog crate as it's that it is a fashion dog crate. Definitely, the one reason for that claim is that the crate comes in a total of 16 different colors and color options. There's definitely room to get creative with what color you're going to pick.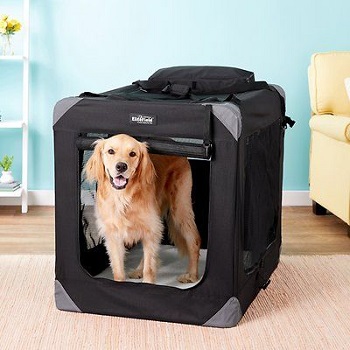 More Room To Spare
While this Elitefield dog crate is 42-in long and is primarily made to house large dogs you will definitely get more room than you would with a regular crate of the same type because each crate of this manufacturer is made to be 4-in taller and 2-in wider.
Washable Parts
The oxford fabric cover can be taken off from the foldable steel tube frame to wash. To provide your dog with more comfort while he's inside the crate, the bottom is equipped with a bed that can be washed just like the crate's cover can. The cover also holds an accessory pocket on top and there's also a removable one in the back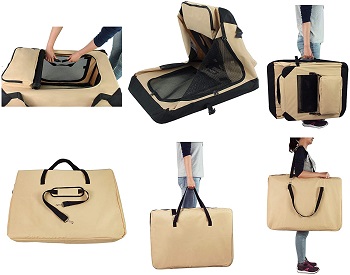 Crate Storing Bag
When this soft collapsible dog crate is folded down you can store it inside its own carry bag that's color-coded to match the crates' color. You'll be able to carry it while it's inside using the padded shoulder strap and if you want to carry it while it's unfolded you can use the carrying handles on the crate for that.
In Short:
Made out of foldable steel tube frame
The frames' cover is an oxford fabric washable one
Made to house crate trained large dogs
The crate is 2-in wider and 4-in taller than other crates of this type
Comes in 16 color varieties
Has its own carrying bag
Comes with two accessory pockets
How To Pick A Soft Collapsible Dog Crate
Although each soft collapsible dog crate is pretty much the same as the other they all come with a few advantages and few disadvantages. It's important for you to know these and get familiar with their size, durability, and other distinctive features so that you know if you should get one and if you're getting one that you're getting the best.
Travel Advantage – If you're looking to get a crate like this you'll definitely find it they are amazing soft travel dog crates. The main reason why is that they are incredibly light and easy to carry because of it and because they usually come with carrying handles and straps
Indoor Housing Disadvantage – These crates are definitely made to look and feel like a regular carry bag. That's because they have a fabric cover. They definitely won't be great additions to your home like indoor dog crate furniture.
Collapsible Feature Use – Since they are collapsible soft dog crates you can use that feature to store the crate away when you're not using it or you can use it to store them inside your car when you're traveling and need to transport it without it taking up a lot of your cars' cargo space.
Sizing Matters – Since the soft collapsible dog crates come in all shapes and sizes you might want to know how to properly size the crate according to your dog's size. Generally, the crate should be at least 4-in taller and longer than your dog. If there's some specific way that you'll have to size the crate it will definitely be written down.
Durability Problems – If you were to look at these crates from a soft dog crate perspective you'll conclude they are definitely durable. However, if you were to compare them to any other dog crate type you'll find that they are actually the least durable out of all. There's a way around this issue though. All you need to do is to crate train your dog with a training cage for dogs.
To Sum Up
Since most, if not all soft collapsible dog crates are best used as travel crates we decided to recommend the A4Pet Collapsible Dog Crate as the one we would get because it has leakproof and waterproof bottom and rounded corners that will both protect your car floors and interior. If you need a crate that you can primarily use inside we advise you to check out the article about indoor wooden dog crates and if you need a crate that can actually be used to crate train a dog then the article about large wire dog crates might help you find one.