Do you have a high-anxiety dog that needs a safe and durable heavy-duty dog crate for separation anxiety?
Then you're in the right place because we did our research and picked out the best to bring you this article where we reviewed multiple types of these crates ranging from medium to extra large and we even found a plastic one so there's something for everyone's taste.
The Summary
Best 5 Heavy Duty Dog Crates For Separation Anxiety
BEST OF BEST HEAVY DUTY DOG CRATE FOR SEPARATION ANXIETY
Smonter Heavy Duty Dog Cage
Slightly Different Desgin
There's something slightly different in the way that this dog crate looks and it is that the bars at the top have a Y shape This not only gives it a nicer look but it's there to prevent your dog from sticking out his nozzle and to stop him from chewing on it.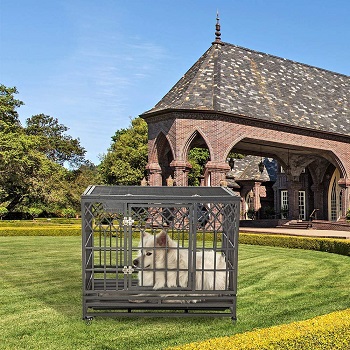 Promoting Good Health
It uses heavy-duty steel as its build material. they are actually bars that are all welded together to make it more of a tough dog crate and since this is a heavy-duty dog crate for separation anxiety ad high anxiety dog tends to chew more on his crate, it has a non-toxic finish so that your dog's health isn't compromised.
Bottom Floor And Cleaning
The gridded floor on the bottom has thicker steel bars with smaller holes so that your dog's paws don't get stuck in between them or hurt him in any other way. They are still big enough to let through dog urine and dirt onto the cleaning pan located below that's made out of plastic.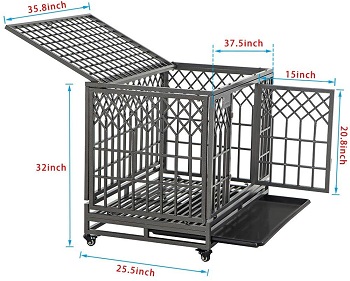 Size And Movement
Since the crate is heavy it's difficult to move but to make moving easier you'll get 4 caster wheels that you can attach to the bottom. Two of the wheels are lockable to make the crate more stable when it's set into place. The crate is 38-in long which means that you can use it for medium dogs.
In Short:
Made with welded heavy-duty steel bars
The top bars are Y shaped to prevent chewing
Sits on 4 wheels, 2 of which are lockable
Can house medium-sized dogs
Dog dirt will fall through the thick gridded flor onto the cleaning pan
Has a non-toxic finish
BEST MEDIUM HEAVY DUTY DOG CRATE FOR SEPARATION ANXIETY
ProSelect Empire Cage
Reinforced Build
You can be sure that this medium heavy-duty dog crate for separation anxiety is extremely durable. We can thank the 20 gauge steel it's made with for that and another thing is that it has a reinforced construction because of the 0.5-in diameter steel tubes.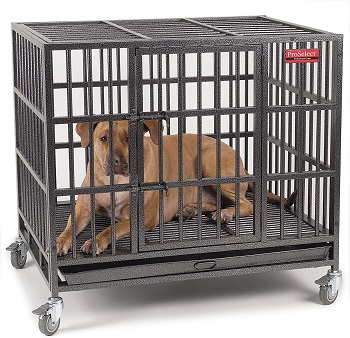 Partial Assembly
Metal bars of this crate are welded at the recognized stress points so it comes somewhat assembled and for the rest of the assembly, you'll have to use screws to assemble it. The crate cannot be collapsed nor folded down and even if it was it would be difficult to move because of its weight.
Door, Locks, And Cleaning
You don't have to access your dog through the single front or that locks with 2 heavy-duty slide bolt locks to clean it. Instead, dog excrements that find their way inside the crate will fall through the floor and end up on a very deep slide-out tray.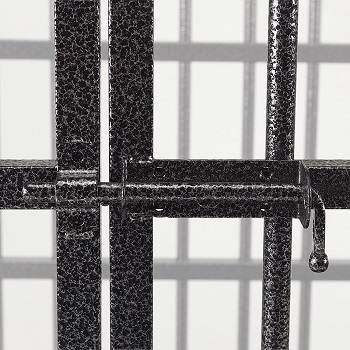 Size And Weight
If we look at the crate's dimensions that are 37-in in length, 25-in in width, and almost 34-in in height we'll easily figure out that the crate's size is fit for you to house medium-sized dogs inside of it. The crate itself is heavy so you'll get caster wheels to move it with more ease.
In Short:
Made with 20 gauge steel
Reinforced with 0.5-in diameter tubes
The crate is welded at stress points
Has one door for access and two locks
Made to house medium-sized dogs
Can be moved using wheels
Has a very deep cleaning tray below the bottom floor
BEST LARGE HEAVY DUTY DOG CRATE FOR SEPARATION ANXIETY
Luckup Heavy Duty Dog Cage
Locks With Safety Buckles
It is called Luckup for a reason since it features 3 locks on the front door and 2 on the top that have safety buckles on them to better ensure that your dog won't be able to escape this crate on his own so it's safe to assume that it is a safely locking dog crate.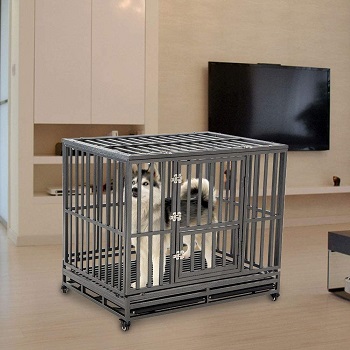 Material And Finish Features
Some of the mere distinguished features of the crate's material are the fact that the steel itself is resistant to corrosion while the non-toxic finish also makes it resistant to rust. What this means is that you can safely use the crate outdoors from time to time, but not too often or for too long.
Crate Stability
On the bottom, you'll find a place where you can install the universal wheels that rotate at a 360-degree angle. You can even lock all of the provided wheels to set this heavy-duty dog crate for separation anxiety into place.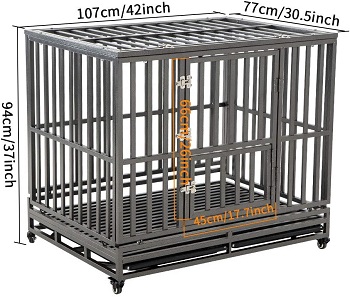 2 Cleaning Trays Instead Of One
Instead of one, the crate holds 2 slide-out trays below the bottom. The reason for it is that a single pan would be rather large and with it, quite flimsy. This would make cleaning a problem since there would be a higher chance of dirt getting onto your floors.
In Short:
Built out of corrosion-resistant steel
Has an anti-rusting and non-toxic finish
Features a top and a front door
The top locks with 2 while the front locks with 3 locks with safety buckles
You can attach lockable wheels onto it
Features 2 cleaning pans below the bottom
Made to house large dogs
BEST EXTRA LARGE HEAVY DUTY DOF CRATE FOR SEPARATION ANXIETY
Itori Heavy Duty Metal Dog Cage
Build And Material Details
The steel that makes this crate has a 20 gauge and the steel tubes have a 0.5-in diameter. It is a reinforced dog crate because all parts of it are welded together to create a very durable crate. The finish of this heavy-duty dog crate for separation anxiety makes it corrosion and rust-resistant.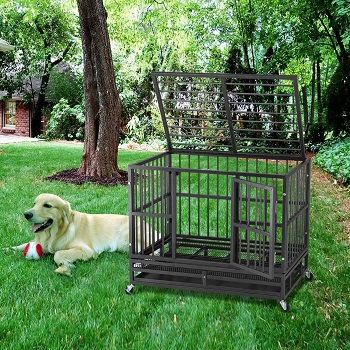 Versatile Positioning
Since this is still a large indoor dog crate you will get a chance to place it with more versatility inside your home. This is due to the fact that along with the front access door it has a top access point as well. The top door can only be used by you to interact with your dog without him trying or managing to escape the crate.
Metal tray Instead Of Plastic
Instead of using plastic for the cleaning tray, the manufacturer decided to make a metal tray that's definitely more durable and won't split or crack as a plastic one might. The locks on the door are placed and made in such a way that they can only ever be opened from the outside of the crate.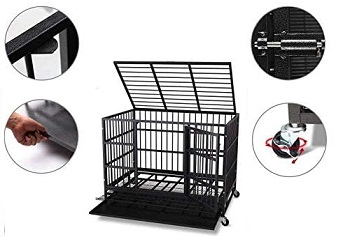 Crate Motion
You might be worried about how heavy the crate is and it's for a good reason since it weighs 83.6 lbs but what will definitely help with that problem are the wheels that you can attach to the bottom. Two of the wheels are lockable to make it more stable when you're not moving it.
In Short:
All metal parts are welded together
Made with 20 gauge 0.5-in diameter steel tubes
The finish makes it corrosion and rust-resistant
Has a top and front access door
The locks can only be accessed from the outside
Weighs 83.6 lbs
You can attach 4 wheels on the bottom
2 of the wheels are lockable
BEST PLASTIC HEAVY DUTY DOG CRATE FOR SEPARATION ANXIETY
Gunner Kennels G1 Intermediate Dog Crate
Heavy Duty Plastic Build
The crate is different than the rest because it's a heavy-duty plastic dog crate instead of metal. Don't be fooled, it's an incredibly strong crate because the plastic is roto-molded. This means that a single piece of plastic was molded to make it. The crate also has a double-wall build for even more durability.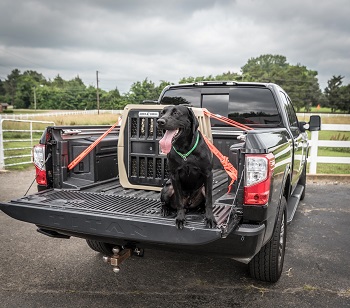 Perfect Travel Features
If you don't believe us that the crate is durable you might believe the fact that the crate is crash tested. The double-wall plastic layer will protect your pet against UV rays, the cold, and even humidity. This is also due to the way the vents on the crate are positioned that will repel water so that it doesn't get inside the crate.
Metal Bits
This heavy-duty dog crate for separation anxiety does have some metal parts. It has a welded plastic door that's further reinforced with a metal one. The door lock is made out of stainless steel and can be locked with a key. If your dog always finds a way to escape his crate, he won't be able to do it with this one since the door has a bottom and top lock as well.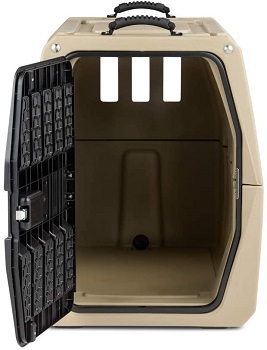 Special Cleaning Process
The crate is slightly elevated from the ground so that there is little to no surface heat transmission. This also allows the crate to have drain channels on the inside where dog urine will go so that your dog is kept dry while you're traveling. When you're ready to clean the crate, you can release the urine by taking the plug out of the drain holes.
In Short:
Made out of roto-molded double wall plastic
The crate is crash tested
The doors are made so that the crate is escape proof
Protects your dog from heat and cold
Has water-repelling vents
Can be used to travel
Has a welded plastic door that's reinforced with metal
Can be locked using a key
Has additional locks on the top and bottom
How To Pick A Heavy Duty Dog Crate For Separation Anxiety
If you have a high anxiety dog you'll have no choice but to get a heavy-duty dog crate for separation anxiety. Your first goal then is to get a safe crate and different crates ensure safety in different ways. Other things you might want to focus on are door locks and build materials so cotiue reading this guide to know exactly what you want to go after.
Safety Through Durability – When we talk about how safe dog crates they are we are really focusing on is the crates durability. If you want a sturdy dog crate try to find ones that have welded parts since they will be much more durable than crates that can be assembled with screws.
No Escape – The first thing that might come to your dog's mind if he's a highly anxious dog is to try and escape the crate. this is why you should get a crate with anti-escape locks. They can either have safety buckles or be positioned in a way that they are unreachable to your dog
Crate Limitations – The heavy-duty dog crates for separation anxiety are really heavy so they're not exactly portable. If you're after a crate like this that you can travel with ty looking for plastic ones. They might be as heavy as the metal ones but can definitely be transported better and fit inside your car
Additional Worries – When you've covered all the basics and found crate for your dog, the next step is to figure out the size because this is just as important as any other step. You should focus on the crate's interior dimensions to figure out the right size. Specifically, you should focus on its height and length. The crate should be at least 4-in taller and longer than your dog.
To Sum Up
We've decided to recommend the Smonter Heavy Duty Dog Cage as the one heavy duty dog crate for separation anxiety that functions best as one. This is mostly due to the fact that the top holds Y-shaped bars that will prevent your dog from sticking his nozzle out and stop him from trying to chew on the crate. If you need a crate that's slightly less sturdy than these so that you can crate train your dog to be calm then we recommend you check out the article about large wire dog crates and if you couldn't find a crate for small dogs here then you should check out the article about small metal dog crates.