Is your dogs' safety your number one priority so you're looking to get a safe dog crate for him?
We see the importance of safety and because of it, we've reviewed the best safe dog cages for you to choose the one that feels the safest to you. We've even arranged them into categories like travel, metal, and other ones so you can easily shift your focus to a dog crate that interests you most.
The Summary
Best 5 Safe Dog Crates
BEST OF BEST SAFEST DOG CRATE
4×4 North America Crash Tested Crate
Crash Tested
This crate can easily be the safest dog crate for cars because it was tested for different crash scenarios including roll-over, rear and front crash and it passed with flying colors. It's made out of incredibly sturdy metal but that's not all there is to it.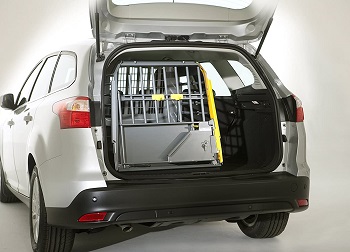 Adjustable Size
The crates' sides have an adjustable length and because of it, the steel rods located on the sides of the crate act as shock absorbers in the event of a crash. This will also allow your dog to be more comfortable inside with more space to spare.
Car Crumple Zone Mimicking
Why is it so safe? It's because the crate mimics the cars' crumple zones that are usually here to save you in the event of an accident but crates are usually located in these crumple zones which would put your dog in danger if not for this crate.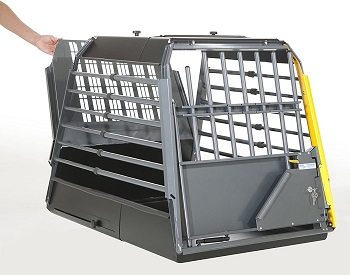 Door Amount And Type
The crate has two doors. One is located in the front and it locks with a key but it also has a hydraulic gas motion spring and there is an escape door i the back. To learn about the crate size to fit your dog and car well, you should check out the manufacturers sizing chart for both.
In Short:
Has an adjustable length
Safe for travel because it mimics car crumple zones
Crate Size Can be determined with manufacturers sizing charts
Has a front door and an escape door
The door lock with a key
BEST METAL SAFE DOG CRATE
ProSelect Empire Dog Cage
Reinforced Build
It uses reinforced 20 gauge steel tubes s it's building material. It's an incredibly sturdy dog crate and this makes it a safe dog cage for anxiety-ridden dogs because they won't be able to chew their way out of the crate and hurt themselves in the process.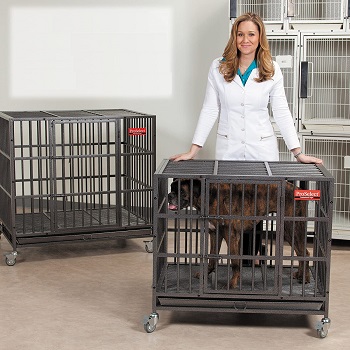 1 Secure Door
There's only one door to access the crate and it is located on the side of the crate. it locks with two heavy-duty sliding bolt locks. The whole crate has a hammer-tone finish that makes the crate rust resistant and it is sure to last you a long while.
Easy Cleanup
Cleaning this safest dog crate is easy because you don't need to access the inside to do it. There's  grated floor on the bottom and below it, there is a tray that you can pullout to clean when dog dirt and excrements fall into it. It's deep enough to contain liquids as well.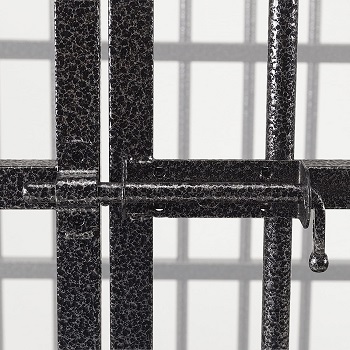 Heavy Crate Moving
The crate is quite heavy. Its weight comes at 99 lbs so it would be pretty hard to move around if it didn't have caster wheels on the bottom for you to do so. It's made to house large dog breeds like German boxers or German Shepherds.
In Short:
Made out of 20 gauge reinforced steel tubes
Weight around 99 lbs
It can be moved easily because of the wheels on the bottom
Made for large dog breeds
Has a tray below the bottom that comes out easily for cleaning
BEST FOR TRAVEL SAFEST DOG KENNEL
Petmate Sky Kennel Pet Carrier
Air Travel Crate
This is a large dog airline crate that is sometimes difficult to find because large dogs usually have to travel as cargo. You can be sure that your dog will be completely safe inside but for you to make that happen, you definitely need to crate train your dog first.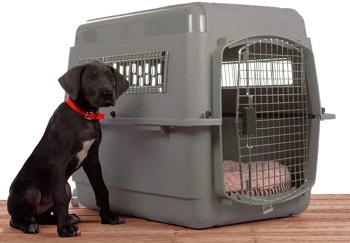 Requirements For Traveling By Air
The things included with the crate that are needed for air travel include "live animal" stickers, water bowl that you can clip onto the wire door, and Id stickers that you will need for identification.The crate also has a vault lock that will not slip or slide during travel.
Durable Build
You don't have to limit yourself and use this crate only for air travel. You can easily use it as a car travel crate s well. Its shell is made out of durable plastic, the nuts and bolts are corrosion-proof and will keep the crate well connected. There's enough ventilation for the crate because it has ventilation windows covered with gridded wire on all sides except for the back where there are holes for it.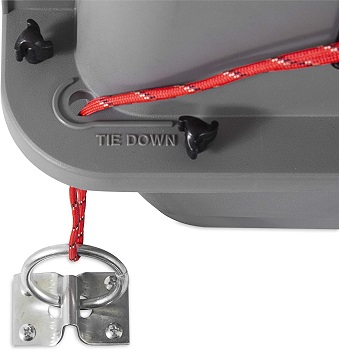 Measuring Your Dog
To make it a safe dog crate, it's important to buy a crate of appropriate size, especially when you're traveling by air. The safest way to get it correctly is to measure your dog, add 3-4 inches to his height and length and see if it matches the dimensions of the crate.
In Short:
Made out of durable plastic
Comes with extras needed for air travel
Can be reinforced further with nuts and bolts
Has one door access
Ventilation is provided from all sides of the crate
Before traveling by air, you should crate train your dog
BEST WITH DIVIDER SAFE DOG CAGE
MidWest Life Stages Folding Crate
Door Access Type
The crate features a front door to access the crate but it is also a side door dog crate because of the door on the side. Each door has 2 lock of the sliding bolt type. The lock are also heavy-duty to ensure that your dog stays in the crate without him succeeding to escape.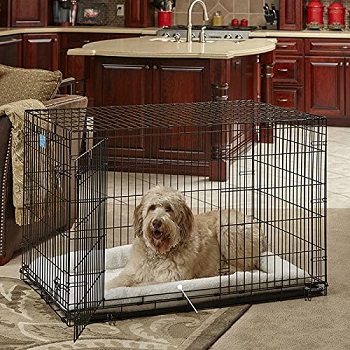 Interior Safety
The interior of the safe dog crate is completely safe for your dog and special attention is given to corner security. The crate has corner clips that are rounded and with them, the possible sharp corners that might hurt your dog are eliminated.
Safety Extras
There are some additional features that make this crate even more versatile and safe. There's a puppy divider which means that the crate can adjust to your puppy's size if you have one, it has a sturdy tray on the bottom to clean the crate more easily and it features roller feet on the bottom that will protect your floors from any damage.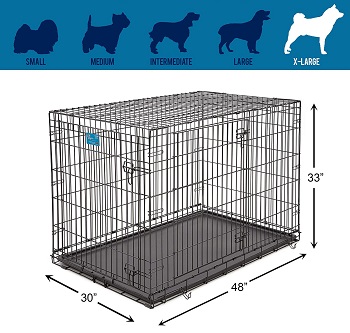 Size Of The Crate
The crate is 33-in tall, 48-in long, and 30-in wide. You should take into consideration these measurements because you need to know if it will fit inside your house but more importantly, you need to know if it's large enough for your dog. Generally, it can house extra large dogs but you can read more about sizing in the buying guide.
In Short:
Has a front and side door
Locks with 2 heavy-duty sliding bolt locks
Made for extra large breeds
Has a puppy divider
Your floor won't get damaged because of the roller feet
Has reduced sharp edges because of the rounded corner clips
BEST HEAVY DUTY SAFEST DOG CRATE FOR CAR
Extreme Consumer Products Dog Crate
Corner Pads Purpose
It is durable enough to hold the weight of another crate which makes it a stacking dog crate. Another reason you can stack it is because it has corner pads so that the stacking is done in a safe manner. The corner pads will also protect you flooring and will keep the edges of the crate intact.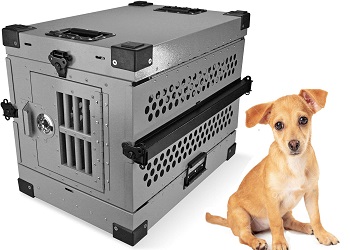 Dog Behavior
The safest dog crate is well made for aggressive dogs but not might be as good for dogs with separation anxiety. the reason why is because although it has ventilation holes, they won't provide your dog with good enough visibility outside the crate because it uses small holes all around for ventilation.
Cool Inside And Foldable
Although it's made out of metal, the crate won't heat up in the sun and will keep your dog cool while he's inside. This is great to prevent overheating which is really important for dogs to avoid. It can also be folded easily to look like a briefcase and be carried as one because of the handle on top.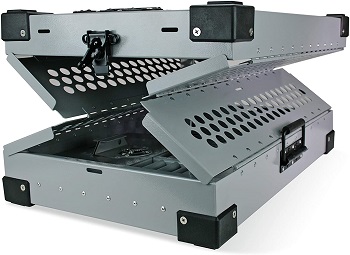 Dimensions And Weight
The crate weight 40 lbs so it might not be as easy to carry it around with ease. The crate is 32.5-in tall, 27-in wide and 42.5-in long on the outside, on the inside it's a bit smaller but it's still good for use by Extra large dog breeds.
In Short:
Folds like a briefcase
Has small ventilation holes so visibility isn't as good
Weighs 40 lbs
Can house extra large dog breeds
More crates can be stacked on top
How To Pick A Safe Dog Crate
A safe crate is much more than one that will prevent your dog from getting hurt. Of course, this is the most important requirement but determining the crate size, type, and knowing what crate to buy according to your dogs' behavior is also important so make sure you get the safest crate possible by continuing to read these tips.
Different Safety Requirements – Depending on the crate you get and what you're using it for, you'll have to focus on different things that make it safe. If you're getting an XL dog travel crate and you're using it to fly with an airline, the safest thing to do is to check with your airline company about what things a crate should have to be safe and airline approved and if your traveling by car, you'd want to make sure that the crate is at least crash tested.
Dog Behavior – If you have an aggressive dog, the safest crate for you to get would be a tough dog crate, but if your dog has high anxiety, it would be best to get him a crate that has good enough visibility like a wire dog crate so make sure you match the crate to your dogs behavior.
Crate Sizing – Most dog crate brands use their own sizing chart so knowing how to measure your dog is important so that you don't accidentally get a crate that's too small. The easiest way to go about this is to measure the length and height of your dog, , add 3-4 inches to it and find a crate that fits these measurements.
Safe Dog Crate VS Kennel – Kennels can e safe but the main focus for them is that they're made to be extremely durable because they are placed outside and need to go through harsh weather conditions so their durability is what makes them safe. Besides, they are so big that they can easily house a dog crate.
To Sum Up
A safe dog crate doesn't have to cost you that much and we know this so for the best one that we'd recommend is definitely the MidWest Life Stages  Folding Crate. You can house a growing puppy inside, the lock ont he door will keep your dog safely contained inside and the round corner clis will prevent him from hurting himself. If you feel like you need a crate for your aggressive dog and that would be the safest option definitely check out the article about XL metal dog crates and if you see safety in toughness then you should pay a visit to the article about tough dog crates.