Have you been scouring the internet in hopes to find a medium soft dog crate for your pet dog?
You can get your hopes up because all you need to do from here is to continue reading the article about the best ones we could find. YOu are guaranteed to find something because we didn't just review them, we also made sure that they are different from one another which allowed us to place them into different categories like best for travel, best folding, etc.
The Summary
Best 6 Soft Dog Crates Medium
BEST OF BEST SOFT DOG CRATE MEDIUM
EliteField 3-Door Folding Soft Dog Crate
Wider And Taller Crate Design
You can easily say that EliteField is the elite when it comes to crate sizing. Why is that so? Their crates are made to be a bit wider and taller when it comes to crate size. This doesn't mean that you shouldn't worry about crate size but it will definitely help you choose.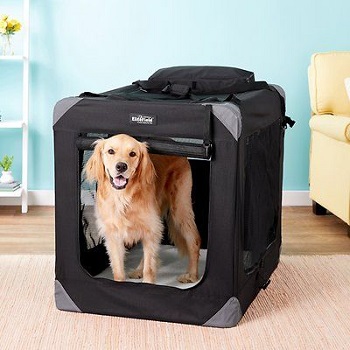 Multiple Color Options
If you want your soft dog crate to be fashionable as well as functional this is the crate to go with since they offer multiple colors and color designs for you to choose from. There are 16 choices in total so you're sure to find something for yourself.
Build Materials And Travel Extras
The crate is made with a firm steel tube frame that can be folded and the cover is made out of durable 600D oxford fabric. You can easily carry the crate anywhere you go since it has carrying handles and even padded shoulder straps.For you to use it as a soft dog carrier for cars, you will get 2 side pockets to store any dog accessories that you might have.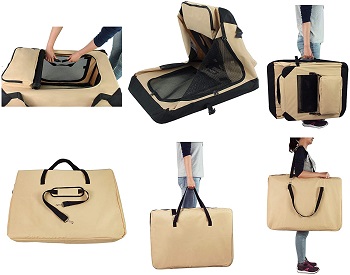 Large Mesh Windows
This soft dog crate medium will give your dog more than enough air while he's inside since it has large mesh fabric windows. 3 of those, the top, front and side window are also doors that you can close up with a zipper.
In Short:
Made taller and wider than most soft crate brands
Has 16 color varieties
Has a foldable steel tube frame
Has large mesh fabric windows for ventilation
Comes with 3 door that open or close with a zipper
BEST INDOOR MEDIUM SOFT SIDED DOG CRATE
Petnation Port-A-Crate Dog Crate
Soft But Heavy Duty
If you ever wondered if a soft dog crate can be heavy-duty it indeed can and this is the crate to prove it. The crates' fabric is made heavy duty because it is tightly woven together and to help support the claim. The crate has a steel tube frame that will support its already durable construction.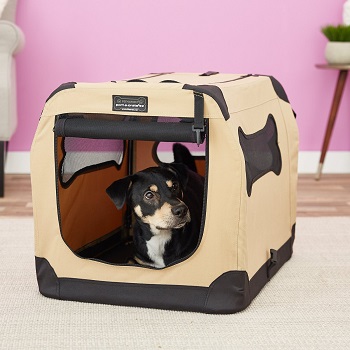 Simple Cleaning
Generally speaking, what's really important for soft dog crates medium or another size to have is the ability to clean them with ease. With this crate you can choose to clean it in two ways, You can either take the fabric cover off and machine wash it or if you want a quick solution, clean up any excess dirt and wipe it with a stain remover.
Entrances And Air Flow
The crate has a top entrance and a front entrance. They both close with zippers and the front one will also serve you as a ventilation window. There's 2 more ventilation windows that apart from being functional in ventilation the crate, are also lovely to look at because they're shaped like a dog bone.

Custom Measurements
Although the weight limit is 50 lbs, you have to make sure you measure your dog correctly for this soft dog crate medium. Your dog's length should be 4-6 inches smaller than that of the crate and the same goes for your dog's height but it's 2 inches.
In Short:
Easily cleaned through machine or hand washing
The fabric is tightly woven together
The steel tube frame makes it hold its shape
To figure out the crate size you should measure your dog
Has a front and top entry points
BEST FOR TRAVEL SOFT DOG CRATE MEDIUM
A4Pet Soft Collapsible Dog Crate
Leak-Proof Bottom
You can easily use this crate as a soft dog crate for cars. One of the reasons why is because the bottom is leak-proof which means that any accident that happen inside the crate will stay inside the crate and keep your car floors clean .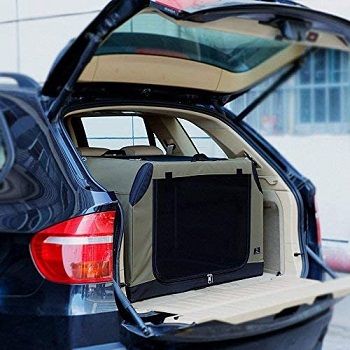 Crate Design
The crate consists of a frame and a fabric cover. The material used to make the frame is steel tubes that make this crate a foldable medium soft dog crate and the fabric cover is oxford fabric. The frame is designed to keep your car interior safe because it has rounded corners.
Windows And Their Size
There's a large mesh window on top and in the front while the side mesh windows are a bit smaller. The top and front ventilation points are also access points. They close with zippers just like any soft crate doors do.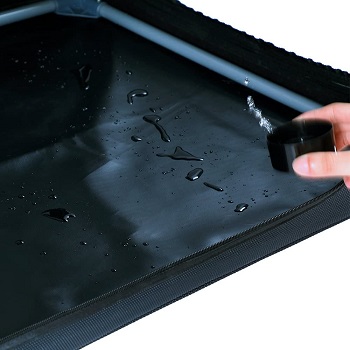 Crate Training Warning
We have to accentuate the fact that your dog should be crate trained to live comfortably and safely inside this medium soft-sided dog crate. The weight limit is 50 lbs which means it's good for medium dogs but you should always check the dimensions as well to know for sure.
In Short:
The bottom is leak-proof
The steel frame is foldable
The crate has an oxford fabric cover
The top and front ventilation points are also doors
The weight limit is 50 lbs but check the dimensions to know for sure
BEST FOLDING MEDIUM SOFT SIDED DOG CRATE
X-ZONE PET Soft Dog Crate
All-Adapting Black Design
If you ever wanted your medium soft dog crate to be fashionable and fit just about any style this is the crate for you since it's color in all lack and we all know that black really does go with everything. Apart from being black, is is a 600D fabric that's highly durable.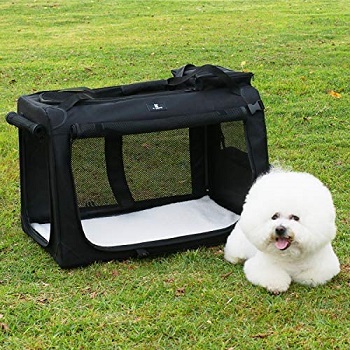 Crate's Shape
Even though the crate is durable, it doesn't mean that it can survive chewing because after all, this is a folding soft dog crate. The way it holds its shape is because of the frame made out of steel tubes and this is also why you can fold it down.
Multiple Door Functions
There's three doors in total that are also ventilation windows made out of breathable mesh fabric. They can all be closed down with zippers but they are self-locking ones to prevent your dog from unzipping them and eventually possibly escaping.

Worry-Free Traveling
You won't have a problem if you ever choose to travel with this crate and there's more than one reason for it. The first one is the fact that it has a top accessory pocket and a removable one on in the back and the other or is that it comes with a mat for the bottom to give your dog some extra comfort and you can also wash it quite easily.
In Short:
Has a steel tube frame
Has a 600D black fabric cover
There are three doors to access it
All doors lock with self-locking zippers to prevent dogs escape
Has two accessory pockets
Comes with a bottom mat for coziness during travel
BEST PLASTIC SOFT SIDED DOG CRATE MEDIUM
Amazon Basics Soft Dog Travel Crate
Light PVC Frame
You really don't need to worry about the PVC frame that makes this soft dog crate a medium plastic dog crate because it does the job of keeping the crate's shape pretty well and it can be folded just like a regular steel tube frame. Another good thing is that this makes the crate even lighter.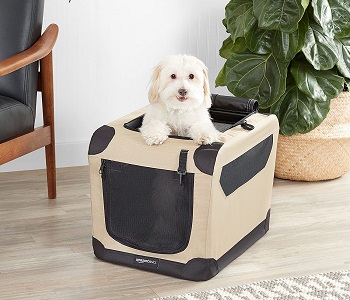 Ventilation Points Size And Purpose
The side and back mesh fabric windows that serve as ventilation points are a bit smaller than the front one because the front one is also an access door. there's also a top loading door for access and they both close with zippers which is what we are used to seeing with these crates.
At Home Crate
If you choose to use the crate in your home for more permanent purposes then you'll definitely find useful the straps for fastening that will keep the front door open and out of your dog's way. You simply have to roll the window up and attach it to the strap.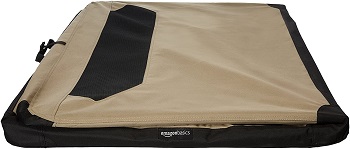 Weight Maximum
Typically, what constitutes as a medium dog breed is not measured by the dogs weight but instead, it's more preferable to determine it by measuring their length and height but the weight limit is a good starting point and this soft dog crate medium has weight limit of around 75 lbs.
In Short:
The frame is made out of light PVC
Can be folded down
Has a top and front entry point
The front door can be left open by securing it with fastening straps
Has a weight limit of around 75 lbs
BEST METAL SOFT DOG CRATE MEDIUM
Birdrock Home Soft Dog Crate
Quick Folding Design
The way we categorized this crate is by looking at the material that makes its frame. It is a metal frame that's quite sturdy. You can fold it down in seconds because of its springs the are retractable and folding bars that are collapsible.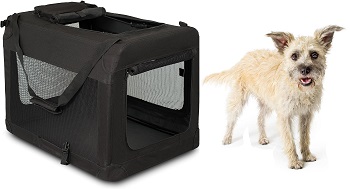 Simple Cleaning
You won't have to go through too much trouble to clean this soft dog crate medium thoroughly since the fabric cover is water resistant and you can easily wash it. It's also really easy to maintain and part of the reason why is because it's all black so any dirt won't be that visible.
Airflow And Visibility
It has two entry points located in the front and bottom and as always, they close with zippers. Good airflow is ensured because the ventilation points are located on all sides and they are also quite large so not only are you getting a well-ventilated crate but you're also getting one with good visibility.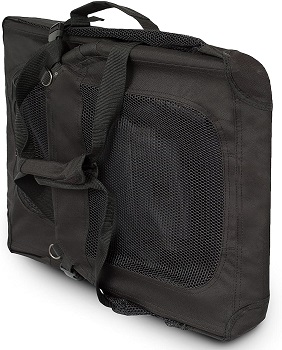 Function Extras
The extras that make this crate more versatile and functional include the an accessory pocket located on top for strong anything that you might need for your dog while traveling and if you're using it in your home and wish to keep it open,
In Short:
Has a metal frame that folds down in seconds
The windows are large enough to provide great visibility
Good airflow is provided from all sides of the crate
Has a top and front entrance
The front entrance door can be rolled up to stay open
Has an accessory pocket for traveling
How To Pick A Soft Dog Crate Medium
We don't want to worry you but the fact is there are a lot of things you need to thing about before deciding to buy a soft dog crate with medium size. To explain why is really simple, they largely differ in size and functions as opposed to other crates and you even have to be careful with how your dog acts while he's inside so continue reading to make no mistake when you decide to buy.
What Medium Means – Medium can mean different things for different dog breeds and crate types. There are so many crate types and not all will be targeted at medium dog breeds even though they are marketed as medium. This is mostly the case with any size of soft crates whether it's a small soft crate or a large one. What you can do to make sure you get the correct size is to check its' dimension and measure your dog to see if he is 3-4 inches small then the crate itself.
Preferred Dog Conduct – Some crates are just not cut out for aggressive dog behavior and these are the perfect example of it. Another good example is indoor dog crate furniture. What you can do in this case is to either crate train your dog beforehand or to just get a heavy-duty metal dog crate.
Additional Purpose – What these crates are good for is travel or to put it into longer terms, they are great for situations where you're gonna use them for a shortwhile. You won't have a problem with carrying them since they're light and they're easy to store away because the are foldable.
Crate Escape – One of their major flaws are the locks for the door. They are simple zippers that can easily be opened so if you have a dog that tends to open up and escape their ccrates this might not be the safest option for you nor your dog.
To Sum Up
We definitely must choose the A4Pet Soft Collapsible Dog Crate as the best soft dog crate medium because of its leak-proof bottom and rounded corners that will protect your car interior in case you wish to travel with it. If you don't find these crates sturdy enough we would recommend that you take a look into the article about sturdy dog crates and if you wish to use your crate for travel then definitely check out the article about the best medium dog travel crates.