Have you figured out that owning a soft dog crate for cars would be the best option for you when traveling with your dog?
If you're having trouble finding a good one, then you should definitely continue reading this article because we only reviewed the best in it. We didn't stop there and we made sure that we put an accent on what every dog crate is best for like best for small dogs, large dogs, and so on so you won't have to waste your time reading through something that in the end will no be right for you.
The Summary
Best 5 Soft Dog Crates For Car
BEST OF BEST SOFT DOG CRATE FOR CAR
EliteField 3-Door Folding Soft Dog Crate
2 Build Materials
The crate features two materials for the build. One is the strong steel tube frame that makes this crate a collapsible soft dog crate and the other material that is used to make it is 600D oxford fabric for the cover that you take off to clean with no problems.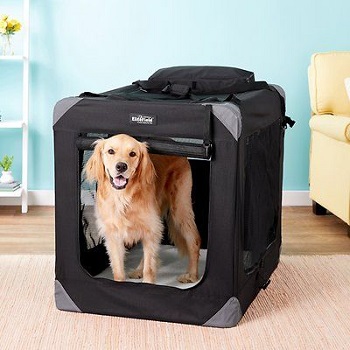 Ventilation Points
This soft dog crate for cars is well ventilated because of the mesh fabric windows it has on all sides and the top. These will also give your dog some visibility and you as well. Three of them also function as doors that you can zip to open or close
Traveling With Comfort
Although these soft dog carriers for cars are quite comfy already if you decide to buy the crate you will get a fleece bed for the bottom that you can also wash. Your dog isn't the only one to be comfortable because for you to carry the crate, you will get to choose between carrying it with a top carrying handle or with padded shoulder straps.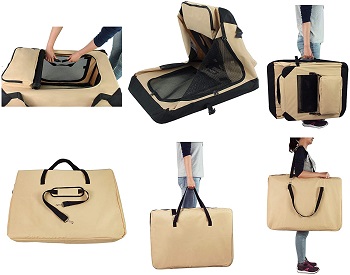 Bigger Than Most
These crates' are usually made quite small but this one is higher and wider. Specifically, it is 1-in higher and 3-in wider than the rest. It's 24-in long so it is mostly made for small and medium dogs that have to be crate trained for the crate to last you a long time.
In Short:
Made out of strong steel tube and fabric
Uses mesh fabric for the ventilation windows
Three doors close with zippers
Best for small and medium dogs that are crate trained
BEST INDOOR SOFT DOG CARRIER FOR CAR
Nova Microdermabrasion Dog Crate
Equally Tall And Wide
If you're more fond of crates that can easily become a great addition to your home for everyday use this crate is the way to go. Rarely will you find a tall dog crate that is almost just as wide as it is tall. You can be sure that you're getting the most out of comfort with this crate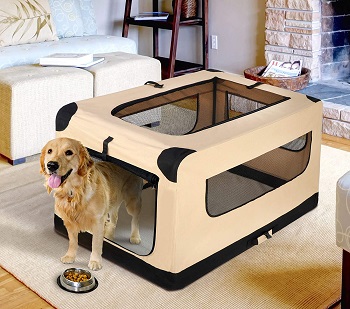 Safe Interior
You don't have to worry about possible sharp edges since this soft dog crate for cars' cover is made out of oxford fabric and the steel tube used for the frame is made to be light. You can also fold it down to store the crate when it's not in use.
Extraordinary Ventilation
There's enough ventilation and visibility even for the most anxiety-ridden dogs. Ventilation is provided from the top and all of the sides of the crate and the top and front side windows are access points as well that can be closed or be opened by a zipper.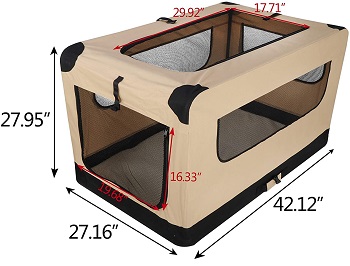 Material Weight Limit
This soft dog crate is 43-in long, around 27-in wide, and around 27-in tall. The dimensions and considering its build material make it best to be used by dogs weighing not more than 80 lbs. Just remember that your dog should be crate trained for this crate to pass the test of time.
In Short:
The steel tube frame is light and foldable
The fabric cover is 600D oxford fabric
It is almost as wide as it is tall
Can house dogs that weigh up to 80 lbs
Access to the crate is provided from the top and front
BEST SMALL SOFT DOG CRATE FOR CAR TRAVEL
One for Pets Portable Pet Kennel
Carry Casing
This small soft dog crate can be folded down because of its frame and soft fabric cover. To store when it's collapsed, you'll get a carry case with it. The carry case has handles on it so transporting this soft dog crate for cars will be even easier.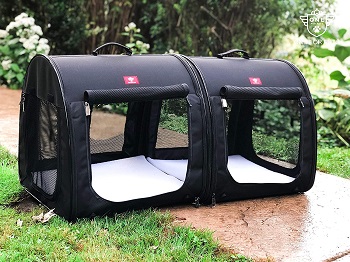 Fabric Divider Functions
What makes this soft dog carrier stand out is the fact that you can use it in multiple ways. You can use it to house two dogs as two separate crates, to house two dogs as a single unit, or to use it as a crate for one dog. All of this is made possible because of the fabric divider it comes with.
Safe For Dogs And Cars
The reason why it's so good for travel is the fact that it has built-in straps that will allow you to connect the crate to a seatbelt. Another reason why is because it comes with a padded bottom cover that you can wash easily. This and the crates' fabric bottom will also keep your car floors clean.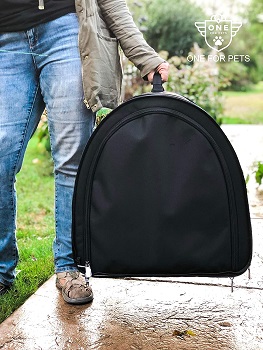 Points Of Entry, Ventilation, And Size
Each separate crate will have two doors for you and your dog to gain access to it. Of course, they are made out of mesh fabric and serve as ventilation points as well. You can only house small dogs even if you're using it as a single unit because it's not as tall to be suitable for any larger dog.
In Short:
Comes with a carry case to store when it's folded down
You can use it as two separate crates to house 2 small dogs
Has built-i straps to connect it to a seatbelt
Comes with a padded and washable cover
Comes with a crate divider
Each crate has two entry points
BEST FOR LARGE DOGS SOFT DOG CRATE FOR CAR
MidWest Portable Tent Crate
Camping With Your Dog
The thing that speaks the most about how good this crate is for traveling is the fact that you can use it as a dog camping crate. The fabric that surrounds it is water-resistant which means that your car floors will stay clean because they won't get into contact with any accidental liquids.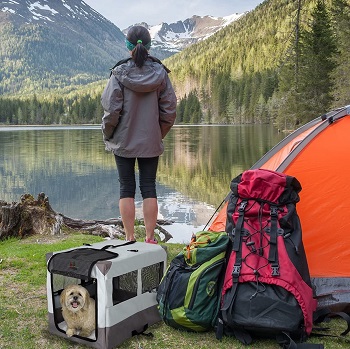 Reinforced Frame
For the frame, so that the crate can hold its shape well, the manufacturer used a sturdy steel tube frame but to make it even more stable and durable it has a u-shaped steel wire that reinforces it.
Secured Edges
MidWest knows how easily these crates can tear up and become useless so they made sure that the corners of this soft dog crate for car are reinforced to prevent early and rather unnecessary damage to the crate.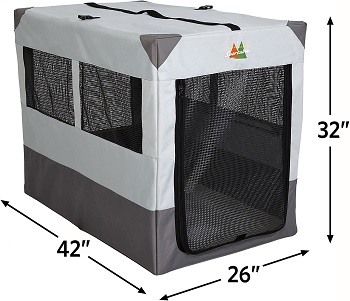 Large Mesh Windows
The crate uses large mesh windows to keep your dog cool during warm weather when you're traveling. There's a large front entrance door and the weight limit for the crate is 90 lbs. It's suitable for dogs like German Shepherds, Boxers, and other dogs of similar size.
In Short:
Added stability is achieved with a u-shaped wire
Has a collapsible steel frame
The crates' fabric is water-resistant
Has one entrance point
Comes with large mesh fabric windows
BEST AIRLINE APPROVED SOFT DOG CARRIER FOR CAR
X-ZONE PET Pet Travel Carrier
Carry-On Airplane Bag
The crate is made to fit the dimensions of the under-seats of most airlines and airplanes. Of course, each airline has its own set of specific rules and regulations so before you decide to travel with this crate and your dog, make sure you contact your airline to see what you need.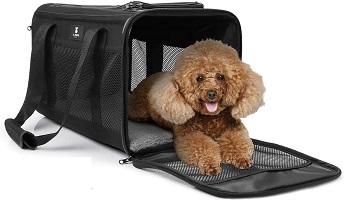 Hard Bottom
This soft dog carrier for cars actually Doesn't have a steel frame. The thing that makes a hard bottom for your dog to easily stand while he's inside is the base insert but also the fleece bed that you also get with this crate
Multiple Transport Options
To transport the crate you'll get a carrying handle, a shoulder strap, and a back strap that can also be used so that you can attach the carrier to your luggage. The great thing about the shoulder strap is that it can be used as a seatbelt for this soft dog crate for cars.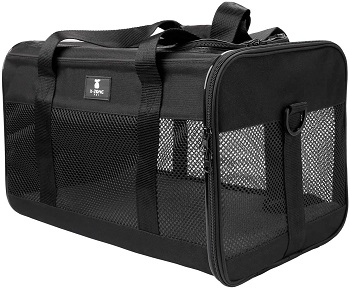 Appropriate Crate Size
Although the crates' weight limit for dogs is 16 lbs, this doesn't mean that you should only base your decision on what crate size to get with this. To best make sure that you're getting the appropriate crate size, it's best to measure your dog.
In Short:
The crate is airline approved
Has a hard bottom insert
Transports easily with carrying handles or straps
You can attach it to your luggage
The weight limit is 16 lbs but you should focus more on dimensions
How To Pick A Soft Dog Crate For Car
If you really want a soft dog crate for travgel with a car, then you must buy it with some warnings that we're about to present to you because soft crates are not for everyone because your dog, to start, has to be well behaved, has to be of appropriate size and so on so make sure you read these tips on how to buy it so you don't accidentally buy the wrong crate.
Crate Sizing – One of the more important things to know is how these crates are sized and how to know which one to get for your dog. Look at the weight limit of the crate any soft dog crate especially large soft-sided dog crates will have a weight limit. The next thing you want to do is measure your dog. Make sure that the crate is a few inches taller and longer than your dog.
The Meaning Of Safety – What we mean by safe soft crates is their ability to be connected to a seatbelt. That's really the only thing you can do to make these types of crates as safe as possible. since they are not made with firm materials.
Wanted Dog Behavior – No matter the size of your dog, if you're getting them a soft crate, then you want to make sure that your dog is already well behaved. The soft fabric can't really endure excessive chewing and the zippers that these crates usually have can be opened without much struggle.
Preferred Dog Size – If you really want to get your dog this crate, it would be preferred if the dog was a small or at the very least a medium dog breed. If you have a large dog and want  a crate that's a bit lighter and cheap your best bet is to go with an XL plastic dog crate
To Sum Up
You don't always have to go with the first obvious choice to be satisfied and when you're choosing a soft dog crate for car you'll find it it's no exception so the one that we think that performs best during car travels is the One for Pets Portable Pet Kennel. Not only can it house two pets but it can also be safely connected to a seatbelt to keep your dog as safe as you are. If somewhere down the road you've decided that you wish to travel by plane as well then we want to recommend that you read the article about giant dog crate airline approved models and if you feel like these crates do not suit your dog well and want them to, first and foremost, be safe then you should definitely check out the article about the safest dog crates for cars.