Are you looking for a small soft dog crate for your small and soft in nature dog?
We've gathered and reviewed only the finest in this article for you to read so keep on if you want to be sure to find the best quality crate that you might be able to use to travel or travel by air since these are some of the categories that we put them into.
The Summary
Best 5 Small Soft Dog Crates
BEST OF BEST SMALL SOFT DOG CRATE
Petnation Port-A-Crate
Materials And Weight
The crate has a fabric cover that is tightly weaved together So it's extra durable and it surrounds the steel tube frame that makes the crate hold its shape nicely. Not to worry though, it is a soft portable dog crate still since it only weighs 6 lbs. Another thing that speaks of its portability is the fact that you can fold it down.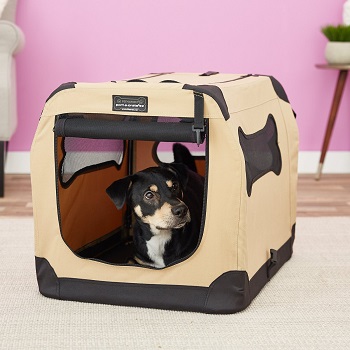 Rounded Shape
The small soft dog crate has rounded corners and it is so that your car interior doesn't get damaged if you choose to travel with it. Your dog will be provided with good enough airflow due to the fabric mesh windows that are shaped like dog bones to make the crate look cute.
Dog Size And Weight Limit
Apart from your dog having to be crate trained for the crate to last you a long time, his weight shouldn't go over 25 lbs. The weight limit is important but not as important as knowing how long and tall your dog should be for this crate. The crate should be 2 inches taller and 4-6 inches longer than your dog.

2 Cleaning Methods
Cleaning this small soft-sided dog crate also won't be a problem since you can machine wash the fabric cover. If you need a quick solution to the problem, you can collect and dirt by hand and wash the crate down with a stain remover as well.
In Short:
The rounded corners will protect your car interior
Made with a durable steel frame and fabric
The fabric cover can be machine washed
Made for dogs up to 25 lbs
It can be folded down
Ventilation windows are shaped like bones
BEST FOLDING SMALL SOFT SIDED DOG CRATE
EliteField 3-Door Soft Dog Crate
Color Varieties And Build
The crate has many color options and color designs to choose from. There are 16 colors in total and it includes the blue and purple dog crate color as well. It's made out of 600D oxford fabric and for the frame it uses steel tubes that makes the crate foldable.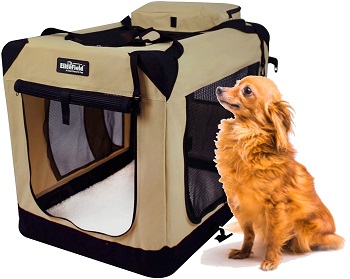 Proper Ventilation
This small soft dog crate has large mesh fabric windows located on all sides of the crate including the top. The top, front, and side mesh windows are also doors that you can lock with zippers. If you choose to leave the doors open you can roll them up and attach them with a velcro fabric.
Easily Cleanable
The crate will come with a bed that will keep your dog cozy especially if you're one to go on long rides with your dog. You can easily wash the bed and the cover as well when you feel the need to. The crate is wider and taller than most soft dog crates so choosing the right size will be easier and simpler.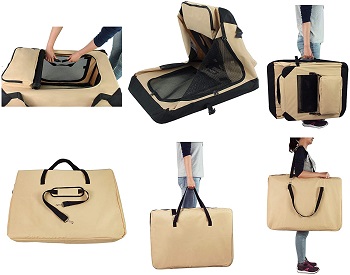 Crate Trasnportability And Extras
You will get multiple carrying options with this crate. You can either carry with handles or with padded shoulder straps and to keep all of your dog accessories in one place you will get a top accessory pocket and a removable accessory pocket.
In Short:
Made with a steel tube frame and oxford fabric cover
Can be carried with handles or shoulder straps
It's wider and taller than most soft dog crates
Comes with a washable bed
It can be folded
You can choose to get it 16 different colors
BEST FOR TRAVEL SOFT SIDED DOG CRATE SMALL
A4Pet Soft Collapsible Dog Crate
Bottom Specs
The reason why it is an exceptionally good soft travel dog crate is its bottom. It is made to be leakproof so any accidents that might happen inside the crate will stay in the crate and won't get on your car floors.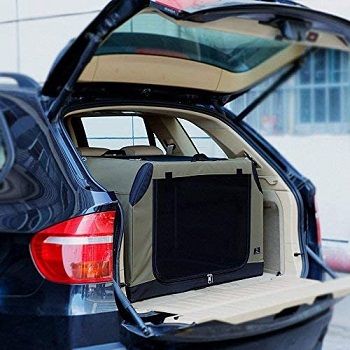 Car Interior Safety
Another crate feature that will prove to be useful when you're traveling with this small soft dog crate is the crate's corners that are rounded to again, protect your car interior from damage. The back of the crate features an accessory pocket
Door And Windows Size
The mesh fabric windows that are larger are also doors. There's only one more window that is smaller than the rest of them and serves the same functions as the others; to ventilate the crate and make your dog see outside the crate. The doors are located on the top, front, and side of the crate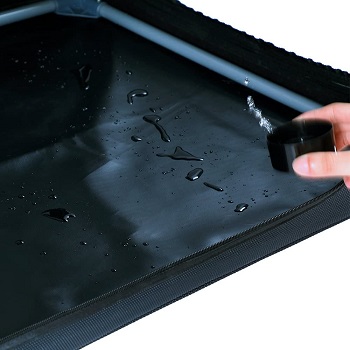 Additional Comfort Items
You'll also get a cushion for the bottom of the crate that you can wash as well as the cover. The steel tube frame that the fabric covers can be folded for you to store the crate or transport it more easily when you need to. The crate will easily house small dogs and medium dogs up to 30 lbs.
In Short:
Has a leak-proof bottom
The corners are rounded to protect your car's interior
Can house small and medium dogs up to 30 lbs
Has three entrances
Has an accessory pocket in the back
Comes with a washable cushion bed
BEST AIRLINE APPROVED SMALL SOFT DOG CRATE
X-ZONE PET Soft-Sided Travel Carrier
Hard Bottom
This small soft-sided dog crate doesn't have a steel tube frame to hold its shape. It's entirely made out of fabric and it has a hard bottom insert for your dog to be able to stand and be comfortable enough when he's inside. The crate will also come with a cushion.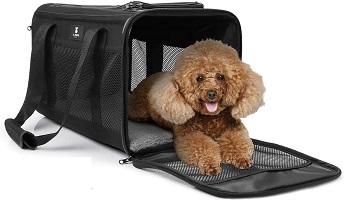 Small Enough Size
The reason why the crate is an IATA approved dog crate is that it is small enough to fit below the seat of most airplanes. Keep in mind that you should check with your specific airline about dog crate regulations since they can be different for each airline.
Other Means Of Traveling
You don't have to limit its use to air travel. You can also use it for car travels since the shoulder strap that it comes with can be used as a seatbelt. The small soft dog crate will also come with carrying handles and you'll be able to connect it to your luggage due to its back strap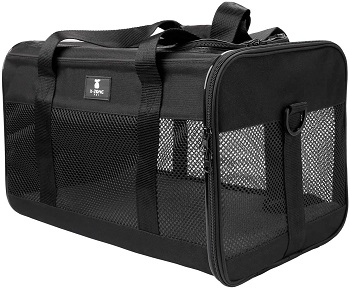 Maximum Weight Load
The max load that the crate can handle is 20 lbs but you should rely on the crate's and dog's dimensions to determine the crate size. The crate can easily become a fashion statement since you can choose to get in blue, purple, brown, black, and grey.
In Short:
Can house dogs up to 20 lbs
Fits under most airplane seats
Has a hard bottom insert
Comes with a comfort cushion
Has carrying handles and shoulder straps
The shoulder strap can be converted into a seatbelt
Comes in 5 different colors
BEST INDOOR SOFT SIDED DOG CRATE SMALL
Amazon Basics Soft Dog Travel Crate
Why It's So Light
To understand why this crate only weighs around 4.2 lbs we have to know the materials that it's made out of. the frame features a not so commonly used PVC plastic frame that can also be folded down and for the cover, it uses a polyester fabric. Since it's so light it's an amazingly portable soft dog crate.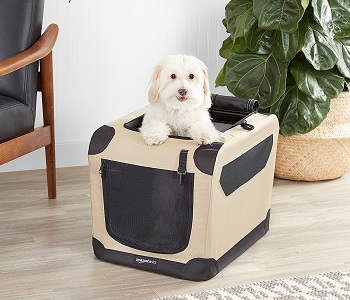 Corner Protection
The upper corners of the crate are rounded and for good reason. This is so that your car interior doesn't get damaged if you decide to travel with your dog using it. What might also help you with transport is the foldable design that'll make that less of a hassle.
Entries And Ventilation
This small soft dog crate has a top, back, and front entrance. All three can be closed with zippers and they also serve the function of ventilation windows along with the rest, smaller windows located on all sides of the crate. If you want, you can roll up the poor to leave it open by attaching it to a fastening strap.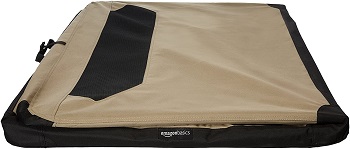 Size And Dog Size Recommendation
Since the crate is only 21-in long you should only use it to house extra small breeds that weigh up to 12 lbs like toy poodles. We should also add that You should use this crate with exemplary dogs that are crate trained since the crate will get damaged easily otherwise.
In Short:
Has a PVC plastic frame
For the cover, it uses polyester fabric
Made to house extra small dog breeds
Has three entrances
It's well ventilated because of the mesh fabric windows
How To Pick A Small Soft Dog Crate
To choose the right dog crate you gotta know the differences between them. You have to know what they are best for, what dogs they can house, and you have to know how to pick the correct size. In this short guide, we will go through some of these things and answer them for you so that your crate picking job is much easier.
Highly Portable – These crates are incredibly light so they can easily be transported anywhere unlike XL metal dog crates for instance. You can use them to safely travel with your pet and they will be carried easily since most have a foldable construction and come with multiple carrying possibilities.
Wanted Dog Behavior – Although they are extremely portable that doesn't mean that they are the safest dog crates for cars. Your dog is expected to behave well if you're using them since their materials can easily wear and tear off if not.
At-Home Use – They're not exactly great for prolonged use. If you plan on housing your dog inside them permanently make sure that they can be folded down so that you can store them since it wouldn't be smart for your dog to use them all the time. If you want a more permanent option for an in-home crate then you'd benefit more from a small wire dog crate.
How To Size A Small Crate – No matter the size, you will size each small soft dog crate in the same way unless the manufacturer tells you otherwise. The way you do it is that you measure your dog's length and height and make sure that 3 to 4 inches below the crate's height and length.
Size Range – Most of these crate's sizes range from around 20 to 24 inches and that's exactly the length small dog crates should have to house small dogs. WE do have to add that while a 24-in dog crate can house small dogs up to around 25 lbs, crates that are smaller than that like a 2′-in dog crate can only house extra small breeds up to around 12 lbs.
To Sum Up
Since small soft dog crates are best for traveling with your dog we just had to choose the A4Pet Soft Collapsible Dog Crate as the best one since its leakproof bottom and rounded corners will keep your car free from damage. If you don't really care about the materials that make the small dog travel crates we suggest you look into the article about it and if you found that you'd benefit more from a durable crate then we suggest you check out the article about though dog crates.