Do you want a potty training crate to finally teach your dog not to pee where he shouldn't or to stop it completely?
We know how annoying potty training can be so by continuing to read this article you will benefit greatly from it because we have found and reviewed only the best. You will easily find a crate even for traveling or an indoor one and there's more of that came from. There's a crate in here for everyone and everyone's needs.
The Summary
Best 5 Potty Training Crates
BEST OF BEST POTTY TRAIN CRATE
Life Stages Folding Dog Crate
Protective Wire Coating
The wire crate is coated with a black satin e-coat that not only enhances how this dog potty crate looks but it also protects the wire surfaces. This means that the coating won't come off easily even with biting or scratching that might usually come from a puppy or dog that's not crate trained.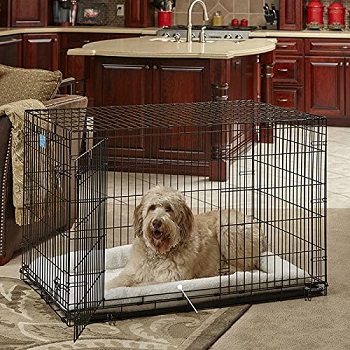 Divider Purpose
The divider panel that this potty training crate comes with will help you with that. The way it does this is that it will adjust to your dog's size as he grows and becomes a fully grown dog. You will also get two doors to access the crate that can be locked with 2 slide bolt locks each.
Made To Be Safe
The crate not only comes with things needed for potty training like the plastic tray on the bottom that will not slip or slide because of the pan stop and will collect dog dirt and excrements for you to easily clean but it also has rounded corners that will minimize any harm that might happen to your dog while he's inside.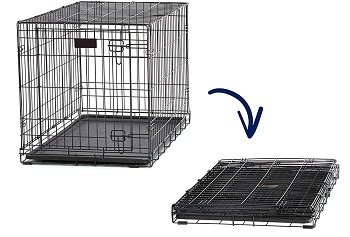 Puppy Travels Info
If you choose to travel with your puppy you can do so easily with this crate because it can also be an SUV dog crate. You can also fold it down to easily transport it. Note that this crate's dimensions tell us that this is a crate for large grown-up dogs so it's pretty big. You should crate train your puppy first to do this and the puppy shouldn't be less than 2 months old.
In Short:
Made out of steel wire
It is Coated with a black sating e-coat
Comes with a divider
Has a cleaning tray on the bottom that won't slide out
Made for large dog breeds
Has rounded corners
There are 2 doors for access
BEST FOR TRAVEL POTTY TRAINING DOG CRATE
Diggs Revol Dog Crate
Primary Build
This potty training crate's primary build material is plastic but that definitely doesn't mean that it's not a sturdy dog crate since the plastic is reinforced and the sides of the crate are made out of high frame aluminum wire. It weighs 25 lbs which is surprisingly heavy for a plastic dog crate.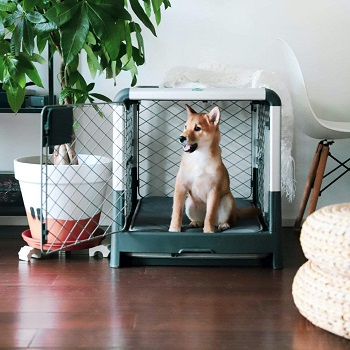 Three Door Design
There are three doors in total for you to access the crate and if your dog is one to often escape his crate by unlocking the doors, this is the crate for you. The doors are located in the front, top, and on one of the sides and you can open it similarly to a garage door.
Potty Training Stuff
The way that it becomes a divided dog crate for potty training is again, with the divider that it comes with. Another thing that will make potty training easier is the slide-out plastic tray on the bottom that won't dirt fall onto your floors.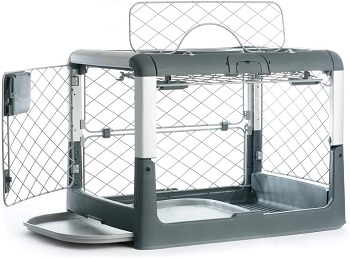 Features Made For Easy Traveling
The crate is made for small dogs and if you choose to travel with it you can do so by utilizing its built-in wheel, top handle, and collapsible construction. You also don't need to worry about the safety of your dog while he's inside since the crate's made with baby industry standards.
In Short:
Made with reinforced plastic
The sides are made out of aluminum steel wire
Comes with a divider and plastic cleaning tray
Has three secure door access
Has built-in wheels, a top handle and can be collapsed for traveling
Made for small dogs when the dog grows up
BEST INDOOR DOG POTTY CRATE
BarkWood Pet Crate End Table
A Crate And a Furniture Piece
It comes as no surprise that this dog potty crate is best for indoor use. The reason why is that you want to maximize its use and you will do so by using it as dog crate furniture because of its top. The crate will save you space and blend well with your home.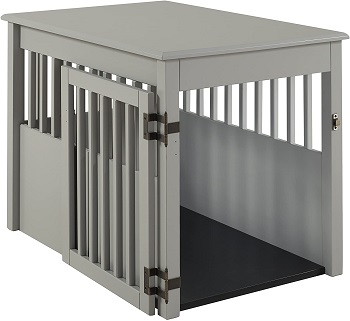 Durable Build
The solid wood that's used to make this potty train crate increases the strength and durability. It will also allow your puppy to chew on the crate without it getting damaged. The crate is colored with a light brown so think about that if you really want it to blend.
How The Bottom Is Made And Why
The fact that the crate doesn't come with a plastic slide-out pan would make it not so easy to clean. It will make the crate last for a shorter period of time if the bottom on the inside wasn't covered with a rubberized coating that will minimize absorption and make cleaning the crate a lot easier. If you want to double the protection, you can use a puppy pad inside the crate to make it a dog kennel with a pee pad
Space Saving Door Design
There's another way that you'll save space with the crate and it's the door that you can open and attach to the side of the crate so that it doesn't get in the way. You can use the crate to house medium-sized dogs but you can get a larger version if you like it so much but have a large dog.
In Short:
Can function as an end-table
Made out of strong solid wood
The rubberized coating minimizes liquid absorption
Can be used by medium-sized dogs
The door can be opened fully and attached to the side of the crate
BEST WITH DIVIDER DOG CRATE WITH POTTY TRAY
Petmate Puppy Training Retreat Kennel
Crate Color
The potty train crate steps out from the boring and boxed in black color design since the steel wire that's used to make it is colored to make it a blue dog crate. The blue coating will also make the crate more durable since it gives it a corrosion-resistant quality.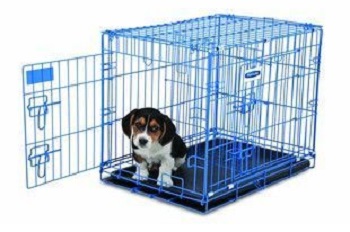 Secure Locking
If your puppy is one to frequently unlock the crate and escape you don't need to worry about that anymore since the single door located at the front can be locked from 5 different points and they include the slide bolt lock that is the standard for locking wire crates.
Liquid Spills Protection
This is a dog crate with a divider for potty training and aside from the divider, it also comes with polypropylene or, to put it simply, a plastic pan that will serve you to clean the crate more easily by cleaning just the pan and it will also protect your floors from liquid spills.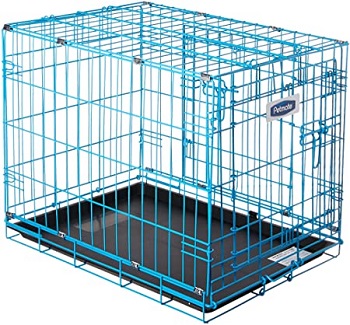 Assembling The Crate
You won't have to struggle with assembling the crate since it comes folded flat and all you need for assembly is to unfold it. You can fold it back down when you're not using it or if you want to easily transport it when you need to. The crate can house small dogs.
In Short:
Made with steel wire
Coated in blue and it's corrosion-resistant
It can house small dogs
Comes with a divider and plastic cleaning pan
There's a single door for access
the door lock from 5 different points.
BEST FOLDING DOG CRATE FOR POTTY TRAINING
Carlson Pink Metal Dog Crate
Cute But Durable
If you want a stylish wire crate this small pink dog crate is the answer. It is as cute as it is durable. The whole crate is made with durable steel and the pink pan on the bottom is made out of composite material which means that to make it, the manufacturer used 2 materials to make a sturdier pan than it would be if it were made out of either of the two alone.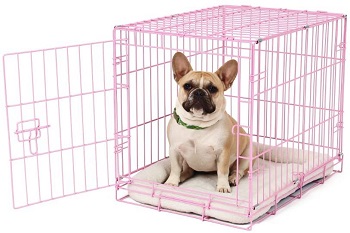 Standards It Is Certified To
The crate is also certified to juvenile products manufacturers association or JPMA in short and also to ASTM standards. This means that this potty training dog crate was tested for safety when it comes to puppies and dogs in general and it passed.
Crate Divider
We must note that this is not a dog crate with a divider for potty training but if you really like it, there's a workaround for it. You can either get a pee pad for it or you can simply put to good use its bottom pan that will protect the floors if accidents do happen while your dog is inside the crate.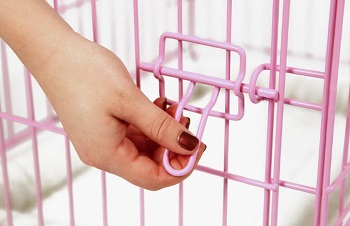 Single Multi-Point Locking Door
Your dog will be able to access the crate through the single front door. You will be pleased to know that the crate does lock from multiple points so you can be sure that your dog won't be able to unlock and escape the crate if he's a skillful escape artist.
In Short:
Мade with pink coated steel wire
Doesn't feature a divider
Made for small dogs
Has a pink pan on the bottom for cleaning
It is certified to ASTM and JPMA standards
The single door can be locked from multiple points
How To Pick A Potty Training Dog Crate
To really know whether you should get and what kind of features you want to look out for in a potty train crate you first have to know what a divider panel is for, how to size the crate, you have to get to know the different materials these crates are made out of and recognize what makes the crate safe for puppies so here's some tips and info on these things.
Potty Training With Dividers – If you've ever wondered what a divider panel is for the answer is simple. Dogs and puppies don't tend to pee where they sleep and if they have a crate that's too big for them, they will use that opportunity so what the divider does is that it adjusts to your dog's size to make an XL wire dog crate a small one until your puppy has grown into his full size.
Properly Sizing The Crate – Whether you're getting a puppy crate or any other one like a small dog travel crate you want to know how to size your crate because it's the same for all of them. Firstly you want to measure your dog from head to toe for his height and from the tip of his nose to the end of his rear and compare it with the crate's height and length. If the dog is 3 or 4 inches smaller than the crate, you're good to go on the crate size.
What Else Do You Need – Whatever else you may need, it's typical fr wire dog crates to have it. These things include a slide-out pan, rounded corners, and secure locks that lock from multiple points or that are impossible for your dog to unlock on his own.
Potty Train Crate VS Kennel – You can potty train your puppy inside a kennel, that's for sure but kennels are made to be used outdoor. They're made to be extremely larger than dog crate so they can easily house even the largest ones. They are made so that they endure tough weather conditions and often they're used by dog professionals that have a lot of dogs and even if you could fit them inside your home, they would the biggest of eyesores.
Potty Training Aids – While the basic aids in potty training are dividers and pull out trays and pans, what can also help with potty training are puppy pads in crates that you can buy separately. They will be incredibly useful if your crate doesn't feature a divider and has a not so deep pan.
To Sum Up
The not so obvious choice for the crate that we'd recommend is the Petmate puppy potty training dog crate. The reason is simple. apart from having the most standard things that wire crates have it also features a multiple point locking system that will ensure that your puppy or dog doesn't escape the create on his own. If you have a dog that needs crate training but is not a puppy then the article about training cages for dogs is the one we'd recommend you read and if your dog is a bit more aggressive the article about heavy-duty metal dog crates is the one you should definitely read.