Do you particularly fancy the color blue and think your dog would look good inside a blue dog crate?
If you do you'll want to continue reading this article where we reviewed nothing but these crates. We sought out to find the best and to offer you a large variety of crates from small to medium, and even large. There's a crate for everyone's needs and wants here, that's for sure.
The Summary
Best 6 Blue Dog Crates
BEST OF BEST BLUE DOG CRATE
MidWest Homes For Pets iCrate
Build And Coating
This crate has a pretty standard build and it definitely isn't less durable than other wire black dog crates that are the most commonly found and bought. The coating finish is light blue and it's an electro-coat that makes the whole crate resistant to rusting. The panels also feature rounded corners.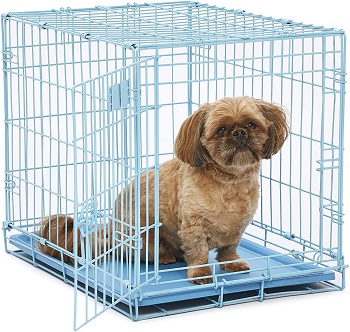 Puppy And Dog Safety
Both a puppy and an adult dog will be safe and won't pinch his paws inside this blue dog crate. That's because its corners are rounded. You'll get to house a puppy inside because it comes with a divider panel that can adjust the crate's size to your dog's until he's fully grown.
Cleaning Tray Details
Even the plastic cleaning tray on this crate is blue and you won't have to access it to clean through the single door in the frot. Instead, you'll get to slide it out by removing the pan stopper on the bottom, remove the excess dirt and wipe it down with a damp or wet cloth.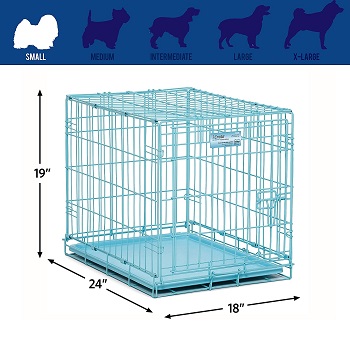 Fold-Down Design
It is a folding metal dog crate and this will become useful if you ever plan on traveling with your dog or just simply transport him safely when you have short outings. You can even use this trait to store it away when it's not being used. It's 24-in long and you can use it to house small dogs.
In Short:
The steel wire is coated with an e-coat
Has rust-resistant properties
Can house small dogs
Comes with a divider for puppies
It's easy to fold down
Has a single access door
BEST SMALL BLUE DOG CRATE
Internet's Best Wire Dog Kennel
Crate Type Advantage
It's safe to say that you'll get to leave your dog unattended while he resides inside this crate. That's because the front and side door feature secure 2 secure sliding bolt locks each and because the crate is made out of steel wire which is the perfect choice if your dog has to be crate trained meaning you need a training cage for dogs.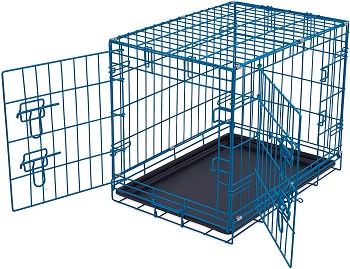 Color Type
Not every blue crate for dogs comes in the same shade of blue. When comparing the first crate to this one, this crate's color is definitely more intense and darker so if you like it, then this crate might be the one for you. The only thing that's not colored is blue is its plastic cleaning tray that's colored black.
Size Particulars
This is another small blue dog crate meaning that it's only 24-in long and can only house small dogs. Small dogs that fit inside 24 dog crates typically weigh up to 25 lbs but you shouldn't rely too much on this information. Instead, you should focus more on the dog's length and height to figure out the right size.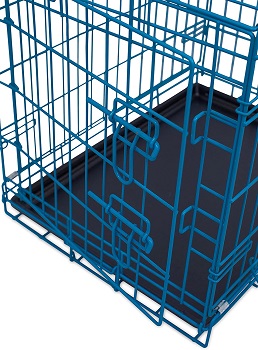 Storing And Cleaning
Just like any wire crate, this one can also be folded down a conveniently carried since it only weighs around 2 ounces. The fact that it's so light mostly comes from its small size. Cleaning it also won't pose a problem since the black cleaning tray has raised edges and can be slid out.
In Short:
Made with steel wire
Has a darker shade of blue
Has 2 entrances that lock with 2 sliding bolt locks
Can be folded down fast and easily
The cleaning pan is painted black
Able to house small dogs
BEST PUPPY BLUE DOG CRATE
Precision Pet Snoozzy Baby Crate
Color And Build
The color of this crate reminds us of a dreamy color where your dog can rest and grow up. It might look flimsy because of the gentle colors, but it's definitely anything but that. it's a durable dog crate since it's made out of reliable steel wire and coated with a rust-resistant electro-coat that's also long-lasting.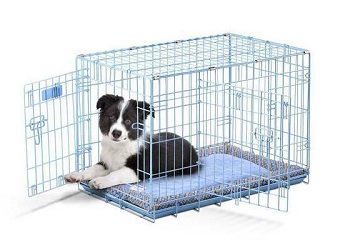 Looped Wire Design
The crate is designed in a very different way. The wire ends are looped in some places, typically around the door and on its corners. What this does is eliminate sharp steel wire edges but also makes the crate 25% stronger in terms of stability and construction.
Unique Entrances
This blue dog crate has two entrance doors. One can be found in the front and one on the side. The side door can be folded away to reduce the amount of space it would use if you were to keep this entrance to the crate open. Both doors lock from 5 different points for more security.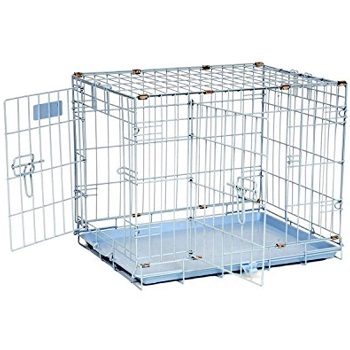 Adult Dog And Puppy Housing
You will definitely enjoy its unique and safe features with an adult dog but also a puppy. It comes with a puppy crate divider that you can place anywhere inside the crate to adjust the size to your dog. The crate is 24-in long meaning that your dog should be small when he's all grown up if you want him to fit inside.
In Short:
The wire is looped for a stronger build
Has a rust-resistant e-coat finish
Comes with a divider for housing puppies
The side door can be folded and stored away
Can house small adult dogs
The doors lock from 5 different points
BEST LIGHT BLUE DOG CRATE
Iris Wire Dog Crate
What It Is
Although this is a crate and has most of the standard features of crates, it's best if you were to think of it as a dog crate playpen. The first and most obvious reason why it's to be treated like one is that it doesn't feature a top. For the top, you'll get a mesh fabric piece that you can attach to the top with velcros.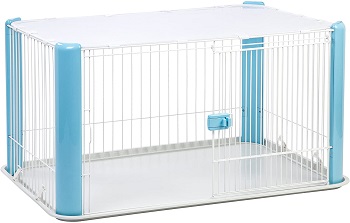 Play Space
Another indication of why it is more of a blue playpen than a blue dog cage that it offers your dog a total of 9.5 square feet of playing space. That's because it's 44.5-in long and 31-in wide. Even with these dimensions, we advise you to use it with small dogs only especially because it's only 23.5-in tall
Sides And Corners
Its sides are made out of white steel wire that's coated with heavy-duty epoxy. The corners are what make it a light blue dog crate. They're made out of plastic and are rounded to protect your dog while he's inside, and your home interior on the outside.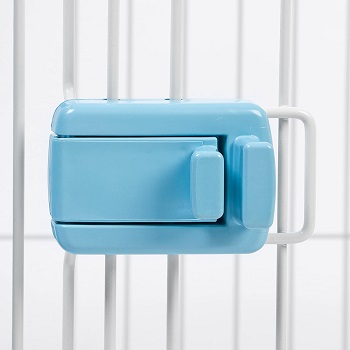 Single Door And Floor Pan
It's a sliding door dog crate that locks with a positive lock. This single door can be found on the lengthier side of the crate and can actually make it easy for you to use it as a crate and playpen combined. The cleaning tray on the bottom is molded to the edges so that these two constructions don't separate.
In Short:
Made with steel wire and plastic
The wire is coated with epoxy
Has a sliding door entrance
Features a removable mesh fabric top
It's best to use it with small dogs
Acts like a playpen
BEST MEDIUM BLUE DOG CRATE
Jespet Soft Pet Crate
Fabric Specifics
The reason why this crate is blue is because of its fabric cover. The fabric in question is 600D oxford fabric and although it is durable, we still wouldn't recommend you using with a dog that hasn't yet been crate trained and generally isn't calm. Typically, these crates are used as soft travel dog crates.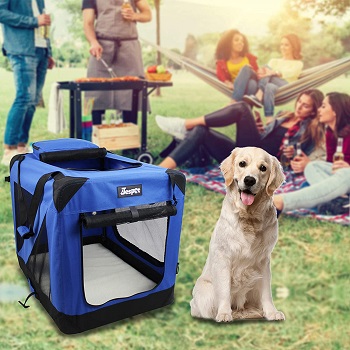 Fold-Down Design Use
The fabric covers a steel tube frame that will allow you to fold down the whole crate. From that point, you can either store it or easily transport it using the two carrying handles on top. It will be very easy to do so since this blue dog crate medium only weighs around 8 lbs.
Cover Contents
The cover is also the host to several details and accessories. First up with got the necessary mesh fabric windows that will help ventilate the inside of this dog crate. There are 4 of them in total and 2 act as entrances. The back and top have accessory pockets and there's a water bottle holder in the back.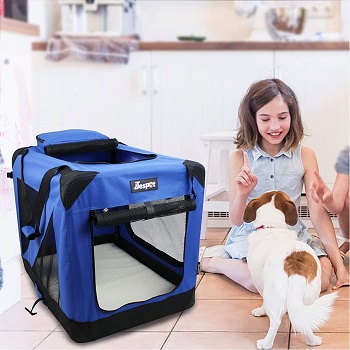 Rare Size
Blue dog cages are hard to come by if they're anything but small. Luckily enough, this doesn't rein true for soft collapsible dog crates like this one. This one is 30-in long which means that you'll get to easily house a medium-sized dog up to 40 lbs inside it.
In Short:
Has a 600D oxford fabric cover
The steel tube frame is foldable
Can house crate trained medium dogs
Has 2 accessory pocket and water bottle holder
Has 4 ventilation windows and 2 entrances
It only weighs around 8 lbs
BEST LARGE BLUE DOG CRATE
EliteField 3-Door Dog Crate
Different Blues
We can't think of a reason why you wouldn't like the powerfully beautiful navy blue color of this crate's cover. If you don't, there's also a royal blue option, a blue-gray option, a navy blue and gray combo option, and 12 other color options that don't have anything to do with blue.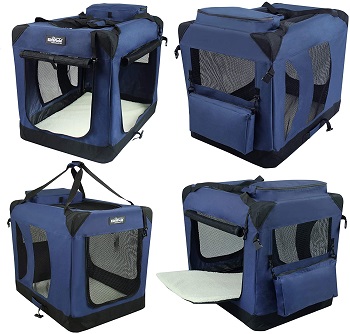 Steel Frame
This colored dog crate has a 600D oxford fabric cover that determines which color the crate is. It covers up the steel tube frame that is to thank when you want to fold down this dog crate to store it away or travel with it. You'll get a shoulder-strapped carry bag to store it when it's folded down.
Cover Specifics
You'll get to carry the crate when it's unfolded as well because of the carrying handle on the fabric cover. It's a well-air-conditioned dog crate since it has mesh fabric windows on all 5 sides. Three of those are entrances that close with zippers. The top and back also have accessory pockets.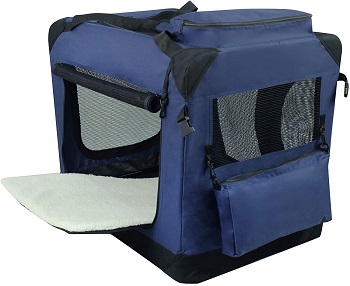 Spacious Interior
You can be sure that your dog will be the most comfortable inside this large blue dog crate. It's 42-in long and while there's nothing special about that, what is special about its dimensions is that it's 2-in wider and 4-in taller than most crates of this type
In Short:
The cover comes in 4 different shades of blue
The steel tube frame can be folded down
Comes with a shoulder strapped carry bag
Can house large dogs that are crate trained
It's 2-in wider and 4-in taller than most
Has 3 doors, and 5 mesh fabric windows
How To Pick A Blue Dog Crate
Picking out a blue dog crate isn't all about choosing a shade of blue you like the most. You have to think about the crate type that you're getting and what these types can do and can't do. We will list those things and talk more about each specific crate type found here.
Easiest Blue Crate To Find – The easiest blue crate that you can find is definitely a soft portable dog crate. it's because the crate cover is both cheap to make and easy to color since it's made out of fabric. These are the most common crates that come in wild colors like purple, pink, and many others.
Wire Dog Crate Problem – The thing about blue wire crates is that they mostly come only in small sizes so if you have a small dog that weighs up to 25 lbs you're in luck. If not, you'll have to take it to soft crates to find the perfect size for your dog. The problem with these two is that wire crates are great training cages for dog and they are far more durable than soft crates that can't house a dog that hasn't been crate trained.
What Can't Be Found As Blue – The crates that you definitely won't find as blue if you want it is indoor dog crate furniture this is since these furniture style crates tend to be colored as regular furniture to fit with it better. Another type that you'll either find rarely or not at all are heavy-duty metal dog crates. These are crates designed to house aggressive dogs and all the color blue would do is get chipped off easily since it's expected that the crate will be chewed on a lot.
Sizes According To Crate Type – As we've already mentioned, you'll rarely find a blue dog crate with wire design that can house dogs bigger than small. With soft dog crates, you'll have more room in the size department. The way to determine the exact crate size to get is simple. All you need to do is make sure that your dog's length and height are at least 4 inches smaller than the crate's.
To Sum Up
If you're a small dog owner we would definitely recommend the Precision Pet Snoozzy Baby Crate as the best blue dog crate to get. It has a unique design with its looping wire that strengthens its build, comes with a divider, and the side door can even be folded away if you ever want to leave the entrance open. If you're more of a purple person you can check out the article about purple dog crates and if you're more of a pink person we advise you to check out the article about large pink dog crates.