Want to see most, if not all of your options t if you want to get your dog a 24-inch crate for your lovely dog?
Check them out here by continuing to read this article where we did our best to review only the best. Here, you won't just find small crates, you'll find 36 and 30 crates as well that either has a width of 24 or a height of 24. Either way, you'll definitely find a crate like that here.
The Summary
Best 6 24 Dog Crates
BEST OF BEST 24 DOG CRATE
Petmate Precision Pet Dog Crate
Crate Color
Wire crates made for housing anything but small dogs tend to be more of black dog crates than any other color. Even small ones are mainly black but on off chances, you'll get to find a blue dog crate made out of steel wire like this one. It's pleasing to look at and fits better inside homes visually.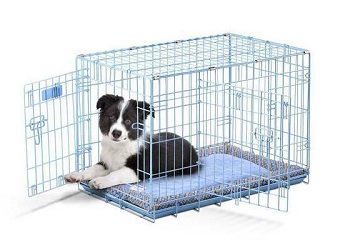 How it's Built
As we've already mentioned, it's made out of steel wire but the wire is looped. What this does is give this dog crate a 25 percent stronger construction than you would get if it was made just like any other wire dog crate. The e-coat is rust-resistant so the crate is as well.
Creative Locking
You'll find two doors on this Petmate 24-inch crate. One can be found on the side while the door one is located in the front. What's really impressive about them is that they don't just lock with a single sliding bolt lock but also from two additional top and bottom points.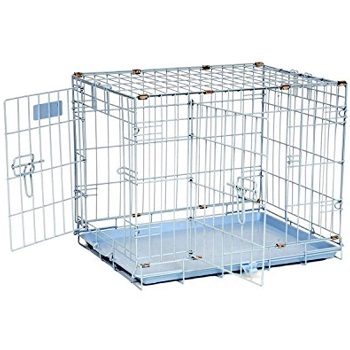 Potty Training And Cleaning
You'll even get to potty train and house train a puppy using this crate. that's because it comes with a divider that can be adjusted so that the crate's size adjust to the size of your puppy. It even has a slide-out cleaning pan on the bottom that's also colored blue as the crate.
In Short:
Made out of looped steel wire
Has a rust-resistant e-coat finish
The doors lock from 5 different points
Comes with an adjustable divider
The bottom is equipped with a cleaning pan
BEST 24 X 18 X 19 DOG CRATE
MidWest Homes For Pets iCrate
Standard Durability
You'll get a pretty standardly durable dog crate if you choose to get this one. it's got a steel wire build that's coated with a rust-resistant e-coat. Inside, there are rounded side clips that help eliminate sharp corners and round them out. This is so that your dog doesn't accidentally hurt himself.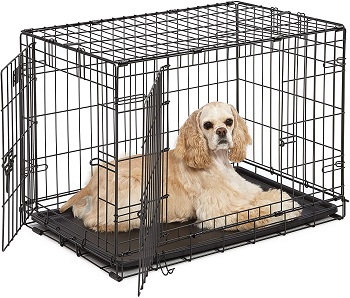 Doors And Door Locks
If you were to get a bigger version of the Midwest 24 inch crate, you would get more door locks, but since it's small and can house small dogs up to 25 lbs, there's no need to have more than one. You'll get one for the side and front door of this dog crate.
Floor Protection
It's the perfect crate for indoor use because of two reasons. One is that your floors will be protected from getting into contact with dog dirt because of the slide-out cleaning pan. The other is that the bottom features roller feet that will help prevent this 18 x 24 dog crate from scratching your floors.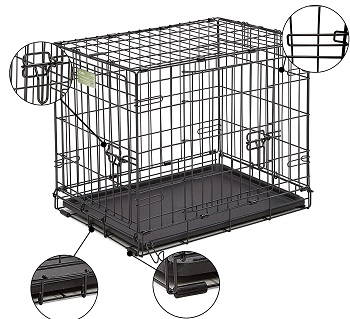 Use Of The Folding Design
This is a folding metal dog crate and what this means is that you'll get to transport it easily and even travel with your dog after you've done crate training and potty training him with the provided puppy crate divider that additionally comes with it.
In Short:
The steel wire is coated with an e-coat
Comes with a puppy divider
Protects floors with roller feet and cleaning pan
Can be folded down for easy transport
Can house small sized dogs
BEST 36 X 24 X 27 DOG CRATE
Lucky Dog Sliding Door Dog Crate
Crate Size
The next two crates we will review are bigger than the first two with whom you'll get to house only small dogs. This one specifically is an intermediate dog crate. These crates are usually 36-in long and can house dogs that are not big nor medium but somewhere in the middle.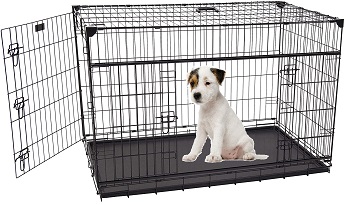 Category And Build Details
This is the 36 x 24 dog crate, precisely it's a 36 x 24 x 27 dog crate. It's made out of steel wire and has an e-coat as its finish coat. Electro coats usually make the material they cover resistant to rusting and that's the case with this crate as well.
Low Noise Features
Wire dog crates tend to produce a lot of rattling noise but that's not the case here. You can attach plastic corner stabilizers on its top corners that will both reduce this noise and make it more stable. Another noise-reducing thing on this crate is its double side door.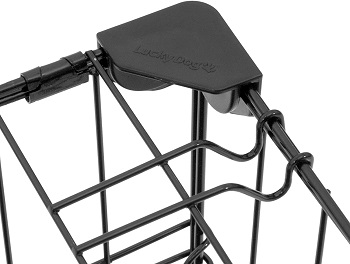 Door Opening
The double door in question makes it a sliding door 24-inch dog crate. Doors opening to the side will save you some space if you ever leave them open when it's being used indoors. There's a third door located in the front that opens like a regular door and locks with 2 sliding bolt locks.
In Short:
Sized as an intermediate dog crate
It is 24 inches wide
Has a double sliding door and a single regular door
The corner stabilizers reduce rattling noise
Has a rust-resistant finish
BEST 30 X 21 X 24 DOG CRATE
Cardinal Gates Sliding Door Crate
3 Sliding Doors
This crate also has a space-saving door design just like the one before it. The only difference is that instead of a regular opening front door, the one on this crate also slides open but upwards. You can rest this door on top while the side double door can't because it slides to the side.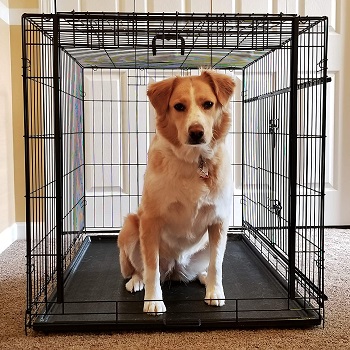 Wire Gauges
If you really want to get a durable medium wire dog crate you would definitely choose this one to do the job. That's mainly due to the fact that the steel wire that's used to make it is gauged. The doors feature a 6 gauge wire while the rest of this 20 x 21 x 24 dog crate features a 10 gauge wire.
Textbook Medium Crate Example
This crate is a great textbook example of what a medium dog crate should be. That's because it's 30-in long ad these crates can house strictly medium-sized dogs that weigh up to 40 lbs. You can easily use it as a crate-training tool because it's so durable. The crate is 24-in tall.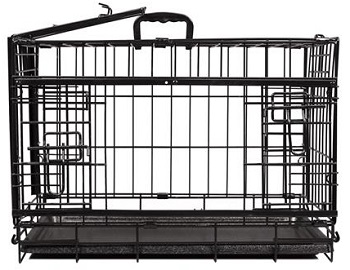 Folding Design Use
You won't have problems with assembly because all you really need to do is unfold it and set it. Because of this is just as easy to fold it back down. You'll even get a carrying handle to make transporting it even easier or you can use this feature to store it when it's not in use.
In Short:
Made with 10 and 6 gauge wire
Has a single slide upwards front door
The side double door slides to the side
Can be folded down and carried with a handle
Can house medium-sized dogs
BEST WOODEN DOG CRATE 24 INCH
Casual Home Wooden Pet Crate
Recommended Dog Behavior
Every crate we reviewed so far can be used as a crate-training crate but this one and the last one we are reviewing can't. For this small wooden dog crate, this stands true because it's entirely made out of wood and should only house crate-trained dogs if you want it to last you a long time.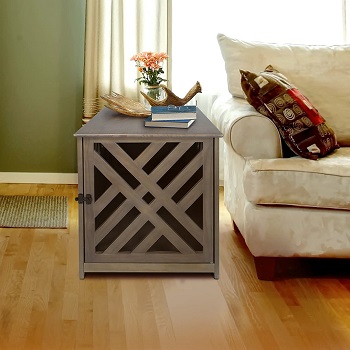 Wood Feature
You can technically house a little less than calm dog inside because the solid wood it's made out of is chew-resistant. Keep in mind that this is still a wooden small dog crate 24-inch model so the wood will take visible damage no matter what.
Access, Cleaning, And Ventilation
This 24-inch crate features a single access door in front. That will be both the only door that your dog will get to use to access it and the only entrance that you'll have to use to reach the inside when you're cleaning it. It's well ventilated because it has wooden bars place on all sides.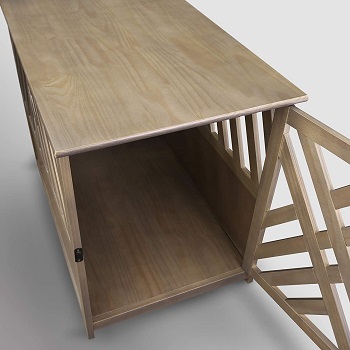 How It Looks And Functions
It's made out of wood so not only it looks like furniture but it also acts like one as well. The wider wooden top is to thank that this is indoor dog crate furniture. You'll get to put your stuff on top as long as you don't go over the 120 lbs weight limit. You can get creative with what you put on top since the weight limit is so high.
In Short:
Made out of chew-resistant solid wood
Looks like furniture
It functions as furniture because of the top
The top weight limit is 120 lbs
Can house small dogs
Features a single access door in the front
BEST SOFT 24 DOG CRATE
EliteField 3-Door Dog Crate
Carry Options
If we were to point out the best feature of this crate, it would probably be that it is a lightweight dog crate. It weighs 9.3 lbs so it won't take much power to lift it either when it's folded down and in its carrying case or when it's unfolded with its own carrying handles.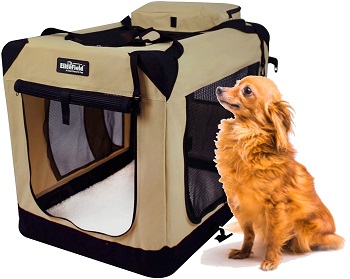 Crate-Trained Dogs Only Reasoning
The main reason why you shouldn't contain an uncrate-trained dog inside this 24-inch dog crate is that it has a fabric cover. The cover is made out of 600D oxford fabric so it is durable but not enough for a dog that's anything but calm. The frame is made out of steel tubes and the crate can be folded down because of it
Cover And Its Contents
You will find that this crate gets ventilated from 5 sides. That's because the cover has mesh fabric windows. Three of those, the top, side, and front windows also function as doors. You'll get to close these doors with a zipper. The last two things the cover holds are 2 accessory pockets.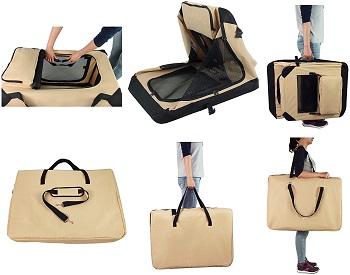 Inside Features And Accessories
This crate is both spacious and comfortable. It's not only comfortable because it's 2-in wider and 4-in taller than most of its market competitors but also because you'll get a padded bed that you can place inside. The crate can house small dog breeds.
In Short:
Has a 600D oxford fabric cover
Can house small and crate trained dogs
Can be folded down because of its steel tube frame
Has 3 doors, and 5 ventilation points
Comes with 2 accessory pockets and a carry bag
How To Pick A 24 Dog Crate
If reading about any 24-inch dog crate has gotten you a bit confused your next stop is to definitely continue reading this quick buying guide to make it easier for you to manage all of the different information about each crate because no two crates are alike. We're here to talk about these differences like the size for example and that's just the beginning.
Not Just A Matter Of Lenght – If it were just about a 24-in dog crate this would have been easier to explain but since it's not we'll go through each separate dimension. If a crate is 24-in long, it's able to house small dogs only. If the crate is 24-in wide this really doesn't mean much but in this case, it's able to house dogs up to 70 lbs and if it's 24-in tall, it's most likely that the crate is made to house medium dogs
Sizing Technique – To not get confused about how to properly size a crate, we'll explain it because it's really simple. All you need to do is find out your dog's height and length. After that, you'll have to compare it to the crate and make sure that the crate is at least 4 inches bigger than the dog.
Crate Durability – We'll discuss durability with the answer to the question of whether or not each crate type can be used as a training cage for dogs. Wire crates are the most typical type of crate used for this exact purpose so the answer is that they can. If they come with a divider they can even potty train puppies. Both the soft and wooden crates can't be used as one.
Crate Functions – If the soft and wooden crates can' be used as training cages they must be good for something. It's good that both are total opposites from one another in terms of function- The wooden ones usually get to look and function as furniture pieces that blend nicely inside homes while the fabric ones are great soft travel dog crates.
To Sum Up
Since the main focus was to find the best 24 dog crate in terms of length we would like to recommend the Petmate Precision Pet Dog Crate. It has a looped steel wire build which makes its construction 25 percent better and it can even house puppies because it comes with a divider. If you want to read more about this size of crates and its material, we suggest you read the article about small wire dog crates and if you need to find a larger and much stronger crate then we would recommend you read the article about medium metal dog crates.