Do you want to impress your friends by getting a small wooden dog crate that they won't even notice?
We realize how perfectly wood can blend into your household and it was on of our criteria for deciding which ones to review in this article for you to read so make sure you continue because here, you will easily find, metal ones, the ones for puppies, and even folding ones
The Summary
Best 5 Small Wooden Dog Crates
BEST OF BEST SMALL WOODEN DOG CRATE
Casual Home Wooden Pet Crate
Chew Proof Wood
If you're buying a wooden dog crate then you'd wanna make sure that the wood used to make it is of higher quality and this one has it for one simple reason. Thus small wooden dog crate is made out of solid wood meaning that it can service chewing from a dog without getting damaged.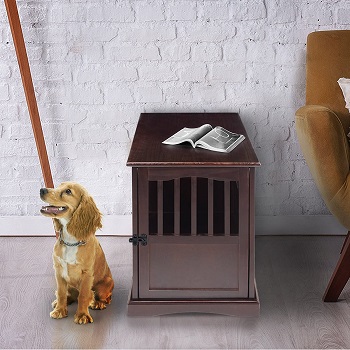 Single Steel Lock
The only thing that's not wooden on this crate is its lock that is made out of steel. It's a hasp latch lock that would usually cause a problem because these can sometimes be unlocked by dogs but your dog won't be able to get access to it because it's surrounded by wood.
How To Clean The Crate
You won't get a tray to clean the crate so to do it, you will have to access it through the single door and clean it with a damp cloth. It does make up for the lack of a bottom tray because it will save you space because the top can function as an end-table so it is small dog crate furniture.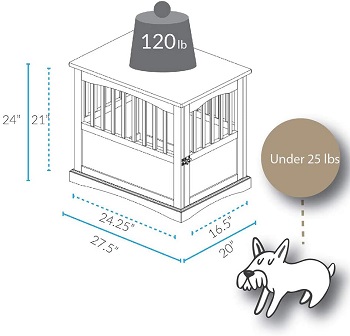 Top And Bottom Weight Limit
You don't have to worry about overloading the top of the crate with your stuff since it will be hard to go over the weight limit of 120 lbs considering its size. While the top can handle a lot of weight, the dog shouldn't' weigh over 25 lbs
In Short:
Built out of solid wood
Has a single door that locks with a hasp latch lock
The top can be used as an end -table
The weight limit for the top s 120 lbs
Your dog shouldn't weigh over 25 lbs
BEST FURNITURE STYLE SMALL WOODEN DOG KENNEL
Simply Plus Wood & Wire Dog Crate
Steel Wire Sides
It is not only a small wooden dog crate but it can also be considered a small wire crate since its sides are made out of steel wire and it uses MDF wood as its frame. MDF is not usually chew-proof but the steel wire sides might just be.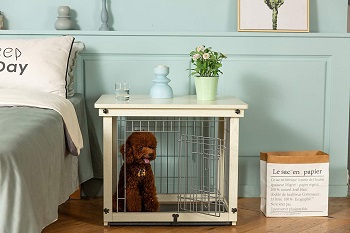 Furniture Style Top
You can also use this crates' top as a piece of furniture to put your personal things on it like vases, pictures, or magazines. This feature will save you space and it will blend in with your household more seamlessly than other small dog crates made of wood.
 The Cleaning Tray
Unlike most wooden dog crates, this one does feature a tray on the bottom for you to clean the crate with ease. You can pull it out when it needs cleaning and it won't slide out on its own because you can block it with a bone-shaped side stopper.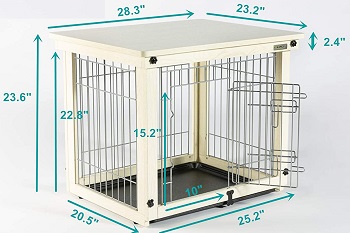 Screws, Door, And Locks
Your dog can access this crate through the single door located on the side of the crate. You will be able to lock it with 2 sliding bolt locks that are the typical locks wire crates use. For some cute accessories, you'll get screw shaped like dog paws.
In Short:
Uses wood and wire as its build materials
Has single door access that locks with 2 sliding bolt locks
Comes with a tray on the bottom that you can take out to clean
The tray won't slip or slide because of the bone shaped side stopper
Has screws shaped like dog paws
The top can be used as an end-table
BEST METAL WOODEN DOG CRATE SMALL
Unipaws Wood And Metal Dog Crate
Chew Proof To An Extent
If you decide to buy this small wooden dog crate you'll only have to worry about your dog chewing on it to an extent because although the crates' net that covers the side can survive it but the wooden frame can't.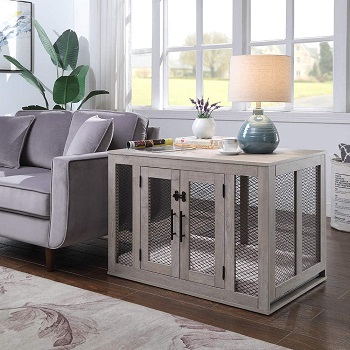 Puppy Crate Bits
This dog crate has most things that you might want out of a puppy crate with the reception of a puppy crate divider. Other than that, it has a pullout tray on the bottom that will save you a lot of time cleaning the crate and the metal nets will give him great visibility.
Double Door Magnet
You can see by the addition to the lock on the double door located on the side that this crate was made with great attention to details because apart from the hasp latch lock, the doors close and stay closed because they have a magnet on top that will prevent them from opening.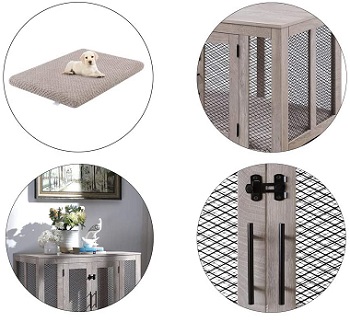 Useful Stuff
The crate will come with some extras and it's guaranteed that it will be useful to you and your dog. For your dogs' peace of mind the crate comes with a et bed and for you to not have an eyesore of a crate inside your home, you can use the crate as an end-table as well with the max limit of the top being 150 lbs.
In Short:
Uses wood for the frame and metal net for the sides
The doors lock with a hasp latch lock
The door keeps closed with a magnet
Has a pullout tray on the bottom for cleaning
Comes with a pet bed
The top can be used as an end-table
BEST FOLDING SMALL WOOD DOG CRATE
Good Life Foldable Wood Dog Crate
Foldable Wood
It's really hard to imagine that a small wooden dog crate can be a small collapsible dog crate  but in the case of this crate, it is true. The way you fold it is that you remove the top, fold down the 2 sides so that it's shaped like a brefcase because of the top handle that it has for carrying as well.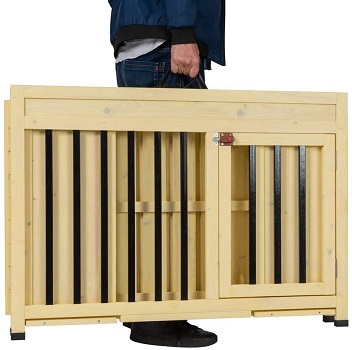 Metal Rods For Visibility
The crate is made out of fir wood but it uses durable enough metal rods for one of the sides. This will provide your dog with some visibility when he's inside the crate but note that it does not have a 360 degree view so if visibility is important to your dog you might want to skip this crate.
Top And Side Entrance
There's two entrance points. One is located on the sie of the crate and you can lock with a sliding bolt lock and the other entrance is the crates' top. The top will mostly be useful to you for access to the dog.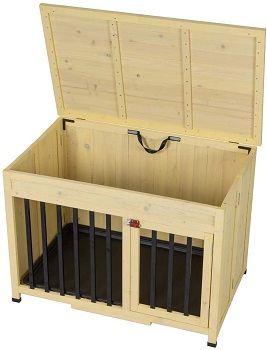 Housing Dogs Of Different SIze
You can place a pullout tray on the bottom of the crate because you'll get one with ti. This will keep your crate clean the wood intact. The crate can handle a dog weighing up to 40 lbs. This weight liit includes small dogs but also medium sized dogs as well.
In Short:
Мade out of fir wood
Uses metal rods for one of the sides
The crate has a top and side entrance
The side door locks with a sliding bolt lock
Comes with a pullout tray
Can house small and medium sized dogs
BEST FOR PUPPIES SMALL WOODEN DOG KENNEL
Richell Wood Mobile Pet Pen
Wire Crate At First
If you really want a small puppy crate that also blend well into your household because it is a small wooden dog crate this crate is the way to go. For the most part, what makes it so good for puppies is its steel wire build with only a few wooden additions like the edges.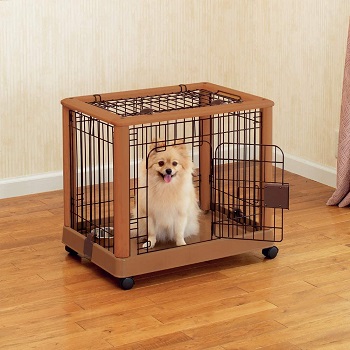 The Bottom Base
The crates' bottom base is made out of plastic but you can be sure that it won't be separated from the wire because it can be locked on to it. The base also has wheels o the bottom for you to easily move it around the house or elsewhere whenever you feel like it.
Access And Cleaning It
The crate will allow you to access your dog from the side and the top. Both the top and side door can be locked with a slide lock system to ensure you that your dog won't be able to escape the crate. To clean the crate you will have to remove the bottom base and clean it as a whole.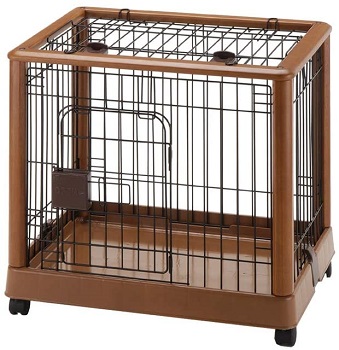 Low Weight Limit
Although the crate is 25-in long, 18-in wide, and 22-in long which would make it fit to be used by small dogs, the weigh limit for the crate is 18 lbs which means that it is best to use with extra small dog breeds
In Short:
Has wheels on the bottom for easy movement
Made out o wire, wood and plastic
The bottom base can be locked into place
Has a top and side access door
The doors lock with sliding locks
How To Pick A Small Wooden Dog Crate
We are sorry to break it to you, but just like other types of crate, these dog crates aren't for everyone. They differ greatly in materials used to build them, they can't handle certain dog behaviors and there's more to it that just that so continue reading to find out whether these crates' are the right fit for you after all.
Crate Cleaning – Something that's really important that these crates have is a plastic tray for dog crates. You really don't want your dogs' litter getting in contact with your wood but luckily for you, most of these do have that so you can ensure that it's easy for you to clean it and that it will be safe from damage
Choosing The Right Size – With any crate, the number one issue is that owners do not choose the right crate size so here's how to do it. Measure your dogs length and height, look up the crates' dimensions, add 3 or 4 inches to your dogs' dimension and see if it matches the crates' dimensions.
Handling Excessive Chewing – Who wouldn't want a beautiul wooden crate that blends extraordinarily well into their household but unfortunately, you will be losing money if your dog is an excessive chewer. There are some crates that can handle it and there are other that can handle it but only with the addition of were metal parts but these are rare so you're best bet in this case is to go with small metal dog crates
Small Wooden Dog Crate VS Kennel – Wooden dog kennels do exist and if they are made out of solid wood, their purpose is more decorative than useful but even with that in mind, they can handle different harsh weather conditions and they are extremely larger than crate. So much in fact, that the can house a crate of this size dn even larger crates.
To Sum Up
To choose the best small wooden dog crate we though about how easy it is to clean, how well it bleds into your home, is it chew proof to an extent and overall how it looks and the stands out even with this criteria is the Unipaws Wood And Metal Dog Crate. If your dog is a bit too aggressive for wooden dog crates but you're still after a crate that blends well into your household then the white wire dog crates article is the one you should read and if that's not enough, then read the article about pretty dog crates.