Are you having troubles with your storage space so you're looking for a small collapsible dog crate that won't take up much space when stored away?
Then you should definitely continue reading this article because we researched and found the best ones available right now. We've also made sure that the crates are placed into separate categories like metal and indoor so that you can focus on what's important to you.
The Summary
Best 5 Small Collapsible Dog Crates
Best Of Best: Diggs Revol Collapsible Dog Crate
Materials Used To Make It
The crate is so much more than just a small collapsible dog crate. It is also a small puppy crate and can even be a small dog travel crate. The reason for it is the thing it comes with but first, we must tell you about the materials it's made out of. It uses reinforced plastic for the frame and high-grade aluminum steel wire for the sides so you can be sure it's durable and sturdy.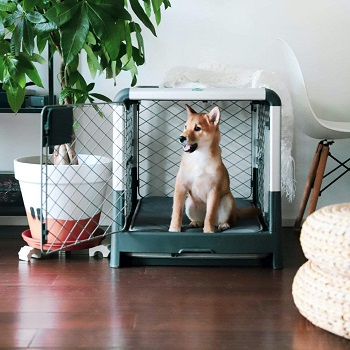 No More Injuries
A sturdy and durable dog crate does not always mean that it's a safe crate but in the case of this crate it really does. The reason why is because it's made with baby industry standards which means that your puppy won't get hurt while inside but the same goes for already grown-up dogs. It also comes with a divider so it can adjust to your puppy's size.
Safe Entrances
The crate has three entrance doors and there's no possible way that your dog will be able to open them on his own. There's a door on top, a front access door, and a side door that opens like a garage door.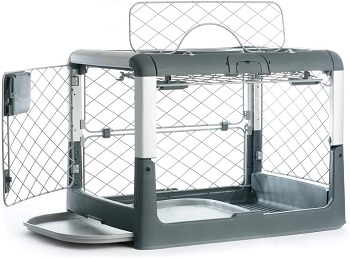 Using The Crate To Travel
It can, of course, be collapsed and it even has wheels on the bottom and a handle on top so you can travel with it and if you're worried about how you're going to clean the crate, it has a plastic tray on the bottom that you can pull out and clean any dirt that might have ended up on it.
In Short:
Made with aluminum steel wire and reinforced plastic
Can house puppies because of the divider
Made with baby industry standards in mind so it's safe for puppies
Has three entrances
There are wheels on the bottom and a handle on top for easy transport
Best Indoor: Pet Gear 4 Door Steel Crate
Multiple Positioning Options
You don't have to worry about how you're gonna position this crate inside your house because it has 4 doors so even if you block one entrance, there can be three left for you and your dog to access the crate. There are 2 doors on the side, one on top, and there's also a front access door that slides up to open so it is a sliding door dog crate.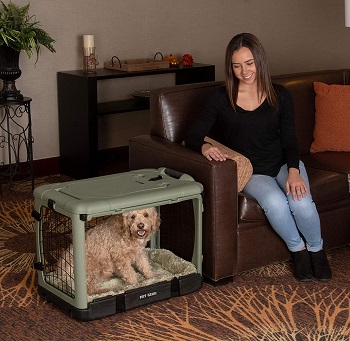 Transport And Storage Extras
This small collapsible dog crate utilizes its collapsible construction pretty well with the added wheels on the bottom, a top handle, and even a travel bag in which you can store the crate when it's folded down. When inside the bag, you can use its' wheels to drag it instead of carrying it.
Exceptional Comfort And Safety
The small folding crate is made with blow-molded plastic and it has steel wire sides. it doesn't have any exposed steel edges and the corners are rounded so that your dog doesn't hurt himself while he's inside. Your dog will also be pretty comfortable inside because you will get a padded cotton bed with it that you easily wash.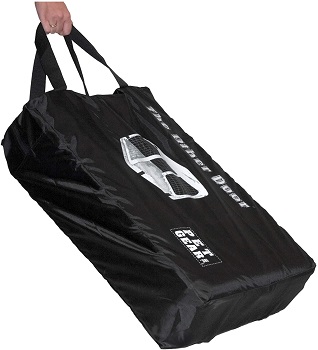 Choosing The Right Size
The crate can house dogs up to 30-lbs but you should focus more on its length and height to determine if it's the right size. Your dog shouldn't be longer than 24-in and taller than 18-in.
In Short:
Has 4 door for you or your dog to access the crate
Comes with a travel bag and padded bedding that can be washed
Has a plastic frame and steel wire sides
The corners are rounded and there are steel edges that are exposed
Has built-in wheels on the bottom and a handle on top
Best Metal: Extreme Consumer Products Folding Dog Crate
Ventilation And Visibility
This crate will serve you amazingly if you have an aggressive dog but if you have an anxious dog it might not be the best option. It is a great tough dog crate but it lacks in visibility because it only uses small holes for ventilation and steel rods for the front and back.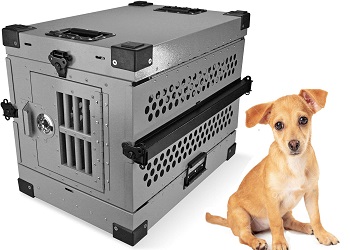 Folding The Crate
This small folding dog crate folds down easily into a briefcase because it has a handle on top for carrying. If you're having trouble with figuring out how to fold and unfold it, you can always use the manufacturers' helpful video on how to do it.
Prevents Overheating In The Sun
This small collapsible dog crate won't heat up if it's ever in contact with the sun for extended periods of time which means that it will prevent your dog from overheating and keep him cool enough for him to be safe because he won't come in to direct contact with the sun.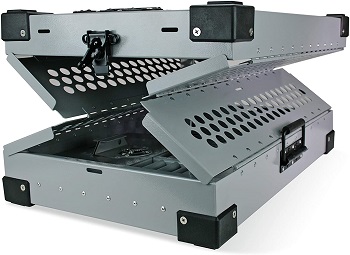 Corner Pads Purpose
The rather sharp, outer edges of the crate are reduced because of the caps they have. This will also prevent damage to the crate itself and your walls or floors. Because of these padded corners, you can even stack multiple crates on top of each other.
In Short:
Has great ventilation but lacks visibility
The crate can be folded down into a briefcase
Provides shade for your dog if it's in contact with the sun
You can stack more crates of the same type
Best For Puppies: Petmate ProValu Wire Dog Crate
Comfortable Visibility
Small wire dog crates like this one will always give you the best visibility that you can get so if you have a dog that has separation anxiety and needs to see you clearly at all times, this might just be the crate for you.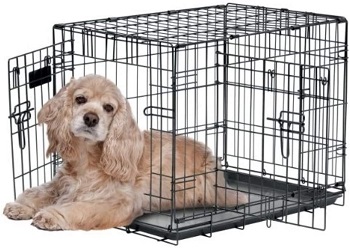 Multiple Locking Points
There's no need to worry that your dog will break out of this small collapsible dog crate because the two doors that it has, one in the front and one on the side, lock from five different points. The crate also uses the standard sliding bolt locks.
Corners That Prevent Injuries
You can be sure that your dog won't hurt himself in the process of being inside this small folding crate if he's a little rowdy and not that calm because the inside corners of the crate are rounded which is something that crates like this should always have.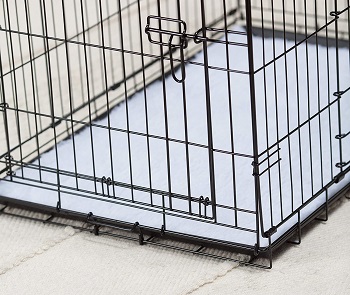 Why It Is A Puppy Crate
Everything mentioned makes this crate great for puppies, but there's more to it. You see, the crate comes with a much-needed divider for puppies so that the crate is not too big in the beginning and since accidents will happen more during this life stage, you will get a plastic tray on the bottom to pull it out when you need to clean the crate.
In Short:
Has great visibility because it's made out of wire
Features a front and a side access door
The door locks safely from 5 different points
Comes with a divider for puppies
Prevents injuries by having rounded corners
Best Soft: EliteField 3-Door Folding Soft Dog Crate
The Frame And Fabric Cover
The reason why this is a collapsible soft dog crate is because of its steel frame. It is a strong steel tube that is covered with a 600d oxford fabric and it uses a mesh fabric for the ventilation and visibility windows. Although the fabric used is strong and durable this crate should only be used with crate-trained dogs.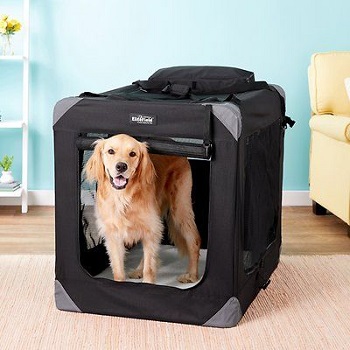 Windows As Entrances
Some of the mesh fabric ventilation windows serve the purpose of doors as well. There are three of them in total and they are located on the top, in the front, and on one of the sides. They can all be closed with a zipper.
Travel Extras
This small collapsible dog crate will be put to good use if you use it for traveling. It has carrying handles on top but you can choose to carry it with straps as well. In the back and on the top there's a pocket in which you can put any dog accessories that you might need like a leash or treats.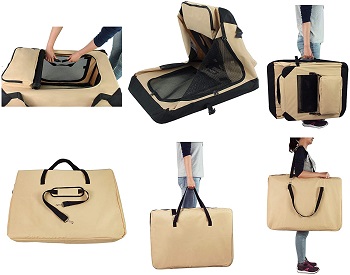 Know Your Dimensions
The crate is 18-in wide, 24-in long, and 21-in tall. The measurements of soft crates are especially important because often they might be categorized as large crates but they can house small or medium dogs. The crate will also come with a padded bed.
In Short:
The crates' frame is made out of strong steel tube
The crate's cover is 600D oxford fabric
For the ventilation windows, it uses mesh fabric
Has three access points
Has a top and back pocket for storing accessories
The doors close with a zipper
How To Pick A Small Collapsible Dog Crate
There are a plethora of small collapsible dog crates on the market and they can be, soft, made out of wire, plastic and they can have some extras so you can travel with them but they also come with some flaws so before you decide to buy one, make sure you read through some of the pros and cons.
Crate Using Time – Crates shouldn't be used all the time unless you're using the crates as a professional but even then, you will benefit most from getting a stacking dog crate. Some of these crates can be stacked on one another but since they're foldable, they might collapse because of the pressure of another crate.
Aggressive Dogs Warning – although they are usually made out of steel wire that will contain your dog well. If your dog is extremely aggressive they might tip the crate on its side and damage the crate and themselves in the process. On the other hand, you will rarely, if ever find a heavy-duty small metal dog crate that can be collapsed so if you see your dog in this description, getting them instead of these will be smarter.
Crate Transport – With a few additions you can easily use the small collapsible dog crates for travel since they are foldable and easy to transport or to store when you're not using them. They can have wheels, handles, or even come with travel bags so that they are well fitted for travel.
Collapsible Dog Crate Benefits – The ones that will benefit the most from these crates are definitely people with puppies because they will often come with a puppy divider and seeing as how you shouldn't use the crate all the time, the foldable construction will do you good when you're storing the crate. You can also benefit from these types of crates if you have a large dog so that you could transport the crate more easily if it's too big.
To Sum Up
The best small collapsible dog crate that we'd recommend Diggs Revol Collapsible Dog Crate because it's completely safe for dogs and especially puppies, it comes with a puppy divider, enough entrances and you can even travel with it. If you realized in this article that your large dog would benefit greatly from these folding crates then you should definitely check out the article about XL wire dog crates since wire crates are more often than not collapsible and if altogether, these crates won't work for you because they can often be flimsy. After all, they are collapsible then the article about XL metal dog crates is the one for you to read.