Do you wish to travel with your dog but need a large dog car crate for it?
You might want to continue reading this article because we made sure to review dog crates that fit this description. We chose only the best to review and we got creative and chose and a bunch of different types like plastic ones, soft ones, and more so there's a crate for everybody.
The Summary
Best 5 Large Dog Car Crates
BEST OF BEST LARGE DOG CAR CRATE
Midwest Side-by-Side SUV Crate
Not So Common Door Placement
This large dog car crate has two entrances that aren't as common when it comes to their placement. The first one is typically located in the front but the other one is located in the back. Both doors can be locked using 2 sliding bolt locks.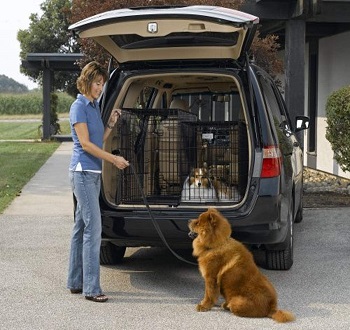 Saving Up On Cargo Space
The reason why this is such a good SUV dog crate and a car crate, in general, is that it will save you a lot of cargo space in the back because of its narrow design. It is 42.5-in long, 30.25-in tall and 21-25-in wide. Don't worry, your dog will still have enough space to rest comfortably inside it.
Design Travel Benefits
Another great thing about the narrow design is that you can place the crate on the back seat so that your dog can be by your side at all times. You won't have to worry about urine getting on your car seat or floors since the bottom holds a plastic pan for cleaning that's leakproof.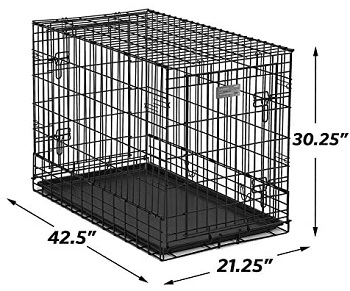 What It's Built Out Of
The crate is made out of a durable steel wire and has an e-coat finish that makes it anti-rusting. You will have no problems with transporting the crate since you can fold it down and carry it like a briefcase with the provided handle.
In Short:
Made with e-coated steel wire
The crate is anti-rusting
Can be folded down to carry or transport
Has a narrower design to fit most vehicles
Comes with a handle for carrying
Has a leakproof plastic pan for cleaning
BEST METAL LARGE DOG CAR CRATE
4×4 North America MIM Safe VarioCage
2 Large Dogs Crate
This large dog car crate is in fact a multi-dog crate. you can easily house 2 large dogs in it because of the non-removable divider panel made out of metal that you can find in the center of the crate. Because of this the crate also features two doors.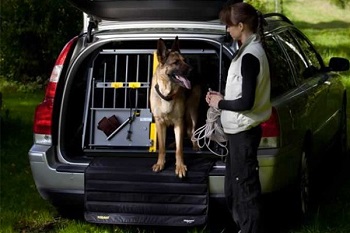 Crash Tests It Passed
You really won't have to worry about whether or not your dog is safe inside this crate because it is crash tested. It passed tests for different crash scenarios like roll over, frontal, and rear crashes and it's made to be safe for you and the dog.
Adjustable Side Bars
The sides of the crate feature metal bars that are of adjustable length. This will make choosing the size of crate for your dog a lot simpler but that is not its only purpose. They are also here to retract and absorb the energy in the event of a crash.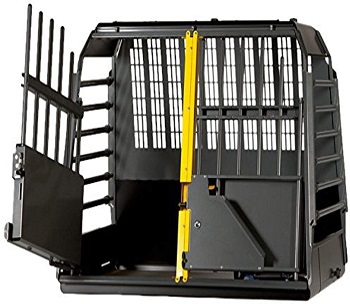 Reassuring Safety Features
This car dog crate large model also has an escape door and the front door can easily be locked with a key and opened quickly. There's an automatic door stop as well. The bottom of the crate features a rubber mat so that you have little to no trouble with cleaning this crate.
In Short:
Made completely out of metal
Can house 2 large dogs
Has an adjustable length
The crate passed the test for rollover, front and rear crashes
The bottom rubber mat makes cleaning easier
The two doors lock with keys
Has an emergency escape door
BEST SOFT LARGE DOG CAR CRATE
A4Pet Soft Collapsible Dog Crate
Key Bottom And Top Features
This is just the perfect soft travel dog crate because instead of a regular fabric bottom, it has a leakproof and waterproof one so that dog urine and other dog excrements don't find their way on your car floors. The rounded corners of the crate will also protect your car interior from damage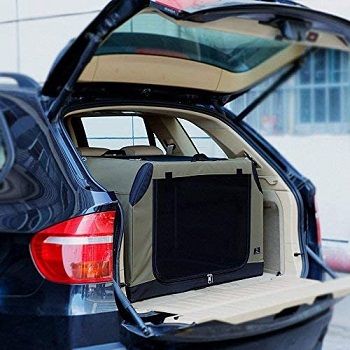 Crate Materials And Their Qualities
The large dog car crate is made with a strong steel tube frame that can be folded down to a compact size. The cover is made out of durable oxford fabric and you can easily remove it to wash when it gets dirty. make sure your dog is crate trained before getting this crate because it won't handle abuse coming from a dog well.
Windows And Their Functions
You don't have to worry about proper ventilation of the crate since it does have ventilation windows made out of mesh fabric on all sides except for the back where there is an accessory pocket. Three of the 4 ventilation points work as doors as well and they're located on the top, in the front, and on the side of the crate.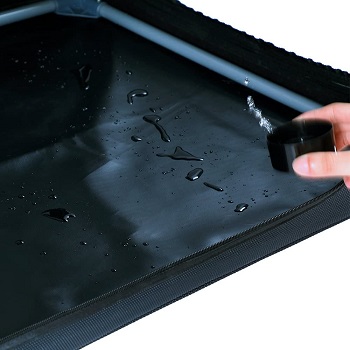 Smaller But Enough
The crate is a tiny bit smaller than the rest of the crates and partially it's due to the type of crate but still, it can house dogs up to 70 lbs. It's 36-in long and 22.5-in tall so make sure your dog is at least 4 inches shorter in both aspects to fit comfortably inside.
In Short:
Has rounded corners that protect your car interior
The bottom is waterproof and leakproof
Made with a strong steel frame that's foldable
The oxford fabric can be removed for washing
Best for housing calm and crate training dogs
It's 36-in long and can house dogs up to 70 lbs
BEST PLASTIC LARGE DOG CAR CRATE
Petmate Ruffmaxx Travel Carrier
Two-Piece Plastic Build
The heavy plastic used to make this large dog car crate comes in two pieces, top, and bottom, that you need to connect together. You can do that by screwing down the nuts and bolts the crate comes with into the provided holes for it.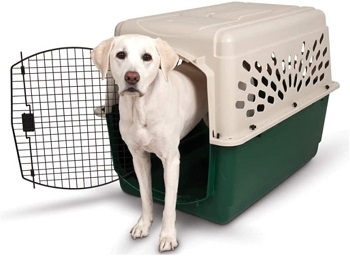 Airline Adaptable But Not Approved
Apart from you getting to travel with your dog by car, you can also use it to travel by air since the crate is airline adaptable. This does not mean that it is an airline-approved crate since you still have to make sure you get all the things that your specific airline requires for a crate to be airline-approved.
Crate Opening
The door on this crate is made out of steel wire and it is located in the front of the crate. The way you open it is by squeezing the lock and pulling. this means that the locks won't accidentally slide and open the crate so you can be sure that your dog will be inside his crate at all times.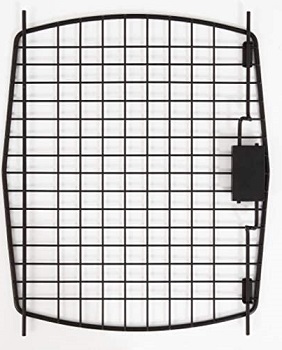 Dog And Crate Size Chart
The manufacturer made sure to include a size chart for its crates so this plastic dog crate that is 40-in long can easily house dogs from 70 to 90 lbs but you shouldn't rely on the weight limit too much but rather you should focus on the actual length and height of your dog to determine if your dog can fit inside comfortably.
In Short:
Made out of a top and bottom plastic shells
The crate is airline adaptable
Can house dogs up to 90 lbs
The two plastic pieces connect with nuts and bolts
Has a steel wire entrance
The door lock has to be squeezed to unlock the door
BEST AIRLINE APPROVED CAR DOG CRATE LARGE
SportPet Designs Plastic Kennels
Plastic Build
Just like the crate before it, this is a large dog cage for cars made out of plastic. It consists of two plastic pieces: top and bottom, and you can connect the two in two ways. Either with plastic locking clips that are already on or with the provided bolts and nuts.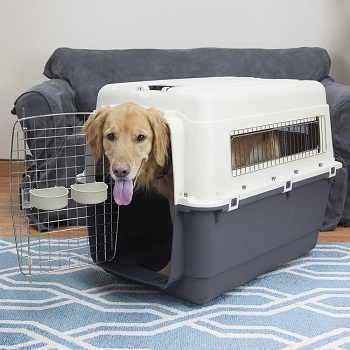 Airline Crate Requirements
The large dog car crate is actually an giant airline approved dog crate. You will get most things needed for a crate to be approved for air travel like stickers that say "live animal, detachable water bowls, holes for tying down the crate with bungees, and the already mentioned nuts and bolts.
Important Mentions
You should check with your specific airline about other regulations that they might have for dog crates. Another thing we should mention is that your dog should be crate trained if you want to travel by car and especially if you're traveling by air.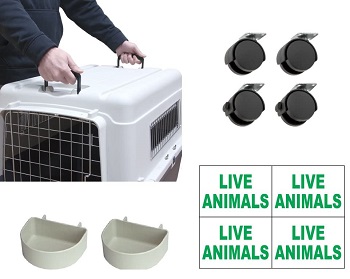 Wheels And Handles
You don't have to worry about how you're going to transport the crate since it has wheels on the bottom that easily snap on or off. Another helpful thing about transport is the two handles located on top in case you need to lift the crate.
In Short:
Has a Plastic 2 part frame
Connects with plastic clips
The two parts connect with nuts and bolts as well
Has tie-down holes for bungees
Includes "live animal' stickers and detachable water bowls
Made to house crate trained and calm dogs
How To Pick A Large Dog Car Crate
The number thing you should look for when getting a large dog car crate is safety. This can be achieved in multiple ways and different types of crates ensure you of this in different ways. There's also the difference between crate types and how much abuse they can handle so make sure you continue reading this helpful guide so you don't have to wonder whether or not you got the right crate.
Safety Aspects – there's more than one thing that makes a crate safe for car travel. The first one is its locks. are the locks safe enough to contain a dog that might try and escape. The second one is material durability. The most durable crates will be made out of metal and wire while plastic and soft dog crates have to contain dogs that are crate trained in order to last you a long time.
Size Differences Between Crate Types – Different crate types ill have different lengths that determine the size. large wire crates are usually 42-in long, plastic ones can vary but in this article, we reviewed a crate that 40-in long, large soft-sided dog crates are typically 36-in long. All can house large dogs but that depends on your dog so the best way to make sure you're getting the right crate size is to make sure that your dog's height and length is 4 inches smaller than the crate's.
Other Things To Consider – You want to make sure that the large dog car crate you take is portable. the way you make sure of that is to get a crate that's light and foldable. if that's not the case at least try and make sure that the crate is crash tested so that you get the most out of it.
Crucial Things To Do Before Traveling – Whether or not the crate you get can handle chewing and scratching you want to make sure that this is ot the case with any type of crate. This is not because the crate might get damaged but rather for you own and your dog's safety. A dog that is not calm might easily distract you and endanger you.
To Sum Up
The large dog car crate that we decided to recommend is the Midwest Side-by-Side SUV Crate. It has a durable steel wire build, it's coated with an e-coat that makes it anti-rusting, and can fit inside most vehicles because of its narrow design. If you're interested in learning more about wire crates specifically made for indoor housing then you should check out the article about large wire dog crates and if you need a crate that's incredibly safe then you might be interested to read the article about the safest dog crates for cars.