Do you need a large decorative dog crate for your big dog and your lovely home?
If you do, you sure are reading the right article so continue if you want to find a crate that will stand out with its features. We made sure to review only the best and we also tried to review a large variety of crates like indoor and wooden crates so there's something for everyone's taste.
The Summary
Best 5 Large Decorative Dog Crates
BEST OF BEST LARGE DECORATIVE DOG CRATE
Unipaws Dog Crate End Table
Materials It's Constructed Of
With large decorative dog crates, you usually won't get a chew-proof wooden frame. This is also the case with this triple door dog crate but it does have stele wire sides that are chew-proof. Overall, you should still only use this crate to house calm dogs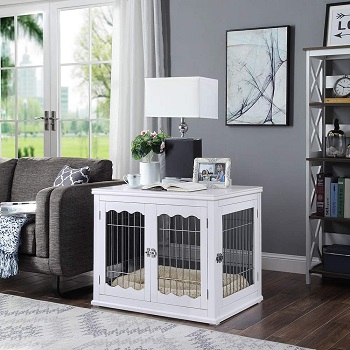 Number Of Doors, Entries, And Locks
The crate has 3 doors. Two are located on the side of the crate so they make a double door and one is located in the front. Each entry point can be locked using three different locks so you can be sure that your dog won't escape the crate.
Top Specifications
The crate's top can carry the weight of 200 lbs. This is important to know since you can use the top so that the crate can become a furniture piece all the while functioning as a dog crate. It has a white color finish so if that's a color that would blend well into your home, this is the crate for you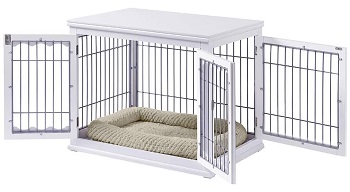 Inside Comfort And Protection
The crate will keep your dog as comfy as possible with the little help of a comfortable bed that comes with it. The bed is waterproof so it will protect the crate's bottom and you can easily take it out and wash it when you need to.
In Short:
Has chew-proof steel wire sides
Made with a wooden frame
Has a double and a single door
The doors lock with 3 different types of locks
You'll get a waterproof bed for it that's washable
The top can function as an end-table
The top weight limit is 200 lbs
BEST INDOOR LARGE DOG CRATE DECORATIVE
BarkWood Dog Crate
Wood Used To Make It
Unlike the first crate we reviewed, this crate has a wooden construction that makes it chew-resistant. It's a crate made completely out of solid wood and is colored with a grey finish. keep in mind that even though it is chew-resistant, the crate might take some visible damage even if your dog chews excessively on it.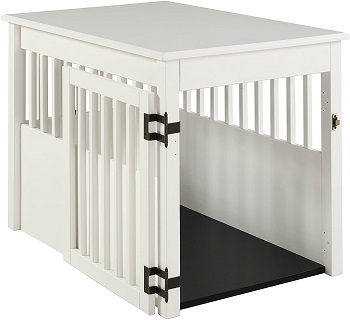 Fully Openable Door
The crate's door opens fully to the side of it so it won't bother you or your dog if you leave the crate open so that your dog can enter and exit freely. This feature will also save you space and another feature that will do that as well is that its top that can make it work as an end or side table.
Quality Of Joints
You don't need to assemble the crate and there's a good reason for that. The crate has mortise and tenon joints that are known to be the best when making furniture and connecting wooden parts and it would be rather difficult for you to connect them by yourself properly.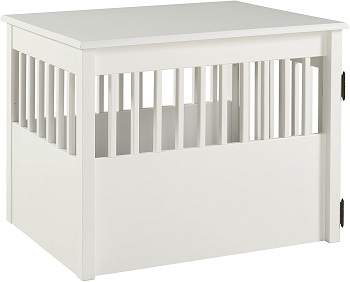 Urine Contact Protection
You also won't have to worry about the damage done to the crate if it got into contact with urine since the bottom of this large decorative dog crate is rubberized that will help minimize liquid and odor absorption of the bottom.
In Short:
Made with chew-resistant solid wood
It's advised you use it with crate trained dogs
The bottom is rubberized so it minimizes liquid absorption
The door can be opened fully to the side
Because of its top, it can function as a furniture piece
BEST WOODEN LARGE DECORATIVE DOG CRATE
Casual Home Dog Crate
Solid Wood Benefits
Although this is the second large decorative dog crate we reviewed that's made out of solid wood you shouldn't get used to this. More often than not they will be made out of some kind of wood polymer that's nowhere near chew-resistant so getting a solid wood dog crate such as this one has many benefits including its sturdiness and its chew-resistant properties.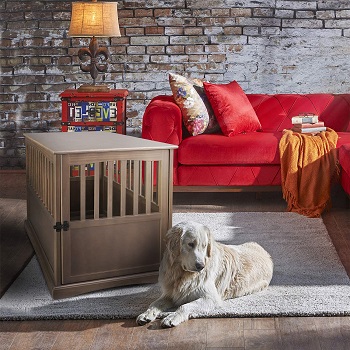 Difference Between Chew-Resistant And Proof
Just because the crate is chew-resistant, it doesn't mean it's chew-proof and there is a large difference between those two. Chew-resistant dog crates such as this one can survive chewing but might take some visible damage while chew-proof crates such as heavy-duty metal dog crates won't.
Reasons Why It Blends Well
It's stained with a beautiful taupe gray finish that's bound to blend incredibly well into any household. Another way that it's going to become a beautiful addition to any home is its top since it can be used to make the crate function as an end-table where you can put anything from lamps and plants to magazines.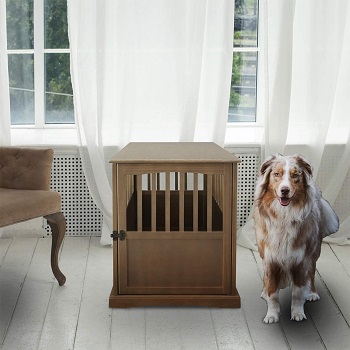 Placement Limitation
It only has one door for access so that might limit its placement options that are really important for a decorative crate for large dogs to have since more doors will increase its decorative abilities. The door locks with a single hasp latch lock.
In Short:
Made with solid wood that's chew-resistant
Has a taupe grey finish
Has a single door for access
The top make sit functions as furniture
The door can be locked with a single hasp latch lock
BEST FURNITURE STYLE DECORATIVE DOG CRATE LARGE
New Age Pet Dog Crate
Said And Real Size
This crate is said to be large and while that is true, its length of 36.1-in makes it more of an intermediate dog crate. These crates are often able to house medium and large dog breeds because if you were to place sizes on a spectre, this size would be located right after medium and just before large.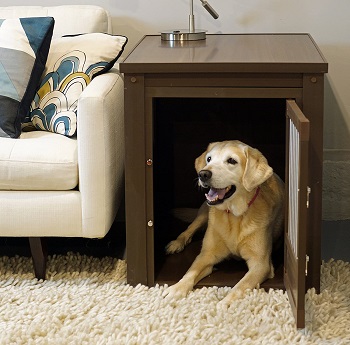 Explaining What Ecoflex Is
The large decorative dog crate is made out of ecoflex that is a wood and plastic polymer composite material. This material won't crack, warp or split but it is not chew-proof so it's best if you used this crate to house dogs that are calm and crate trained. This material is also recycled and non-toxic so it's safe for your pet as well as the environment.
Locks Number And Shape
The crate has a single door for access and can be locked with 2 locks shaped like dog bones. Smaller versions of the crate feature one lock while this one and the extra-large one have two. This is the door that you'll also use to access the crate for cleaning.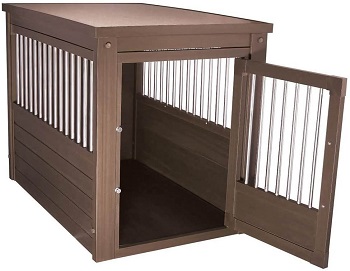 More Than One Cleaning Access
The top is removable so this is another way that you can access it to clean it. You won't have to worry about the crate absorbing liquids and odors so that it's then rendered useless since ecoflex is a type of material that won't absorb any of those.
In Short:
Made out of ecoflex
The material won't warp, crack or split
The whole crate won't absorb liquids and odors
The crate is 36-in long
Doubles as a furniture piece
The top is removable
Has a single door for access
BEST METAL LARGE DOG CRATE DECORATIVE
Zoovilla Dog Crate
Almost Extra Large
This is definitely one of the largest crates we reviewed since it is 43-in long. This length almost makes it dwell into the category of XL wooden dog crates. The main reason why it's a large decorative dog crate is that it has a wooden frame.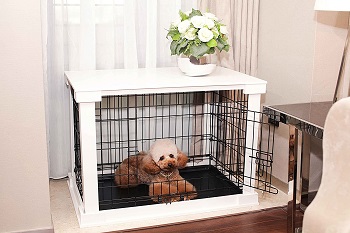 Frame And Sides Material
The wood used for the frame is MDF wood so it's definitely not chew-proof but the sides of the crate just might be. They are made out of steel wire so that this crate combines the benefits of a wooden dog crate with the benefits of a wire dog crate.
Wire Doors And Their Locks
The doors to access the crate are also made out of steel wire and they have a sliding bolt lock that's typically found on wire dog crates. You also won't have to worry about whether or not the crate is well ventilated because of the steel wire. Another thing that's ensured with these is great visibility for you and your dog.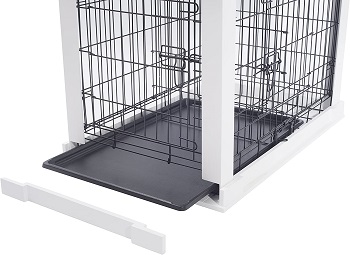 Top And Bottom Abilities
You can store your own things on top which only means that this is truly a decorative crate for large dogs. The bottom holds a plastic tray that can be easily removed. The tray will collect dog dirt and liquids and keep the crate safe and undamaged.
In Short:
Made with MDF wood
Has steel wire sides
You can place things on top of it
Has a single wire door for access
The door can be locked using a sliding bolt lock
The crate is 43-in long
Comes with a cleaning pan for the bottom
How To Pick A Large Decorative Dog Crate
Finding a large decorative dog crate might seem easy but it certainly isn't. FOr starters, you have to know what makes these crates decorative. Then, you have to know the differences in their size and finally, you have to know whether or not these crates are even made to house your dog. We'll go through all of this and more in this guide on how to pick the best one for yourself and your dog.
Explaining Decorative – A lot of things can make a crate a decorative one but the number one thing that'll make sure of that is fit the crate can function as indoor dog crate furniture. To figure out of one can function like it, you'll typically be looking for a wooden build or frame so that the top is made out of some type of wood.
Not Settling For Less – Just because these are most commonly used for decorative purposes it surely doesn't mean that you should forget their main purpose and that is that they house dogs. These crates should be plenty sturdy and safe and typically you'll find the answer to these questions in the materials they are made out of. A solid wood crate will be much sturdier than one made out of MDF wood and of course, if the crate has steel wire sides that's even better.
Required Dog Etiquette – IF you plan on buying a large decorative dog crate, first you have to make sure that your dog has gone through crate training successfully and is overall calm. If not it might be better if you would get a training cage for dogs before deciding on a crate like this.
Tips For Size – To say a crate is large can be very misleading so the best way to make sure that the crate really is made to house large dogs is for you to check its dimensions. Specifically, you should check its height and length, compare it to your dogs' and if the crate is at least 4 inches larger than your dog, you have found a crate for your dog. Typically, these crates can go from 36-in in length to 43-in in length while the heights will always vary quite a bit.
To Sum Up
It's hard to recommend a large decorative dog crate based solely on their looks because this is subjective so what we've decided to do is recommend o based upon its features and abilities and that's why we chose the Unipaws Dog Crate End Table as the one we recommend. It has chew-proof sides, it gets plenty of ventilation, it comes with a waterproof and washable bed and the weight limit for the top is 200 lbs. If you don't happen to mind how the crate looks inside your home and simply want a durable crate we would advise you to take a look into the article about large metal dog crates and if you need a durable crate that also looks nice then the article about white wire dog crates might help you out.