Have regular wire crates been an eyesore in your household and you'd like to keep it durable but make it a white wire dog crate?
We've got the answer for you in this article because we gathered the best ones we could find that stand out from the crowd and reviewed them so you can know exactly what you're buying if you decide to do it. We sorted them out into different categories. For example, you'll find furniture style ones, heavy-duty ones and that's just the tip of the iceberg.
The Summary
Best 5 White Wire Dog Crates
BEST OF BEST WHITE WIRE DOG CRATE
IRIS USA Wire Open Pet Pen
Looks Can Be Deceiving
Although it looks like it, this crate is not an XL wooden dog crate. It is made to look like one but for the most part, it is made out of heavy-duty wire that is coated with epoxy. It does blend really well into a home because of its minimalist and simple look.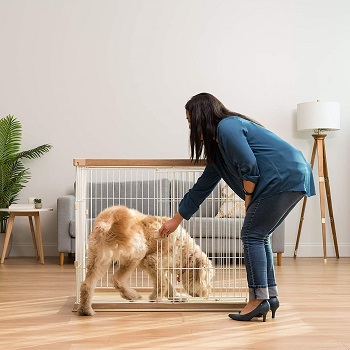 Open top And Assembly
The crate doesn't have a top cover so it functions more like a playpen and it should be noted that it would be best to use it with dogs that are a bit more on the peaceful side. It assembles quite easily without the need for tools because the edges are plastic and plastic screws are needed to connect the sides.
Molded Bottom Tray
The plastic bottom tray is molded in such a way to securely fit the edges of the crate inside of it. This will keep the tray from moving and sliding out all the while keeping your floor scratch-free because the bottom edges of the crate will never come into direct contact with the floor.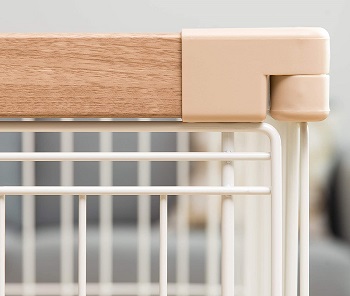 Taller Than Most
This white wire dog crate is made to be a bit taller than the standard large crate. You can purchase the same model that's a bit shorter than this one. This crate is 47.24-in long, 31.50-in wide, and 35.43-in tall. Large dog breeds like German shepherds, golden retrievers, and other dogs of similar size can easily use this crate, just be careful if your dog is prone to jumping because he will then easily jump out of it.
In Short:
Made out of epoxy coated wire and plastic
Has a plastic tray on the bottom molded to protect your floors
Is a bit taller than most crates made for large dogs
Doesn't have a top cover
BEST HEAVY DUTY WHITE WIRE DOG CRATE
PUPZO Heavy Duty Dog Cage
Carbon Steel Build
The material that is crate is made of is carbon steel. It is corrosion and rustproof. the frame is made out of square tubes while everything else is made out of steel wire that is coated in a white non-toxic finish. There's a top access door and also a side access door.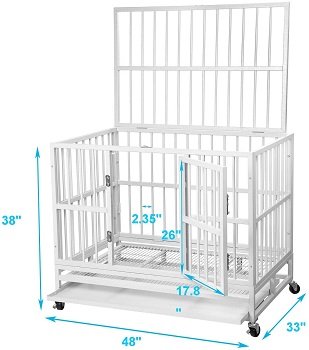 Moving The Heavy Crate
Altogether, the crate weighs around 100 lbs so it would be quite difficult to move around to store or place in other places so the crate has wheels on it to move it around easily. 2 of the wheels on the crate are lockable so that it safely stays in place when you're not moving it around and your dog's inside.
The Bottom And Steel Tray Below
The bottom of this white wire dog crate is grated. this is to release any litter on the bottom tray below it. This will keep the crate clean and prevent your dog from living in his own litter. Additionally, it'll be much easier for you to clean the bottom pull-out tray made out of steel.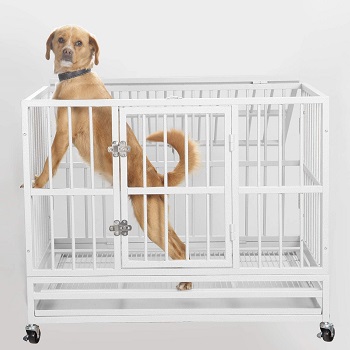 Weight Limit And Dimensions
The weight limit of this crate is 110 lbs. The crate is 38-in tall, 48-in long, and 33-in wide. The dimensions and the weight limit should make it fit for use by larger dog breeds like Rottweilers, German shepherds, and other dogs of similar size and weight.
In Short:
The frame is made out of heavy-duty carbon steel
The rest of the crate is made out of steel wire
Has a pullout steel tray below the grated bottom
The weight limit is 110 lbs
Has 2 access points, one on top and one on the side
BEST FOR PUPPIES WHITE WIRE DOG CRATE
IRIS Large Wire Dog Crate with Mesh Roof
Build Materials
This crate combines plastic and wire as its build materials. The edges and the bottom are made out of plastic while the sides are made out of wire and it also has a mesh wire roof. The dimensions of the crate will give your dog 9.5 square feet of living area.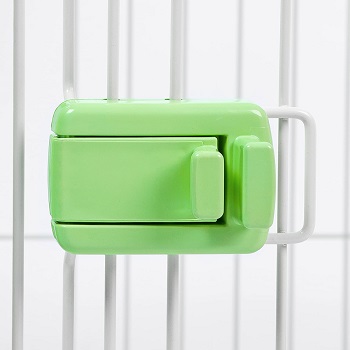 Sliding Access Door
For you and your dog to access this crate, you will get one door to do so that locks with a single plastic positive lock. When you unlock it, the door will slide open. This saves you space when the crate is kept open.
Bottom Tray And Additions To It
The bottom is equipped with a plastic tray. Below, on the tray, you'll find rubber feet so that the crate stays in place and doesn't get damaged or damage your floors. The bottom tray is also molded to fit right into the edges of the crate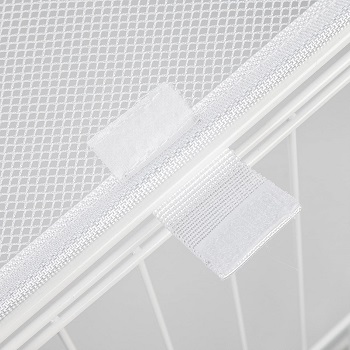 For Puppies And Small Dogs
The white wire dog crate is well made for puppies that still haven't quite figured out the concept of being in a crate. other than that it's made more like a playpen but will work fine as a crate for small and medium dogs.
In Short:
Made out of plastic and epoxy coated wire
It has a mesh wire on top
The plastic tray is molded and has rubber feet bellow
Best for puppies and small and medium dogs
BEST WOODEN WHITE WIRE DOG CRATE
Simply Plus Wood & Wire Dog Crate
Frame And Side Panels
The frame of this white wire dog crate is made out of wood so it is a small wooden dog crate but the sides are made out of metal wire. It is coated with a white finish. The wood used to make it is medium density fibreboard or MDF wood in short.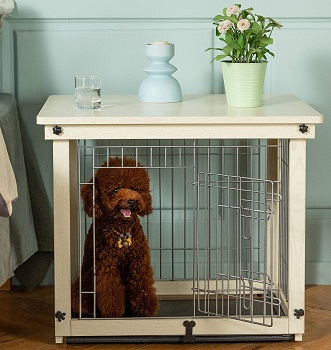 Crate Decorations
The decorations that make this crate are really cute and they are cleverly used. The screws on the crate are covered with paw-shaped screws and on the bottom, right in the middle, you'll find loosely screwed a dog bone that you can spin so that the slide-out tray doesn't slide out on its own.
Access And Locking The Crate
There's only one door to access the crate and it is located more to the left. It is a small door but that doesn't need to worry you since the crate is made for small dog breeds. The door locks with 2 sliding bolt locks for double safety when your dog is locked inside.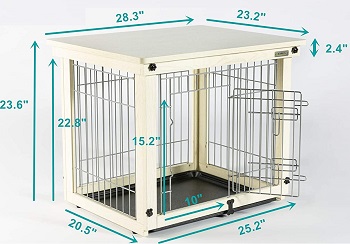 Multi-Functional Top Cover
The top cover of the crate can be opened and when it's not, you can use the top to place your things on it. ti can function as an end table, nightstand, or anything that you can think of since you're putting your personal belongings on top
In Short:
The side panels are made out of wire and the rest out of MDF wood
The crate top can be opened but you can also put your stuff on it
Can be used by small dogs and dog breeds
The screws and bolts are shaped like dog paws and bone
Has a slide-out tray on the bottom
BEST FOR LARGE DOGS WHITE WIRE DOG CRATE
Unipaws Pet Crate End Table
Materials That Make It
The build materials that make this crate are wood and wire. The wood is used for the frame while the wire is placed on the side panels. The wire is chew-proof so if your dog is a chewer you don't need to worry about that but it must be added that the wood is not.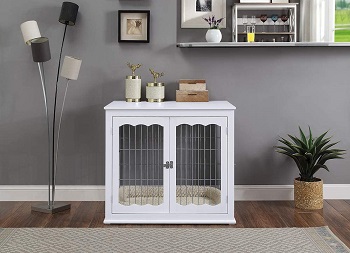 Double Function Property
It is completely white and it's made to not only serve as a crate but also furniture so you can be sure that it'll fit well into your household. You can use the top as an end table, coffee table, or perhaps a nightstand, or anything else you can think of.
Triple Door Entrance
This white wire dog crate is also triple dog crate furniture because it has 2 access points but 3 doors for it. One is a double door and the other one is a front access door. They lock with 3 different types of locks so you can be certain that your dog won't escape the crate.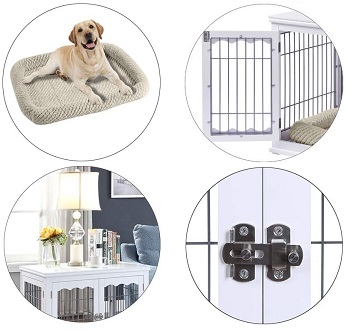 Dogs That The Crate Is Made For
The crate comes with a waterproof bed that can easily come out for cleaning because of the double door. It is made to be used by large dog breeds because of its dimensions that are as follows: 26.6-in Long, 37.8-in Wide, and 31.3-in High.
In Short:
Made out of wood and chew-proof wire
Available for use by large dog breeds
Can be used as a piece of furniture
Has triple door access
Has three types of locks that lock the doors
How To Pick A White Wire Dog Crate
We summed up the things that made a white wire dog crate good. You want to know what you're buying and why you're buying it so providing some tips on what to focus on like crate types, how well it blends into your household, and what dogs they are made for is important to know before rushing to buy the first one that you like.
Fits Into Household – If you want that little extra kick when it comes to these crates blending better into your household unlike other XL wire dog crates and XL metal dog crates you can choose to pair the build materials with wood. When done so, the crate will not only be a crate but also a piece of furniture.
Proper Ventilation And Visibility – Wire crates are the best ones to crate train your dog, they are durable and provide the best airflow and visibility. They are especially good if you have more than one access door so if you have a puppy or dog that needs crate training but you also don't want the crate to be black and pop out, white is the way to go.
Multiple Types – There's a type of crate for everyone's need in this category because not only that they're made out of wire but they can also be made out of heavy-duty carbon and steel for dogs that are prone to chewing but if you have a calm dog you can easily get a wooden white wire dog crate.
Furniture Style White Wire Crates – It's more common that you'll find a white wooden dog crate before you find one completely made out of wire so getting yourself familiar with those is crucial. They are not as durable as wire crates and a lot of them can't handle a chewing dog so think about your dog's behavior before getting one.
To Sum Up
Depending on What you're looking for you might find another white wire dog crate to be the best one, but what we think is the best one and would definitely recommend is the PUPZO Heavy Duty Dog Cage. It is highly durable because of the heavy-duty carbon steel frame and has some useful additions like a pullout tray below the bottom to keep the crate clean. If you took particular interest in the crates that can also work well as furniture, we suggest you read the article about white dog crate furniture and if you're looking for a crate like the heavy-duty one then you must read the article about unbreakable dog crates.