Are you looking for a large collapsible dog crate that you can take anywhere?
You might want to continue reading this article then because if you do, you are almost sure to get one by the end of it. We made sure to choose and review different types of crates to satisfy the needs of most dog owners like soft, plastic, and the ones for puppies.
The Summary
Best 5 Large Collapsible Dog Crates
BEST OF BEST LARGE COLLAPSIBLE DOG CRATE
EliteField Large Dog Crate
Wider And Taller Design
You can be sure that this is definitely a collapsible dog crate for large dogs and the simple explanation as to why is that this crate is made so that it is 2-in wider and 4-in taller than most large soft-sided dog crates out there. This will also ensure that your dog is more comfortable since he'll have more room inside.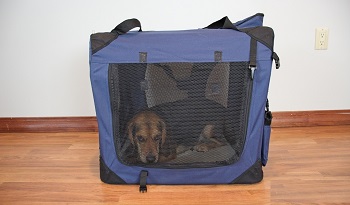 2 Opposite Material Build
The large collapsible dog crate is made out of 2 materials that are complete opposites when it comes to their durability. The first one is the frame that's made out of steel tube that can be folded down and the other one is the cover that's made out of 600D oxford fabric that's colored blue.
Collapsible Design Put To Good Use
You can be sure that its foldable design will be put to good use since the crate is quite light and highly portable because of the carrying handles it has on top and it also comes with its own carrying case that has a padded shoulder strap for easy carrying.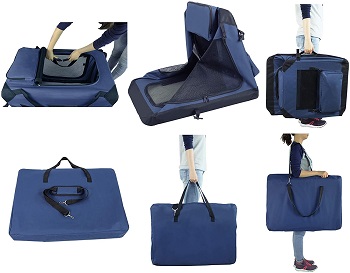 Crate Bottom Bonus And Properties
For the bottom of this crate, you'll get a padded bed that's made out of waterproof foam. The actual bottom of the crate is made out of the same material as the crate's cover. You can remove both to wash them when you need to. We do recommend that you use this crate for crate trained dogs since the fabric cover can get damaged easily if not.
In Short:
Made out of a foldable steel tube frame
HAs a 600d oxford fabric cover
The padded bed it comes with is waterproof and washable
Made to be 2-in wider and 4-in taller than most large soft crates
has its own carrying case that has a padded shoulder strap
The crate itself has 2 carrying handles
BEST SOFT COLLAPSIBLE DOG CRATE FOR LARGE DOGS
A4Pet Dog Crate
Made For Traveling
You can consider this large collapsible dog crate as the perfect soft travel dog crate. The two main reasons for this are that it has a leakproof bottom which means that dog urine won't get onto your car floors and the rounded corners it has that will protect your car interior from damage.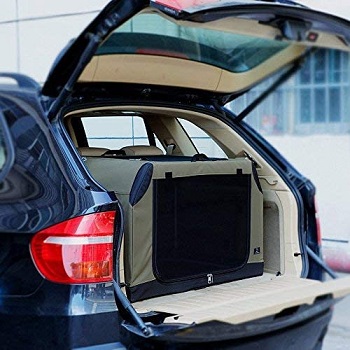 What It's Made Out Of
Like most soft crates, it has a strong steel tube frame that is also the reason why you are able to fold it down and it also has an oxford fabric cover that can be removed and washed when it gets dirty. Since it has a fabric cover, you should only use it for dogs that have been crate trained and that are calm.
Crate Ventilation And Entries
It has three doors. One is located in the front, one on the side and one on top. All three doors double as ventilation windows since they're made out of mesh fabric and you'll get one more that's located on the other side of the crate that's also a bit smaller.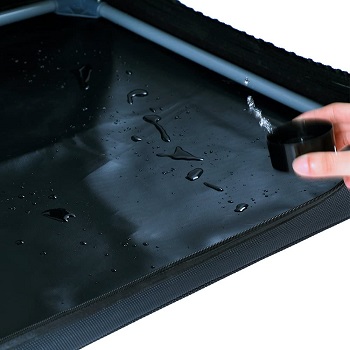 Accessories It Holds
The back doesn't feature a ventilation window but it does hold an accessory pocket that will be put to good use if you have any dog accessories that you need to store. The crate has 2 handles on top so that you can carry it easily when it's unfolded.
In Short:
Has a leakproof bottom and rounded corners
You can use it to travel with your dog
The dod should be crate trained and calm
Has three access doors
Gets ventilated from all sides except for the back
Has a strong and foldable steel tube frame
The fabric cover can be taken off to wash
BEST PLASTIC LARGE COLLAPSIBLE CRATE
Pet Gear Large Dog Crate
Travel Bag Use And Other Extras
There is more than one reason why this crate puts to good use its collapsible construction. The first one is that you can store it inside its own travel bag and the second one is that when it's inside it, you'll be able to utilize its built in wheels to drag it instead of carrying it. You'll also get a removable and washable bed with it.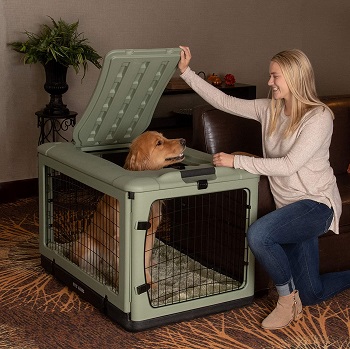 Built-In Wheels Use
Another way that you can put its built-in wheels to good use is that you can drag the crate while it's fully assembled because of the built-in handle it has that is located on the top side of it. This is especially useful if you don't really want to carry it around and hurt your back since it does weigh 40 lbs.
The Frame And Sides Materials
The frame of the large collapsible dog crate is made out of heavy-duty plastic that is blow-molded while for the sides it uses steel wire. You can be sure that the inside of the crate is safe and won't harm your dog since the corners are rounded and there aren't any exposed sharp steel edges.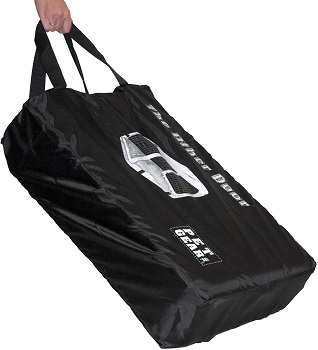 Door Spots And Types
You will find 4 doors on this collapsible dog crate for large dogs. One is located on top, there are 2 side door and the large front access doors opens in a unique way. You can slide it open but upwards so that it doesn't get in your way when and if you leave the crate open indoors.
In Short:
Has 4 doors for access
Has built-in wheels on the bottom and a handle on top
Comes with a travel bag and a washable bed
Made out of plastic and steel wire
The inside has rounded corners and no exposed steel edges
BEST METAL EXTRA LARGE COLLAPSIBLE DOG CRATE
Ultima Pro MidWest Large Dog Crate
Metal Thickness
The steel wire that makes this large collapsible dog crate has a professional gauge. A gauge is a number that's used to determine the thickness of metal. The higher the number, the lower the thickness. The steel wire is coated with a black coating finish.
The Doors And Size
It is 48-in long which means that it is in fact an extra-large collapsible dog crate. It can house dogs up to 110 lbs. Luckily enough, it has 2 doors for access located in the front and on the side that will make placement inside your home more versatile since you would have trouble placing it otherwise because it's so big.
How You Clean It
The bottom of this XL wire dog crate holds a plastic pan that's plenty deep. You will find it quite useful since you'll only have to clean the pan to clean the crate. It can easily slide out and if you want to set it into place so it doesn't slip or slide you can use the pan stopper to do that.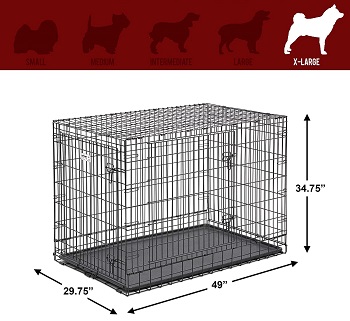 Potty And Crate Training Assistance
The crate can become an excellent potty and crate training toll because of the divider panel it comes with. The panel can be adjusted so that it fits your dog's size as he grows. You'll also get a crate training video guide that you will be able to download.
In Short:
Has a professional gauge steel wire build
The crate is made to house extra large dogs
Can be used for potty training because of the divider panel
Has two doors for access
To clean it, you can slide out the plastic pan on the bottom
BEST INDOOR COLLAPSIBLE DOG CRATE FOR LARGE DOGS
Cardinal Gates Large Dog Crate
Space Saving Doors
The main reason why we choose to place this crate in the indoor category is because it's a sliding door dog crate. The side door slides open while the front door can be opened upwards and placed on top. This will help solve some involving limited space since there'll be much more room in the surrounding crate area if you leave it open.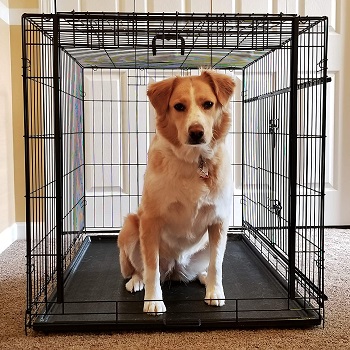 Low Gauge Wire Build
This crate has an incredibly high gauge steel wire. The whole crate features a 6 gauge wire while the doors have an even lower gauge of 4. If you are confused why the doors are sturdier it is because the lower the gauge, the thicker the metal is.
Folded And Unfolded Bonuses
You will actually get a top handle to carry the crate more easily whether it's collapsed or not. You won't have to use any tools to assemble the crate when you get it since all you need to do for the assembly is unfold it. You can use the crate to travel as well.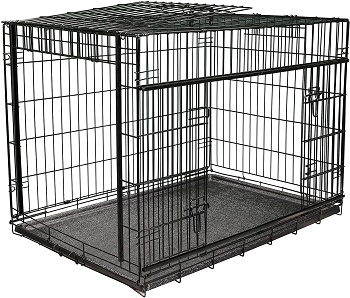 Simple Cleaning
The bottom of this large collapsible dog crate holds a plastic pan for cleaning. The pan won't slip or slide since the elevated edges and the side stopper will prevent that from happening. This will allow you to clean the crate fast and easily.
In Short:
Made with a 6 gauge steel wire
The doors have a 4 gauge steel
One door slides open while the other opens upwards
Can be cleaned easily by cleaning the slide-out plastic pan
Comes with a handle for easy folded and unfolded carrying
How To Pick A Large Collapsible Dog Crate
For you to really know whether you even need a collapsible dog crate for large dogs you have to know what this feature is best for. There are also a lot of crates that are made with different materials that are differ in durability and their main use so for you to get the right crate the first time around make sure you read through this simple guide with tips on how to do so.
Most Common Indoor Use – If you want to get a large indoor dog crate chances are, it's going to be foldable. This is especially true if the crate is a large wire dog crate that comes with a divider panel so that it's a dog training cage. The simple reasons why they have a foldable design is to save you space when you store them away because your dog shouldn't be in the crate for longer periods of time and this is especially true if the dog in question is a puppy or you're crate training your dog.
Other Uses – Another well-known use of these crates is that they are very easy to transport. Part of it is due to their foldable design and it's even better if they come with a carrying handle but the other part of it is that most of them are light. If you really want the crate to be as light as possible then your best option is to get a soft collapsible dog crate.
Common Collapsible Crate Types – The most common crate types that you can fold down are wire dog crate and soft dog crates. If you want to get a soft crate so that you can travel with your dog be sure that you dog is calm and crate trained since these crates won't handle excessive chewing and any aggressiveness while wire crates just might.
Typical Size – Since these are large you want to know where they stand with their length. Large collapsible dog crates will usually be around 42-in long while extra-large ones will be around 48-in long. There is an exception to this and they are soft dog crates. large soft crates are usually 36-in long.
Sizing Tips And Tricks – You should always size the crate according to your dog's adult size. If you have a puppy and are not sure, you can check the approximate dimensions of the specific dog breed on the internet. Now that that's settled, you want to measure your dog's length and height and see if both numbers are at least 4 inches lower than the crate. If that's the case, you can safely buy the crate.
To Sum Up
The one Large collapsible dog crate that caught our eye the most is definitely the Cardinal Gates Large Dog Crate. Its doors will save you space indoors, it's incredibly durable since it's made with 6 and 4 gauge steel and it even has a handle for carrying when it's folded down or unfolded. If you're looking for a dog crate that is typically not collapsible then your best bet is to check out the article about extra large dog crate furniture and if you want a crate that's tougher then we advise you read the article about heavy-duty metal dog crates.