Are you having trouble finding a good enough sliding door dog crate?
Don't worry because we've found them for you, put them all together, and reviewed them. we even went as far as to put them in different categories like crates made for medium, large, extra-large dogs ad more so you will definitely find a crate that's just right for your beloved pet and you.
The Summary
Best 6 Sliding Door Dog Crates
BEST OF BEST SLIDING DOOR DOG CRATE
Ovation Folding Dog Crate
How The Door Opens
On the top edge of the door, you'll find a handle that you will then slide up to open the door and put it on to of the crate so the door stays open. You don't have to rely on a lock to make sure the door stays closed but instead, alongside the edges of the door frame, there is a steel channel that prevents the door from being opened in any other way than up, on this dog crate with slide up door.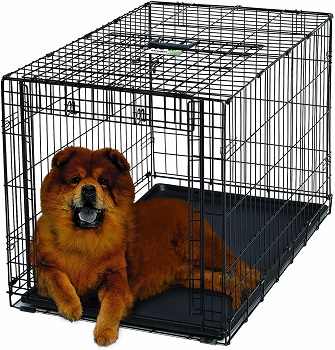 Puppy Training Features
This sliding door dog crate comes with a puppy crate divider so that it follows your pet throughout his life from puppy to a fully grown dog. Another thing that will come in handy if you're using it for a puppy is the plastic tray on the bottom that is leak proof.
Folds Into A Briefcase
Just like any other wire dog crate, this one also has a foldable construction and it's easy to do so for you to store the crate away or to travel with it. It even comes with a handle to carry it like a briefcase.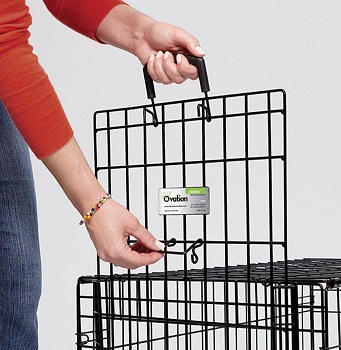 Adult Dog Dimensions
Your adult dog shouldn't be taller than 23-in and longer than 30-in. It is made for medium-sized dogs but you should measure your dog nonetheless. The crate will not damage your floors because it has rubber feet on the bottom that are there for that exact reason
In Short:
Has one slide up door that rests on top when opened
Can be folded and carried like a briefcase because of the handle
It's best for medium-sized dogs
Comes with a divider panel
BEST FOR MEDIUM DOGS BAR DOOR DOG KENNEL
Lucky Dog Sliding Door Crate
Slide Door Type
This crate is not only a sliding door dog crate, but it is also a triple door dog crate. The reason why is because the sliding door acts as a double door and each side locks separately and opens separately as well. The locks used are impossible for your dog to unlock on his own.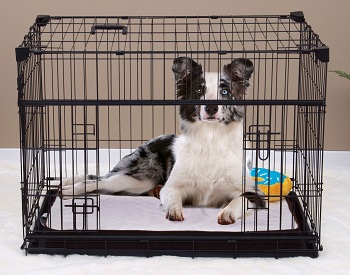 Stable And Firm
You don't need to worry about the crate falling apart or the sides leaning to the inside because the crate has corner stabilizers. Essentially, they are pieces of plastic the get attached to the corners.
Additions And Locks Amount And Type
The crate also comes with a divider, and it has a bottom tray that makes it easy for you to clean the crate. This means that you can easily use this sliding door dog crate as a crate for your growing puppy. Apart from the sliding door, there's also a regular side door that locks with three locks.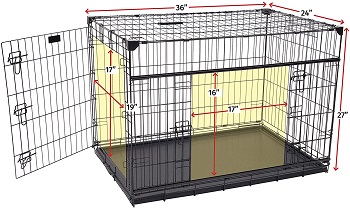 Protected Floors
You don't have to worry about your floors getting scratched or damaged in any way because the bottom has rubber feet to protect them. You can also easily move the crate because of the carrying handle on top. The crate is suited for medium-sized dogs.
In Short:
Has a regular door and two sliding doors
Comes with a divider
The bottom has rubber feet that protect your floors
Can house medium-sized dogs
Won't fall apart because of the corner stabilizers
BEST FOR LARGE DOGS DOG KENNEL BARN DOOR
Pet Gear 4 Door Steel Crate
The Frame And The Sides
the crates' frame is made out of plastic and the sides are made out of steel wire. the bottom of the crate is insulated which means that it won't crack when subjected to cold weather conditions.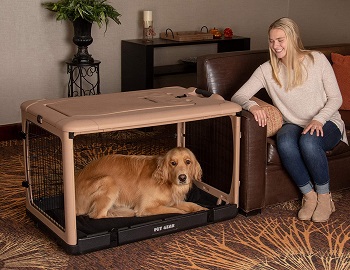 How Safe It Is Inside
The crate's completely safe for your dog to be inside because the corners of this sliding door dog crate are rounded and there aren't really any steel edges that are exposed. This makes it a safe dog crate. To give your dog even more comfort while he's inside, you'll get padded bedding.
Multiple Doors Of Different Types
This is more than a dog crate with a slide up door because it has three more doors to go with it. There are two side doors and one top access door as well. all doors lock safely with steel locks. The crate is made to house large dog breeds like german shepherd, golden retrievers, and similar sized dogs.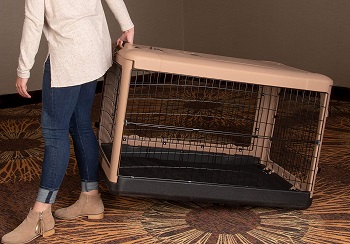 Bottom And Top Extras
There are built-in wheels on the bottom and there's a handle on top for you to transport the crate easily when you need to. You can also collapse the whole crate, put it inside the travel bag that also comes with it, and travel with it like that.
In Short:
Has a plastic frame and steel wire sides
Has 4 doors, one being a slide up door
Comes with built-in wheel and top handle
Can be collapsed
Comes with padded bedding and a travel bag
BEST FOR EXTRA LARGE DOGS DOG CRATE BARN DOOR
Cardinal Gates Sliding Door Pet Crate
More Than One Sliding Door
The crate utilizes three sliding doors for your dog to access it. One door features a slide up, rest on top, door while the other two doors act like one because you can slide them both sideways, one to the left, and one to the right. They make it a dog crate with a barn door.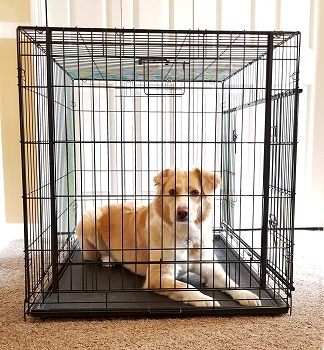 Steel Frame And Door Gauge
It can easily be considered a sturdy dog crate since the crate is made out of 10 gauge wire while the door re even thicker with a 6 gauge wire. The smaller the gauge number the thicker the steel is and you will usually see heavy-duty crates being made with 20 gauge steel.
Easy Clean-Up
There's an easy way to clean this sliding door dog crate because it has a pan on the bottom that is made out of plastic rather than metal to keep your dog more comfortable. You simply take the pan out when needed, clean it either with a damp cloth or wash it with water and place it back inside.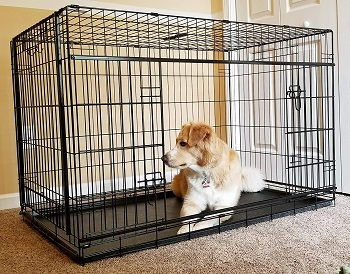 Important Crate Measures
You want to make sure that you have measured your dog and checked the crate dimensions before you decide to buy it. Your only concern should be your dog's and the crate's height and length. The crate is 48-in long and 33-in tall while your dog shouldn't be over 45-in long and 30-in tall. Generally, this means that breeds like great Danes.
In Short:
Made out of 10 gauge wire
The doors are a bit thicker with a 6 gauge steel
It has a slide up door and a barn style double door
Made for dog breeds like Great Danes
The plastic pan on the bottom can easily be cleaned
BEST INDOOR DOG KENNEL SLIDING DOORS
Iris USA Wire Open Pet Pen
Why You Should Use It Indoors
You will benefit the most from using this crate indoors and there are two reasons for it. One is that it blends beautifully into your household because of the frame that is supposed to look like wood and the white wire and the other one is that it is primarily a dog crate playpen since it doesn't have a top.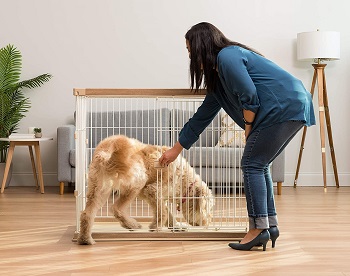 Crate Materials and Door Lock
The crate's frame is made out of plastic as well as the bottom pan and the heavy gauge wire sides are coated with epoxy. There's only one door and it slides sideways to open. It is locked with a positive lock so it's safe to assume that your dog won't be escaping that crate.
Plastic Tray Shape
The bottom plastic tray is molded so that the bottom edges of the crate can sit comfortably inside. This is so that the bottom doesn't slide out accidentally. You can easily remove it to clean when you need to. The pan will also protect your floors from getting dirty or taking damage.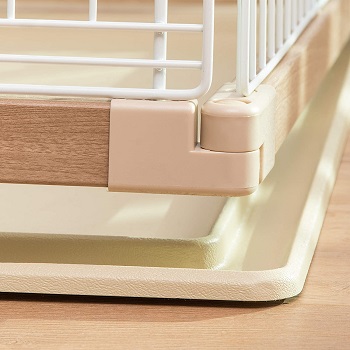 Taller Build
This sliding door dog crate is considered to be large but it is built to be taller than usual. It is approximately 47-in long and 35-in tall. Your dog should be crate trained to use it because of the open top and his or her dimension should not exceed 44-in in length and 32-in in height.
In Short:
Uses plastic for the frame and epoxy-coated wire for the sides
Has a molded plastic tray on the bottom
The sliding door locks with a positive lock
Has a taller build
Suited for large dog breeds
Has an open top
BEST WOODEN DOG CRATE WITH SLIDING DOOR
Zoovilla Medium Slide Aside Crate
Wood Type Info
The crate has a top and frame made out of medium-density fibreboard or MDF wood in short. It is a wood polymer that you get by mixing residual wooden fibres with wax, resin, or both. Because of this wood, the crate is durable but won't survive a chewing dog.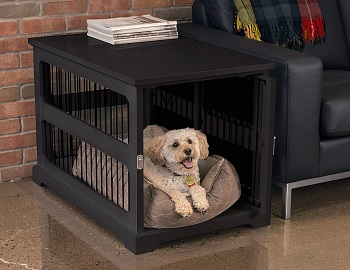 Sides Airflow And Visibility
This wooden dog crate with sliding door does have steel wire parts and they are used for the sides of the crate. This will provide the crate with good airflow and you and your dog with enough visibility.
Single Slide Door
There's a single access point located in the front of this sliding door dog crate that locks with a single hasp latch lock. It is actually a door that opens like a regular door and then you slide it inside the crate so that it doesn't get in the way of you or your dog.
Dog Size Recommendation
The crate should only be used by crate trained medium dogs. The weight limit for the top is quite large though seeing as how you can use the top to place your stuff on it just like you would with a piece of furniture and it is 300 lbs which is more than enough for what you'll need.
In Short:
Made out of MDF wood
The sides are made out of steel wire
There's one entry point that slides aside
Good for medium crate trained dogs
The top can serve you as an end-table
The top weight limit is 300 lbs
How To Pick A Sliding Door Dog Crate
It's important to know the things that sliding door dog crates are better at than the rest because this way you can easily decide on whether they are for you or you should opt for a different crate. The differences are minimal but very important like the way they lock, who can benefit from a door that opens this way, and more so make sure you keep reading.
Safe Locking – Crates that have a sliding door will usually be more when it comes to the locks. It will definitely be more difficult, if not impossible, for your dog to unlock the crate by himself. Mostly it's due to the positioning of the locks, lock types, and how the door opens since, these doors are usually blocked from being opened like the door on regular wire and wooden dog crates.
Who Needs It – Apart from the fact that they make it more difficult for your dog to escape the crate on his own, these crates also save you space and prevent any harm done to you and your dog if you like to keep the crate opened more than closed so if you see yourself in this, these crates are definitely for you
Sliding Door Dog Crate VS Kennel – It's quite simple to tell apart a kennel from a crate. the main differences are their size, durability, and where you'd usually use them. A kennel is larger than a crate and usually can't fit inside your home, it's made more durable because you usually use it outside so it can endure different weather conditions and it can house a dog crate, no matter its size, with ease.
Measuring Your Dog – You can't rely on the descriptions that these crates use to describe their size like small, medium, large, etc. because different crate types have different dimensions. For example, a soft-sided dog crate large will usually be made for either medium or small dogs while an XL wire dog crate will be able to house extra large dogs but you'll still have to check your dogs' height and length and the crates' height and length to make sure it's the right fit.
To Sum Up
If you took a liking to sliding door dog crates and see yourself benefiting from them there's one we just have to recommend and it is the Cardinal Gates Sliding Door Pet Crate. It's quite sturdy since it's made with 10 and 6 gauge steel wire and it has 3 sliding doors. If you still want a regular door crate then your best bet is to check out the post about medium wire dog crates and if you really want your crate to blend in well into your household and save you space like some of these crates do then definitely read the post about triple dog crate furniture.