Do you have a dog that's the size of a border collie so you're looking for a medium wire dog crate?
You're lucky that you've stumbled upon this article then. If you continue to read it you'll find that we reviewed the ones we were able to find but you can be sure that we reviewed only the best. We even went as far as to place them into categories like best for puppies, indoor, furniture style, and a lot more to make finding the one for you even easier.
The Summary
Best 5 Medium Wire Dog Crates
BEST OF BEST MEDIUM WIRE DOG CRATE
MidWest Homes for Pets Dog Crate
For Puppies And Grown Dogs
This medium wire dog crate will definitely be successful in doing its job of keeping your dog safely contained inside but you'll love it even more if you have a puppy to contain since the crate comes with a puppy crate divider that will make potty training your dog easier.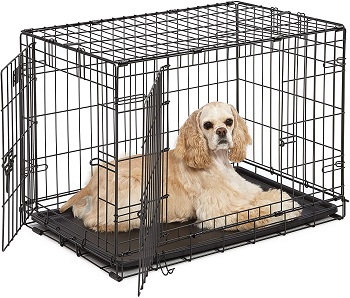 Crate Parts And Coating
The crate, of course, is made out of steel wire and it is coated with an e-coat. Essentially, what the e-coat will do is give the crate an anti-rusting feature. There are two doors for access that will allow you to position the crate more freely inside your home and they can be locked with sliding bolt locks.
Dog And Floor Protection
What would otherwise be a problem of injured paws and dogs in general because of the sharp wire edges this crate completely eliminates since the corners of it are rounded by using corner clips. The crate will also manage to protect your floors using the bottom roller feet.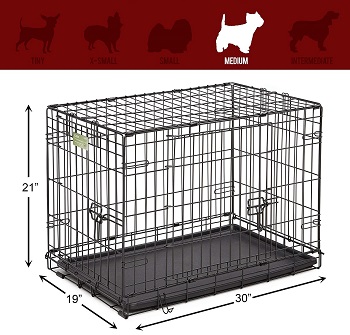 Cleaning Bottom Pan
You can be quite successful in keeping this crate clean since it does feature a slide-out pan on the bottom. If you're worried that the pan is gonna slide out on its own you really don't have to be since the bottom features a side stopper for it.
Portability
You don't have to stop yourself and use this crate just inside your home. It is incredibly portable because of its folding design and light weight of around 17 lbs. You'll also get a carrying handle so that you have multiple carrying options
In Short:
The e-coating makes it anti-rusting
Has rounded corners using corner clips
The roller feet on the bottom protect floors from damage
Comes with a puppy divider for potty training
Has 2 entrances
Can be folded down
Has a carrying handle on top
BEST FOLDING MEDIUM SIZED WIRE DOG CRATE
BestPet 30-in Medium Dog Crate
Outdoor Use And Storing
The metal wire of this crate is surely durable for no other reason than of the fact that it is resistant to rusting. This will allow you to occasionally use it outdoors in your yard as well. When you're not using it, you can fold it down and it won't take up much of your storage space.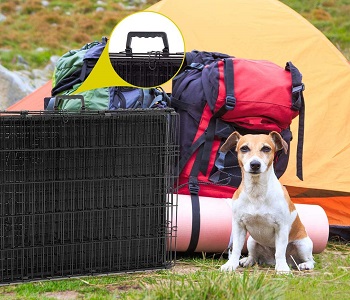 The ABS Plastic Liner
We didn't want to say too much about the cleaning pan on the bottom but since it's so great we just have to. the pan is made out of ABS composite material plastic and it's incredibly durable as well as leakproof. You can also be sure that the pan won't stain or warp and it will not absorb nasty odors.
Entries And Exists
You'll find that that it has two ways for your dog to enter or exit this medium-sized wire dog crate. The first one is located in the front and the other one is located on the side. Both entrances lock with 2 sliding bolt locks each.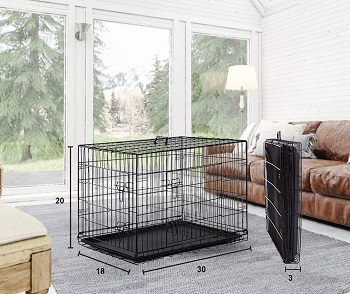 Assembly And Disassembly
You don't have to go through the troubles of assembling the medium wire dog crate with tools since it requires none. You can set it up in a matter of minutes and from there, fold it down or fold it back up with little to no effort. When it's folded down, you can carry it with the provided top handle as well.
In Short:
Made with rust-resistant wire
Comes with an amazingly durable leakproof pan
Has 2 entry points
Assembly requires no tools
Can be folded down to store or transport
Comes with a carrying handle
BEST HEAVY DUTY MEDIUM WIRE DOG CRATE
Carlson Pet Products Secure Dog Crate
Successfully Houses Puppies
Although this crate does not come with a puppy divider that surely doesn't mean it can't be considered one of the best crates for puppy training. To answer the question of why we need to mention that this crate is certified to JPMA as well as ASTM standard. The JPMA standards concern themselves with juvenile product safety such as this one.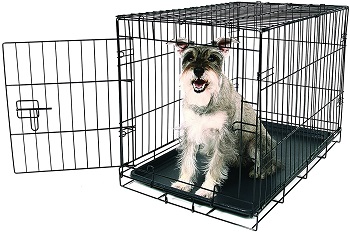 One Door But Extremely Secure
Although the crate features a single door in the front for your dog to enter and exit the crate the fact that it can be locked from multiple points will prove to be enough safety at least when it comes to your dog trying to escape the crate unsuccessfully.
Folding Build Use
Just like any other medium wire dog crate, this one can also be folded down for you to store or to transport the crate if you wish to travel with your dog. This will be exceptionally useful if you have a puppy since it's recommended that puppies be contained inside for shorter periods of time.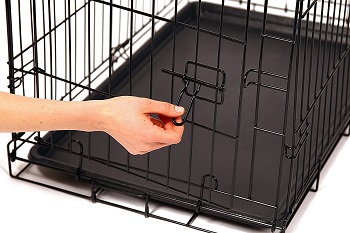 Multiple Material Bottom Pan
The tray on the bottom is made out of composite material which means that the manufacturer used 2 or more materials to make it so that the finished product is far more durable and strong than the 2 or more materials when separated.
In Short:
The door can be locked from multiple points
The door is located in the front
It is certified to JPMA and ASTM standards
Great for housing puppies
Can be folded down to store or transport
BEST INDOOR MEDIUM SIZED WIRE DOG CRATE
Lucky Dog 36-in Dog Crate
Space Saving Door
What's so special about this medium wire dog crate is its door that makes it a sliding door dog crate but why would you need a crate with a door like that? It's quite simple, the sliding door will save space around the crate and make it more difficult for your dog to open the door and escape.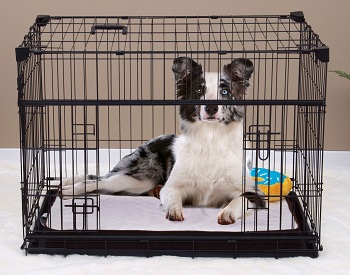 More Doors And Locks
The sliding door is actually a double door and the way that it will prevent your dog from pushing the door outward is through the positions of the sliding bolt locks. There's also a door located in the front of the crate that also locks with 2 slide bolt locks.
Stable Construction
You don't have to worry about with this crate is that it's going to accidentally collapse with your dog inside and without you folding it down because of the plastic corner stabilizers. What it will also do is that it will reduce noise like rattling.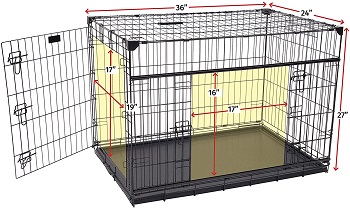 Floor Protection
Apart from the plastic pan that will prevent dog urine and liquids from getting onto your floors, the rubber feet that you can easily place on the bottom will also aid in keeping your floors undamaged since they will prevent scratching
In Short:
Has a double door and a front door
The double door slides open
Has corner stabilizers to prevent accidental collapse
Keeps your floors safe with roller feet and a cleaning pan
Folds down easily
BEST FURNITURE STYLE MEDIUM WIRE DOG CRATE
Unipaws Pet Crate End Table
Crate That Saves Space
We choose to review this medium wood dog crate in this category since we know how much of an eyesore wire dog crates can be and we also know the importance of saving space. This crate solves these problems by doubling as an end-table with a weight limit of 150 lbs for the top.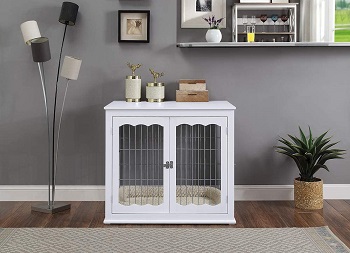 Wire Sides With A Wooden Frame
The reason why we were able to place it in the medium-sized wire dog crate category is because of its wire sides. The frame of the crate is made out of wood and it is not chew-proof while the wire sides are. The wire sides will also provide you with the same amount of airflow just like a regular wire crate would.
Interior Extras
For the interior bottom of the crate, you'll get a bed that's waterproof and can be easily cleaned. What this will do is that it will protect the interior from accidents. The crate also has rubber squared feet on the bottom to prevent slipping of the crate and so that it doesn't damage your floors.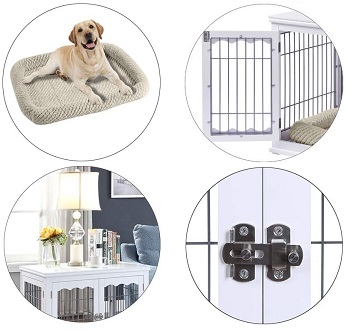 Door Positioning
The medium wire dog crate has 3 doors. To be more specific, it has a double door on the side and a single door in the front. You can also choose to place the door panels however you'd like when you're assembling it. You can lock both the couple door and the front door with a hasp latch.
In Short:
Has steel wire sides that are chew-proof
The wooden frame is not chew-proof
Comes with a waterproof and washable bed
Functions as furniture
The top weight limit is 150 lbs
Has a double side door and a single front door
How To Pick A Medium Wire Dog Crate
For you to know exactly what medium-sized wire dog crate you want to get, you have to know some of the general differences between them like their size and what their general use is, what each one is best for and why and we're about to answer these question in this guide with tips and trick on how to choose the right crate for you.
Size Explanation – When you're looking for a medium wire dog crate you will tend to look at the crate's length to figure out whether or not it's made for medium dogs. The sizes range anywhere from 30 to 36 inches in length. When you're trying to figure out if it's the right crate for your dog make sure that you leave out 3-4 inches between your dog's and crate's length and height.
Size According To Weight – Usually any wire dog crate including XL wire dog crates will have a weight limit to it. The reason why we're mentioning this is that you shouldn't size your crate according to your dog's weight and weight limit because the weight limit isn't a good indicator of the dog's size.
The Best Uses For Wire Crates – One of the best uses for wire crates, in general, is to use them to house puppies. They are great training cages for dogs as well because they are durable and sturdy but not as expensive as heavy-duty metal dog crates that you would get only if you have an extremely aggressive dog.
Portability And Safety – Most, if not all wire dog crates are easily portable. They are incredibly light and can be folded down for you to store when you're not using them or you ca use that to transport them to your car and travel with them. What you want to make sure of after that is that the crate is safe for the dog and yor floors or car floors. The way that this is made possible is if the crate has rounded corners and if it has a durable plastic cleaning pan o the bottom.
To Sum Up
We tried to look at the range of possibilities that the medium wire dog crate we would recommend has but first and foremost we focused on safety so that we can choose the MidWest Homes for Pets Dog Crate as the one. You can use it to house puppies because of the divider and it's incredibly safe for dogs because of the rounded corners. If you need a wire crate but you figured out that you need a smaller one then you should definitely check out the article about small wire dog crates and if we piqued your interest with the furniture style one then the article about white dog crate furniture is the one that might you might find useful.