Have you been postponing your search to find a medium metal dog crate because you just can't seem to find a good one?
You don't have to anymore since you're here reading this. What you need to do now is keep reading this article because we found and reviewed some of the best that the internet has to offer right. You should also pay attention to the different categories we placed these crates in like folding, travel, and just so much more all to make it easier for you to finally choose and get one.
The Summary
Best 5 Medium Metal Dog Crates
BEST OF BEST MEDIUM METAL DOG CRATE
ProSelect Empire Dog Cage
Metal Info And Specs
We have to talk about two things that make this medium metal dog crate so durable and strong. The first one on the list is the steel tube diameter that is 0.5-in and the second one on the list is the fact that the steel has a 20 gauge. Although the thickness of steel gets loves with higher gauges it's still quite thick and sturdy.
Not For Everyone
These crates are built to last so it's no wonder that the price of this crate is around $300 so you don't really want to buy it unless it's necessary. When you'll choose to buy it depends on your dog's behavior so if your dog suffers from separation anxiety or is generally highly aggressive then this is the crate for you.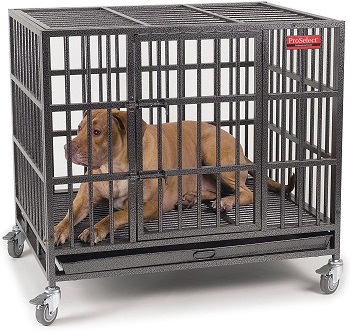 Escape Proof features
This is a safety locking dog crate and you'll be able to lock the single door located on the side using 2 heavy-duty sliding bolt locks. Another reason why this crate is so durable and escape-proof is that the steel tubes are welded at some of the critical stress points to ensure more durability.
Access For Cleaning
It might be tricky for you to clean the crate if you use the door to access and clean it but you don't have to do that since the bottom has gridded flooring and just below it there is a very deep slide-out pan that will contain dog excrements and dirt quite well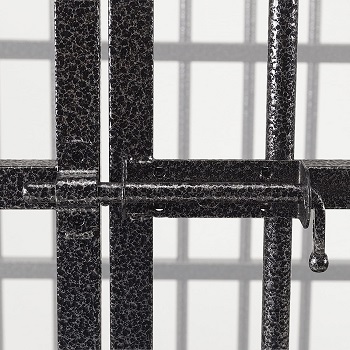 Crate's Movability
We have to add that the crate isn't very portable since it weighs around 75.2 lbs but that doesn't have to worry you since you can attach caste wheels on the bottom that can be locked to set the crate into place for more stability.
In Short:
Made with 20 gauge 0.5-in diameter steel tubes
Has a single door that locks with 2 strong sliding bolt locks
The stress points are welded for extra durability
Weighs around 75 lbs
Can be moved with the provided lockable wheels
Made for aggressive dogs
Cleans easily with a deep slide-out pan below the bottom
BEST FOLDING MEDIUM SIZE METAL DOG CRATE
Extreme Consumer Products Dog Crate
Folds Safely
Out of all the crates that we will go on to review, this is the only medium metal dog crate that can be folded down and with enough security that it won't accidentally collapse. The way it folds down is by removing the lockable metal bars on the sides. Once you're done, you can carry it like a briefcase with the provided handle.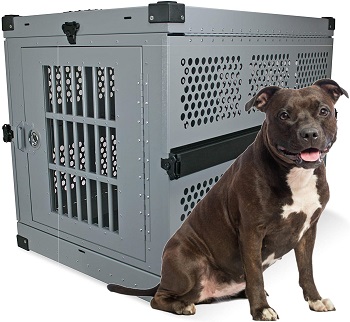 Corners Use
This is actually a stacking dog crate. The way that this is made possible is because of the reinforced padded corners. Another thing that they're good for is that they will allow you to place the crate inside your home safely because the metal won't get into direct contact with your floors
Better Portability
The crate is definitely lighter than most of its competitors with a weight of 41 lbs. This surely doesn't mean that it's not sturdy but what it does mean is that transportation will be much easier, you can even choose to travel with it because of this.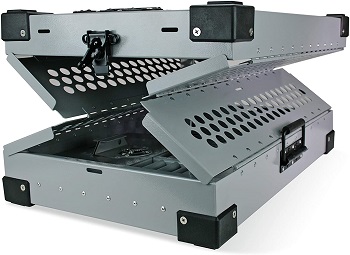 Providing Shade
The crate gets enough air coming from the holes located on all sides of the crate and what it does as well is provide shade for your dog if the crate gets into contact with the sun so that your medium dog is kept cool while he's inside. We do have to add that this is one of the more expensive dog crates we reviewed.
In Short:
The padded corners allow stacking and soft placing
Keeps your dog cool when in contact with the sun
Can be folded down securely
Weighs 41 lbs
Can be moved more easily
Can endure aggressive dog behavior
BEST CHEAP METAL DOG CRATE MEDIUM
SmithBuilt Heavy Duty Dog Crate
Affordable But Durable
You won't have to sacrifice quality for money because this medium metal dog crate is made with a 0.75 .in frame that's reinforced with 20 gauge steel or 0.5-in diameter steel. It's coated with a hammer tone finish that makes it corrosion and rust-resistant.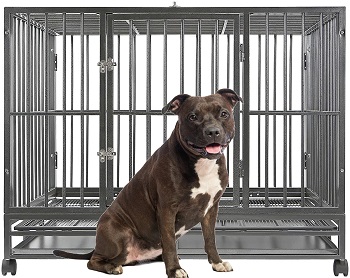 Useful Top Entry Point
It's not all that often that you can find a heavy-duty dog crate such as this one that has top door access as well. You will find that it's quite useful to have one since you can access your dog without him trying to wiggle out and escape using the front door. The top door locks with a single slide bolt lock while the front locks with two.
Cleaning Pan Properties
If its build and coating finish properties weren't enough to tell you about what a tough dog crate it is, then you'll find the answer to it in the simpler things like the cleaning pan featured below the bottom that's also rust and corrosion resistant and it won't stain or absorb unpleasant odors.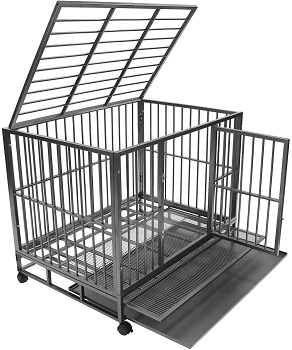 Movement Limitations
The crate also doesn't weigh that much with its weight of 58 lbs but it is still heavy enough to have limited movement. What you'll get to make it easier to move it from room to room at least are the wheels that you attach to the bottom that can also be locked.
In Short:
Made with 20 gauge and 0.7-in steel
The bottom pan won't stain, rust, or absorb odors
Can be moved using the lockable wheels
Weighs 58 lbs
It is cheaper than most
The crate itself is rust and corrosion-resistant
Has a top and front access door
BEST HEAVY DUTY MEDIUM METAL DOG CRATE
LUCKUP Heavy Duty Dog Cage
External Dimensions Difference
When you're trying to figure out the right size of crate to get, heavy-duty metal dog crates are treated a bit differently. You see, although this crate is 38 in long and can be considered a large dog crate you have to account for the steel tubes that will take away a few inches of its interior size.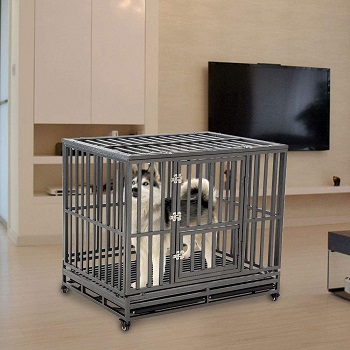 Steel Properties
The steel that makes the crate is resistant to corrosion and its coating finish won't harm your dog if he tends to bite on the steel tubes because of its non-toxic properties. Since the steel is corrosion resistant and not the coating finish, you can actually use the crate for outdoor leisure time with your dog as well.
Safety Locking Mechanism
The single front door that is there for your pet to gain access to the crate can lock with two locks that also have safety buckles on them to prevent your dog from unlocking the crate on his own and eventually escaping.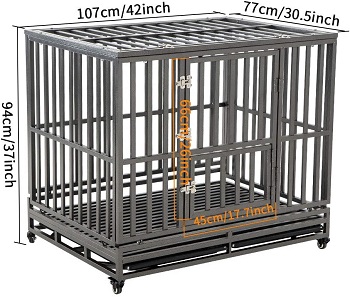 Assembly And Cleaning
You won't have to go through too much trouble to assemble this medium metal dog crate since the locks are already assembled and all you need to screw 8 screws and attach the lockable wheels onto it. The crate can also be cleaned easily since you'll get a slide-out pan that's located below the gridded bottom floor.
In Short:
The crate is 38-in long
Made with corrosion and rust-resistant steel
The finish is non-toxic
Has a top and front entrance door
The front locks with 2 locks while the top locks with one
Cleaning is easy because of the slide-out cleaning pan
it's easy to assemble
BEST OUTDOOR MEDIUM SIZED METAL DOG CRATE
Smonter Heavy Duty Dog Crate
Fresh And Strong Design
This crate does look slightly nicer than the rest since it has a brown finish and the top of the sides of the medium metal dog crate have diagonally placed steel that creates a mesh pattern and a Y shaped the connected with the vertically placed steel tubes. This bar shape makes it bite proof and prevents your dog from sticking out his mouth. It surely is one of the more nice-looking dog crates of this type.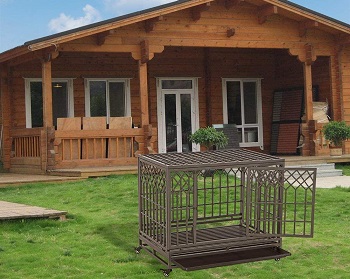 Connecting The Steel Tubes
The steel bars are welded together to give it even more strength while the coating finish makes it safe for the dog to chew on the crate since it is non-toxic and it won't put your dog's health at any risk at all. The crate comes partially pre-assembled so you won't go through too much trouble with it.
Escape-Proof Locking
The crate will be almost impossible for your dog to escape since instead of the typical double locks the single door on the crate features 2 locks that are anti-escaping ones. Even if your dog does manage to unlock one, the lock that's located all the way on the top will be impossible to reach.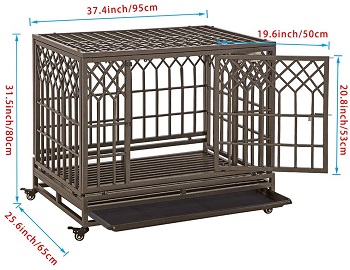 Bottom Extras
The most important bottom features of the crate are definitely the wheels that will make moving the crate a lot easier and the plastic slide-out pan located below the bottom that will collect any accidents or dog dirt for you to dispose of it easily. The wheels can also be locked for more stability.
In Short:
The top features Y shaped bar design
Has a non-toxic brown finish
The 2 locks on the single door are escape-proof
The crate's design makes it bite-proof
Has a slide-out pan below for cleaning
Sits on lockable wheels for easier moving
How To Pick A Medium Metal Dog Crate
If you really want to make sure you're getting the best medium metal dog crate you might want to look at the differences in materials, size, prices, and some other functions that some metal crates have and some don't. You also want to make sure that you really need the crate since most of them are a bit pricey and you can find better alternatives to these crates.
Prince Range – The prices of these crates vary and they can go anywhere from $150 to $700. The more expensive crates will usually be more portable dog crates and they will have some unique features that not a lot of metal crates have like a folding design.
In House Looks – If you're looking to get these crates for their looks we have to tell you that these will not look well inside your home. Most of them are black or silver and since they're sturdy dog crates they look like that as well. The crate will really pop out inside your home and you'll have difficulties with blending them into your household.
Who They're For – Unless your dog is quite aggressive and can break a medium wire dog crate easily you really don't need these crates. They are great heavy duty dog crates for separation anxiety but if you don't find your dog to fit this description, you can get a different type of crate that's still sturdy.
Sizing Differences – When you're trying to find the right size of medium metal dog crate for your dog you'll do it a bit differently. The sizes range anywhere from 36 to 38 inches but what's different about it is that this is the external length of the crate and seeing as they are made with steel tubes that have a large diameter, the interior length will be smaller so focus on the interior length and height when adding a few inches to your dog's dimensions to find the right crate size.
Limited Movement – If you're getting one of these crates to use as a medium travel dog crate you might want to look elsewhere for since these crates are difficult to move because of their size and weight. To help you with this the crate will come with caster wheels.
To Sum Up
We're sticking to the best of best medium metal dog crate like the one we will recommend and that is the ProSelect Empire Dog Cage. the hammer tone finish makes it rust-resistant while the steel tubes are made with 20 gauge steel that's quite durable. If you're looking for something lighter for your crate trained dog then you should definitely consider taking a look at the article about soft dog crates medium and if you want a crate that will blend well into your home then the article about medium wood dog crates is sure to end your search.