Are you an owner of multiple dogs so you're looking for a stackable dog crate that will save you space and house your pets?
You'll definitely find what you're looking for by reading this article because we did review the best ones that have a stackable feature but that's not all they are. Here, you'll find ones that are best for different dog sizes, the ones you can collapse so just keep reading to finally get the crate that you want and need.
The Summary
Best 5 Stackable Dog Crates
BEST OF BEST STACKING DOG CRATE
Homey Pet 43-in Stackable Cage
2 Dog Crate
Not only can you use this crate for one dog but you can use it for two dogs at the same time. The reason why is because the crate comes with a divider, 2 bottom trays, 2 feeding bowls and you get 2 feeding doors for each side of the crate.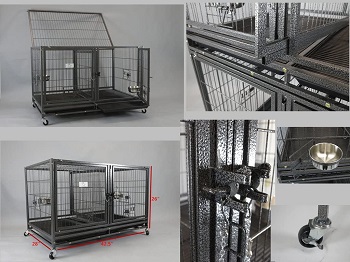 How Many Crates Can You Stack
You can stack up to 3 crates of the same type on top of one another. You can choose to buy lower versions and upper versions of the crate depending on if you want to make it a double stack dog crate. The lower type of crate can have caster wheels.
Access Doors And Their Addition
There are three doors in total to access your dog inside this stackable dog crate. One is located on the top and with it you can access both parts of the crate when used with a divider and you get a door for each side of the crate. The front access door lock with double door locks.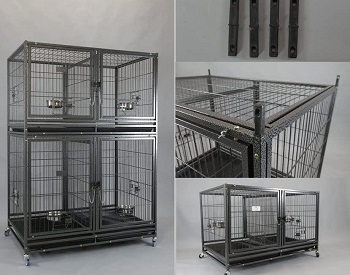 Dimensions Of 2 crates
If you're using the stacking dog crate to house two dogs, each crate will be 28-in long, 21-in wide, and 26-in tall. this means that it can house two medium-sized dogs and if you're using it as a crate for one dog, then you can easily house inside a large dog.
In Short:
You can stack up to 3 crates
Can be used for one dog or two dogs
You get a double feeding door for each crate
Comes with 2 feeding bowls and 2 bottom trays
Made for one large or two medium-sized dogs
BEST FOR SMALL DOGS STACKABLE DOG CRATE
Modular Dog Cage
Of What It's Built
This crate is made out of heavy-duty steel and is coated with an ivory-colored finish. the coating finish won't stain or absorb unpleasant odors. You can house two sets at the same time or just one. It blends in well because it is a white wire dog crate.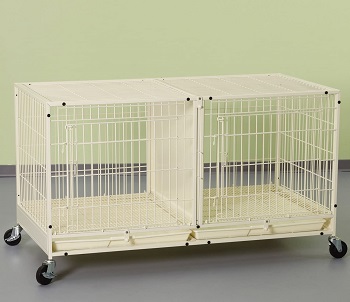 Steel Divider Use
The steel divider of this stackable dog crate on wheels is not gridded so this way, the two dogs placed inside cannot see each other. The divider panel can be locked into place and is easily removable if you don't want it or need it. The crate also has wheels and 2 of the 4 are lockable to make the crate stay in place but you'll have to get them separately.
How To Clean The Crate
It has gridded flooring on the bottom and below it, there are two slide-out trays for each of the two dogs that you can house inside. It will come in handy when you need to clean the crate because excess dirt will drop on the tray which you can then clean.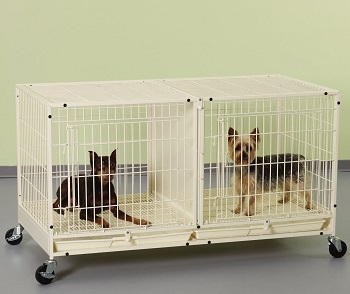 Boxed Dimensions
The crate measures 22-in on each side. You can remove the tray to house one dog but that wouldn't make sense since it's not tall. This is why you can get a taller model of this crate. This dog crate can house small and maybe medium-sized dogs.
In Short:
Made out of heavy-duty steel
It is colored in an ivory color
Can house two small sized dogs
Comes with a divider panel
There's a pullout tray below the gridded floor
BEST FOR MEDIUM DOGS DOUBLE STACK DOG CRATE
Go Pet Club Dog Crate
How Many Crates To Stack
You can stack up to 3 crates of the same type and when done like so, the total height will come at around 92.5-in high which is around 8 feet. Two dogs can be inside the crate at the same time since the crate also comes with a divider.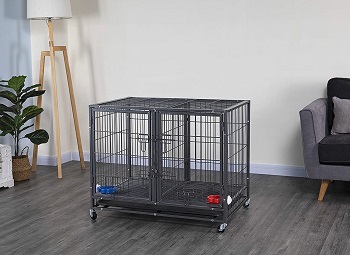 Dimensions Of Both Crates
When you have the divider on this stackable dog crate, each side of the crate measures 28-in in length, 22-in in width, and 25-in in height. This would mean that you can use this stacking dog crate for medium-sized dogs and maybe some large dog breeds that weigh around 50 lbs.
Convenient Clean-Up
You'll get a big tray below the gridded flooring to clean the crate with ease when there's a need for it. You will also get 2 feeding bowls and there's an additional door that locks with a sliding bolt on each crate that serves the purpose of a feeding door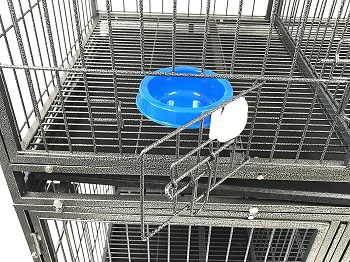 One Entrance Door
On this crate, you'll get access to your dog through only one door and that is the front entrance door but seeing as you get a feeding door as well that won't pose too much of a problem because you can still access your pet in some way without having to open the door that makes it easier for him to escape.
In Short:
Can be stacked up to 3 tiers
You can house two dogs at the same time
Fits inside medium and some large breeds up to 24-in high
Has one access door for each crate with feeding doors as well
You get two feeding bowls with it
BEST COLLAPSIBLE STACKABLE DOG CRATE ON WHEELS
AmazonBasics Heavy Duty Pet Kennel
Frame And The Rest
The frame of this stacking dog crate is made out of heavy-duty steel and the rest out of steel wire and polypropylene or PP. PP is simply put, a plastic polymer that was used to make the bottom cleaning tray of this crate. There no other plastic parts except for this one.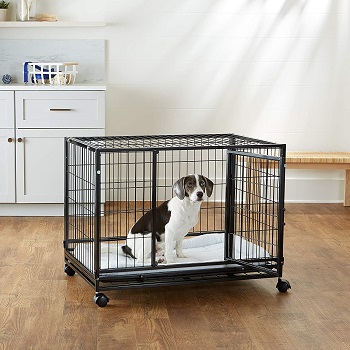 Stackable And Collapsible
Although this crate is stackable, it can also be collapsed which might mean that it is less stable when stacked as opposed to a crate that can't be. These crates need to be secured with strong bolts and screws but if you're buying the crate for personal, at-home use, you don't need to worry about it.
Single Access
There's is a single access door positioned right in the middle on the side of the crate and it locks with a spring tension lock that you have to pinch to open so you can be sure that your dog isn't going to get out of the crate on his own.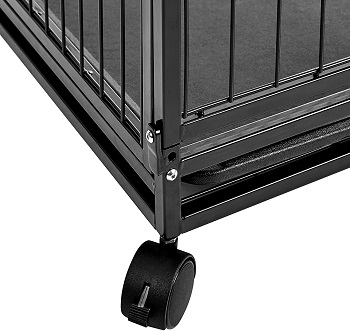 Caster Wheels
On the bottom of this stackable dog crates, you can find caster wheels so you can move the crate when you need to that can also be locked to keep the crate firmly in place. One more thing you can find on the bottom is the PP plastic tray that will come in handy when you need to clean the crate.
In Short:
Made out of heavy-duty steel and steel wire
The bottom tray is made out of PP plastic
Can be stacked and is also collapsible
There's one door and it locks with a spring lock
BEST FOR LARGE DOGS LARGE STACKABLE DOG CRATE
Impact Collapsible Dog Crate
Durable Aluminum Construction
You can easily categorize this crate as an unbreakable dog crate. It has an aluminum construction and is coated with a rust-resistant grey powder finish. Other build features that make it so durable include crush-resistant corners and stainless steel locks that are marine grade.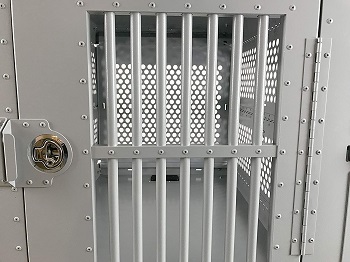 Worry-Free Stacking
Unlike most crates that have collapsible construction, this large stackable dog crate will do well when you stack more than one crate on top of one another. It's because of the way t collapses. It collapses on the sides when you unlock the strong aluminum steel bars to make it bend and collapse.
Drain Holes For A Clean Crate
Cleaning the crate might be a hassle but it does have drain holes to make it easy and worry-free. Visibility inside the crate might not be so good but it still has good airflow because of numerous holes on each side of the crate.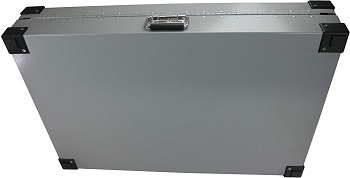 Dogs That Fit Inside It
The dogs that you can put inside this crate can be medium or large dog breeds that weigh up to 70 lbs. The reason you can stack the crates on top of one another is that the crate is quite sturdy and it has pads on top for you to stack another crate on.
In Short:
Made out of aluminum steel
The door locks with marine grade stainless steel ones
Has a collapsible construction
Has crush-proof corners
Made for dogs up to 70 lbs
How To Pick A Stackable Dog Crate
Having a stackable dog crate is no joke and you should be careful when buying one because not all crates are durable enough to hold the weight of another crate. The thing to especially look out for if they are collapsible. this requires more attention because it sometimes makes the crates have a weaker build which might put your dogs in danger but there's much more to worry about so continue reading to find out what to focus on before buying.
Modular As Opposed to Stackable – Modular dog crates with stackable design give you more freedom with your arrangement of crates while crates that are only stackable will be hard to change. Modular crates are also good because they sometimes come with a divider so you can split one crate to house two dogs so there's no need for buying or stacking more than one.
Stackable Dog Crate VS Kennel – There isn't much to think about when thinking about the differences between the two. Although dog kennels can be stackable, they can only be put side to side to use them outdoors as a place where the dog will spend most of his time. Another thing is that dog kennels can contain dog crates and you can't use kennels for trips and move them around easily
Heavy-Duty Build – If you're looking for a stackable dog crate the first thing you should think about is whether it is heavy-duty. Anything else than that might be too weak to stack. The wire might bend because the weight of the stacked crates won't be stable enough.
Collapsible Construction – Some but not many stackable crates will have a collapsible construction. You should be on the lookout for this because when you stack two or more of these, their frame might not hold well and collapse because of the extra weight pressuring them. To avoid this, either get a crate that can't be collapsed or make sure that the crate is screwed with good and durable enough screws and bolts
To Sum Up
There's a lot of things that can go by having multiple dog crates but there are some that are as safe as they can be and the one to really take the spotlight in this way is the Homey Pet 43-in Stackable Cage. You can only stack up to 2 crates at once but you can divide one crate to be used by 2 dogs. If you've concluded you don't need this dog crate type but still want a sturdy and large one we suggest you read the article about XL metal dog crates and if you want to go in another direction and get a crate that will be great to look at in your home but keep it sturdy enough read the article about white wire dog crates.