Does your home have a fresh new look and you'd like an indoor dog crate to complete it?
You'll want to keep reading this article then because we reviewed nothing but the best-rated crates. We tried to keep the choice colorful in variety so you'll read about large, extra, large, foldable, and even puppy crates but that's not all of them.
The Summary
Best 10 Indoor Dog Cages
BEST OF BEST INDOOR DOG CRATE
Unipaws Furniture Dog Crate
Doors And Locks
The three doors positioned one on of the sides and the front allows for versatile placement indoors. Both the double door and the single door lock with 3 different locks. For one door or unique door opening styles check out the article about indoor dog crate furniture next.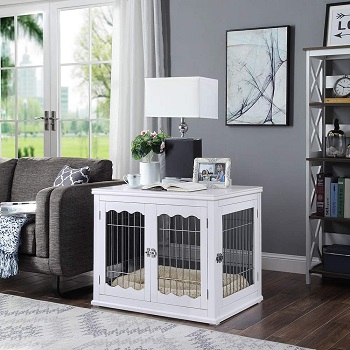 Build And Extras
It's made out of white-colored MDF wood and it has wire sides. It's 36.2-in long so it can house both large and medium dogs. You can place a waterproof bed inside that you can easily wash when needed. On top, you'll get to place 200 lbs worth of your things.
In Short:
Made out of MDF and wire
HAs a white color
Comes with a washable waterproof bed
It's 36.2-in long
There are three doors and two entry points
The doors lock with 3 different types of locks
Holds up to 200 lbs
BEST LARGE INDOOR DOG CRATE
Casual Home Wooden Crate
Real Size
Wooden crates that are around 42-in long are commonly categorized as extra-large. Such is the case with this one but with its 44.5-in in length, it can house large dogs. If you want to see for yourself and check out other models while you're at it, read the large indoor dog crate article next.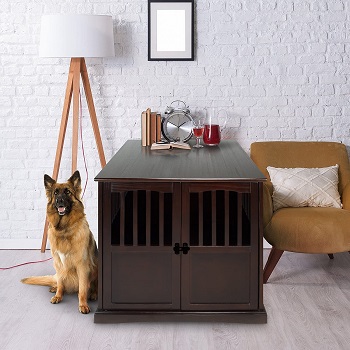 Wood Info
It's made out of solid wood that's chew-resistant and features an espresso finish. The front holds a double door entrance that locks with one hasp latch lock. On top, you'll get to place 200 lbs worth of stuff and for extra top storage space, the top board is wider than the crate.
In Short:
Made out of solid wood
It's chew-resistant
It's 44.5-in long
Can house large dogs
Has a double door entrance
The top weight limit is 200 lbs
BEST WOODEN INDOOR DOG CAGE
Crown Pet Products Wood Crate
Panels Durability
Each panel of this crate is connected with durable mortise and tenon joints. It's made out of hardwood but it looks like teak and it has an espresso finish. The interior bottom is made out of MDF wood though and is covered with melamine to protect it from liquid damage. It's around 30-in long so you can house medium dogs inside.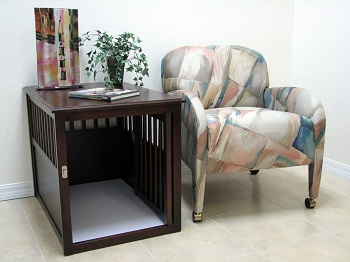 Door Opening
The single door locks with a single hasp latch lock but the impressive thing is that it can open and be pushed inside to save space. An indoor wooden dog crate is almost always an impressive space saver so check them all out if that's what's important to you.
In Short:
Panels are connected with mortise and tenon joints
It looks teak but is made out of hardwood
Has an espresso finish
The MDF floor is melamine covered
It's 30-in long and can house medium dogs
BEST PLAYPEN DOG INSIDE CAGE
BMS Wire Dog Pen
Panels And Shaping
This fence is made up of 8 wire panels edged with a metal tube frame. Each panel is 32-in long, and 40-in tall and you can shape it in multiple ways e.g. an octagon. You can connect multiple fences for an even larger living space and you can even fold it down for storage.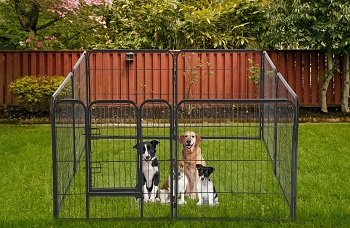 Indoor And Outdoor Use
Although it's a dog cage fence indoor model, it's made out of heavy-duty, corrosion, and rust-resistant metal so outdoor use will also be an option. For exclusively indoor or outdoor pens and fences, check out the dog crate playpen article next. It can contain multiple dogs but they should be puppies.
In Short:
Made with heavy-duty corrosion resistance metal
Consists of 8 panels
The panels can be placed in multiple shapes
Each panel is 32-in long and 40-in tall
Has one access door
You can connect multiple fences
Can be used indoors and outdoors
BEST EXTRA LARGE INDOOR DOG CAGE
Ecoflex Dog Crate
Material Info
The amazing wood and plastic polymer material called ecoflex is what lets it fight any problems that regular wood has. For a more classical wooden build, check out the extra-large dog crate furniture article next. Apart from ecoflex, it has stainless steel tubing for ventilation.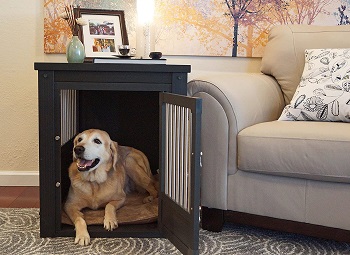 Crate Abilities
The top can come off for cleaning and you won't worry about it absorbing any liquids. It also won't split into multiple pieces, crack, or even warp. You can use the top to place your things there and it's 42.5-in long so it does categorize as a furniture extra large indoor dog cage.
In Short:
Made with ecoflex
Won't absorb any liquids
The top comes off for easy detailed cleaning
You can place your stuff on top
It's 42.5-in long
Ecoflex won't split, warp, or even crack
BEST FOLDABLE DOG INSIDE CAGE
Lovupet Wooden Portable Crate
Build Details
You can use this crate as a piece of furniture. The top acts as another door and it's made out of wood that doesn't feature a finish so it looks natural. The front is where the metal bars are placed and the door as well. It's elevated from the ground so you can place a cleaning tray inside or below it.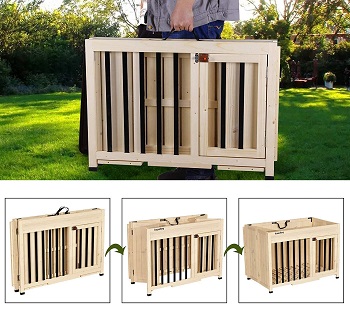 Folding Design
The amazing this is that you can fold down this foldable dog pen indoor model and transport it just as easily. It can house medium-sized dogs just like other large foldable dog crates so check out the other models we reviewed in the article linked.
In Short:
It's made out of natural wood
Has a metal bar front
Has a top and front entrance
Comes with a cleaning tray
Has an elevated design
Can be folded and carried
Able to house medium dogs
BEST HOUSE INDOOR DOG CRATE
Smonter 48″ Heavy Duty Crate
Size And Top Shape
Strong and extra-large dogs need strong and extra-large crates. That's why we decided to review this 48-in long indoor dog house crate. It's a house crate because the top is shaped like a roof house and for more intricate designs and different builds, read the dog house crate article next.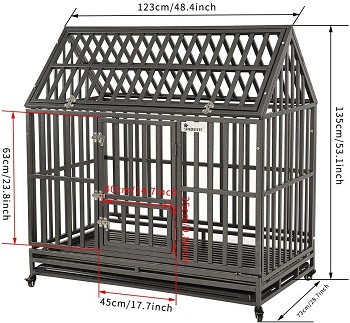 House Roof Function
The top is meant to make it an extra tall dog crate with a height of 53.1-in. It weighs 92 lbs so it's no wonder it has wheels on the bottom for easier moving. the top features a door as well as the front that locks with 2 hasp latch locks. it's fully made out of heavy-duty steel tubes.
In Short:
Made out of heavy-duty steel tubes
it's 48-in long and can house extra large dogs
Has a house rooftop and it's 53.1-in tall
Weighs around 92 lbs
Sits on wheels for easy movement
Has a top and front door
BEST PUPPY INDOOR DOG CAGE
Diggs Revol Dog Crate
Durability And Safety
There's nothing not durable about this indoor puppy cage. Starting with the reinforced plastic frame and wire sides made out of aluminum metal. Apart from being durable, it's also made with standards that concern themselves with puppy safety. It comes with a divider that can help you potty train the pup that can grow to be a small dog breed.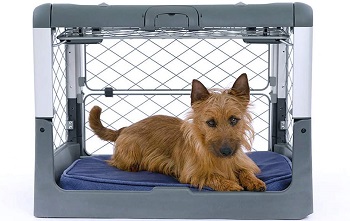 Door And Uses
It has 3 entrances, one being a slide-up door and you can easily collapse it whole to transport or store. It fits well into modern homes and can be used as a travel crate as well. If the focus is to potty train your dog, you're going to need a puppy crate with a divider so check them all out.
In Short:
Made with reinforced plastic and aluminum wire
Has 3 doors, one slides open
Comes with a puppy divider
It's completely safe for puppies
It's a small dog crate
Can be collapsed and you can use it for travel
BEST MODERN INDOOR DOG CRATE
BarkWood Large Pet
Blending Into Homes
This crate is fully colored in gray and is also fully made out of wood. This includes the wooden bars placed on the windows for ventilation. The panels are connected with strong moritse and tennon joints and the door can be opened fully to save you some indoor space. This inside crate for dogs is made to house intermediate dogs since it's 36-in long.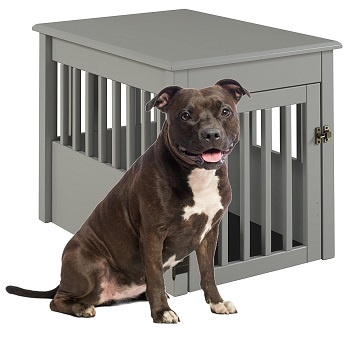 No Fear Of Liquid Damage
The interior bottom is rubberized so that the liquids don't get absorbed as much or at all. The door, furniture function, rubberized bottom, and color all make it modern dog crate funiture and surely, there are more unique crates like this so read about them if you're interested.
In Short:
Has a full solid wood build
The panels connect with motise and tenon joints
It's 36-in long
Has a door that opens fully to the side
The bottom is rubberized
It's colored gray
BEST PLASTIC DOG INSIDE CAGE
Iris USA Open Wire Pen
Frame, Center, Top, And Bottom
The bottom and top frames of this indoor enclosure for dogs are made out of plastic but look like wood. The center is covered with white epoxy coated wire and it has a single sliding door entrance. On the bottom, you'll find a molded plastic tray and it doesn't feature a top so it's more of a playpen.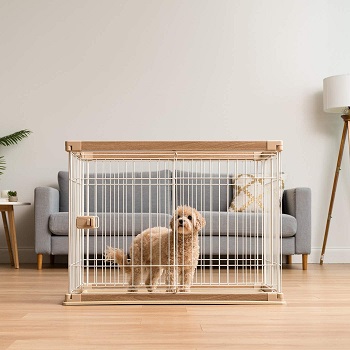 Crate Size
It's elegant and modern and it's also extra large with its 47-in in length. It can only house medium dogs though. If you want to see more similar models, check out the post about the best medium plastic dog crates and you'll find more wonderful crates with unique designs.
In Short:
Has a wood-looking plastic frame
It's 47-in long
Can house medium dogs
Doesn't feature a top
Has white epoxy-coated wire sides
Has a single sliding door entrance
Features a molded tray on the bottom
How To Pick A Dog Inside Cage
Almost any crate can be an indoor dog crate if you try hard enough but the criteria we looked for in here mostly has to do with how well they'll blend into your home. Apart from that, we will direct them into types and list the pros and cons of some so be sure to continue reading to easily buy your next one.
Kennels VS Crates – Right of the bat we'll tell you that indoor dog kennels don't exist. They are made to be used outdoors since they can withstand harsh outdoor weather conditions and they are so large they most likely won't fit inside a home, or at least not comfortably.
Common Materials – The most common indoor crates out there are wooden dog crate furniture crates. They look and act as furniture pieces due to their top and they can house dogs that have been crate trained. This is an important thing to remember with these.
Playpen Crates – Pens are the second most common indoor type and the reason why is that your dog shouldn't be left unsupervised inside them. Most of them are just fences but you can find fancier ones that are only missing a top and they mostly do look like dog crates.
Crate Type To Avoid – Generally speaking, any crate can be an indoor one but soft-sided dog crates mostly can't. Even if you'd house a crate-trained dog inside them, you can't always predict your dog's behavior, and the fabric cover that makes them would be unreliable in keeping your dog inside if they go rogue.
Most Common Sizes – With furniture crates, everything is pretty standard until you get to large and extra-large crates. Large furniture crates are usually 36-in long which in standard sizing is an intermediate dog crate while the extra-large crates are around 42-in long which are large crates in standard sizing.
Avoiding Size Confusion – To avoid any confusion concerning size, the best thing to do is to measure out your dog. Specifically, you'll want to take his height and length. After that, you'll want to add at least 3-4 inches to those proportions and the number you get should be your guidance height and length for the crate you're getting.
To Sum Up
An indoor dog crate can be anything so it's impossible to choose the best with that much variety in types. See what needs you want to have met and go on from that, next up, be vary of what size of crate your dog will need and you're good to go. If you want to focus more on puppies and crate and potty training, check out the puppy crate article or if you want an exclusive wire crate for it, check out the wire dog crate reviews. For a brief overview of all the crate types out there read our post about the best dog crates.