Do you happen to really like the looks of a dog house cage?
Would you like to buy one but don't know where to start looking or if there exists one that will definitely satisfy you with the way it looks?
We've got the perfect one for you and not just one but six. By continuing to read this article you will go through reviews of the best dog cage houses out there. We even reviewed them so that there are a lot of different models like metal, plastic, and wooden ones.
The Summary
BEST OF BEST DOG HOUSE CAGE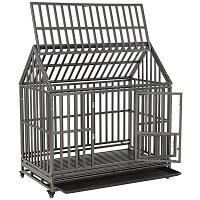 Smonter Heavy Duty Dog Cage House
Because of the top that's shaped like a house roof, this crate is 51-in tall which is more than enough to easily house a dog that has an extra large size.
Jump To Review
BEST WOODEN DOG HOUSE CRATE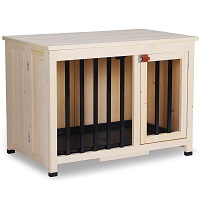 Lovupet Wooden Portable Pet Crate
Surprisingly enough, this wooden dog crate can be folded down for transport or storage which is not an all that common feature of wooden dog crates.
Jump To Review
BEST PLASTIC DOG HOUSE CRATE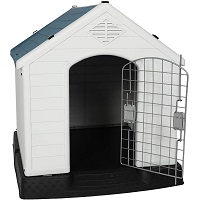 Luckyermore Dog Kennel
If what you're after is a crate that really looks like a house this might be the best option for you. It even has details like identations that make it seem like one even more.
Jump To Review
BEST LARGE DOG HOUSE CRATE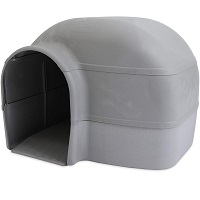 Petmate Husky Dog House
It features an igloo shape that makes it a far more durable option and a spacious one as well. You can use it to house either medium or large dogs.
Jump To Review
BEST METAL DOG HOUSE CAGE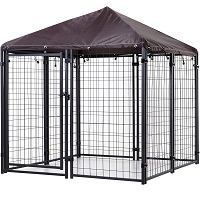 PawHut Lockable Dog House Kennel
The crate is large enough to contain extra large dog breeds but that's not true because it's made to be used as an exercise and playing dog house.
Jump To Review
BEST FOLDING DOG HOUSE CRATE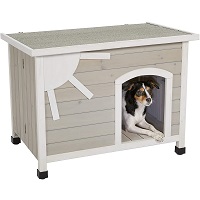 MidWest Homes for Pets Eillo House
The wooden build doesn't have to stop you from using the crate outdoor since it has a water-resistant finish and it has an asphalt roof.
Jump To Review
Best 6 Dog House Crates
BEST OF BEST DOG HOUSE CAGE
Smonter Heavy Duty Dog Cage House
XL And Tall
The main reason why this is a dog cage house is because of its top which has a rectangular shape that connects to the regular crate shape. The added roof is there so that the crate gets taller since this is a crate made to house extra large dog breeds. This is quite a tall dog crate since it's 51-in tall.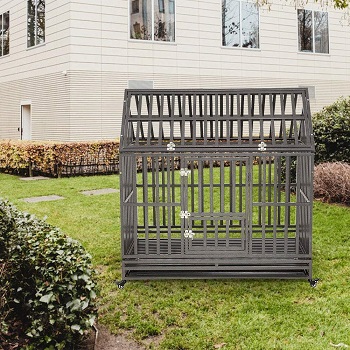 Door Functionalities
There are three doors on this crate that you'll find all serve a different purpose. The top-load door is there so that you can interact with your dog while he's inside the crate, the front door, of course, will let your dog enter and exit the crate as needed and the last door is built-into the front door, is quite small, and serves as a feeding door.
Build Problem Solving
Let's talk about the crate's build. It's made entirely out of heavy-duty steel tubes that are luckily for you, corrosion and rust-resistant. Since it uses heavy-duty steel, it's quite heavy with a weight of 91 lbs so you'll be thankful that the manufacturer provided caster wheels that you can attach to the bottom to move this indoor dog house crate from room to room.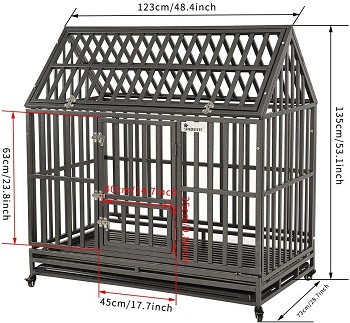 No Deforming Bottom
You don't have to worry about the gridded floor on the bottom bending since it can handle the weight of up to 1100 lbs without getting deformed. If you're wondering why the floor is gridded, the answer to that question lies beneath it. There you'll find two plastic tray for cleaning where dog dirt will end up.
In Short:
Made with corrosion and rust-resistant steel tubes
Has a height of 51-in
Big enough to house extra large dogs
Has a front door entrance and a top entrance
Feature a built-in feeding door
Has 2 plastic pa below the bottom for cleaning
BEST WOODEN DOG HOUSE CRATE
Lovupet Wooden Portable Pet Crate
Unique Folding Design
You won't find a lot of wooden dog crates like this one. Mainly, it's because this crate can be folded down and that makes it portable. The top cover can be taken off, the bottom then folds on the inside and the sides can be bent to connect the lengthier sides. You can then carry it with the provided handles.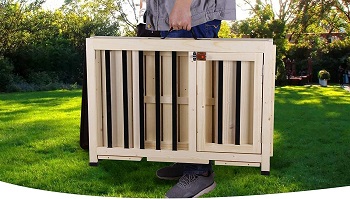 Build Materials And Their Placement
It's made out of solid wood but not entirely. One side of the crate features metal bars that will allow your dog to see outside the crate and they will also properly ventilated this indoor dog house furniture. We said furniture because that's what it can be as well because of the top where you can place your personal belongings.
Cleaning Pan Multi-Placement
Thanks to the wooden floor that's gridded and elevated design, you can choose to place the cleaning tray below the crate on the outside or you can place it inside. This plastic cleaning pan has raised edges so that more dog urine can fit inside without overflowing if an accident like that were to happen.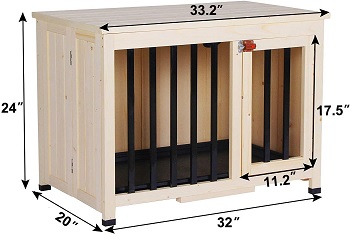 Lock And General Durability
This dog house cage features a single door in the front that can be locked with a sliding bolt lock. The door and crate are big enough to let in and house a medium-sized dog. The dog should be crate trained since it is a wooden crate and handling chewing well is not their strong suit.
In Short:
Can be folded down and it's portable
The removable top helps make it a furniture piece
Features metal bars on the front door and one side
Can house medium-sized dogs that are crate trained
The plastic cleaning pan can be placed on the inside and outside
BEST PLASTIC DOG HOUSE CRATE
Luckyermore Dog Kennel
House Looking Effect
If you really want a crate that truly looks like a house this is definitely the one to get. It's made out of plastic and has a white color while the roof is colored in blue. It even has indentations on top to give it that roof look while the rest of the indentations make it look like it has wooden planks.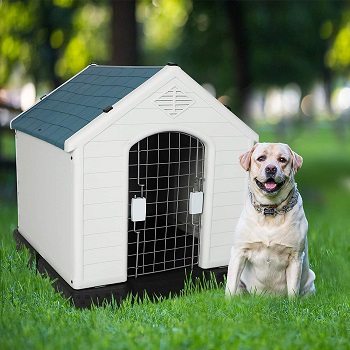 Bottom Base Build
The bottom base, on the other hand, is colored in black and it's made to be elevated so that there is fewer dirt particles that get in the dog house cage. This will make your job of cleaning it much easier. To make it cuter, it has imprinted dog paws all over it. The way you'll clean the inside is with a damp cloth.
PP Plastic Details
The house-shaped dog crate is made out of PP or polypropylene. It is the second most commonly used plastic material after polyethylene. It can easily be described as a flexible and tough material. This particular PP plastic makes the crate stand up to rainy and windy weather which means you can easily use it outdoors.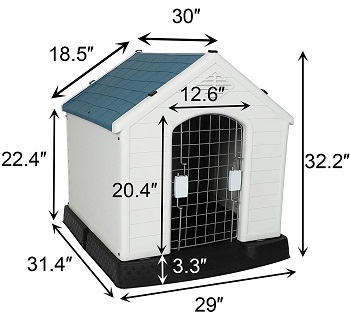 Dog Housing Size
Since it has a house-style roof it's slightly taller than you would expect with 32-in in height which is almost as equally long as the crate's length of around 31-in. This means that your medium-sized dog will definitely be comfortable inside because he'll have more space. He'll be able to enter the crat through the steel wire door that locks with 2 locks that need to be pinched to open. These locks remind us of some locks found on large dog airline crates.
In Short:
BUilt to truly look like a house
Uses PP plastic as its primary build material
The crate is rain and windproof
It's almost as tall as it is long, around 32-in
Can house medium-sized dogs
Can be used o the outside
Truly looks like a little house
BEST LARGE DOG HOUSE CRATE
Petmate Husky Dog House
Achieving Toughness And Durability
A fun little twist on the regular house-shaped crate is this one that is an igloo dog crate. It's made with structural foam plastic. Structural foaming is a manufacturing process that in this case makes a heavy-duty plastic that's made to last and that exudes durability.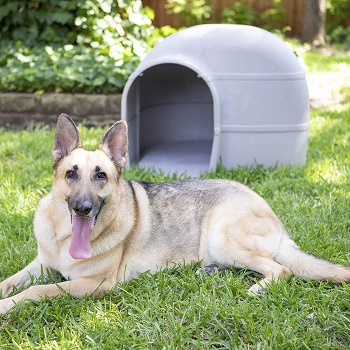 Build Properties
It's made out of three plastic pieces, bottom, middle, and top that overlap when the house is assembled so that water doesn't leak through and end up in the crate. Another way that your dog will be protected from different seasonal elements getting in the crate is the offset entry door.
Dome Shape Crate Benefits
The dog house crate isn't built like an igloo just for the fun of it. It is intentionally made that way for two reasons. One is to give your dog a large and comfortable living space when he's inside and the other one is that the dome shape actually makes it far more durable because it has a higher load strength.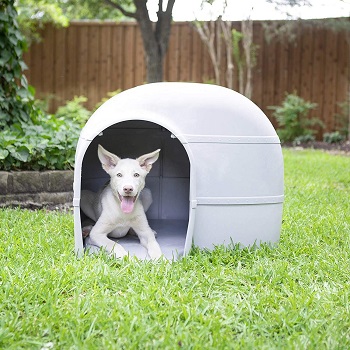 Larger Crate
Since it's a dog crate house for outdoor use, it's built to protect your dog from different types of weather. Since the general rules of sizing do not apply to this crate, it's important you know that the crate can house dogs from 50 up to 90 lbs. In specific sizing, it means that you can use it for a large dog and as medium dog crate as well.
In Short:
Has an igloo shape
The dome structure makes it spacious and durable
Built with structural foam plastic
Can stand up to different outdoor weather conditions easily
Requires assembly
The bottom, middle, and top pieces overlap to prevent leaks
Can house dogs from 50 up to 90 lbs
BEST METAL DOG HOUSE CAGE
PawHut Lockable Dog House Kennel
Kennel Looking Design
If you ever wondered what a kennel looks like, this crate can give you an example but it's definitely not one. Kennels can't fit inside your home but this one surely can. It's primarily because it's small and it's intended to house small dogs. Think of it as a dog crate playpen. It has to be larger but it's definitely good for housing your dog long-term.
Easy Indoor Outdoor Transport
Although it's light, it doesn't mean it's not durable. It's made with steel wire that's coated with spray paint. The small weight will help you move it outdoors or indoors depending on your needs and wants. The wire is also resistant to rut otherwise it couldn't be used outdoors.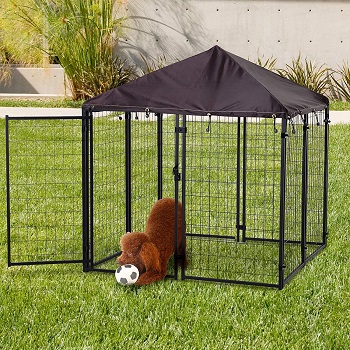 Roof Description
Another feature of this house indoor dog house crate is that it has a cross roof that's covered with an oxford fabric. The cross roof strengthens it while the cover protects your dog from rain since the fabric is water-resistant so that rain doesn't leak through and makes your dog wet.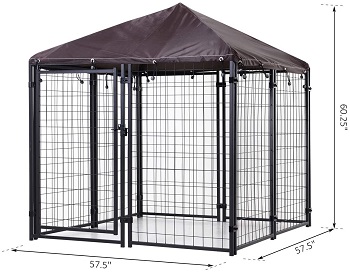 Versatile Assembly
The dog house does require assembly but what you might really like is that you can choose to assemble it so that it has different shapes depending on what you like and want. One of the panels is a door that can be locked with a secure lock that will definitely be hard to break through by your dog.
Large Size For Small Dogs
The house is 55.5-in long, 55.-5-in wide, and 60.5-in tall. The dimension makes it seem like it can contain extra large dog breeds but this is not true due to the fact that this is an exercise playpen. Your dog can rest or play inside it but cannot be contained inside for too long. It's suitable for small and medium-sized dogs.
In Short:
Made with rust-resistant steel-wire
Has a spray paint black finish
The top holds a cross roof
The roof has an oxford fabric water-resistant cover
Features a large safely lockable door
Can be assembled into different shapes
Can be used outdoor and indoor
Made to be used as an exercise pen for small and medium dogs
BEST FOLDING DOG HOUSE CRATE
MidWest Homes for Pets Eillo House
No Assembly Design
Usually, you'll find that wooden dog crates require assembly but this one doesn't because of its folding design. The way you fold it down is the way you unfold it and assemble it so if you're not the one to want to spend time assembling the crate, this is definitely a great option to avoid it.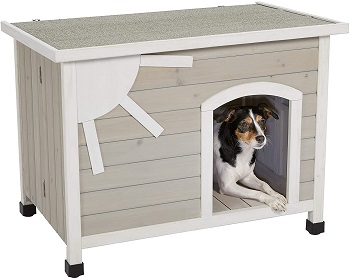 Wooden But Outdoor
You can easily use it outdoor since the wood is stained with a water-resistant finish that will stand up well to different and unpredictable weather conditions. To top it off, the top roof has an asphalt roof that will protect the inside of the crate from leaking through and from the wood from getting soaked.
Hardware Build
Midwest really thought of everything when designing this crate. The hardware pack that's on the dog house crate is entirely made out of stainless steel so that it doesn't rust or stain after prolonged use outdoor. The crate is elevated and stands on 4 feet so that the bottom doesn't get dirty or soaked.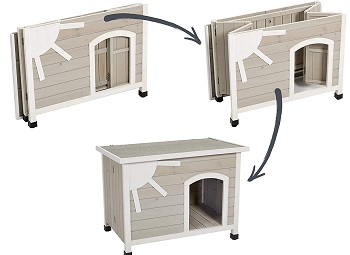 Indoor And Outdoor Crate
It doesn't feature a door so it's mainly built to be used outdoors but it doesn't exclude the possibility of using it indoors as well. It's a well made and beautiful crate since it's colored in grey and white. It's small so you'll get to house a small dog inside it.
In Short:
Made out of wood
Can be folded down
Doesn't require assembly
Has a water-resistant finish
Features an asphalt roof
Suitable for indoor and outdoor use
Designed to house small dogs
How To Pick A Dog House Crate
Before jumping to a conclusion about which dog house is the best one for you, make sure you read this helpful guide where we will go through some of the differences between these crate like the way you size them and their actually size and materials they're made out of and some similarities and uses.
Primary Use – Most of these crates are built to be used to outdoors. This is true because they are weather proof and they don't necessarily fit into your home like a nice-looking dog crate. Typically, outdoor crates tend to be made out of plastic or steel wire and have waterproof properties. It would be a shame to use them indoor if they already have these abilities.
Indoor Crates – For crates that can either be used outdoors from time to time or not at all, what we find is important is that they blend nicely into your home. This might be hard to achieve if the crate has a roof-shaped top since this makes them larger. It's especially hard if the dog that you're buying the crate for is an extra-large dog breed. In this case, it's actually more convenient to get a steel dog house cage since it will save you quite a bit of space.
Proper Sizing  – As we've mentioned, a roof housetop makes the crate taller that eliminates your worry about whether or not the crate is tall enough for your dog. You can easily focus on just the crate's length that needs to be at least 4 inches larger than your dog's so he can fit inside nicely. This is only true for crates that do have a house rooftop.
Different Durability Criteria – If a crate is made to be used outdoor, it's definitely a more durable option. The thing about these outdoor crates is that they probably wouldn't handle aggressive dogs' behavior well but since they're placed outside, they typically don't have a door so your dog might be calmer and not destroy the crate easily. Indoor crate, on the other hand, do require you to crate train your dog and if he's aggressive, you'll be better of with a heavy-duty metal dog crate.
To Sum Up
It wasn't easy to decide which dog house cage we should recommend but in the end we went with PawHut Lockable Dog House. Its steel build makes it have unmatched durability and the thing that speaks of this most is the fact you can use it outdoors. If you're looking for a crate that's a little more suitable for indoor use check out the article about large indoor dog crates and if you want the crate to look nice, the article about indoor dog crate furniture might help you find one.