Are you looking for a partially or fully enclosed dog crate that will give your dog a private space to call his own?
We can help you find the best one. All you need to do is continue reading this article where we reviewed our top picks of dog crates that fit the description. you'll find crates made out of wood, metal, folding ones, and many more so get ready to find a crate as soon as possible. Let's go!
The Summary
Best 5 Enclosed Dog Crates
BEST OF BEST ENCLOSED DOG CRATE
iCrate Dog Crate Starter Kit
Enclosed Crate Cover
Although on its own, this is not really an enclosed dog crate, with the addition of a crate cover that comes with it, you can make it so it is enclosed. You can choose to have it either partially enclosed or fully enclosed. Keep in mind that dogs do need an open part of the crate so it gets ventilated properly.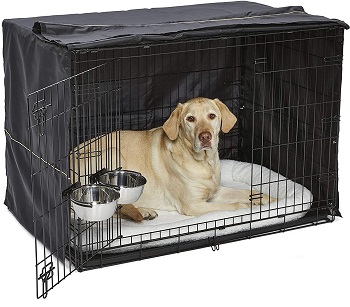 Other Crate Extras
The cover is not the only thing the crate comes with. You'll also get 2 water and food bowls with it that you can attach to the wire of the crate. Another bonus the crate comes with is the puppy crate bedding that will keep your dog comfy when he's inside and resting.
Crate Specifications
The crate itself is made out of steel wire and is coated with a black electro coat finish. Conveniently, it makes the crate rust resistant. Since this is a starter kit crate, it comes with a puppy crate divider as well that will allow the crate to adjust to your growing puppy's size and help you potty train him.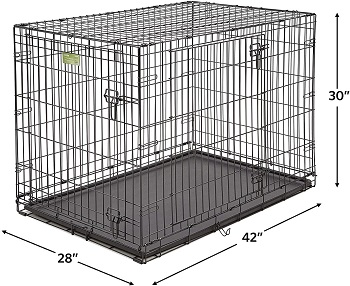 Proportions And Doors
It has 2 large access doors that can be locked with 2 sliding bolt locks each. It also features a cleaning pan on the bottom that can slide out. This is a large-sized so you can get it for your large dogs that weigh anywhere from 71 up to 90 lbs. This weight limit shouldn't be the general guideline on how you will properly find out the right size of crate to get.
In Short:
Can be partially or fully covered with a cover
Comes with water and food bowls and a dog bed
Made with steel wire and coated with an e-coat
The crate is rust-resistant
Can house dogs from 71 up to 90 lbs
Comes with a divider panel for puppies and a cleaning tray
Has 2 door and 2 locks on each door
BEST FOLDING ENCLOSED DOG CRATE
Extreme Consumer Products Dog Crate
Not So Common Folding Design
It's not all that often that you'll find a reinforced small metal dog crate that can be folded down. Well, it might be true for small dog crates but it's definitely not true for larger models but this one can be folded down no matter its size. Don't worry, the crate won't accidentally collapse because it's stabilized with two metal bars that can be set into place.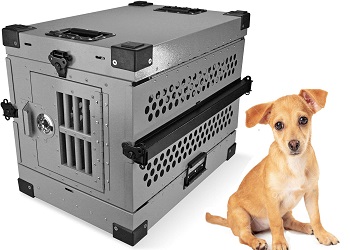 How It Handles Ventilation
Since it's an enclosed dog crate it only features holes on the metal side panels for ventilation while the top is fully covered. Another ventilation point is the door that features a small square-shaped hole and it's covered with metal bars. You'll need to use a key to unlock the crate.
Corner Pads Use
The corners of the crate would be rather sharp and unsafe if they weren't covered with corner pads. They do two things, one is the already mentioned safety and the other one is that it allow you to stack multiple crates of the same type and model on top of one another.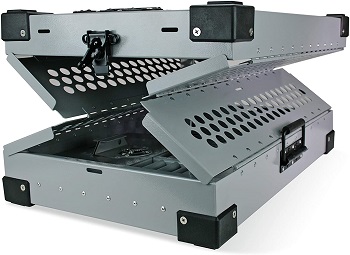 Light And Easy Transfer
The enclosed crate weighs only 30 lbs which is quite convenient since it can be folded down and carried with a provided handle. You can use these two features to easily transport the crate to your car if you want to use it as a small dog travel crate or if you just want to store it away.
In Short:
Made with reinforced metal
Can be folded down
When folded, it can be carried with a handle
Can house small sized dogs
Features corner pads that allow stacking of multiple crates
Weighs 30 lbs so it's easy to transport
Features a single door for entry
The holes in the metal frame are for ventilation
BEST WOODEN ENCLOSED DOG CRATE
Lovupet Wooden Portable Foldable Pet Crate
No Typical Wood Crate
Just like we were surprised that the crate prior to this one can be folded down, we are just as surprised that this one can be as well since medium wood dog crates are not usually the ones to be easily folded down. Because it's so easy to fold down, it doesn't require assembly or tools for it as well.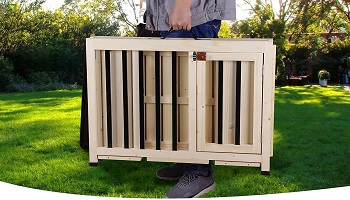 Closed And Open Sections
It's closed off at the top, sides, and in the back but not in the front where there's an access door. You won't usually find a fully enclosed dog crate since they need to have points from which they get ventilated. The part that's open features metal bars that are 2.2-in apart.
Cleaning Variations
You'll find a gridded floor made out of wood on the bottom and it makes sense that there is one since you wouldn't be able to place the plastic cleaning tray below it if not. It stands on its feet because of that as well. You can place the cleaning PVC plastic tray on the inside as well.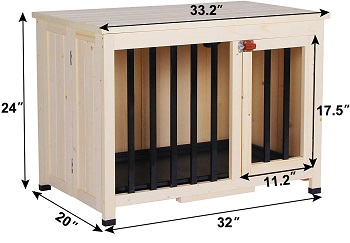 Wanted Dog Size And Behavior
It is a sturdy crate made out of solid wood but we would still recommend you get it for a crate-trained dog. The dog should be medium-sized to fit inside this dog crate comfortably but please refer to its dimensions to make sure your dog really can fit inside.
In Short:
Made with solid wood
Can be folded down
Doesn't require tools for assembly
Can contain medium-sized dogs
Features a side that's covered with metal bars
Has a single door for access
Comes with a plastic cleaning tray
The tray can be placed o the outside and inside
BEST METAL ENCLOSED DOG CRATE
ProSelect Steel Modular Kennel Pet Cage
Truly Enclosed Professional Crate
There are no tricks used to make this crate an enclosed dog crate. It really is just that and it's actually a professional model crate. Typically you'll find these in dog shelters and rescues and for a right reason so everything that we will mention that makes the crate is built around that fact.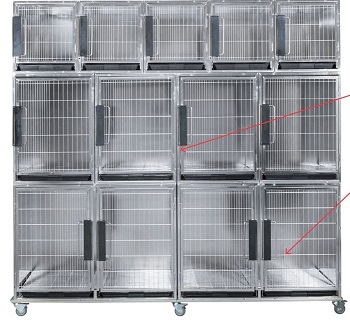 Multiple Steel Durability Features
It's made with steel that has a 20 gauge so it's quite thick and durable. Not only that but it is plated with a zinc coating. A zinc coating is usually applied to steel to make it galvanized which makes it resistant to corrosion. It also features a hammer-tone finish that's powder-coated.
Customizable Stacking
You can almost endlessly customize this crate. What we mean by that is that you can stack crates on top of one another, line them up in a long row or use them to create a large cage bank. This is one of the features that it has to be a crate made for shelters.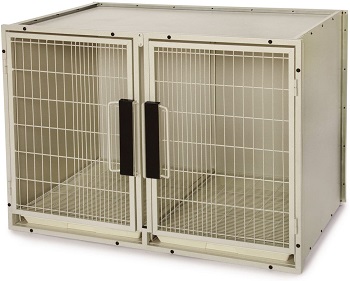 Double Dog Crate
We didn't mention it before since we wanted to keep the best for last but this is actually a multi-dog crate. Each dog will get its own separate crate with a separate steel wire entrance, a separate floor grid and below it a cleaning pan that you can slide out. Each crate is large enough to house small or some medium-sized dogs.
In Short:
Made with zinc-coated 20 gauge steel
Has a hammer tone powder coat finish
The crate is corrosion resistant
You can build a cage bank out of multiple crates
Comes with 2 separate crates
Each crate can house small dogs and some medium ones
BEST FURNITURE STYLE ENCLOSED DOG CRATE
Casual Home Wooden Medium Pet Crate
Ventilation Bars
This is yet another crate that's not fully enclosed but does have an enclosed roof or top if you will. The sides of this partially enclosed crate have wooden bars place on the upper parts of the sides that ventilate it properly and give your dog some much-needed visibility on the outside.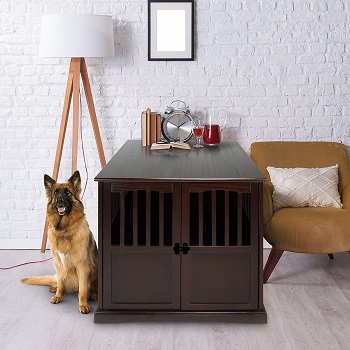 Wood Quality
If you have a dog that likes to chew on his crate but you want to sacrifice the crate for great looks this is the perfect crate for you since it's made with solid wood that's chew resistant. This is not a feature you'll typically find on indoor dog crate furniture pieces so it's something to appreciate.
Entry And Cleaning Point
It has one entry point that's made up of a double door that can be locked with a single hasp latch lock. This is the entrance that you'll want to use to clean the crate every once in a while since it doesn't have a removable top. The top has a weight limit of 200 lbs and can be used for you to place your things on it like a furniture piece.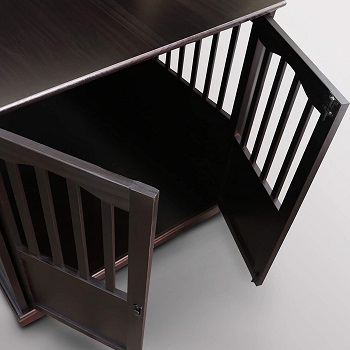 Correct Size
This is an extra large enclosed dog crate but it can house dogs up to 90 lbs which makes it a large crate instead. It's 44-5-in long, 31.5-in wide and 30-in tall. These proportions should help you determine whether or not your dog is too big or too small for the crate.
In Short:
The crate's chew-resistant
MAde out of solid wood
Has a closed off top
The top can be used to place things on top of it
The weight limit for the top is 200 lbs
The inside can contain large dogs up to 90 lbs
Has a double door as a single entry point
How To Pick An Enclosed Dog Crate
Finding an enclosed dog crate is hard work, let alone picking one because they are so different from one another in durability, materials, size, and primary use so to make it easier, we will go through their differences and similarities to help you pick the right one.
Enclosed Build Problems – The issue with a fully enclosed build is that the crate probably won't get ventilated properly and if that is true, you rdog won't get much visibility outside it. Proper visibility is an important feature of training cages for dgos because they seem to calm their anxiety if they can keep an eye on you so if you were to get it for an aniety ridden dog, you and your dog wouldn't have much use for it.
Benefits Of The Build – On the other end of the spectrum, we have nefits of these builds. It's easy to conclude that enclosed cages for dog are far more durable than the ones that are not. Your dog won't get to chew through the crate since there's nothing to chew on which is a great factor of durability.
Partially Enclosed Dog Crates – IT's more common that you'll find a partially enclosed model than a fully enclosed one. IF you want a durable crate to try and get one that's made out of metal or steel wire and for crates that are simply nice looking dog crates, you'll get to choose a wooden one but you won't be able to house a dog inside that's not crate trained.
Finding The Right Size – Like with all crates, the most important thing is to choose the right size when you've decided on one. The most common way to decide on size is to take the crate's length and height and see if they're 3-4 inches large than your dog's proportions.
To Sum Up
Definitely, the most durable and practical enclosed dog crate out of all that we have to recommend is the ProSelect Steel Modular Pet Cage. It's has a zinc coating and a hammertone finish on the already durable 20 gauge steel frame and you'll get two separate cages for housing small and medium-sized dogs. If you want an open crate that gets plenty of air we suggest you either look into the article about XL wire dog crates or heavy-duty metal dog crates.