Is your dog a calm one so that you can afford to get indoor dog crate furniture?
Then make sure you continue reading this article about exactly that. We sought out to find only the best and reviewed so that you'd know what you're buying if you choose to get one. Another thing we made sure of is that each crate is different so you can easily find reviews of large, small, medium and many other crates of this type
The Summary
Best 6 Indoor Dog Crate Furniture
BEST OF BEST INDOOR DOG CRATE FURNITURE
Unipaws Pet Crate End Table
Two Material Build
This indoor dog crate furniture is made using two materials. The first one is, of course, wood while the other one is steel wire. The steel wire is used for the sides and is chew-proof while wood is used for the frame of the crate and is not chew-proof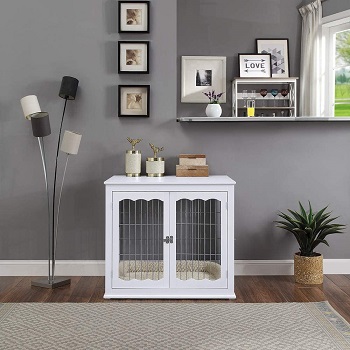 Positioning Options
This is a triple door dog crate and what this will do is that you'll have more options when it comes to how you're going to place the crate inside your home. As an added bonus to this feature, you can choose to place the door panels in multiple ways when you're assembling the crate.
3 Locks Per Entry
Although the crate is not exactly fit to house aggressive dogs, you can count on that your dog is not going to find a way to unlock the crate easily since the door feature 3 different types of locks so it's safe to assume that it's going to be harder for them to do it.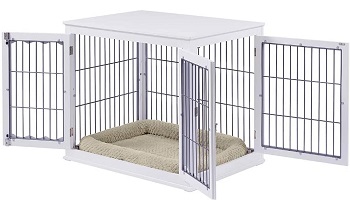 Space Saving Top
The crate will save you space in a way where the top functions as a piece of furniture. You can place anything on it as long as it's not over 200 lbs. You'll even get a waterproof bed for the crate that you can also wash. The crate is large enough to house large dog breeds.
In Short:
Uses steel wire and wood as its build materials
The steel wire sides are chew-proof
Comes with a waterproof and washable bed
The weight limit for the top is 200 lbs
Can house large dogs
Has three doors and three locks for each entrance
BEST LARGE INDOOR DOG CAGE FURNITURE
BarkWood Pet Crate End Table
Resistant To Chewing
The single material this crate is made out of is solid wood. Solid wood is known to be chew-resistant but we have to add that there's a difference between chew-proof and chew-resistant crates. This one, while it can handle light chewing might still take some visible damage if it happens.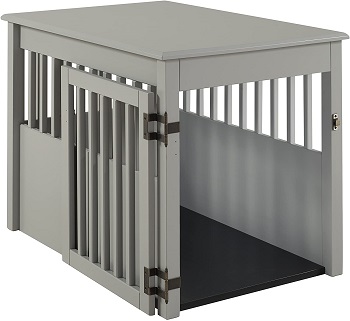 Door Abilities And Use
The crate's door apart from the top that can serve as a furniture piece will also save you some space in your home because of the way it opens. You can open it fully to the side of the crate and attach it so that it stays there and doesn't bother your if you leave the crate open.
No In-Crate Urination Problems
You won't have to worry about this indoor dog crate furniture getting damaged if your dog urinates inside because it is rubberized. This means that the bottom will make liquid absorption minimal and it'll keep away nasty pet odors from getting into it.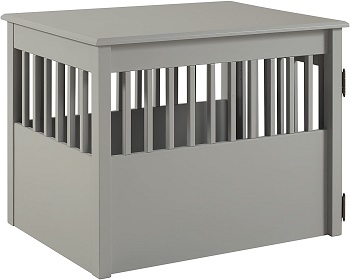 Floor Protection And Size
The floors in your home will also be kept safe and undamaged because of the rubber feet on the bottom. This crate is of the perfect size to house large dogs but make sure you check your dog's dimensions and compare it to the crate's before buying.
In Short:
Made with solid wood
Has a rubberized bottom
The single door opens fully to the side
The top can serve as furniture
Made for medium-sized dogs
The rubber feet will protect your floors from damage
BEST WOODEN INDOOR DOG CRATE FURNITURE
Crown Pet Products Pet Crate
The Looks Of It
The crate is made out of hardwood but it looks like teak wood. It has a beautiful espresso coating and has a lacquered finish. These truly make it look like a piece of furniture but that's not all. The crate is connected with mortise and tenon joints which are known to be most commonly used in furniture making.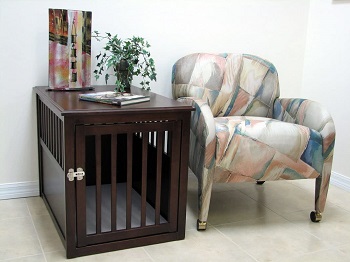 Liquids Absorption Prevention
The bottom of the crate is made out of MDF wood and it is covered with melamine. The melamine coating will help prevent liquid absorption as well as odor absorption so you can count on this crate to serve you for years to come even if your dog urinates in it.
Unique Opening Entry
This is another indoor dog crate furniture that has a door that opens uniquely and in a way that will save you space around the crate if you leave the door open for your dog to freely enter and exit the crate because you can slide it inside the crate itself. The door features a single hasp latch lock.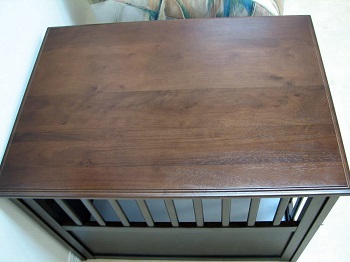 Preferred Dog Size And Behavior
We've talked about some amazing features of this crate but the crate won't last you long if you're getting it for a dog that excessively chews on things and overall isn't calm. The size of the crate makes it so that it can house medium dogs.
In Short:
Made out of hardwood that looks like teak
The melamine covered MDF floor won't absorb liquids
The size makes it available for housing medium-sized dogs
Has strong mortise and tenon joints
The door can slide inside the crate
The top can be used as an end-table
BEST SMALL INDOOR DOG CRATE FURNITURE
Simply Plus Wood & Wire Dog Crate
Wood Finish
This is another small wooden dog crate that uses steel wire as a portion of its build materials. The other one is of course wood and it's used for the frame. The crate is stained with an ivory white finish so think about that if your main focus is to make it blend well inside your home.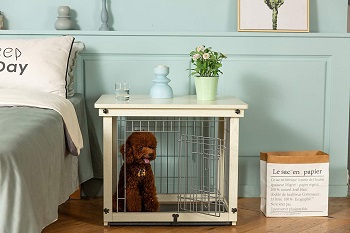 Cleaning The Crate
The crate has a feature that you won't typically find in wooden dog crates but rather you'll find it on a small wire dog crate or wire crates in general and it is the plastic slide-out tray that will serve you as a tool to clean the crate with ease.
Cute Detailing
The indoor dog crate furniture isn't just pretty but it's also cute and it's the little details and touches that make it that way. You'll get plastic screws that are shaped like dog paws with it and also a pan-stopper shaped like a dog bone that will prevent the cleaning tray from sliding out.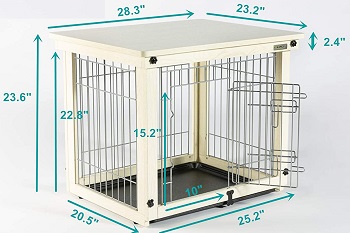 Typical Wire Crate Locks
The crate has a single door for access made entirely out of steel wire and the 2 sliding bolt locks that you can typically find on wire crate are made out of it too. Since the crate is around 28-in long it's best you use it to house small dogs.
In Short:
Made with steel wire and wood
Has a single door that locks with sliding bolt locks
Made to house small dogs
Comes with a cleaning pan for the bottom
Has paw-shaped screws and a bone-shaped pan-stopper
BEST EXTRA LARGE INDOOR DOG CAGE FURNITURE
New Age Pet Dog Crate
Material Explanation
The primary build material for this crate is one called ecoflex. Ecoflex is a material that's made out of wood and plastic. It is a composite material which means that it has much better properties and qualities than the two if they are used as separate materials.
Material Qualities
You won't have to worry about this crate warping, splitting, or cracking but what you do have to worry about is your dog chewing on it because it will get damaged if that's the case. it's best advised if you use this indoor dog crate furniture for a calm dog.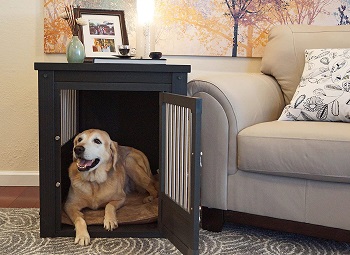 Cleaning Points Of Entry
The top makes this crate double as a furniture piece and if you'd like you can take it off so that you can clean the crate whenever your need to. Another entrance for you to clean the crate is the front door entrance that locks with bone-shaped locks. This is also the entrance that your dog will use to access his crate.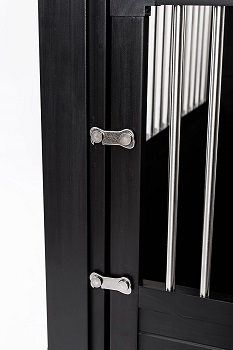 No Liquids And Odor Absorption
The crate will get ventilated well on all sides except for the back. The stainless steel tubes used for it can be found on the door and right and left side of it. What's also great and worth mentioning is that ecoflex is a type of material that won't absorb or retain stains and odors so even if your dog urinates inside of it, you don't have to worry about it.
Real Size
Although this is an XL wooden dog crate it's 42-in long which means that it can only house dogs that are a few inches shorter than that. This makes us conclude that it's of the right size for large dogs rather than extra-large ones.
In Short:
Made with ecoflex material
The material won't absorb liquids or odors
Ecoflex won't warp crack or split
It's best to use it to house calm dogs
Made to house large dogs
The furniture style top comes off for you to clean
BEST MEDIUM INDOOR DOG CAGE FURNITURE
Zoovilla Triple Door Dog Crate
Color And Top
Black is definitely a color that looks neat and minimal so if you're someone that happens to be able to describe their home like that this crate will be the perfect fit for you. The top of the crate is wide so that it better functions as a furniture piece.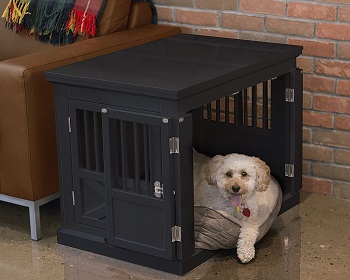 MDF Qualities And Durability
The indoor dog crate furniture is made out of MDF wood and what this means is that the crate is not chew-proof. It would be best to use it as a decorative crate with a calm dog. If you are wondering what MDF wood is it is a material made out of wood fibers that are connected with a glue, typically resin or epoxy.
Entries And Doors
As for the positioning of this crate, you won't have any particular problems with that. You can easily place it however you'd like and this is made possible with the number of entrances it has. It has 3 entrances in total but 2 entry points since one door is a double door and there's also a single front door.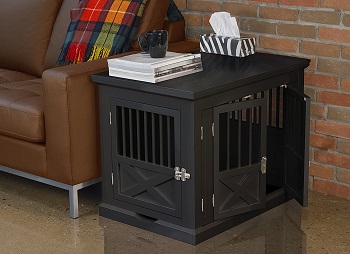 Hidden Cleaning Tray
What's great about it is that the MDF wood won't really get into contact with any liquids since it has a plastic pull-out tray on the bottom for that. The tray is well-hidden so it won't compromise the looks of the crate. Since it's a medium dog crate you should use it to house medium-sized dogs.
In Short:
Made with MdF wood
Built to house medium-sized dogs
The wide top makes it function as an end-table
Has two entry points and three doors
The pullout plastic tray for cleaning is hidden
How To Pick An Indoor Dog Crate Furniture
Indoor dog crate furniture is to be used indoors for more than one reason. The first one is definitely the material that makes the crate and other reasons include their double function and door type and amount. There are other differences between these crates so make sure you keep reading this helpful guide.
How To Save Space – The number one reason why these work amazing as indoor dog crates is that they can also cuntion as furniture pieces and they are made to be this way as well. This is why all of the are made out of wood, some entirely and some partially.
Door Type Differences In Function – You can get these crate so that they not only save you space because of their end-table function but also because the door opens in a way so that it doesn't get in your way when you open it. If you're someone that has trouble with storage space these are the crates for you.
Crate Trained Dog Crates – Not all indoor dog crate furniture models are training cages for dogs which means that in order to buy one you'll have to crate train your dog first. While some crates are chew-resistant or have chew-proof sides these crates are just not equipped with everything needed to crate and potty train your dog.
Sizing Issues – If you've ever bought a crate that doesn't fit your dog at all you'll find it relieving that there is a way and method on how to do it correctly and properly. Take your dogs length measuring from the tip of their nose to his rear(excluding the tail) and height measuring from the floor to the top of his head and compare to the crate's dimensions. If the crate is at least 4 inches taller and longer than your dog you've got a match.
To Sum Up
The Unipaws Pet Crate End Table is the indoor dog crate furniture we just have to recommend. it's well made, has chew-proof sides, comes with a waterproof bed and it even has a 200 lbs weight limit for the top. If you really liked the crate we recommended and want the option to choose from a larger variety of similar crates that you might like the article about white dog crate furniture and if you want a crate that can help with potty training then we recommend you check out the article about dog crates with divider for potty.