Cat bed towers and trees are easy to find. However, if you want to get a quality and long-lasting structure, you should check out our article.
We have reviewed the best models and made a small guide to help you choose the best unit for your lovely furry friends. Read on and learn more.
The Summary
Best 6 Cat Bed Towers
BEST OF BEST CAT BED TREE
Bewishome Large Cat Scratching Post Bed
Small Yet Spacious
Bewishome's medium cat tree measures about 19.7″L x 15.8″ D x 31.9″H. Its size allows you to place it almost anywhere in your home. Thanks to that, you will save space and your cats will have the tree to satisfy their climbing and perching needs.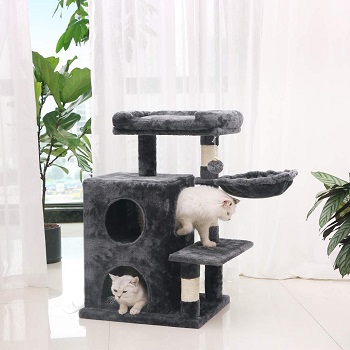 Perch, Condo, Basket
There is a spacious perch located on the top of the tree. It will surely fit cats of most sizes. Other than the perch, there is a cozy plushy basket as well. In the end, the big and spacious 2-level cat condo is here to provide private sleeping space for shy and cuddly cats.
Carpeted With Plush
First of all, the plushy carpet covering this unit comes with is skin-friendly and safe for cats in every way. Moreover, it is a material that cats love to sleep on. The reason why is because it reminds them of their mother's fur. Carpeted cat trees keep cats warm, comfortable, and relaxed.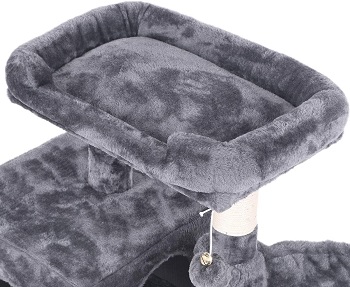 Useful To Know
This cat bed tree will certainly be a nice addition to any multi-cat household. Although it is not very large, it will accommodate two large cats, three cats of medium size, or four small ones at the same time. It is easy to access as well so if you have senior cats, this tree will be just what you need.
In Short:
medium size cat tree
suitable for small and large cats
carpeted and comfortable unit
includes a 2-level cat condo
there is a perch and a basket included
saves space in small rooms
BEST SCRATCHING CAT BED TOWER
Made4Pets Cat Tree With Bed On Top
Modern And Unique Design
If you want to add something different and unusual to your modern home, then you could like this cat bed tower by Made4Pets. It comes with a sleek and smooth design. Moreover, the structure includes three platforms and a top transparent capsule cat bed. There is a two-level condo as well.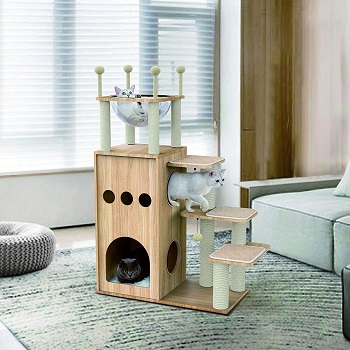 Multiple Levels
Thanks to the three platforms, your lovely furry friends can jump, climb, or simply relax wherever they want. The platforms come with removable carpets. Other than that, the tree includes scratching posts to help your cats maintain their claws strong and healthy.
Strong And Firm Structure
Made4Pets' modern cat tree furniture is made of CARB-certified natural particleboards. There are skin-friendly carpets included as well as natural sisal scratching posts. The unit is heavy which means that it is incredibly stable and hard to overturn. Multiple cats can play on the tree with no problems.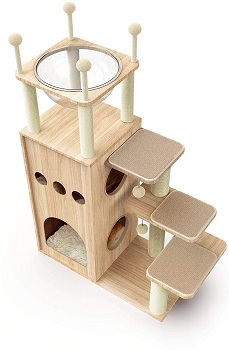 Easy To Keep Clean
The fact that the cat bed and scratching post is smooth and sleek helps you clean it more easily. First of all and as already noted, simply remove the carpets and wash them in a washing machine. In order to clean the unit's surface, use a cleaning cloth and a pet-friendly detergent.
In Short:
stylish and elegant cat tree
includes a transparent capsule bed
ideal for multi-cat owners
comes with platforms and a condo
very easy to maintain clean
BEST CHRISTMAS CAT BED TREE
Kitty City Cat Bed Christmas Tree
Ideal Christmas Gift
If you are looking to decorate your home with Christmas cat furniture, then this Kitty City product might interest you as well. We are sure that your cats will love to sleep and climb on this unit. Also, you will have a nice decoration to go with your Christmas interior.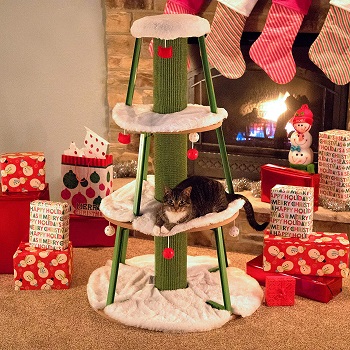 Machine Washable
The multiple plush polyester pads keep cats cozy and warm during their nap time on one of the levels. Not only do they make your cats feel comfortable, but they are also easy to remove when it is time for cleaning. This is surely one of the best washable cat trees with toys and multiple levels.
Toy Ornaments
There are nine ornaments on this tree that serve as teasing toys for cats. Most of the toys swing back and forth and as a result, your cats will stay active and occupied for hours. This is a fun cat bed tower as well as cozy, warm, and interestingly-looking.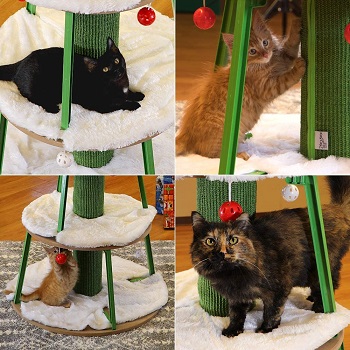 Simple To Set Up
Just like many other trees and towers for cats, the one made by Kitty City requires a simple but quick setup. Thanks to the instructions and tools that you get within the package, the whole process will last no more than 15 minutes. Also, it is simple to detach the unit so you can store it after Christmas time with no problem
In Short:
interesting Christmas tree design
includes 2 in 1 cat toys and ornaments
easy to set up and detach
includes soft and cozy pillows
simple to wash and maintain clean
BEST FURNITURE CAT BED TOWER
Hey Brother King Size Tree
Cozy Carpeting
Hey Brother's tree for cats is another cozy tree that will make sure your cats feel relaxed and comfortable. The plush carpeting is skin-friendly and safe for cats in every way. It is thick and soft. When it comes to cleaning simply use a vacuum to get rid of cat hair.
Quality And Stability
The tree stands on a wide baseboard and comes with three pillars that keep the structure well-balanced. As a result, your lovely cats will get to play and jump on the tree and the structure will not wobble nor shake. The overall quality of the tree is good. It is made of compressed cardboard and high-density tubes.
Easy To Assemble
This cat tower by Hey Brother requires a fast and easy setup and installation. However, just like with previous models, the process will last no more than 30 minutes. Also, the package includes anti-toppling fittings which means that you can secure this cat tower with bed at top to the wall.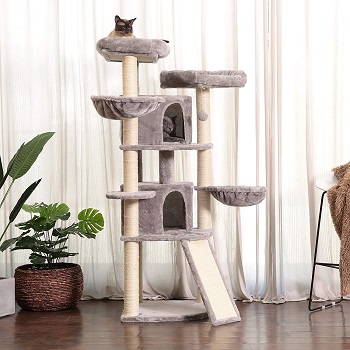 Size And Capacity
The overall dimensions of this tall cat bed tree are as follows: 18.9″L x 18.9″W x 52″ H. The unit is wide and large, so you will need to make room for it for sure. This is a multi-cat wide cat tree and it will accommodate up to three medium cats.
In Short:
cozy, soft, and warm carpeting
good quality and stability
simple assembly is required
wide, spacious, and multi-cat
accommodates up to three cats
BEST STAND CAT BED TREE
Molly And Friends Simple Sleeper Tree
Spacious Cat Beds
This is another cat tree with 2 beds. Both beds are elevated and supported by a pillar. If you live with two cats, then this cat bed stand might be right for your household. The beds are carpeted with a high-quality covering. As a result, they keep cats cozy and safe. Moreover, the beds are roomy and they will fit cats of all sizes.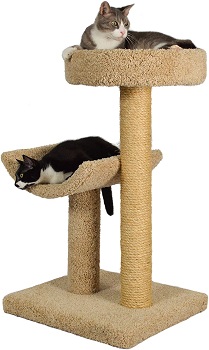 Solid Construction
Thanks to the solid and sturdy materials, the Molly And Friends' cat bed tree will surely last you a long time. The tree is handmade in the USA. Moreover, only quality and firm materials were used to build it. This is another pet-friendly cat tree and 100% safe for cats.
The Measures
The overall size of the tree is 37 inches tall on a 19-inch x 21-inch base. This is a medium cat tree and it will fit almost anywhere in your home. This means that you can place it next to a wall, under your window, or anywhere else you find it suitable.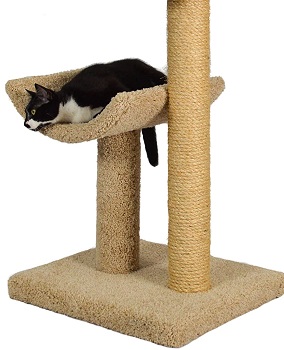 No Assembly
In contrast to other models on this list, the Molly And Friends cat furniture bed tree already comes assembled. This means that you won't need to spend time setting the tree up. It is ready for your cats to use immediately!
In Short:
spacious two beds for cats
made of strong materials
medium size and fits everywhere
no assembly is required
ready to use immediately
BEST CONDO CAT BED TOWER
Pawsmark Willow Cat Bed
For Small Cats And Dogs
Lastly, we want to introduce the Pawsmark's cat bed and scratching post. It is not a regular cat bed tower, but rather a simple bed for cats that can be used for sharpening the claws as well. The size of the unit allows you to use it not only for cats but for small dogs as well.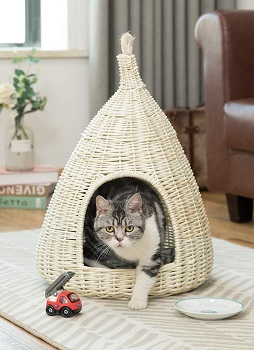 Includes A Cushion
This spacious bed condo for cats and small dogs allows your pets to comfortably sleep and nap inside of it. It provides a roomy and private environment. Moreover, there is a cozy cushion included too. It will make your cats feel even more relaxed.
Easy To Carry
This unit is incredibly lightweight and includes a top loop handle. As a result, it can be carried around with no problems. This means that you can move this cat furniture bed from room to room or take it on your travels as well.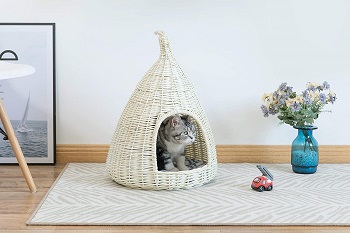 Pet And Eco-Friendly
This is an eco-friendly cat tree be. It uses only pet-friendly, non-toxic, and sustainable materials. So, to conclude, the unit is safe not only for your pets but for you and the environment as well. Lastly, the overall size of the bed is 16″ W x 16″ D x 22″ H.
In Short:
ideal for cats and small dogs
made of sustainable materials
eco-friendly and pet-friendly
safe for your cats and you as well
lightweight and easy to carry around
How To Pick: Cat Bed Tree
Cat trees are important to have, especially if you have indoor cats. They keep cats happy, satisfied, active, and relaxed. Since cats are big sleepers, we suggest you get cat beds. These models will keep your cats warm and cozy. Read our guide and learn more about the units that the market has to offer.
The Importance Of Cat Trees – In our opinion, most households with indoor and active cats should have a cat tree. Such structures help cats to meet all of their everyday needs. Not only can cats climb, scratch, and play on a tree, but can also relax and nap.
Cat Beds, Condos, Perches – Cat trees with beds and condos are perfect for all cats. Senior cats love to have such a unit in their home. A plus is if the condos and beds are carpeted or include cushions and pillows. Also, carpeted cat trees are convenient to have because cats love to sleep on fluffy and plush material.
Scratching Posts And More – Most trees will include a scratching post or more posts. They are important to keep your cat's nails and claws healthy and strong. Also, they ease climbing and help cats to stretch after waking up. Most cat trees will come with teasing toys as well. They help to keep cats occupied and busy.
The Right Model For Your Cat – Shy, cuddly, and senior cats will prefer a short cat tree because it will be easier for them to climb. However, if you have active cats, then you should consider getting a wide, tall, or large unit. The important thing is that you consider your cat's needs and habits before buying.
Setup And Maintenance – Most structures require a simple and fast setup. Also, the packages include instructions and tools, and hardware. Most of the time, one or two adults can set the cat bed tree up in no time. Once assembled, the unit requires maintenance. Vacuum the carpets or dust off the surfaces with a cleaning cloth.
To Sum Up
Between the six reviewed cat bed towers and cat furniture beds, the Molly And Friends Simple Sleeper Tree model has caught our eye the most. We liked the fact that this cat tree with 2 beds already comes assembled. Other than that, the overall tree's quality is high and this is definitely a durable and sturdy cat tree. Also, this cat tree for two cats comes with scratching posts and cozy carpeting to keep cats warm.