Have you been trying to find mid-century modern cat furniture?
We know it may be tricky to find the most appropriate model for your household. Apart from the attractive design, these cat trees, beds, towers, and condos are functional and long-lasting units. Read our article and find out all the details about the six models that we liked most. Hopefully, one of these units will be your match.
The Summary
Best 6 Mid-Century Modern Cat Furniture And Trees
BEST OF BEST MID CENTURY MODERN CAT TREE
Polis Bebe Mid-Century Cat Tower
Corner Cat Tree
This cat tree comes in light gray color. It is a multi-level cat tree of medium size. The tree includes two cat condos and three levels. The Polis Bebe cat tree can be placed in the corner if you like it that way. This is a space-saving cat tree and it is perfect for small spaces.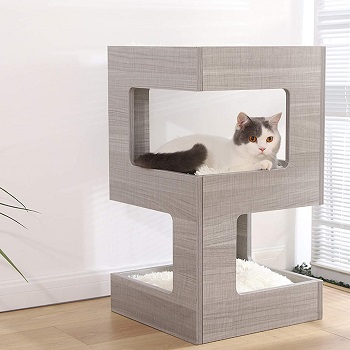 The Capacity
This mid-century modern cat tree will hold up to three adult cats of medium size. Two cats can stay in one condo each, and the third cat can rest on the top platform. If you have large cats, we suggest you don't get this cat tree because it may collapse if a Maine Coon cat jumps off of it.
Cat Condos And Cushions
Households with cuddly cats and cats with a shy personality will love this unit. The two condos are spacious and include a cushion. The top platform has a cushion as well. The cushions are easy to remove and clean. Clean the tree's surface with a soft cloth.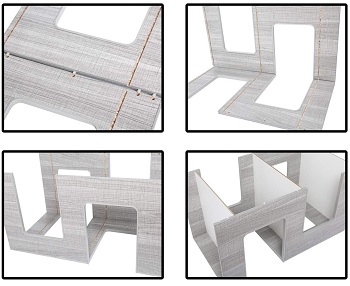 Simple Assembly Required
You will need to assemble this cat furniture tree before using it. The set up is simple and quick. One adult can do the job with no hassle. Also, the installation instructions are included in the package. Follow the guide and you will set the tree up in no time.
In Short:
this light grey tree comes with a corner design
it needs to be set up and assembled
the tree includes three levels and two condos
ideal for up to three adult cats
removable pillows are included
BEST SMALL CATS MID CENTURY CAT FURNITURE
Adeco Ottoman Mid-Century Furniture
Made Of Soft Material
Adeco's cat ottoman is made of soft fabric. It is pet-friendly and skin-friendly. The inside of this grey house includes removable padding which makes it comfortable and warm. It is an ideal piece of cat furniture for cats that love to spend time in privacy.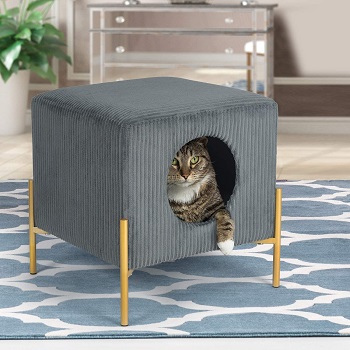 Ideal Hiding Place
If your cat loves to rest and sleep a lot, then this small mid-century modern cat furniture will be the best gift you can provide. The circular entrance allows the cat to enter the unit with no hassle and to keep an eye on its surrounding. Your cat can choose to lounge this unit's top as well.
For Small Animals
The unit is perfect for cats of most sizes (excluding the Maine Coon cats or larger-sized cats). Kittens, puppies, and small dogs can stay inside of this condo as well. It may fit up to two small animals at the same time. It will be perfect for two kittens that like to cuddle with one another.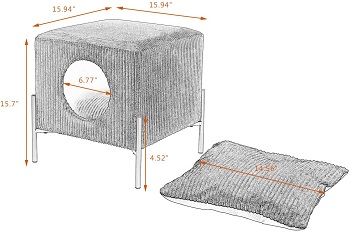 The Dimensions
The size of the Adeco mid-century condo is 15.94 L x 15.94 W x 15.7 H.  It is a luxury cat condo that will blend in perfectly both in small or large spaces. The unit is sturdy, yet lightweight. It will be easy for you to move the condo if necessary. It comes in brown and blue as well.
In Short:
the condo is made of soft fabric
it is lightweight yet sturdy
this unit will fit small animals
simple grey cat house MCM design
space-saving and fits in every room
BEST LARGE CATS MID CENTURY CAT FURNITURE
Penn Plax Cat Bed
The Simple Design
The Penn Plax's bed for cats and small animals is attractive and nice-looking. This unit will look nice in every modern or vintage home. It is of ideal size. It will fit everywhere and it will hold cats of both small and large sizes.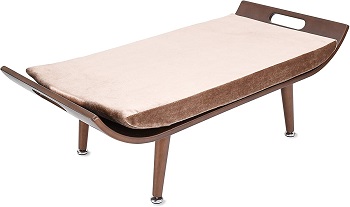 Comfortable And Secure
Cats spend most of the time sleeping, resting, or grooming. If you prefer that your cats stay out of your sofas and couches, consider getting this mid-century modern cat furniture bed. It includes a soft pillow. It is sturdy, firm, and pet-friendly.
Made Of Fine Material
The material used for building this cat bed is fiberboard and furniture paper. The frame is covered with a brown lacquer finish. The legs create a raised surface. They are tapered and keep the unit secure.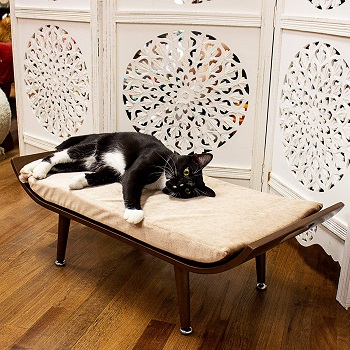 Useful To Know
The legs must be attached to the main unit. The overall size of this cat bed is 10.5" (H) x 31" (L) x 14.5" (W). This unit is a bit pricy, but we recommend it anyway because of its quality and durability.
In Short:
simple MCM cat bed design
this cat bed stands on four legs
the legs need to be attached
made of fiberboard and furniture paper
this cat bed a bit pricy, but of good quality
BEST WALL MID CENTURY CAT TREE
New Age Pet EcoFlex Cat Tree
Design That Guarantees Stability
This mid-century cat tree comes with a slightly different design. It gets installed against the wall. The color of this tree is Gray. This unit will look nice in almost every household. It is an ideal solution for playful and active indoor cats.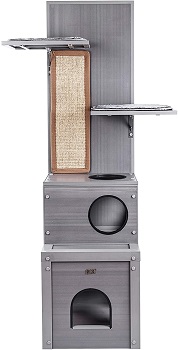 Keeps Cats Active
Indoor cats need to be as active as possible. Without a cat tree, your felines will find an alternative and climb or scratch your furniture. The New Age Pet manufacturers have created a cat tree that promotes healthy behavior and keeps cats occupied.
For Small And Large Cats
Both small and large cats will get to climb this tree. The tree won't break or collapse easily. The tree is stable and firm. It includes platforms, condos, and perches. There is a large scratching post included as well. It will help to maintain your cat's claws strong and healthy.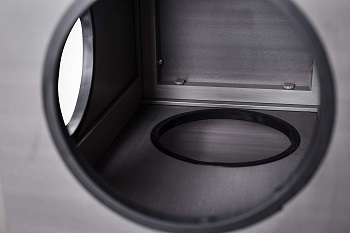 Size And Quality
The dimensions of the EcoFlex cat tree model from New Age Pet are 60″ Height – 16. 5″ Width – 16. 5″ Depth. The tree is built from strong, pet-friendly, and durable material. This cat condo tree house comes in grey and espresso color.
In Short:
stable, durable, and long-lasting cat tree
gets installed against the wall
this unit will hold cats of all sizes and breeds
comes in two colors – grey and espresso
includes cat condos, perches, and posts
BEST TALL MID CENTURY MODERN CAT TREE
PetPals Four-Level Voyage Tree For Cats
Quality Material Used
The mid-century cat tree designed by PetPals is built of premium-quality particleboard natural jute fiber. Also, the posts are covered with a special and durable paper rope. The unit is pet-friendly and skin-friendly. Its dimensions are 24.0″ L X 20.0″ W X 11.0″ H.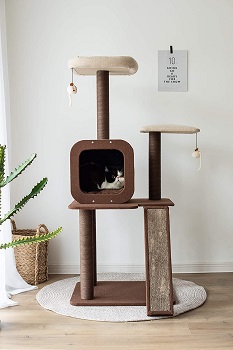 Simple MCM Design
A tall cat tree by PetPals is what every household with climber cats needs. It will fit up to three adult cats and make sure they are safe, entertained, and rested as well. This modern cat tree comes with a wide base, multiple levels, a cat condo, and a large post.
Includes Scratching Posts
This unit is a perfect tall cat tree for large cats (holds up to two large cats) or cats of medium size. It includes one large scratching post and multiple scratching pillars that support platforms and perches. The posts will help to maintain your pet's claws healthy.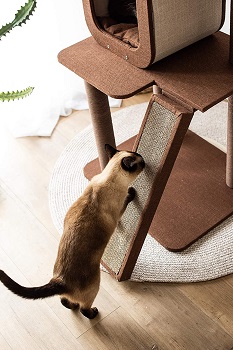 Interactive And Fun
Apart from the scratching posts, this cat furniture tree includes two teasing cat toys. They hang from the perches and keep cats occupied by swinging back and forth. Cats love to play with interactive toys. They keep cats active and occupied.
In Short:
the tree is made of quality material
posts are wrapped in special paper rope
this is a multi-level cat tree with a condo
it includes hanging cat toys
the tree will fit cats of almost all sizes
BEST CONDO MID CENTURY CAT FURNITURE
FurryTail Scandinavian Cat Tree Condo
Green And White Design
The FurryTail cat condo tree comes in light green and white. It has got a wide base that keeps it stable. The white scratching column is here to support the top condo. This minimalist unit will look perfectly nice in any household with a vintage or modern design.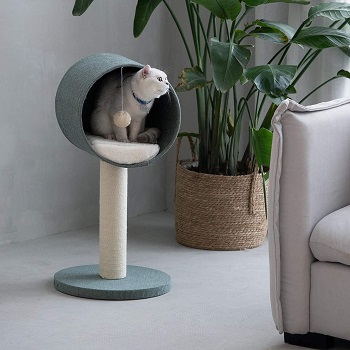 Top-Quality Material
This mid-century modern cat tower condo is made of natural solid wood, fabric surface, and sisal. It is pet-friendly in every way. The tree will be perfect for one adult cat or two smaller-sized ones. It will keep them safe and make them feel comfortable.
The Setup
Just like all other mid-century cat trees and pieces of MCM furniture, this unit needs to be assembled. However, the assembly is easy and quick. Secure the base to the scratching column and the condo. All the tools are included in the package.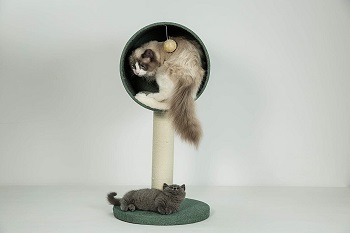 Important Details
The dimensions of this small cat tree are L x W x H: 15 x 15 x 27 inches. The unit is warm and cozy. The condo includes a soft cushion and a teasing toy that hangs from the top. The price of this short cat tree condo is medium.
In Short:
MCM green and white design
simple, minimalist, and attractive unit
the wide is base and the column is sturdy
it fits one adult cat or two small cats
the condo is spacious and cozy
How To Pick: Mid Century Cat Trees And Furniture
When we talk about this type of cat furniture, we know that such units are most often characterized by grey, mustard, olive green, and similar colors and simple, often tapered design. If you like this home-style, then think no more. However, make sure that the unit you are looking for is not only pleasing to the eye and attractive but functional and safe as well. By reading our guide, you will learn more about the qualities that any cat tree or piece of furniture must include. Hopefully, it will help you find the appropriate model for your household.
Beautiful Appearance – The mid-century modern furniture (MCM) became popular in the 1930s and 40s and we never got bored of it. Today, such furniture blends in nicely with both modern or vintage home decor. The cat trees and condos of mid-century style are characterized by simple decor and simple lines. MCM and minimalist cat trees and pieces of furniture are built with incredible attention to durability and functionality.
Enough Space – In order to buy the most appropriate modern design cat tree of a piece of furniture for your felines, take into consideration the unit's size and spaciousness. If you have enough space and active and social cats, we suggest you get a tall cat tree or a spacious cat condo that will fit all the cats of your household. However, if you have a lack of space, getting a smaller or shorter version will be just fine.
Durable And Quality Material – MCM furniture is often made of superior-quality material (solid wood, soft and skin-friendly plush, etc.). This means that the unit will not only look attractive but it will last a long time too. Also, be sure to check out the unit's maximum holding weight. Note that not every cat tree will hold the same number of cats. Also, not every cat condo or bed is roomy enough for more than one or two cats.
Scratching Posts And Cushions – If you want to be sure your cat has all that it needs, then get a tree that includes platforms, condos, teasing toys, and scratching posts. If you are buying a cat condo or a bed, we suggest you buy a unit that comes with a removable cushion. It will be easier to clean the condo and wash the cushion when necessary.
Where To Get? – Mid-century modern cat furniture is most often found online. We suggest you check out the models that we have listed in this article. We find them convenient and of good quality. Also, before you click "buy", check out customer reviews and remember to buy from a manufacturer and a website you trust!
To Sum Up
The piece of mid-century modern cat furniture that we find the best is the PetPals Four-Level modern cat tower. It is a multi-cat tree that keeps cats occupied and active. It is safe and made of quality material. This sturdy cat tree will be a perfect addition to any household with more than one or two indoor cats.