Are you seeking a large and multi-level cat tree for your lovely pets?
Then you are in the right place!
Read all about the best six models and find out the most appropriate one for your household. Check out our buying guide too. It will help you choose the most appropriate model for your household.
The Summary
6 Best Multi Cat Trees
BEST OF BEST MULTI-LEVEL CAT TREE
Feandrea Songmics Large Cat Tree
Choose The Color
The Feandrea tree for cats comes in three neutral colors – beige, light gray, and smokey gray. You can choose the color that you like most and that looks best with your home decor. This is a cozy, warm, and fun cat tree that most cats love.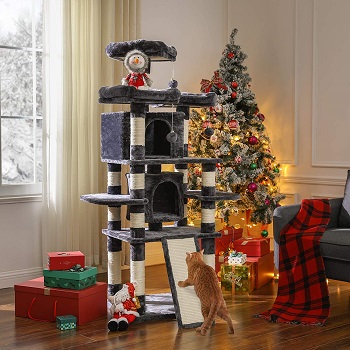 Tall, Attractive Design
This multi-cat tree is tall and has multiple platforms and cat perches. The tree is well-balanced and includes two cat condos for multiple cats. The Feandrea Songmics large cat tree condo is going to be your cats' favorite sleeping and lounging environment, as well as a fun cat activity tree.
Stable And Durable
Households with multiple cats can be sure that this tree is going to last. This multi-level cat tree is made of CARB-certified natural particleboards. Also, it is strengthened with battens at the bottom of the tree. There are anti-toppling fittings included too. All this keeps the tree stable.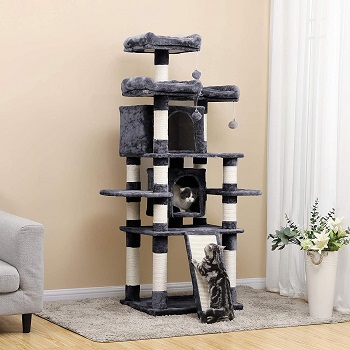 Includes Scratching Posts
Cats are big scratchers. It is their natural instinct to sharpen their claws and leave visible marks. The Feanrea Songmics cat tree for multiple cats comes with many scratching posts that are wrapped in natural sisal. The posts are perfect for climbing as well.
In Short:
choose between three neutral colors
it comes in beige, light gray, and smoky gray
tall, fun, cozy, and warm cat tree
it is made of natural particleboards
the tree includes anti-toppling fittings
stable and durable multi-cat tree
BEST CONDO CAT TREE FOR MULTIPLE CATS
Go Pet Club Multi-Cat Cat Tree
Made Of Wood
The multi-level cat tree by Go Pet Club is made of compressed wood. It is a tree that will surely hold at least three adult cats without collapsing. Cat trees made of real wood are units that last the longest. Also, they are natural and perfectly safe for cats.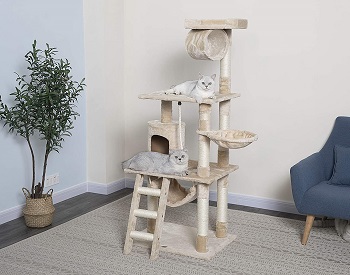 Firm And Sturdy
The Go Pet Club tree is well-proportioned. It has a wide base that keeps the tree stable. There are two more levels that are supported by scratching columns. The top of the unit includes a raised perch that every cat will love to climb. The tree is firm and durable.
The Included Content
Apart from the already-mentioned platforms and perches, the tree includes scratching posts, a small cat condo, one cat hammock, a cat ladder, and one small tunnel. Besides that, this cat tree comes with a teasing cat toy – a rope that hangs and swings back and forth.
Useful Details
The overall size of this cat condo tree is 38″ W x 27″ L x 62″ H. The base size is 26″ W x 19″ L. The tree comes in different five different colors. The price of the tree varies on the color you choose. Customers are highly satisfied with this product.
In Short:
this is a compressed-wood cat tree
it is long-lasting, durable, and sturdy
there are levels, perches, posts, and more
choose one of the five available colors
a hanging toy for cats is included
BEST TOWER CAT TREE FOR MULTIPLE CATS
Nova Microdermabrasion Multi-Cat Tower
Stable And Big Design
The Nova Microdermabrasion cat tree for multiple cats is big, spacious, and tall. It has a wide base that keeps the tree stable. There are multiple platforms included as well as two multi-cat condos. On the top, there are three elevated perches for cats that love to observe their surrounding.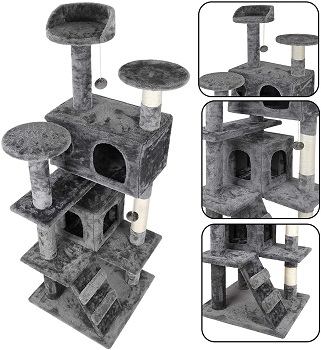 Cozy And Comfortable Cat Home
Even though the tree is big and tall, it is recommended to get it if you have small to medium-sized cats. This tree is covered in safe plush. Cats love plush and soft material. It keeps them warm and makes them feel relaxed and safe. It is a simple cat tree with a basic design.
Multi-Level And Fun
This cat tower for multiple cats by Nova Microdermabrasion will provide your cats with a fun and entertaining environment. Cats will love to climb this tree and jump up and down the levels. The teasing cat toy will attract your cats' attention and keep them occupied.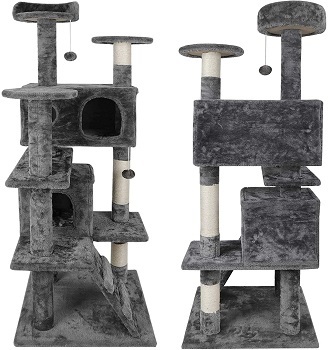 Cheap Price
This is one of the best cat trees for a lot of cats that comes at an affordable cost. The reason is that the tree is made of particleboard material, and such units are usually more affordable. However, if used properly, this tree will last you a long time.
In Short:
big, stable, and nice-looking
it is covered in soft plush material
this tree is skin-friendly and safe
made of particleboard material
recommended for small to medium cats
BEST TALL MULTI-CAT TREE
Furhaven Cat Tower For Multiple Cats
Product Overview
The Fuhaven multi-level cat tower measures 26″ x 19″ x 49.5″. It is a tall unit that is perfect for cats that love to lounge in high places or observe the area around them. You can choose between different colors of this quality cat tree such as blue, grey, cream, or brown.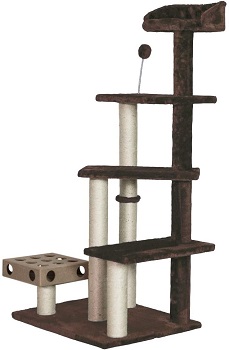 Enjoyable And Amusing
Customers that have already purchased this unit are satisfied. Their cats love to play, climb, and lounge on this tree. The multiple levels and platforms keep cats occupied and active. This spiral cat tree is perfect for up to three small-sized cats.
For Scratchers And Sleepers
This is a carpeted multi-cat tree. It is wrapped in faux fur plush. Cats love this material because it reminds them of another mamma's fur (usually their mothers). The Furhaven cat tree is perfect for sleepers and cats that love to scratch a lot.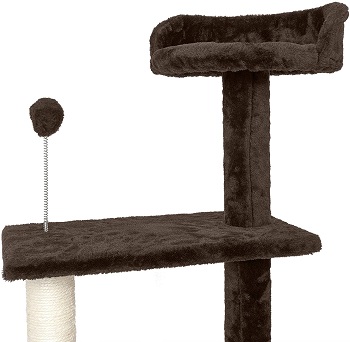 Useful Details
This is a four-level cat tree. It includes platforms, perches, sisal scratching posts, a cat busy-box, and a teasing cat toy. Do not buy this unit if you have large cats or a Maine Coon cat at home. The tree is suitable for multiple kittens and small cats only!
In Short:
this is a spiral tree for cats
it comes in different colors
suitable for smaller-sized cats
includes perches, posts, and toys
the price is affordable
this unit is wrapped in faux fur plush
BEST FOR LARGE CATS MULTI-LEVEL CAT TREE
Bewishome Multi-Cat Tower
Nice-Looking Cat Tree
If you are in search of a big and nice cat tree that will look attractive in your household, you may like this model by Bewishome. It is a tree that comes in three different colors and allows you to choose the color you like most – brown, light gray, and dark gray.
Roomy And Spacious
If you have multiple cats and enough space in your home, the Bewsihome multi-level cat tree will satisfy all of your cats' needs. It is large, tall, and wide. It includes multiple platforms and other fun content. There are two elevated perches, two multi-cat condos, and fun cat toys.
Well-Balanced Design
The wide and heavy base keeps this unit firm and stable. It allows cats to jump off of the tree and on it from the distance. The solid construction and a wall anchor strap will make you feel relaxed. This is a safe and long-lasting cat tree.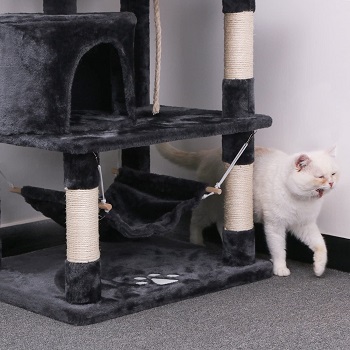 Covered In Plush Material
The soft and warm plush that this tree is covered with will keep your cats warm, relaxed, and safe. Your cats will love to sleep and rest on the tree's platforms. Also, there are scratching posts included that will keep your cats away from your furniture.
In Short:
the tree is large and roomy
it comes with a wide and heavy base
this unit is well-balanced
Bewishome tree is covered in soft plush
scratching posts are included
the tree promotes healthy behavior
BEST CHEAP CAT TREE FOR MULTIPLE CATS
WIKI 002G Grey Jute Cat Tree
The Size And Capacity
WIKI 002G cat tree measures approximately 25.98″x16.14"x35.43″. It will hold two large and adult cats or more than two small to medium-sized cats. It is advisable to place this unit against the wall. It will add extra stability.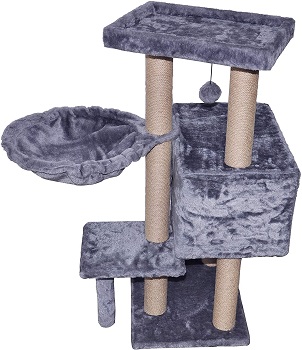 Multiple Levels
The tree by WIKI is one of the best cat trees for multiple cats that love to climb or scratch. If you want to prevent that your cats scratch the furniture, you should consider getting this tree. It includes many scratching posts that attract cats' attention and help to maintain your cats' claws healthy.
For Playful Cats
Households with multiple indoor cats will like this indoor cat playground. It is tall and roomy. It has multiple levels and keeps cats occupied and active. Also, a hanging toy is included. It will attract your cat's attention by swinging back and forth.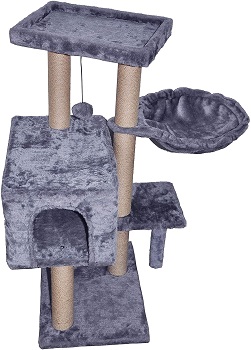 Easy To Set Up
The assembly is required. However, it is very easy to set this multi-level cat house up. The instructions are provided by the manufacturer. The maintenance is easy as well. Simply vacuum the cat hair when necessary.
In Short:
the size of this tree is 25.98″x16.14"x35.43″
it is perfect for scratchers and climbers
the assembly is quick and simple
this tree is simple to maintain clean
it is a sturdy cat tree for multiple cats
How To Pick: Multi-Cat Tree
Before you buy a this type of cat trees, we invite you to read our buying guide. Follow these five useful tips that we have listed in the paragraphs that follow. Be sure you understand why each quality is so important. Buy a unit that is most appropriate for your household and be sure the tree you are about to get is safe and pet-friendly in every way.
Ideal Tree's Size – When looking for a tree that will fit more than two cats, we suggest you search for a large, tall, or big cat tree. Oftentimes, short or small cat trees will fit only up to two adult cats. However, before buying, be sure that such a unit fits your space. Also, you shouldn't buy a large and multi-level unit if your cats don't like climbing, but prefer hiding under the bed.
Multiple Levels – The multiple platforms, levels, and perches are crucial when it comes to large and multi-cat towers and trees. Most cats love climbing and jumping cat trees. Also, cats will love to spend time in high places. The multiple levels will promote healthy and active cat behavior and keep your cats active and occupied.
The Quality Materials – Trees that fit many cats should be made of high-quality materials. If you have more than three or four active and playful cats, the best that you can do is buy a natural wood cat tree. Such units are not very cheap, but they are long-lasting and stable. On the other hand, MDF or particleboard cat trees for up to three adult cats will also be fine. In that case, be sure to get a tree with a wide and heavy base that keeps the tree stable.
Included Extras And Toys – If your cats are very social and like to play with balls or similar cat toys, then you will like the trees that include teasing cat toys. Such toys usually hang from the top perches. They swing back and forth and attract your cat's attention. Besides toys, multi-level towers for cats will most often include cat condos, posts, baskets, and cozy perches.
Safe For Cats – The safest cat trees for multiple cats are the ones that are heavy-based and made of natural material. The frame should be firm and sturdy, and the carpets or plush that the tree is often covered with should be made of skin-friendly material. Also, your cat tree will probably include scratching posts. Be sure they are made of natural sisal, jute, or hemp.
To Sum Up
In the end, there is one model that we find the best cat tree for multiple cats. It is the Bewishome multi-cat tower. We liked it because it is a spacious and modern cat tree for large cats. It keeps cats active, occupied, and safe. We also find its design nice and attractive. If you want to learn more about similar models, check out our article about aesthetic cat trees and pick the one you like most.