Have you been looking for spiral cat trees that will attract your cat's attention and keep it active and safe?
If your answer is yes, then great! We have prepared an article full of important details that you should know before you buy such a unit. In the following lines, learn all about the three spiral cat tower models. Find out which model we consider the best, check out the best tree for older cats, and get to know all about the outdoor spiral tree.
The Summary
BEST OF BEST SPIRAL CAT TREE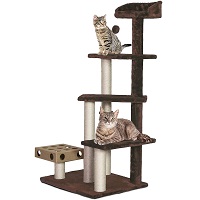 Furhaven Spiral Tower For Cats
The Furhaven tree for cats comes in different colors. The multiple levels provide cats with perfect resting and playing space.
Jump To Review
BEST CHEAP SPIRAL CAT TREE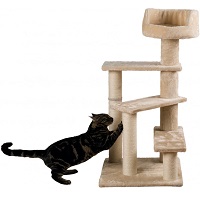 Trixie Spiral Senior Cat Tree
Trixie's senior-cat tree is made of MDF, jute, and long-haired plush. Its price is affordable for every cat owner. Check out why we liked it.
Jump To Review
BEST WITHOUT CARPET SPIRAL CAT TREE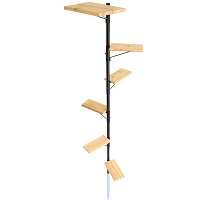 Purrfect Fence Outdoor Cat Tree
If you are looking for a weatherproof cat tree that can be installed outdoors as well, the Purrfect Fence tree will meet all of your needs!
Jump To Review
Top 3 Spiral Cat Trees Reviewed
BEST OF BEST SPIRAL CAT TREE
Furhaven Spiral Tower For Cats
Fun And Entertaining
If you have up to two active and social cats at home, you are going to love this spiral cat tree. It comes with multiple levels and provides cats with multiple climbing possibilities. Apart from that, this tree will help your cats to maintain their claws healthy and mark their territory.
Ideal For Resting
This cat tower is carpeted. It is covered with plush faux fur. It is a soft and warm material that cats adore. They love fluffy carpets because it reminds them of the time they spent kneading their mother's underbelly while stimulating milk. Plush makes the cat feel safe and comfortable.
The Included Features
Apart from multiple levels, this tree includes scratching pillars that are wrapped in rough sisal fiber. Cats will prefer scratching sisal pillars instead of your furniture. The top perch includes an interactive toy as well. It hangs from the top and swings back and forth which attracts your cat's attention.
Useful To Know
The dimensions of the Furhaven spiral tower for cats are 26″ x 19″ x 49.5″. The unit comes in different colors. Choose between brown, blue, grey, or cream. This is a small but sturdy cat tree that keeps your cats happy and active. It will satisfy all of your cat's needs.
In Short:
choose between different tree colors
this tree is a perfect resting space
it is a fun and interesting cat playground
includes multiple levels and a teasing toy
comes with sisal scratching posts
BEST CHEAP SPIRAL CAT TREE
Trixie Spiral Senior Cat Tree
Beige Cat Tree
Trixie's cat tree is ideal for older cats or cats that walk slowly or have any other difficulties. It is a minimalist cat tree with three padded platforms. Some cats will prefer staying on the lower platform, while others will climb to the top platform and feel confident while staying in a higher place.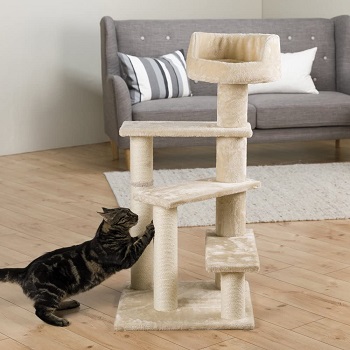 For Two Cats
This spiral cat tree is convenient to have if you are a one or two-cats owner. You might have a senior and junior cat at the same time. Both cats will love this tree. It is covered in long-haired plush which will make cats feel safe and cozy all the time. This tree is perfect for sleeping and lounging.
Scratching Pads
Cats' natural instinct is to scratch. Not only do cats love to stretch after waking up from a nap but they also love to leave visual marks. Apart from that, cats will scratch to maintain their claws strong. If you want to keep your cats away from scratching your furniture, make sure to get a tree with scratching posts.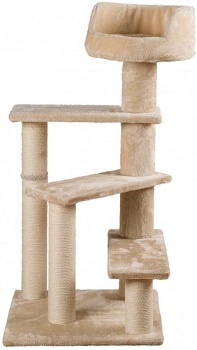 The Cheap Price
This tree is not suitable for large cats. It is made of  MDF, plush and, jute. The carrying capacity of this tree is up to 2 adult cats of small to medium size. This is why the price is cheap. If you have overweight or larger-sized cats at home, we recommend you to get a carpeted cat tree for large cats.
In Short:
this is a beige and minimalist cat tree
it is a perfect tree for senior cats
holds up to 2 medium-sized cats
the tree is made of MDF, jute, and plush
it includes platforms, a perch, and posts
BEST WITHOUT CARPET SPIRAL CAT TREE
Purrfect Fence Outdoor Cat Tree
Ideal For Outdoor Use
The Purrfect Fence tree for cats is made of weatherproof material. This unit is made for outdoor use. If you have enough space in your garden or backyard and if your cats love to spend time outdoors, this tree will make them even happier.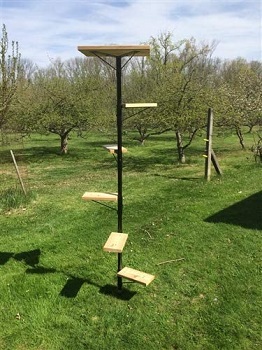 Made Of Metal And Cedar
This spiral cat tree is made of a metal frame which makes it incredibly sturdy and firm. The tree's cedar stairs and the galvanized ground sleeve guarantee the tree's durability and resistance. This unit needs to be assembled. To install this tree, you won't need to dig. The setup is simple and quick.
For Two Cats
If you have two outdoor cats, then we suggest you get this weatherproof cat tree for your garden. Your cats probably have more than one cat friend. Luckily, this tree will surely hold up to three or four medium-sized cats at the same time.

Tall And Safe
The Purrfect Fence tree is tall and measures approximately 47.2 x 12.1 x 7.8 inches. It is a heavy tree so we suggest you to install it with another adult. The tree is tall, multi-level, and perfectly safe for cats. The material that the tree is made of is non-toxic. In fact, only pet-friendly material was used for the construction.
In Short:
a perfect outdoor spiral tree for cats
it is safe, weatherproof, and long-lasting
tree's dimensions are 47.2 x 12.1 x 7.8 inches
this tall tree is made of metal and cedar
the installation is quick and simple
two adults are recommended for the setup
How To Pick: Spiral Cat Tree
When it comes to choosing the best spiral cat tree, there are a few qualities that you need to make sure your new unit comes with. The right size, maximum capacity, durability, and extras. We talk about these qualities in the next few paragraphs. Make sure you understand why every feature we have mentioned is important and you will find a safe and durable cat tower soon enough!
Ideal Tree Size – The size of the tree depends on two things. One, how much space you have at home. And two, how old or active your cat is. Not every cat loves spending time in high places. There are shy or cuddly cats that prefer sleeping on a soft cushion on the ground floor. On the other hand, many cats love spending time in high places and observe the surrounding area. Buy accordingly.
Holding Weight –  Not every tree will hold the same weight. Know that before you buy just any cat tree. Cheap trees will mostly hold up to two adult cats of medium size. However, expensive cat trees or trees made of metal or wood will surely hold even up to four large cats. Check the tree's carrying capacity before you click buy.
Durability And Steadiness – The quality material will tell you how much the tree you are looking to buy is going to last. If you buy a particleboard or MDF cat tree and don't use it correctly (for example, if the tree's capacity is two cats and you have three or four cats at home), you may find yourself in search of a new product very soon. Have that on your mind and be sure to get a tree that will hold all the cats that you have at home.
Extra Features And Toys – You will see that most of the spiral cat trees include some of the extras such as a hanging toy or scratching pillars. There are models that come with a cat condo as well. Think about the features that are important to your cat and be sure your new cat tree includes them.
To Sum Up
The reason we like the Furhaven Spiral Tower For Cats that much is because we find it suitable for a cat of any size. age, or breed. It is a simple cat tree and most cats love spending time on it because it is covered in soft and warm material. The cost of this indoor cat tree by Furhaven is medium. We consider that every household with indoor cats should have at least one cat tree, and this small spiral cat tree could be a perfect model for most homes.