Do you want to find out more about sphere cat trees that promote cat's healthy behavior?
Unsure which model is the most appropriate for your fur friend?
If this subject interests you, then you are welcome to check out our article. By reading our five reviews and the buying guide we have prepared, you will learn all about these attractive models. Follow our tips to make sure the tree you are buying is worth your money.
The Summary
Best 5 Sphere Cat Trees
BEST OF BEST SPHERE CAT TREE
PetPals Ace Sphere Tree For Cats
Eco-Friendly Material
PetPals sphere cat tree is made of recycled paper rope. Only non-toxic and natural material is used for designing this unit. This means that you can be sure your cats will be staying in a healthy environment. This tree is pet-friendly in every way.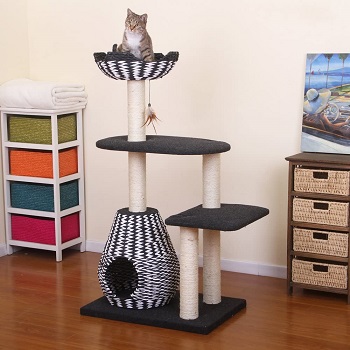 Four-Level Design
There are four levels that will make your cats choose their ideal resting or playing space. The ground floor cat condo is a perfect sleeping area for old cats or cats that usually like to hide under the bed. There is a top perch that includes a hanging toy. The tree comes in black and white.
Promotes Healthy Life
It is suggested that every household with indoor cats has a cat tree. Such units keep cats active and occupied. The PetPals cat tree for multiple cats allows your cats to climb, scratch, play and sleep. It satisfies all of your cats' needs.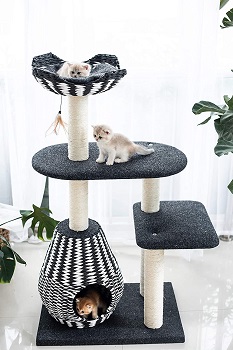 Easy To Maintain
This tree needs to be set up. The assembly is easy and fast. Also, it is simple to clean the tree. Use the vacuum to get rid of the cat fur. Make sure the tree is clean most of the time. Cats love hygiene. It is important for their health.
In Short:
made of natural and recyclable material
it is eco-friendly and perfectly safe
includes four levels and a condo
cats get to play, rest, and scratch on this tree
it is simple to maintain this tree clean
BEST MODERN SPHERE CAT TREE
Sauder Natural Cat Tree 774747
Exquisite Design
If you are looking for something special and attractive, then you will surely love this Sauder cat tower. This tree blends in nicely into any modern household. It stands on three legs. The lovely cat condo is located on the top of the unit. This tree is covered in an Espresso finish.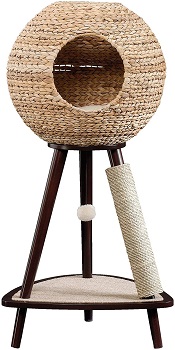 Sturdy And Stable
The Sauder cat tree includes a wide carpeted base that keeps it stable. It is safe for cats and it is not easy to overturn. The metal hardware together with the plastic bristle make this nice-looking cat tree durable and steady.
Includes A Scratch Pad
Cats' natural instinct is to scratch. They do it for different reasons – to sharpen their claws, to stretch, or to live a visible mark. The Sauder natural sphere cat tower includes one scratching pad. It is located on one of the three legs. Besides that, there is a teasing toy included.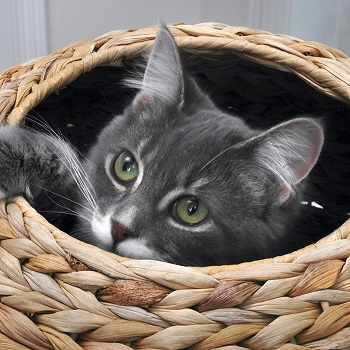 For One Or Two Cats
Sauder natural sphere cat tree is made for one large adult cat or two small to medium-sized cats. Both cats will fit into the condo, as long as they are friends. If you have two cats that don't get along as much, we suggest you get another unit.
In Short:
Sauder cat furniture tree is very stylish
ideal for two small-medium friend cats
the tree is made of metal hardware
it is a stable and durable cat tree
includes a scratch pad and a toy
Best BEST FOR LARGE CATS SPHERE CAT TREE
MidWest Sphere Cat Tower
For All Cats
This tree made by MidWest is suitable for cats of all sizes and breeds. Also, it doesn't matter if you have a young and playful cat or an old and calm cat. This tree will meet the needs of every cat. It includes a ground floor condo and a raised perch.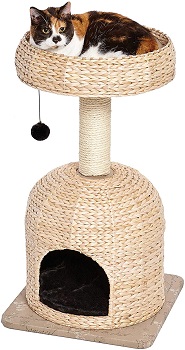 The Size And Capacity
The overall size of the MidWest sphere cat tree is 18L x 17.6W x 31.5H Inches. The tree will be ideal for one large cat or two cats of up to medium size. This is a sturdy cat tree that needs to be assembled. All the tools are included within the package.
Natural Material
The material used for building this unit is all-natural woven rattan. Rattan cat trees are known to be sturdy and long-lasting. Cats love to scratch on rattan. But don't worry, this material is not easy to damage. Apart from that, the tree includes a sisal scratching pillar.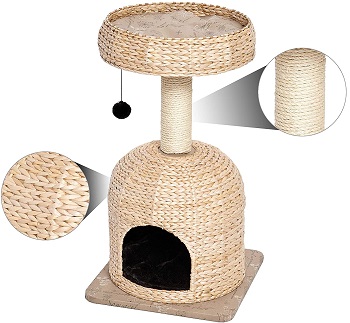 Why Get This Tree?
We suggest you get this tree if you have one or two cats that don't usually climb to high places. Old cats will benefit from this tree as well. They won't have to jump or climb to high perches but will get to choose to sleep inside of the ground.-floor cat condo.
In Short:
this cat tree is made of quality rattan
this is a sturdy and long-lasting unit
ideal for 2 adult cats
the ground floor condo is spacious
it is fast and easy to assemble
BEST TALL SPHERE CAT TREE
Go Pet Club Sphere Rattan Cat Tree
Tall And Spacious Tree
This tree that is manufactured by Go Pet Club is made of handcrafted rattan wicker. It is a nice-looking tree that includes a ground-floor cat condo and a raised perch. Ideally, you will get this tree if you have one large cat or two adult cats of medium size.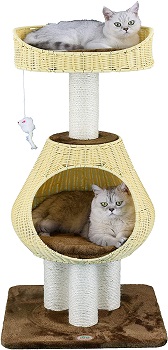 Safe Material
This sphere cat tree is made of wood, rattan, and it is covered in faux fur which keeps cats warm and cozy. Fluffly and soft materials make cats feel relaxed and comfortable. The scratching pillars are covered in natural sisal rope. Sisal is a pet-friendly and completely material.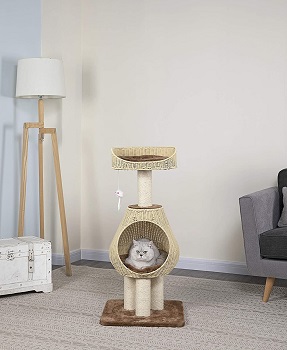 Useful Details
You are probably curious about the dimensions of this tree. The unit's overall size is 19.25″W x 19.25″L x 40″. The top perch measures 16″L x 12″W x 5″H and the dimensions of the rattan cat condo are 17″Dia x 16″H; 3.5″. This is an expensive cat tree.
In Short:
this tree is tall and includes a condo
the condo is located on the ground floor
Go Pet Club tree ideally fits one large cat
the material is of high-quality
this is a tree that comes at a high price
BEST SMALL SPHERE CAT TREE
PetPals Small Natural Sphere Cat Tower
Good Quality Material
The sphere cat tree made by PetPals is a small tree for two indoor cats. The material used is jute and paper rope. This material is safe and pet-friendly. Also, the unit includes cat cushions. This tree will last you a long time.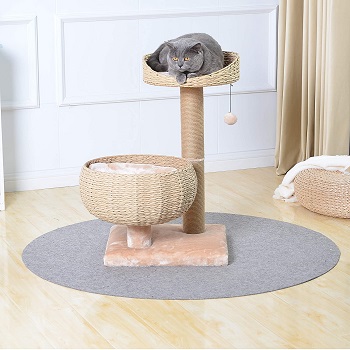 Two Perches
The design of this tree is simple and refreshing. The neutral color of this tree will look nice with most home decors. There are two perches that make it look stylish and give your cat or two cats an option to choose between two cozy resting spaces.
Capacity And Size
The unit measures approximately 17.7 x 17.7 x 29.3 inches and weighs 17.2 pounds. This is a space-saving cat tree that will probably fit anywhere in your home – under the window, in a corner, or wherever you feel like it is appropriate. The tree's capacity is up to 2 adult cats (25 lbs).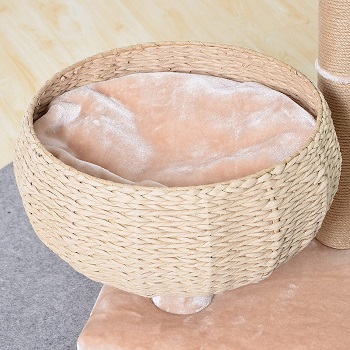 Assembly Is Required
The unit ships unassembled. The installation is quick and easy. One adult or two adults will do the job in no time. All the tools required for the assembly as well as the user guide are provided by the manufacturer. Follow the step-by-step instructions and be sure to set the unit up properly.
In Short:
this tree is made of jute and paper rope
it is ideal for up to 2 adult cats
the two-perch design makes it attractive
fast and easy assembly is required
one or two adults are required for the setup
How To Pick: Sphere Cat Tree
Not only do sphere cat trees look nice as home decoration but they are also functional and safe units for cats. That said, appearance and efficiency are the first two qualities that your new cat tree should come with. Apart from that, there are other things that you need to take into account before buying. It is the stability of the product, enough space for all the cats you have, the right size, and the extra features that come included. To be sure you understand why these qualities are important, read the next paragraphs.
Appearance And Purpose – Sphere cat towers look nice, elegant, and stylish. They fit in well with both modern and rustic furniture. They are units that are often made of rattan which makes them long-lasting and hard to break. Cats love this material, especially when it comes to scratching and climbing, which are the two favorite playing activities of most cats.
Durability And Steadiness – Sphere trees will last you a long time, especially if they are used properly. Be that as it may, make sure to buy a unit that comes with a heavy or wide base. Such units are the most stable ones and they are hard to overturn. Also, provide your cats with a well-balanced tree. For extra stability, place the unit next to a wall.
Spaciousness And Size – The size of the tree you are about to buy depends on three things: how much space you have at home, how many cats you have in your household, and cats' size and weight. If you have one cat, a narrow, or short cat tree will be just fine. If you have more than two cats, get a taller cat tree version. It is also important to consider your cat's personality. Shy, old, or cuddly cats will prefer small trees, whereas playful cats will love to climb large and tall towers.
The Right Carrying Capacity – Not every sphere tree will hold the same weight. Check out how much a tree you like can hold and buy accordingly. Smaller trees will usually hold up to two adult cats. Tall and spacious trees will probably be able to resist more than that. Be sure you understand that this is a very important quality that ensures your cats' safety.
Scratching Posts And More – Cats scratch for many reasons: to maintain their claws strong and healthy, to mark their territory by leaving a visual mark, to stretch after waking up from a nap, to flex their feet, etc. These are only a few reasons for which your sphere cat tree should include scratching posts. Besides that, cat condos, perches, interactive toys, and hanging balls that swing back and forth are some of the examples of the extras that your new sphere cat tower may include.
To Sum Up
As our number-one pick, we choose the MidWest Sphere Cat Tower. This sphere cat tree is made of quality rattan material and it will last you a long time. It is a simple cat tree that satisfies the needs of most cats. Also, the MidWest tree is an adult cat tower that is simple and quick to assemble.