Have you been trying to find an ideal rattan cat tree for your playful cat?
Then you have come to the right place. Read on if you wish to find out more about the best six models that you can find on the online market. Learn all the important details about the best of best, for a large cat, carpeted, modern, and other models. Also, we invite you to check out our buying guide that may help you choose the right model.
The Summary
Top 5 Rattan Cat Trees
BEST OF BEST RATTAN CAT TREE
Suncoo Multi-Level Tower For Cats
Big And Modern
Suncoo's multi-functional cat tree is large and spacious. It is a multi-cat tree tower that will hold up to three adult cats. Your cats will love spending time on this tree playing or resting. It provides them with all the necessary content for happy and active everyday life.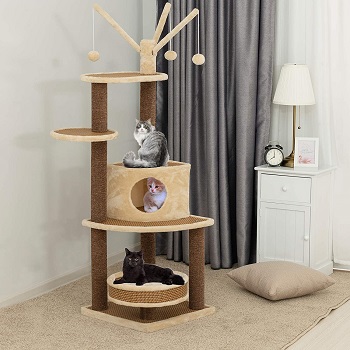 Stable With Wide Base
This wide cat tree comes with a heavy base and pillars that make it stable and difficult to overturn. The tree won't collapse as long as you use it as indicated. The tree is made of natural materials. The eco-friendly rattan mat surface makes it sturdy and easy to clean.
Multi-Activity Playing Center
Cats will love to do all the daily activities on this tree. There are sleeping perches and cat beds included and your fur friends will spend their sleeping time feeling warm and comfy. Also, this rattan cat tree comes with scratching columns, multiple platforms to jump on, and hanging balls.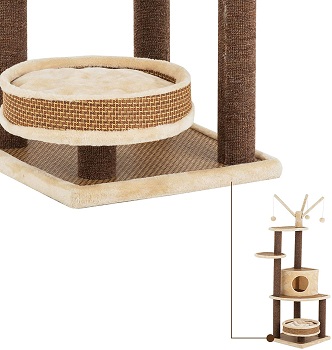 Removable Mats
The included soft plush mats can easily be removed. This will help you with cleaning them. The mats can be washed, dried, and put back on. Clean them as often as needed. Cats love to spend time in a clean environment.
In Short:
big, spacious, and modern tree
made of natural and sturdy material
comes with soft removable mats
the mats can be washed and dried
includes perches and cat toys
there are scratching pillars included
BEST FOR LARGE CATS RATTAN CAT TREE
Go Pet Club Rattan Wicker Cat Tree
For One Big Cat
Unlike the previously-mentioned model, the Go Pet Club small tower will hold one large cat or two small ones. The size of this tree is 19.25″ W X 19.25″ L X 24.5″ H. It will fit in any corner of your home. It is space-saving and multi-function.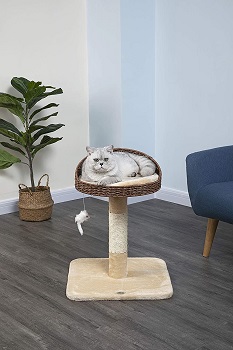 Simple Design
This carpeted cat tree for large cats has a wide base that makes it stable. The tree won't overturn when your cat jumps off of it. It comes with one raised perch with a cat bed. The perch is supported by a sisal scratching column. One interactive cat toy hangs from the perch.
Covered With Plush
The major part of this rattan cat tree is covered with soft and warm plush. Cats love this material. It makes them feel cozy, safe, and it reminds them of another mammal's fur. Your cat will love to spend time sleeping on this tree's perch.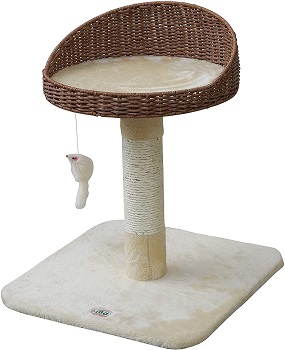 Useful To Know
This is a 100% hand-craft rattan wicker cat tree. It includes one soft cushion that you can put on the tree's perch. This tree is simple to assemble. The instructions for the easy-to-follow setup are included as well as all the necessary tools.
In Short:
simple and sturdy cat tree design
small size and ideal for 1 large cat
made of rattan and covered in plush
makes cats feel cozy and warm
there is one soft cushion included
BEST WITHOUT CARPET RATTAN CAT TREE
Himimi Scratching Activity Tree
White Cat Tower
Himimi's tower for cats comes in white. It is tall and has multiple levels. It is a nice cat tree that will not only look pretty with your furniture and fit into your home decor but will also make your cat or more than one cat happy and occupied.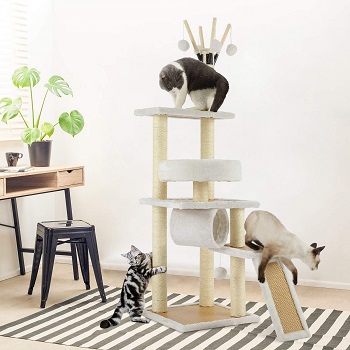 Made Of Sisal And Rattan
This tall tree is made of particleboard, sisal, rattan, and plush. The particleboard material makes this tree stable. It can hold up to 2 adult cats without overturning. The sisal rope and rattan help cats to maintain healthy their paws. Lastly, the soft plush keeps cats warm and makes them feel safe and cozy.
Tall And Fun
The Himimi's rattan cat tree is tall and narrow. It promotes healthy activities and keeps your cats occupied. There are three large perches, one scratching ramp, and three scratching posts. There is one bed included. The tree comes with a tunnel, as well as stairs layout and five ball toys.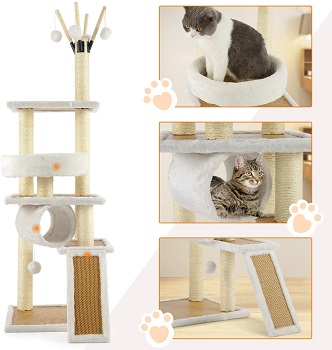 Safe And Simple To Clean
The tree comes with a reinforced base plate. It keeps it stable and long-lasting. This tree comes with no carpet. The rattan and plush are easy to clean. No matter how many times you clean this tree, it will last and it won't get damaged.
In Short:
white, tall, stable, and safe tree
ideal for 2 adult cats
promotes a healthy cat life
keeps cat occupied and active
rattan and plush are easy to clean
BEST MODERN RATTAN CAT TREE
TGHY Activity Tree For Playful Cats
Elegant Design
If you are looking for a rattan cat tower that will look nice in your modern household, you may like this tree model. It comes with a blue rattan cat bed, sisal scratching pillars, a tunnel, and three platforms. There is a cat toy that hangs from the top perch.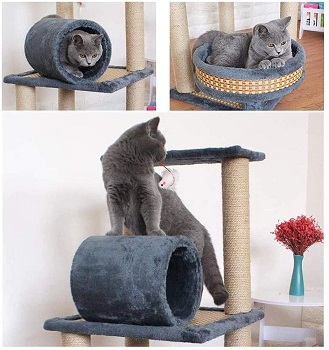 Durable And Firm
The big and wide base will avoid the tree from wobbling or overturning. It keeps the tree stable and your cats safe. The material used is eco-friendly particleboard, rattan, and soft plush. This heavy-duty cat tree is completely safe for pets. Only non-toxic material is used for the construction.
For Two Cats
If you have 2 adult cats at home that do not like climbing high places, this tree will be the right for you. It is not very tall and cats that are shy or like hiding under beds will prefer this kind of a rattan cat tree.
Simple To Assemble
Just like any cat tower, the TGHY model must be assembled before you use it. The package includes the setup instructions that will help with the assembly. The whole process is quick and easy. All the tools and hardware required come included.
In Short:
elegant, modern, and ideal for 2 cats
sturdy, strong, and firm cat tree
made of particleboard, rattan, and plush
it has a heavy base and it is safe
perfect for cuddly and shy cats
BEST SMALL RATTAN CAT TREE
Hypeety Small Rattan Wicker Tree
Small And Basic Design
This is a small tree made of rattan and is ideal for cats of small to medium size. It helps to attract your cat's attention and keeps your cat occupied. The tree includes three interactive hanging toys. The tree is simple to assemble and disassemble.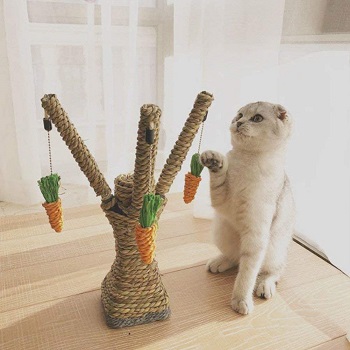 Encourages Cat's Natural Instinct
Hypeety rattan cat tree is perfect for scratchers. If your cats have already damaged your furniture and you are tired of it, then be sure that you get them this tree. It promotes scratching and keeps your cat's paws healthy and strong.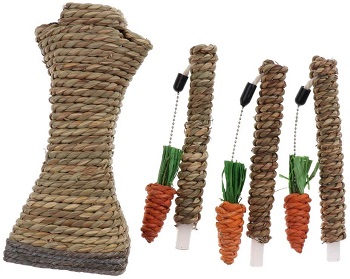 Budget-Friendly Price
The cost of the Hypeety simple cat tree for scratching is affordable for everyone. The tree is space-saving and small. It can be used in households with cats, hamsters, rabbits, guinea pigs, etc. Your pets will love to scratch or chew on it.
In Short:
this is a small and simple tree design
it includes many interactive hanging toys
Hypeety tree is perfect for smaller-sized cats
promotes scratching and keeps paws healthy
the cost of this small unit is affordable
How To Pick: Rattan Cat Tree
If you are not sure if a rattan cat tree is right for your cat and its needs, then keep on reading our buying guide. We have listed a few characteristics that we think every rattan wicker cat tree should come with. Be sure to buy a unit that is of the right size and fits all the cats you have at home. Also, check the carrying capacity and ideally, get a unit that includes interactive cat toys.
Why Get A Rattan Cat Tower? – Rattan is an extremely durable and strong material. It is light but sturdy and long-lasting. Most often, rattan products should be used indoors. Getting a rattan tree for your cats is a great idea if you have playful and active cats of any size. If you are looking for a weatherproof cat tree made of rattan, make sure that the unit you are looking to buy is suitable for the outdoors.
Get The Right Size – Do not get just any tree that looks nice with your home decor. You must also think of the ideal size for your cat. Think of your cat's personality. Although tall and large trees may seem fun and interesting, they may be perfect for active and young cats, whereas older or cuddly cats that don't like heights will consider them too much. Such cats will prefer small and simple trees.
Check Tree's Capacity – Households with one or two cats won't have to worry too much about the tree's carrying capacity. Almost any cat tree will hold up to 2 adult cats. On the other hand, if you have very large cats, overweight cats that need to be active more often, or more than 3 adult cats, we consider you check if the tree you like is suitable for you. You will want your new cat furniture to be strong, durable, and safe enough. Trees with a wide and heavy base should be fine.
The Ease Of Setup And Cleaning – Every cat tree needs to be assembled. If you are not a very handy person, then the unit that takes a lot of time to be set up might not be the right choice for you. But don't worry, most of the cat towers require no more than 20 minutes to be installed. Also, every cat owner knows that cats love hygiene. Be sure you get a tree that can be washed or vacuumed regularly.
Trees With Toys And Condos – Such units will be interesting and entertaining for most cats, especially young cats, and kittens. There are many models of rattan cat trees that already include interactive toys or hanging balls. Also, we suggest you cat a unit with scratching posts and sleeping perches or cat condos.