How to buy a red cat tree that is not only pretty and looks good with your other furniture, but is also functional and completely pet-friendly?
Our article is here to help you answer this question. Read on if you want to find out more about the best red towers for cats. We have found the six best units and divided them into different categories. At the end of the article, you will find a small buying guide. It will help you get a safe unit for your favorite fur friend.
The Summary
6 Best Red Cat Trees
BEST OF BEST RED CAT TREE
Vesper Red Dot Cat Tower
Elegant Design
Vesper cat tree comes with clean lines and smooth surfaces. It is a small cat tree that will hold up to two adult cats. The base is wide and heavy. It keeps the unit stable and prevents wobbling. This elegant cat tree will look nice in any modern household.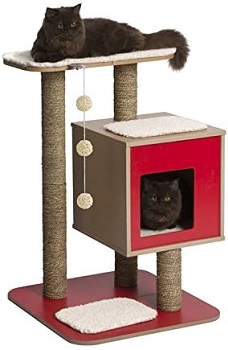 Includes A Cube Cave
Vesper red cat tree comes with one spacious cat condo. The condo has one large entrance and it will keep an adult cat safe and warm. Cats are big sleepers and getting them a multi-function cat tree with no resting space will make them use the unit less.
For Play And Sleep
Apart from the cat cave condo, the tree includes a raised perch which is supported by sisal scratching pillars. Cat will get to climb this tree, scratch on it, and play on it. The top perch comes with a hanging interactive toy.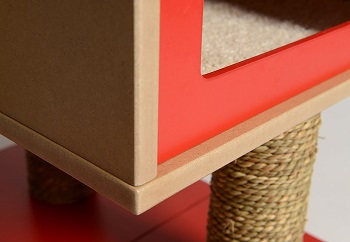 Useful Details
The base of the Vesper small luxury cat tower measures 21.9 x 22.1 inches. The height of this tree is 32.1 inches. This tree is made of durable and eco-friendly material. There are removable cushions and carpets included.
In Short:
Vesper three is elegant and modern
it includes a resting cat condo space
the tree comes with scratching pillars
it can hold up to 2two adult cats
one interactive hanging toy is included
BEST CARPETED RED CAT TREE
Kerbl Red Grey Cat Tree
Size And Capacity
The Kerbl tree for cats measures 16.54 x 14.57 x 27.56 inches. It is a red cat tree of medium size and it will hold up to 2 adult cats or 3 small cats or kittens. The base is wide which keeps the tree stable and firm. For extra stability, you can place the tree next to a wall.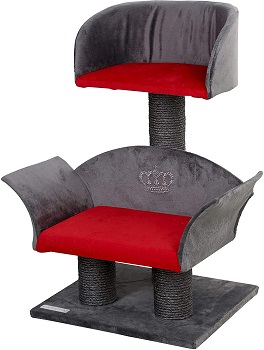 Soft Resting Tree
There are two cozy floors covered with soft and warm material that makes the cats feel comfortable and safe. Kerbl grey-red cat tower will be your cats' favorite sleeping place. The tree is simple to maintain clean. Use the vacuum to remove cat fur.
For Scratcher Cats
This tree will be perfect if you have cuddly cats that love to scratch. There are scratching sisal pillars included. Scratching is cats' way of maintaining their paws healthy and strong. If you want to avoid getting your furniture damaged, we suggest you get a sisal cat tree.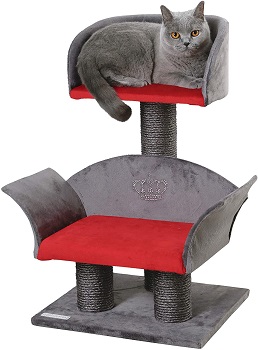 The Price
The cost of this 2-cat tree is pretty cheap. We think that the price is affordable for everyone. The tree is made of fine material and the reason the price is low is that it has no extra content. This is a medium cat tree that wasn't designed for active or very large cats.
In Short:
the tree comes in red and grey
it has two spacious levels
the tree includes scratching columns
ideal for 2 adult cats of medium size
the price of this tree is affordable
BEST MODERN RED CAT TREE
ZRONGQF Activity Climbing Cat Tree
Modern And Unique Design
Do you want to get an interesting cat tree that will catch the eye of every visitor? Then we guess you will love this red cat tree that looks like cherries. It is a safe and secure climbing and scratching cat tree. It is made of eco-friendly and long-lasting material.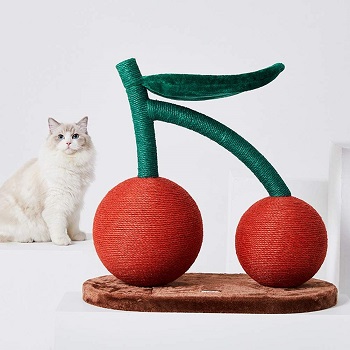 Ideal For Scratchers
If your cat loves to scratch, this aesthetic cat tree will be just what your fur friend needs. This sisal scratching cat tree will help to maintain your cat's paws healthy and strong. Also, there is a perch on the top that cats love spending time on.
Warm And Cozy
Apart from the rough and safe sisal, the tree is covered in soft plush. Cats love this material because it reminds them of another mammal's fur (most of the time their mother's). Also, if your cat loves to spend time in high places, the top perch in the shape of a leaf will be its ideal sleeping zone.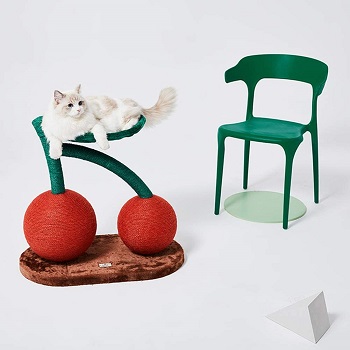 Good To Know
This is a comfortable cat tree that is made of pet-friendly material. The tree is safe and long-lasting. It will look nice in any modern household and be practical both for you and your cats. It will keep your cats away from your furniture. The price of this unit is very high and it doesn't meet everyone's budget.
In Short:
modern and aesthetic cat tree
comes in the shape of cherry
covered in sisal and plush
made of pet-friendly material
this red tree is expensive
BEST LARGE RED CAT TREE
Benjama Cat Sleep Scratching Tree House
Spacious And Tall
Benjama is a tall cat tree for large cats that measures (L x W x H): 18″ x 20″ x 46″. It weighs about 32 lbs and it can hold up to 40 lbs. This red cat tree is stable and heavy-based. It includes all the content that cats love. It promotes a healthy life and keeps cats occupied.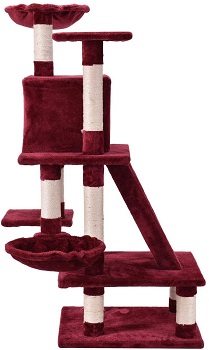 Fun Cat Playground
This tree by Benjama has it all. The tree has multiple purposes and allows your cats to spend time playing as much as they want. There are multiple floors, a sleeping basket, a cat condo, climbing stairs, and scratching columns included.
Covered In Warm Plush
The tree is made from flakeboard material. Almost all the unit is covered in soft plush. It makes cats feel warm and comfortable. The scratching pillars are covered in rough sisal. By scratching the pillars, cats will maintain their paws healthy and strong.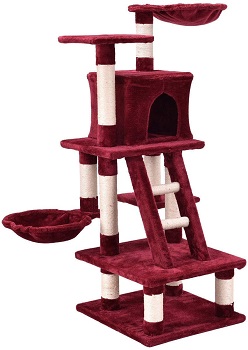 Cozy Perches And Cat Condo
The raised perches and baskets allow cats to sleep and rest. They keep them warm and make them feel safe and confident by keeping their eye on the surrounding area. The cat condo is spacious. It has one large entrance door.
In Short:
this is a large and spacious cat tree
includes perches, a condo, and baskets
there are stairs and scratching pillars
Benjama tree is covered in soft plush
it is a big multi-cat tree
BEST FOR KITTENS RED CAT TREE
WYJW Scratching Tower For Climbing
Cute Small Design
Looking for an artistic cat tree? You will like this beige-red cat tree then. This unit will hold up to one cat of small size. This indoor cat tree is stable and durable. It includes a scratching post, a perch, and cat toys.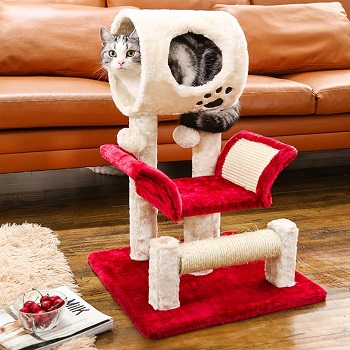 Ideal For One Cat
If you have one cat, then you will love this unit. It will keep your cat occupied, especially when you are away. It will provide your fur buddy with warm and soft sleeping space and keep it safe. It promotes a healthy and active life for kittens.
Wide And Stable Base
The wide base of this small tree for cats guarantees stability and durability. It prevents the tree from wobbling or tipping over. Your cat will get to jump on the tree or off of it. It won't overturn easily and if you use it correctly. The tree is firm and well-balanced.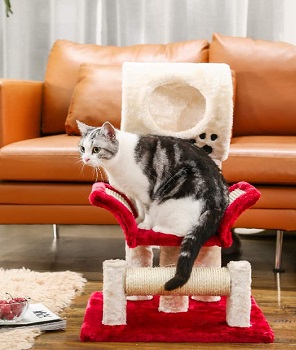 The Simple Setup
It is very simple to set this tree up. One adult can do the job with no hassle. The easy-to-follow instructions are provided and the installation is quick and simple. The assembled unit measures 17.72*17.72*24.8 inches.
In Short:
interesting design and includes fun content
perfect for one small cat or kitten
it is easy and quick to assemble it
stable and long-lasting cat tree
firm, sturdy, and well-balanced
BEST CHEAP RED CAT TREE
Vedem Plush Red Cat Tree
Simple Design
Vedem tree for cats comes with a wide base, a condo, one tall scratching column, and a raised perch. The ground floor condo is spacious and fits one adult cat or two small ones. The perch has a hanging ball included.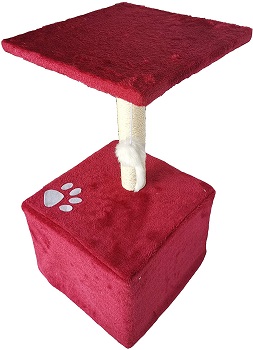 High-Quality Material
Vedem minimalist cat tree is made of board-compressed wood. It is stable and firm. The tree is covered with soft plush and the column is wrapped with natural and rough sisal. This is a tree that is made of fine quality material and the price is very affordable.
Soft And Cozy
The plush that the tree is covered with is soft and warm. Cats love such material. It keeps them warm and makes them feel comfortable. We are sure that your cat is going to love this unit. This red cat tree is ideal for cuddly cats or cats with a calm personality.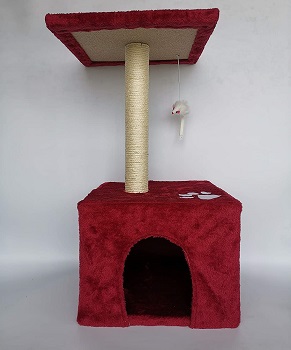 The Size Of This Tree
The overall size of the tree is 12 x 12 x 23 inches. This is a space-saving cat tower. It will fit in any corner of your room. The dimension of the perch is 12 x 10 inches. The net weight is 7 lbs.
In Short:
a perfect tree for one cat
includes a scratching pillar
there is one raised perch
it comes with a ground floor condo
the price is very affordable
How To Pick: Red Cat Trees
We support the idea of getting a red cat tree if you like the color and if it will look nice in your home. However, please be sure to find a unit that will not only look nice but will also be safe and serve the purpose. Your cats will love to climb their new tree, play, and scratch on it. This is why you will need it to be durable, safe, and pet-friendly. Keep on reading our guide and learn more about the main characteristics every tree for cats should include.
Cat Trees Promotes Healthy Activities – In our opinion, every household with cats should have a cat tree. it is especially important for indoor cats to have such a unit that will allow them to stay more active and occupied. Having a tower for cats at home may help not only to reduce stress and anxiety but prevent feline conflicts as well.
A Tall Tree Is Not Always The Best – Remember to consider your cat's personality. If you have an active cat that likes to climb on high places and look around from up above, then a tall tree is surely the one you should look for. However, shy, calm, and cuddly cats that prefer hiding under the bed will love a small cat tree with a ground floor cat condo.
Safe And Quality Material – Trees made of particleboard or plastic are perfect for one or two cats of medium size. On the other side, large cats or households with more than 2 cats will need to get trees that are sturdier. For example, metal, rattan, or natural wood cat trees. Be sure the material is eco-friendly and non-toxic. It must be safe for pets in every way.
Not Every Tree Holds Same Weight – Before you buy a new tower for your cats, be sure to check the carrying capacity. Again, sturdier trees made of premium quality will hold more than 2 cats. But if you are not sure which tree to buy, then spend more than a penny and buy the one that comes with a wide and heavy base and place it near a wall for extra stability.
Buy Online – In our opinion, it is best to order red cat trees online. Buying online and from a manufacturer that you trust is a great option. Search for reliable webshops or online retail websites and read customer reviews before you click buy. We recommend checking out these products on Amazon.com. You may get special discounts, free shipping, and contact the customer service in case you have any problems or you are not satisfied with the product.
To Sum Up
To conclude, we would like to say why we think the Vesper Red Dot Cat Tower is the best red cat tree on this list. We consider it to be safe, long-lasting, and nice-looking. It is made of quality materials and includes all that a cat needs for sleeping and playing. If you want to see more pretty trees that are functional and safe at the same time, we suggest you check out our articles about the best attractive cat trees and beautiful cat trees.