If you prefer modern models and you're trying to find the best artistic cat tree for your house, keep on reading.
We picked the best 6 models from the market so you can choose the best category depending on your pet's preferences. For more tips and recommendations here is our guide at the end.
The Summary
Best 6 Artistic Cat Trees
BEST OF BEST ARTISTIC CAT TREE
The Refined Feline Cat Tower
Easy Matching
Models like this one always catch everyone's attention and fit easily with the environment and colors of your home decor. A cat tree is made of high-quality materials to provide durability.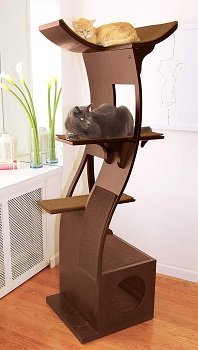 Unique Shape
This artistic cat tree has a very unique shape and it is fully made of wood so you can place it in every corner of your home. A sturdy bottom base will provide stability to the construction.
Vertical Scratcher
With a measurement of 20 x 20 x 69 inches, this modern wood cat tree is suitable for active pets, especially for medium and large size cats. There is a vertical scratcher for easier scratching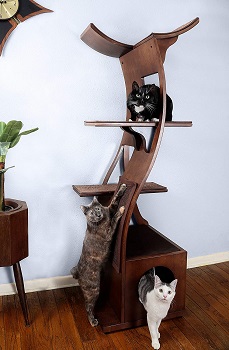 Spacious Platforms
Large platforms have a cover for comfortable laying and your cats will love using it for climbing and playing, as well. At the bottom, there is a condo for sleeping.
In Short
Easy fitting with the environment
Unique shape made of wood
Suitable for larger active cats
Large platform with covers
Vertical scratcher made of sisal
BEST SMALL ARTISTIC CAT TREE
PetPals Cat Tree
Easy Fitting
If you need a model that you can easily fit in every corner so it won't take much space in your house or apartment, this Petpals has great features. Neutral colors will easily fit with the interior.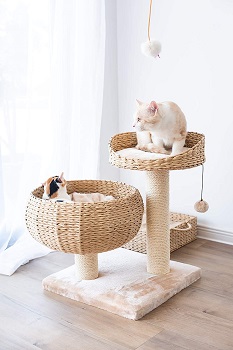 Soft Cover
A sturdy baseboard will provide stability and it is fully covered with soft material for comfortable walking, This artistic cat tree measures 17 x 17 x 23 inches.
Paper Rope
This cat tree for small spaces has a spacious basket and a perch made of paper rope. Both areas have padded beds for comfort while napping or observing.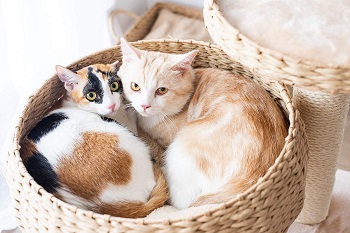 Plush Toy
Hanging plush toys will keep your cats entertained during the day. Both posts are wrapped with sisal rope, so the cat can scratch her claws and have healthy nails.
In Short
Perfect choice for small areas
Sturdy base with softcover
Basket and perch made of paper rope
Removable beds for easier cleaning
Posts for scratching wrapped with sisal
BEST CORNER ARTISTIC CAT TREE
Midwest Homes Cat Furniture
Black And White
If you want a modern model that will easily fit in every corner and catch your cat's attention, this Midwest one has great features. Black and white color combination always look great.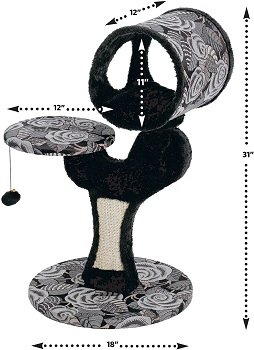 Modern Print
An artistic cat tree is fully covered with modern print and faux fur. The model has sturdy construction with a rounded base for stability. Cat tree measures 22 x 17.7 x 30.75 inches.
Rounded Lounge
The indoor cat tree has a perch for observing and a rounded lounge where a cat can have a nap. Hanging balls are always great accessories for playing.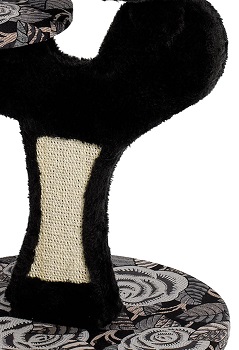 Sisal Post
In the middle, there is a sisal post with a vertical shape so the cat can fully stretch her muscles. Don't worry about assembly you can do it easily in a short time.
In Short
Black and white color combination
Covered with cute print
Small dimension for easy fitting
Lounge for better observing
Vertical post made of sisal
BEST WALL ARTISTIC CAT TREE
Pawhut Wall-mounted Cat Tree
Space-saving Design
If you still prefer models that can go on the wall, so you can have spacious space in your home, this Pawhut model is a perfect choice.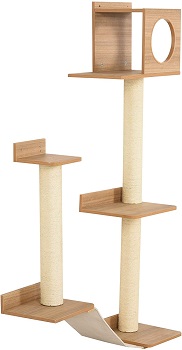 Pine Wood
This artistic cat tree is fully made of pine wood that will provide durability. You can easily assemble it in a short time. Neutral colors will go perfectly with any type of furniture.
Active Cats
This model is suitable for active cats and includes a multi-level design for climbing and playing. It is the perfect choice for medium-size cats.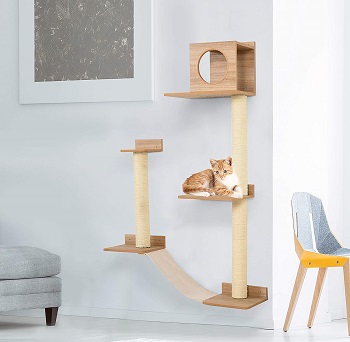 Large Posts
At the top of this cat activity tree is a cube lounge for observing. Each post is wrapped with sisal, so cats can easily do their daily routine and always have healthy nails.
In Short
Sturdy construction made of pine wood
Perfect choice for smaller spaces
Multi-level design for climbing
Suitable for active medium size cats
Multiple posts wrapped with sisal
BEST FOR LARGE CATS ARTISTIC TREE
Hame Cat Tree
Cool Print
If you have large cats and you prefer models that are taller for different activities, then this Hame cat tree is the best one. Coll and modern print will fit perfectly with your interior.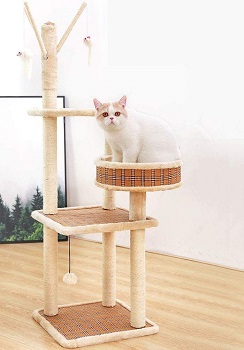 Sturdy Construction
At the bottom of this artistic cat tree is a sturdy baseboard that will make sure construction is safe for use. You can easily move it and place it wherever your cats move around the most.
Interactive Toys
Large platforms will provide easy moving up and down. The chic cat tree has multiple hanging toys and plush balls for playing so your cats can be entertained for hours.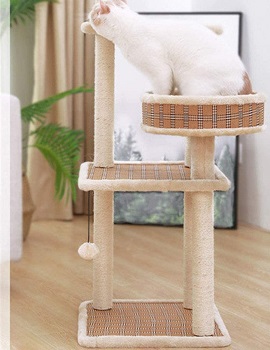 Padded Bed
When the time for napping comes, a large rounded bed padded with plush will provide maximum comfort. Assembly is quick and easy, you will need a short time for the whole setup.
In Short
Cool and modern print
Sturdy construction for safe use
Suitable for large cats
Interactive toys for playing
Padded bed for comfort
BEST TALL ARTISTIC CAT TREE
Petmaker Cat Tree
Neutral Colors
If you have a larger space and you need a functional model with a modern design, this Petmaker will definitely catch your attention. Neutral color combinations fit well with every interior.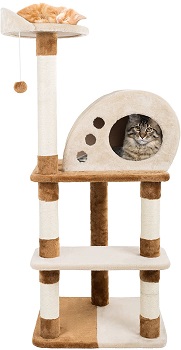 Plush Fabric
A wide bottom base will prevent wobbling but we always recommend using the tree next to the wall. This artistic cat tree is covered with plush fabric for comfort.
Easy Setup
With a measurement of 19.5 x 15.75 x 47.75 inches, this elegant cat tree is suitable for medium and large size cats that love to be active. You can easily assemble construction with included instructions.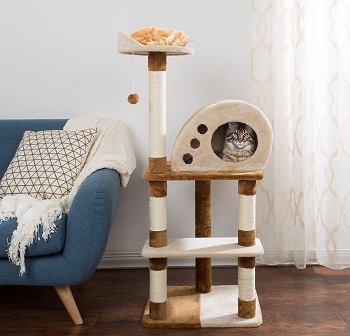 Comfortable Condo
Each level of this tree has sisal rope posts for enjoyable scratching. At the top, there is a padded perch for better observing. When time for sleeping comes, a comfortable condo is a perfect place.
In Short
Neutral color combination
Plush fabric cover for comfort
Suitable for active cats
Padded perch for observing
Condo for comfortable sleeping
How To Pick The Best Artistic Cat Tree?
If you're still not sure about some specifications and important features, our guide will help you with picking. Keep on reading, so you can find out about our recommendations.
Durability Of Cat Tree – One of the most important things to check before buying is how it's made and which materials are used for the whole construction. Cat tree needs to be made of high quality so you can have it for a long time. It is very important that the baseboard is stable to prevent wobbling.
Which Size To Pick? – Depending on how large is your living space where you're planning to place a cat tree, pick the model that can easily fit. Always check dimensions before buying. If you have an apartment pick the space-saving cat tree. Also, make sure you pick the model that will be large enough for your cat.
Color And Material – Always make sure that the cat trees can easily fit with your home decor and the colors of your furniture. We always recommend some neutral tones If you want a model that will catch everyone's attention pick the one with some cool pattern. For materials, you can pick plush, faux fur, and wood.
Functional Design – Artistic cat tree needs to be functional for use, so your cat can enjoy it every day. Make sure that the platforms are large enough for easy fitting. Cat tree needs to have posts wrapped with sisal for scratching. Also, interactive toys are great accessories for playing.