Have you been trying to get a beautiful, chic, and classy cat tree for your modern household?
Then look no more. In our article, you will find all about the units we consider attractive and elegant. They are functional and safe for your cat. They promote healthy behavior and blend in nicely with your home decor. Check them all out!
The Summary
Best 6 Chic And Classy Cat Trees
BEST OF BEST CLASSY CAT TREE
Designer Pet Sebastian Chic Cat Tower
A 2 In 1 Unit
This chic and classy cat tree by Designer Pet Products has caught our eye immediately. It is an ideal climbing tree for small to medium-sized cats that love to stay in high locations. Apart from that, the unit may be your favorite new bookshelf.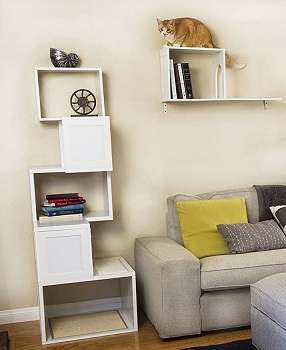 Classy And Modern
This white cat tower includes a total of six floors. The ground floor includes a sisal scratching post. One floor up, your cat will find a cozy carpet to sleep on. Two floors up, your cat will get to lounge and observe the surrounding. This unit measures approximately 22 x 22 x 67 inches
Easy To Keep Clean
This chic cat furniture unit is made of anti-odor material. It has a smooth and sleek surface that is simple to keep clean. All you need to do is use a soft cleaning cloth to wipe off the surfaces and shelves. Do not use toxic detergents. Be sure they are pet-friendly or use warm water only.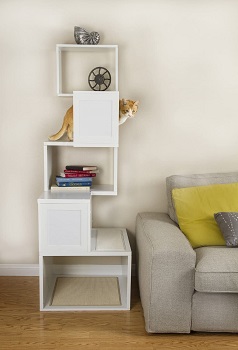 Useful Details
The unit requires a simple and quick assembly. It can be attached to a wall to add extra stability. The user manual with the easy-to-follow instructions is included. One or two adults can set this unit up quickly. The material is of high quality and the price of this tree is pretty high as well.
In Short:
this cat tree unit is 2 in 1
it comes in white color
modern and classy design
it is simple to clean it
quick and easy setup required
BEST BIG CHIC CAT TREE
Made4Pets Capsule Activity Cat Tree
Large And Modern
This cat tree by Made4Pets is pretty modern. It looks attractive and unusual. It has a wide and thick baseboard. There is a big cat condo included as well as multiple interactive toys, platforms, and scratching posts. This unit is a stylish cat castle for up to four adult cats.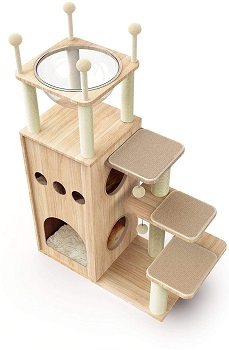 Multiple Levels
There are five platforms included. The ground floor includes scratching columns that support three carpeted cat perches. The included carpets are easy to remove when you need to clean or wash them. The top platform comes with a transparent cat bed.
Transparent Capsule
We simply loved the design of the transparent space cat bed capsule. It is spacious and perfect for one adult cat. It is lightweight and easy to keep clean. You can see your cat napping and sleeping in it.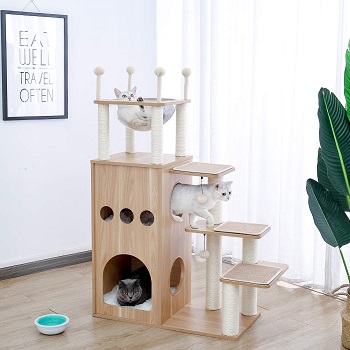 Sturdy And Stable
Made4Pets' classy cat tree is made of friendly CARB-certified natural particle boards. It includes sisal scratching posts. It is sturdy, stable, and modern. This tree will keep your multiple cats in a safe place.
In Short:
modern and wide cat tree
includes a spacious cat condo
a transparent cat bed is included
made of high-quality material
multi-level with interactive toys
BEST FOR KITTENS CLASSY CAT TREE
PetPals Tree With Massage Board
Activity Center For Cats
PetPals' cat tree is fun and cozy. It comes with a thick baseboard that includes a massage arch that cats adore. There are columns that keep the unit well-balanced. A condo is included as well as a large top perch with a soft pillow.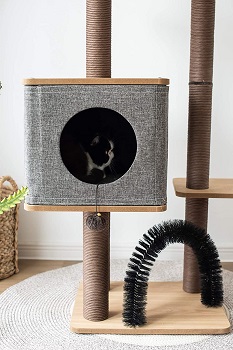 Comfortable Nappings
The unit's cat condo is spacious and cozy. It provides cats with a safe and warm private environment for napping and sleeping. The top perch can accommodate cats of all sizes. The whole unit is cozy and pet-friendly in every way.
Easy To Install
Simple and quick installation is required. A detailed list of instructions is included. It will help you build the tree in no time. The overall size of the assembled unit is 18"L x 15"W x 41"H. It is a chic cat tree that will look nice with most home decors.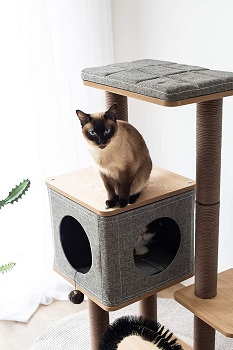 For Three Cats
Up to three cats cat stay on this attractive cat tree without problems. The limit weight is about 15 lbs per cat. This tree is stable and sturdy. Just in case, we recommend that you place is next to a wall for extra stability when cats jump off of the tree.
In Short:
fun activity cat tree for three cats
cozy and warm cat condo included
the top perch is large and spacious
made of the quality and strong material
modern and classy tree design
BEST WOODEN CHIC CAT TREE
Catforest Activity Cat Play House
Natural Design
Catforest's cat tower is made of pine wood material that provides the tree with great stability and durability. The unit has multiple levels, columns, and condos. It looks good both in modern and rustic households. The natural wood design blends in nicely everywhere.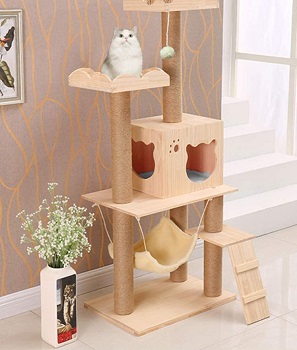 Two Cat Condos
There is one smaller and another bigger cat condo. The small one will fit one cat. It has two large entrances. The larger condo has one large entrance and may accommodate two small cats at the same time.
Scratching Columns
This chic cat tree is supported by multiple columns that are wrapped in natural sisal rope material. This material will attract your cats and invite them to scratch. It is important that your cat tree includes scratching posts. This will save your furniture and meet your cat's needs.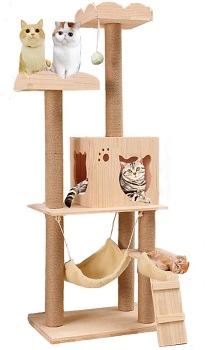 Thick Bottom Plate
Catforest's multi-level cat tree stands on a thick and heavy baseboard. It ensures the tree's stability and supports it perfectly. Your cats can stay active and perform activities with no wobbling or shaking of the tree.
In Short:
natural wood cat tree design
multi-level with two condos
multiple scratching columns
thick and heavy bottom plate
a stable tree made of pine wood
BEST FOR LARGE CATS CLASSY CAT TREE
Lazy Buddy Chic Cat Furniture
Premium Quality
Lazy Buddy's classy cat tree is constructed of CARB-certified natural particleboards. The unit is covered with a walnut-look laminate finish. The unit is modern, elegant, and looks beautiful with almost any stylish home decor.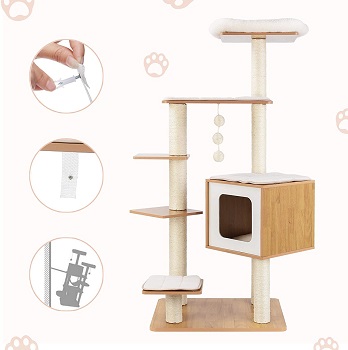 Solid And Sturdy Design
This nice cat tree is another cat tree that will keep your cats safe. It comes with anti-toppling fittings that ensure the tree's stability. It is a cat tree that allows your multiple cats to play, jump, lounge, and climb with no tipping over. There are perches and interactive toys included.
Multi-Level With Cushions
Soft, warm, and cozy cushions are included. They keep cats warm and make them feel relaxed and comfortable. The cushions are simple to remove which allows you to wash them and clean the tree's surfaces with no hassle.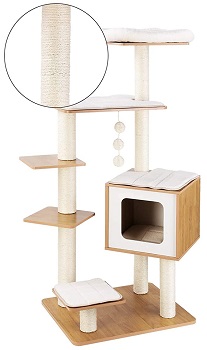 Cozy Napping Space
The cat condo included is roomy. It has one large entrance and includes a cushion as well. It is comfortable private sleeping space for one large or two smaller-sized cats. The top two perches are large and allow cats of all sizes to sleep and nap.
In Short:
cozy and attractive cat tree design
covered in walnut-like finish
multi-level with a roomy condo
includes removable cushions
easy to maintain clean
BEST SMALL CHIC CAT TREE
Vesper Classy Cat Tower
Smaller Size
Vesper's small to medium cat tree is ideal for homes with a lack of space. Its beautiful design will make your household elegant. The unit will fit under a window, next to a wall, or in an unoccupied corner. It will accommodate two cats with no problems.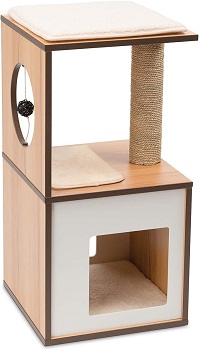 For Kittens
Ideally, this unit will be used for kittens or smaller-sized cats. It is not recommendable to get this chic cat tree if you have a large and big cat home. If used properly, this classy cat tower will last a long time and keep your cats happy and safe.
The Dimensions
The overall size of this short cat tree is 14.57 x 14.57 x 28.54 inches. It includes a spacious cat condo, a scratching post, an interactive toy, and a top platform. This cat tower is ideal for cats that love to nap and groom most of the time.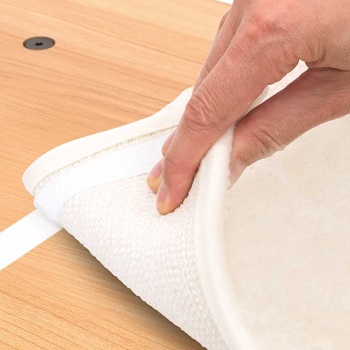 Soft Pillows
Both the condo and the platforms include soft and warm fluffy pillows. They keep cats relaxed and make them want to rest and sleep. The cushions are easy to remove. They can be machine-washed and the tree can be dust off with a cleaning cloth.
In Short:
this is a short tree for up to 2 cats
ideal for smaller-sized cats
includes a roomy and cozy cat condo
there are a top platform and a toy
tree's scratching posts keep claws strong
How To Pick: Classy And Chic Cat Trees
Before buying a chic cat tree, make sure that it blends into your household nicely. You will probably want your new unit to look nice with your other furniture. However, don't let the attractive cat tree design be the only quality that you will look for. It should meet all of your cat's needs and satisfy its habits. Read on and learn more about this topic.
Elegant And Stylish Design – Today, you will easily find a cat tree of any shape and size. There are so many models that blend in nicely with any home decor. Get a cat tree that will please your eye and be functional and safe for your lovely fur friend as well.
The Appropriate Size – If you have one cuddly or shy cat, you will probably need a smaller-sized cat tree. On the other hand, if you have a playful cat of multiple social cats, a tall narrow cat tree or a spacious and wide will be the right match. Know your cat's needs, habits, and possibilities and buy accordingly.
Check The Weight Limit – Before buying, make sure that your tree can hold your cat's weight. You will easily find a cat tree that will hold one cat, but if you have more than two or three cats, you will need to check the tree's carrying capacity. Find a stable and sturdy unit and install it properly.
Fun And Cozy Content – Cats that love to play and climb will spend time on a fun cat tree. Such units will include perches, platforms, condos, tunnels, and interactive toys. However, calm cats will be satisfied with a condo, a hammock, or a basket. In the end, a classy cat tree with a scratching post is always a must.
The Importance Of Scratching Posts – Cats are big scratchers. They scratch to maintain their claws strong and healthy, but also to stretch and leave a visual mark. They love to scratch a material with a rough texture. If you don't get your cats a special place to scratch, they will find an alternative and may damage your furniture. Get a cat tree with scratching posts and make your cats happy.
To Sum Up
The classy and chic cat tree that we liked the most is the PetPals Tree With Massage Board. We liked the fact that it includes a massage arch that helps cats to groom themselves. It is a modern and luxury cat tree that will accommodate up to three cat trees. Check out our article about the best adult cat towers for more attractive models.