Have you been trying to find a white cat tree that will look nice with your other furniture?
In our article, we have listed the six high-quality white cat towers that you can get online – best of best, cheap, tall, small, modern, and carpeted. Read our buying guide and learn which important details you should have on your mind before you buy such a unit.
The Summary
Top 6 White Cat Tower Trees
BEST OF BEST WHITE CAT TREE
Furhaven White Tiger XXL Cat Tree
Ideal For Entertainment
Furhaven playground tree is an ideal tree for adult cats of medium size. It includes all the fun content that will allow your cats to stay active and occupied. The tree comes with scratching posts and pillars, a hanging rope and ball, and a cat busy box.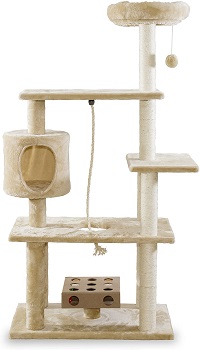 Comfortable Resting Space
This tree is covered with soft faux fur fabric. Its cozy and warm surface allows your cats to feel comfortable while sleeping on one of the platforms or perches. There is a cat condo included as well. It provides your cats with a private sleeping space.
Easy To Maintain
The white color of cat trees makes it seem like it is challenging to maintain these units, but actually, it is the other way round. Thanks to the white surface, you will notice when it is time for cleaning the tree much sooner than with any other tree color. Simply vacuum this white cat tree from time to time.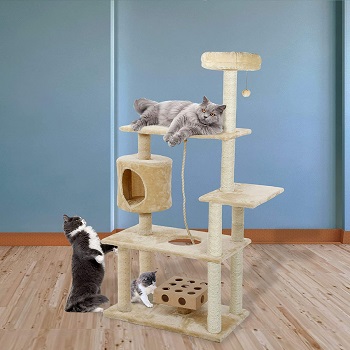 Useful Details
The overall dimensions of the Furhaven white cat tower are 28″ x 16″ x 55″. There are multiple levels that your cats can play on. The tree's carrying capacity is up to 2 adult cats or three smaller-sized cats or kittens. This is a very affordable unit.
In Short:
it is a great tree for all cats' fun activities
this tree is soft, comfortable, and warm
it includes multiple levels and hanging toys
there is one cozy and spacious cat condo
the cost of this tower tree is budget-friendly
simple to maintain clean and easy to vacuum
BEST CHEAP WHITE CAT TOWER
Pet Maker White Tree For Cats
Stable With Wide Base
Pet Maker's white cat tree comes with a wide base. It makes the tree stable and difficult to overturn if used properly. This wide cat tree is ideal for up to two adult cats. For extra stability and peace of mind, we suggest you place the tree next to a wall.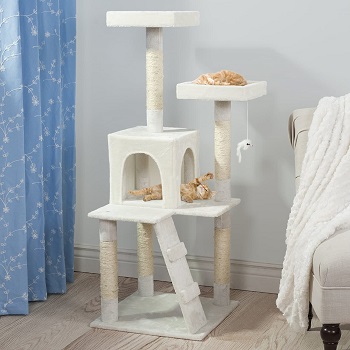 For Play And Sleep
Cats spend most of the time sleeping. This tree gives cats a possibility of choosing where to relax and rest – on one of the platforms and perches, or inside of a spacious cat condo. Apart from that, there are scratching pillars that will help maintain your cat's nails healthy and a hanging toy for keeping your cats occupied.
The Soft Material
This white cat tower is constructed out of wood. It is covered in soft and fluffy plush. Most cats love this material. It makes them feel cozy and safe. The scratching pillars of this white penthouse are made of rough sisal that is completely safe for your cats' paws.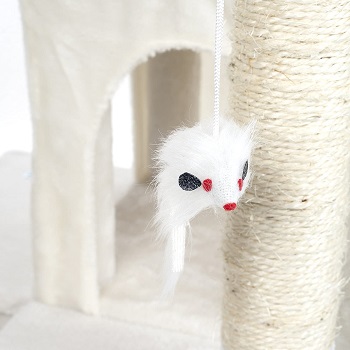 The Quality And Price
If you have more than 2 playful cats or larger-sized cats, we suggest you get another unit because this one may not be safe enough. However, we consider that this tree is a fine unit for up to 2 adult cats. In this case, it is convenient to have and definitely worth buying. The price of this unit is very affordable.
In Short:
a fun tree for up to 2 adult cats
Petmaker tree has multiple levels
there are perches, platforms, and a condo
a hanging toy is included as well
the price of the unit is affordable
BEST TALL WHITE CAT TREE
Zoovila Climbing Cat Tree Foldable
Easy To Fold And Store
Zoovila climbing white cat tree is a different and unique unit that all of your friends will notice instantly. It is simple to fold flat when you need to store it. It will save space when not in use. The construction is sturdy and the unit will last you a long time.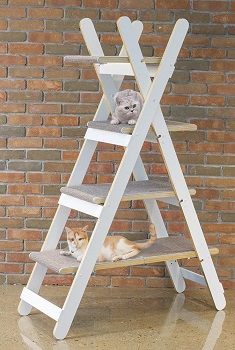 For Outdoor And Indoor Use
You can use this tree both outside and inside. This is a weatherproof cat tree. Still, we suggest that you place it under a covered area. A good outdoor place for placing this unit might be on a balcony or your terrace.
The Carpeted Perches
Each shelf of this white cat tower is carpeted. It is covered with pet-friendly Polypropylene Yarn. This material will help your cats with sharpening their nails. This material is safe and beneficial for your little friend's paws.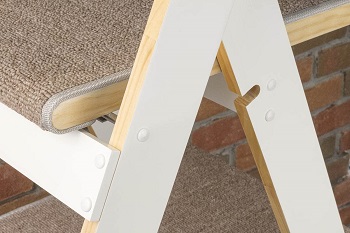 The Size And Capacity
Zoovila foldable white tree for cats measures 40.16 x 16.85 x 60.24". Its carrying capacity is up to 2 or 3 adult cats of normal size. This tree will last you a long time, as long as it is used properly. You can add hanging cat toys and allow your cats to play.
In Short:
white, wooden, and foldable design
sturdy and easy to assemble
shelves are carpeted with Polypropylene Yarn
ideal for up to 2-3 adult cats
safe, pet-friendly, and durable tree
BEST SMALL WHITE CAT TOWER
Vesper White Cat Condo Tower
Sturdy Construction
This small white cat tree by Vesper is constructed of high-quality MDF and comes with a white laminate finish. The tree has two levels. Each level has two spacious cat condos. The top of the tree will serve as a resting perch. This tree is ideal for cats who don't like to climb too high.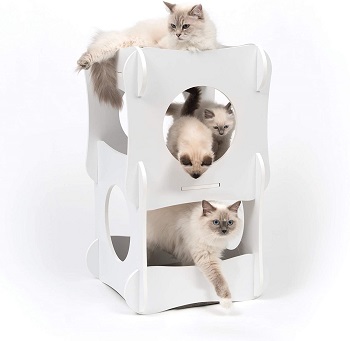 No-Tool Setup
The assembly requires no tools. The setup is quick and simple. All the needed hardware is included. One adult can do the job easily. The setup size of this white cat tower is 19 L x 19 W x 31.5 H inches. The tree can carry cats of all sizes and life stages. Ideal for up to 2 cats.
For Indoor Cats
Vesper white small tree is made for indoor use and it is ideal for cats that do not go out. This tree is going to be your cat's favorite resting zone. Although it doesn't include extra toys, you can hang them yourself.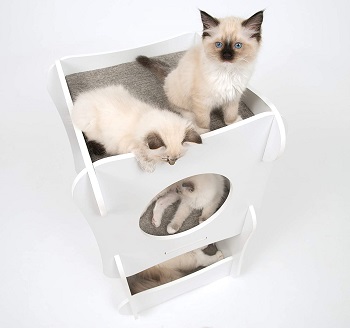 Simple To Clean
The cleaning and maintenance cannot be simpler. Use the soft and clean cloth and dust the unit off from time to time. The included cushions can be washed and dried or vacuumed. Cats love hygiene so be sure to clean this tree regularly.
In Short:
2-level white cat condo tree
ideal for two cuddly adult cats
the condos are spacious and cozy
this tree is made of premium MDF
clean this tree with ease
vacuum and wash cushions regularly
BEST MODERN WHITE CAT TREE
Katris Modular Functional Tree For Cats
Modular And Multi-Functional
One of the most modern and interesting cat trees is definitely the one by Katris manufacturer. The package includes 5 blocks to build a unique cat tree. This white cat tree will be a great piece of furniture not only for your cat but for you as well.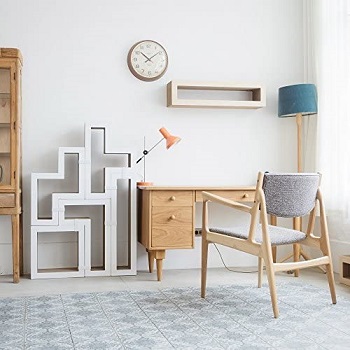 A Tree, Climber, And Many More
The Katris white cat climbing tree comes with scratching posts included. It saves other furniture from being damaged. It encourages your cat's natural instincts of climbing and scratching. You will also benefit from this unit. Use it as a bookshelf, a coffee table, and many more.
Stable And Sturdy
The material used for the construction of this white cat tower is 100% recyclable heavy-duty cardboard. It is durable and sturdy and may hold up to 300 lbs. The unit comes with FSC certified paper from a responsible source.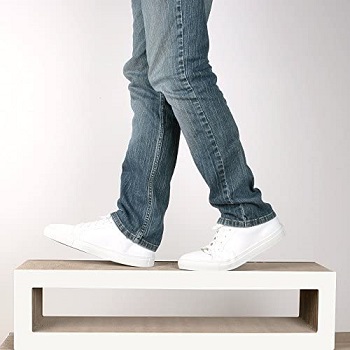 A Gift Included
When you buy the Katris white modular cat tree, you get a small gift for your cat – a 100% organic catnip. It is good to know that this unit is completely pet-friendly and it is made of non-toxic materials. Only SGS certified glue was used through the assembling process.
In Short:
modern and modular cat tree
multi-functional and beneficial for you too
includes scratching posts
made of recyclable material
the package includes a catnip as a gift
BEST CARPETED WHITE CAT TREE
Trixie Modular 3-Story Cat Tower
Saves Your Furniture
The Trixie small white cat tree is almost completely covered in natural and durable sisal. It is an ideal unit for up to 3 adult cats that love to scratch a lot. Getting your cats the Trixie tree will prevent your sofas and couches from being damaged.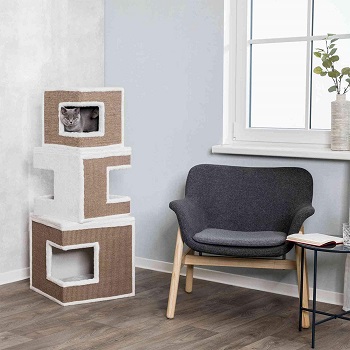 Three-Story Condo
There are three condos that make this condo cat tree. Each cat condo is spacious and cozy. This white cat tower is lined with plush. It is warm and soft and cuddly cats will simply love it. The bottom and top condos have one large entrance, and the middle one has two entrances.
Cushions Included
There are three soft and fluffy cat cushions included. Each cushion is meant to be put inside of a condo. The cushions come in white and they are simple to vacuum, wash, and dry. We suggest you clean them regularly because cats prefer staying in a clean environment.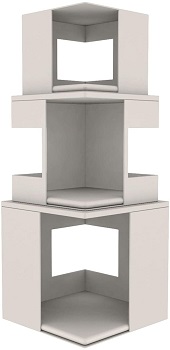 Assembly Required
Just like many other cat trees, the Trixie one needs to be assembled as well. The setup is very quick and easy. it will take no more than 20 minutes for setting it up. All hardware as well as the setup instructions are included within the package.
In Short:
ideal for up to 3 cuddly cats
perfect for cats that like to scratch
saves your furniture from being damaged
this is a three-story condo tree
each condo includes a soft cushion
How To Pick: White Cat Trees
Cat trees of white color will look nice inside of almost any home. They help you know when it is time to clean them, and every good cat owner knows how important it is for cats to stay in clean places. By reading our buying guide, you will learn more about the most important features that every white cat tower should come with. We wrote about stability, safety, and others.
The Elegant Appearance – White cat trees are elegant and sophisticated. They look nice in any room of your home. Most of the time they will match your furniture and wall color. We consider that every modern home that requires a cat tree will only benefit from a unit of bright color.
The Cleaning And Maintenance – The light color of a cat tree will indicate when it is the right time for you to clean it. Cats are clean animals and hygiene is their priority. To make your fur pets happier and healthier, allow them to spend time in a clean environment. Vacuum cat trees' carpets regularly and clean the surfaces with a soft cloth. Buy easily-washable cat trees.
Stability And Capacity – Not every cat tree is good for any household. For example, if you have one cuddly cat, getting a particleboard cat tree will be just fine. However, it will not last long in households with more than 2 active and playful cats. In that case, we suggest getting a wooden cat tree. Check the unit's capacity as well. Don't buy a small unit that is made for kittens or small cats if you have large and hyperactive cats.
Safe Material – Any material that your cat tree is made of is safe as long as it doesn't have sharp edges and it is harmless for your cats in any other way. What we suggest is that you get a unit that is made of natural, pet-friendly, and durable material.
Extra Features And Toys – You will often find white cat trees with interactive hanging toys, condos, balconies, etc. Most units include scratching posts or pillars too. We find those types of white cat towers the best because they will help to save your furniture and maintain your cat's nails healthy.
To Sum Up
Getting a white cat tree will help you notice when it is cleaning time sooner. Such a unit will be a great and modern addition to your home decor. An ideal example of that is the Katris Modular Functional white cat tower. This unusual cat tree is going to help both you and your cat. It is a natural cat tree that is made of recyclable material and includes catnip as a gift for your best fur friend.