Do you want to get your cat unusual cat trees that comes with unique and interesting design?
Then you are in the right place!
In this article, you will find 6 different models of unusual trees for cats. Read all about the best of best, modern, jungle gym, without carpet, big, and wall climbing cat tower tree. Also, check out our buying guide.
The Summary
Top 6 Unusual Cat Trees
BEST OF BEST UNUSUAL CAT TREE
On2Pets Climbing Cat Tree Furniture
Indoor Cat Tree House
If you are looking for something special, then check out this cool On2Pets cat climbing tower.  It is one of the most interesting and unusual cat trees on the market. This unit is designed as a literal cat tree. It is made for indoor use and it will look great in any room. It is space-saving and of ideal size for any household.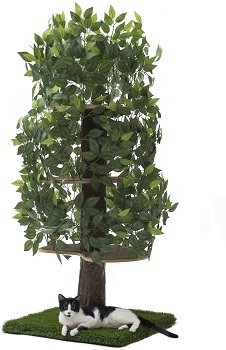 The Carrying Capacity
This tree is ideal for one or two small to medium-cats. It is perfect for all of the cat's everyday activities. Your cat will feel happy and occupied by playing with this cat tree. There is a wide carpeted base that makes the tree extra stable.
Beneficial For Your Cat's Health
The On2Pets unusual cat tree includes artificial leaves. It is made from pressed wood and carpet. It is perfect for your cat's jumping, climbing, playing. With this tree, your cat will stop scratching furniture. It will also have a safe place for relaxing.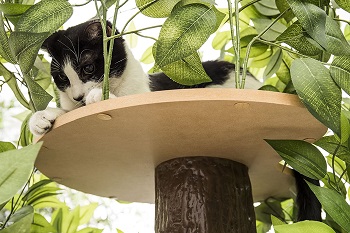 Size And Assembly
The tree comes unassembled. The setup is simple and quick. It will take no more than about 15 minutes. The easy-to-follow instructions are provided within the user manual. The assembly requires no tools. The dimensions of this tree are 24 x 24 x 60 inches.
In Short:
this is literal climbing cat tree
it includes artificial leaves
the tree is made of pressed wood
comes with a wide carpeted base
needs to be quickly assembled
BEST MODERN UNUSUAL CAT TREE
Designer Pet Sebastian Cat Tree
Multi-Functional And Durable
If you are tired of your cat climbing and scratching your furniture, you might be interested in checking out this cool cat tree model. It a 2 in 1 unit – a climbing cat furniture and a storing shelf for your books or other personal belongings.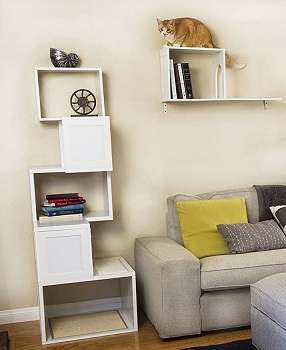 Elegant White Design
The shelf comes in white color. There are 6 levels in total. On the first level, you will find a sisal scratching material. The second floor includes a cozy carpet and the fourth floor's intended purpose is for lounging and resting. The size of this white cat tree is 22 x 22 x 67 inches.
Simple To Maintain
The material of this tree for cats is odor-free and stain-free. It comes with smooth surfaces and it is simple to maintain. Use the clean cloth and wipe the shelves off. Clean it regularly. Cats love hygiene and it is important for their health as well.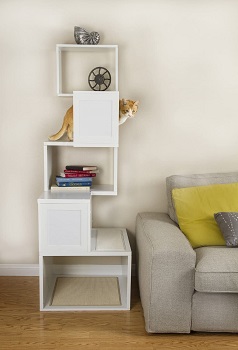 Useful To Know
It is simple to assembly this product. Attach it to the wall. The setup is quick and easy. This Sebastian unusual cat tree shelves can carry one or two adult cats. The cost of this unit is pretty high. The material used for the construction is of high quality.
In Short:
this is a multi-functional cat tree
it is a shelf for books and a climbing tree
the shelf is simple to install to the wall
material is odor-resistant and easy to clean
this cat tree is expensive
BEST JUNGLE GYM UNUSUAL CAT TREE
Cozy Cat Furniture Tower
Large Jungle Tower
If you have enough space at home for a big unit, then check out this jungle gym by Cozy Cat. This is a multi-level cat tower that includes so much fun content – condos, ramps, platforms, and many more. This is a heavy-based cat tower.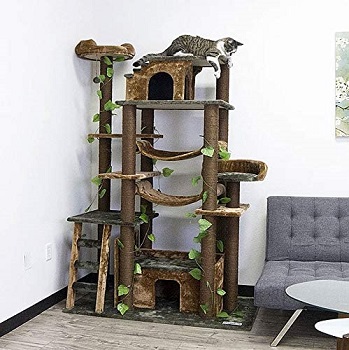 Soft And Warm
Cozy Cat unusual tree is carpeted and every cat owner knows how much cats love soft and cozy plush. Your fur friends will get to sleep and relax inside of the two soft and spacious cat condos. There are also comfy baskets and hanging hammocks included.
Fun And Entertaining
Apart from the cozy condos, baskets, and hammocks, there are many fun activity accessories included. This unusual cat tree has one large ramp, many levels, and scratching pillars. It includes artificial leaves and interactive hanging toys.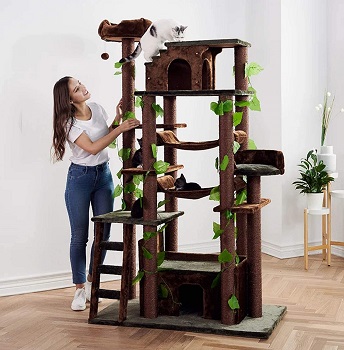 Size, Weight, Capacity
This is a large, wide, and big tree for cats. It measures 46 x 25 x 78 inches and weighs about 110 lbs. If you don't have enough space at your home, we suggest you don't get this unit. This tree is ideal for spacious rooms. It is a tall cat tree for large cats. Its carrying capacity is up to 3 adult cats.
In Short:
large, spacious, and big
heavy-based and safe for cats
includes all cat tree content
ideal for playing, scratching, and relaxing
it fits up to 3 adult cats
BEST WITHOUT CARPET UNUSUAL CAT TREE
Feandrea Vintage Cat Tree
Vintage, Wooden, And Small
Any elegant and sophisticated home will be perfect for the Feandrea vintage wooden cat tree. This unusual cat tree is small and perfect for one or two adult cats. Your cats will get to choose between one of three platforms for resting or playing.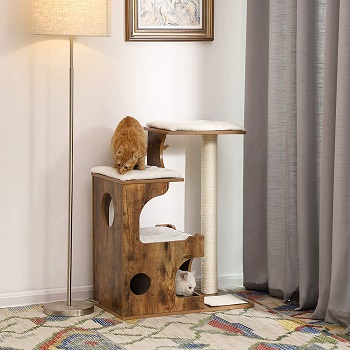 Easy To Clean
Cats are clean animals. They spend many hours per day grooming. They won't go to dirty places. This is why the Feandra tree for cats is ideal for cats. It is simple to clean and comes with smooth surfaces. The cushions are easy to wash.
The Scratching Pillar
Feandra washable cat tree includes one large scratching pillar. It is made of rough and claw-friendly sisal. Cats need to sharpen their nails in order to keep them healthy. Avoid getting your furniture scratched and get your cats a tree with scratching posts.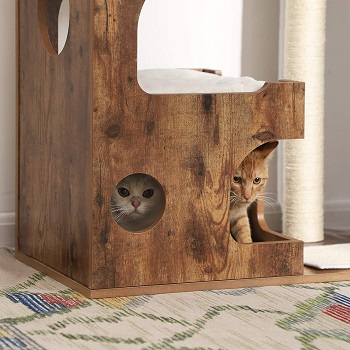 Platforms And Cat Condo
At the base of this small cat tree, you will find one large and spacious cat condo with an entrance and a window. It fits up to two cats. There are three platforms as well. Each platform includes soft and comfortable cat cushions.
In Short:
made of durable wooden material
it is sturdy, firm, and heavy-based
this cat tree is small and fits 2 cats
it is odor-resistant and simple to clean
there are three platforms and a condo
BEST BIG UNUSUAL CAT TREE
PawHut Ceiling Adjustable Climbing Tree
About PawHut Tree
If you want to be sure that you are getting a safe, secure, and firm cat tree, you should look for one that is made of durable material. For example, the PawHut unusual cat tree is made of steel tubing and non-scratch long-lasting material.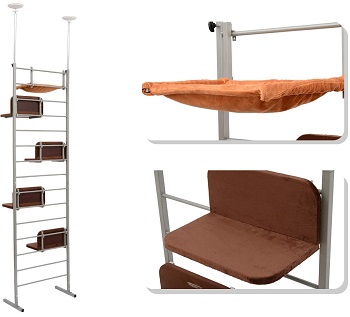 Floor To Ceiling
The size of this tall narrow cat tree is 30.25″W x 12″ D x 89″ ~ 114.75″H. This PawHut cat tree is supported by the top. It is stable and secure. For extra stability, install it next to a wall so that you are 100% sure that it won't collapse.
What Is Included
There are four perches. Each of them is covered in soft and warm plush. You can install them as you wish and wherever you want. There is one hanging hammock included. Attach it to the top and let your cat feel confident by watching its surrounding environment.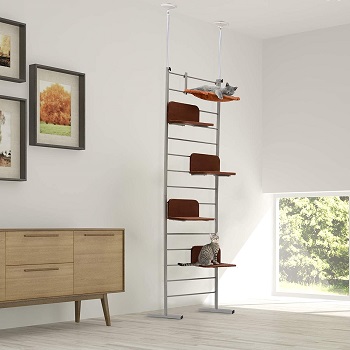 Customize It As You Wish
As already noted, this tree is completely customizable. There are four perches and one hanging hammock that you can attach and de-attach whenever you want. At the same time, this will allow you to clean the perches easily and install the back on.
In Short:
completely customizable and secure
it includes 4 perches and 1 hanging hammock
the perches are covered in soft plush
this tree is supported by the top
it is stable, durable, and secure
made of long-lasting steel tubing
BEST WALL UNUSUAL CAT TREE
CatastrophiCreations Wall Cat Tree
Modern Climb Track Tree
Another modern and unique version of a cat tree is made by CatastrophiCreations manufacturer. This cool unit is hand-crafted and helps your cat stay active and occupied. Cats like to play and it is not healthy for them to stay bored.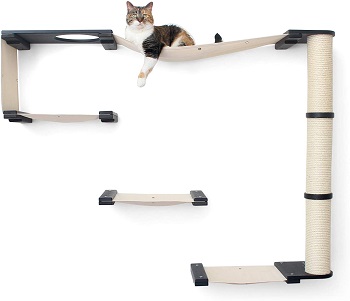 Corrects Furniture-Scratching Behavior
Another great benefit of owning this product is the fact that it is covered in sisal that promotes cat scratching. If you are tired of having your sofas and couches damaged, then you should consider getting a functional tree with scratching posts.
Easy To Wash
The fabric that this tree is covered with can easily be removed. You can simply wash it and dry after which you can put it back on. Your cats will be grateful to live in a clean environment. Hygiene is their priority.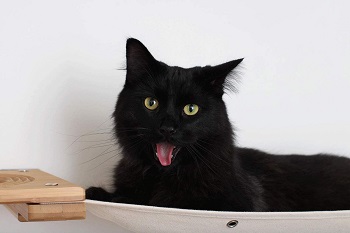 For All Cats
This unusual cat tree will fit all cats, no matter the size, breed, or age. Just make sure no more than 2 cats are using this tree at the same time. Customize this tree and install it on your wall as you wish. Your cats will love it.
In Short:
this is another unique tree for cats
it will stop cats from scratching furniture
this unit is perfect for all cats
it can be washed with ease
it is covered in sisal
How To Pick: Unusual Cat Trees
There are many cool and unusual cat trees that you can find on the online market. Most of the time, their unique and interesting appearance is what attracts so many customers. However, apart from the design, there are other important characteristics that you should look for – the right size, capacity, material, durability, and extras. Read on and learn more about this topic.
Ideal Cat Tree Size – The tree that you should get depends on your cat's preferences and personality. Most cats love spending time climbing and resting in high places. They tend to keep an eye on their surroundings. In this case, get a tall tree that will allow your cat to feel confident. On the other hand, there are some cats that prefer hiding under the bed. You may also have an older cat. This when it may be better to get a smaller-sized cat tree.
The Carrying Capacity – Not every cat tree will carry the same number or size of cats. If you have one cat of regular size, you will find the right model very soon. Also, it will be easy for you to find a tree if you have kittens or small-sized cats. But if you have one or more large cats or a Maine Coon cat, then you must get a stable and firm tree, preferably made of wood. Be sure you always check the carrying capacity.
Pet-Friendly And Safe Material – Unusual trees for cats are mostly made of particleboard, wood, or plastic. They are often covered in carpets or include soft and cozy cushions. Wooden cat trees with no carpet are the sturdiest and will carry larger-sized cats. The trees that are made of particleboard are good enough for cats of small to medium size. The important thing is that the material is made of good quality and it is pet-friendly and non-toxic.
Sturdiness And Durability – The trees that are most sturdy are the ones with a wide base or the possibility to be attached to the wall or the ceiling. However, the tree towers that don't offer this option as fine as well, especially if you have one or two medium-sized cats. For extra-stability, we recommend that you place your tree next to a wall. You will feel safer. Buy from a manufacturer you trust and be sure that your new tree is long-lasting.
Cat Extras And Toys – Most of the time, unusual cat trees include accessories and interactive toys. Buy a cat tree according to your cat's personality. Active cats will love spending time on a multi-level and tall tree with hanging toys, scratching posts or pillars, and cat condos. Then again, a simple tree with only a condo, scratching posts, and a minimum number of platforms will be just fine for cats that don't like to play a lot or are older.
To Sum Up
If you have enough room, there is one model of an unusual cat tree that you and your cats will surely love. It is the Cozy Cat Furniture Tower. It is a large and wide cat tree that comes with all the cool and fun content – platforms, condos, a ramp, hammocks, and hanging toys. Apart from that, it fits more than 2 adult cats and it is secure and safe.