Does your cat love to use a triangle cat scratcher?
You can't decide which one to pick?
Keep on reading, because we found the best models on the market. Pick the best cardboard, small, carpet, cute or deluxe, and found out about all important features from our guide, which will help you to pick the perfect one!
The Summary
Best 6 Triangle Cat Scratchers
BEST OF BEST TRIANGLE CAT SCRATCHER
Petfusion Scratcher
Recycled Cardboard
If you need a large cat scratcher, that has a simple but functional design, this Petfusion scratcher is a perfect choice for your cat. It is made from recycled cardboard with non-toxic glue for pet's safety.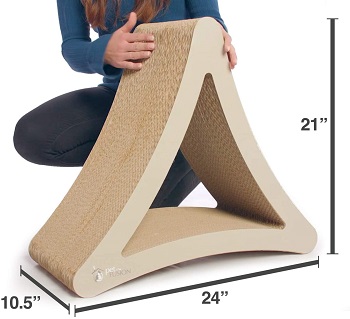 Functional Design
Triangle cat scratcher measures 24 x 10.5 x 21.1 inches, perfect for cats of all sizes and ages. Curves will provide fully stretching and scratching angles, so your pet can have a healthy life. This shape naturally attracts cats.
Scratching Surfaces
Cardboard is set from all sides, so if there are holes from scratching, a cat can easily change the side and continue with daily routine, to always have healthy nails.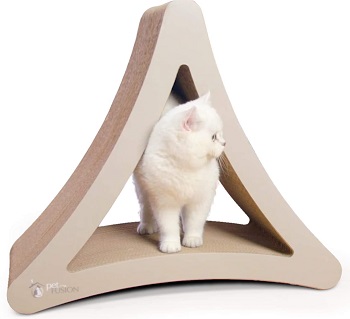 Indoor Use
This triangle cardboard cat scratcher is lightweight so you can easily move it around your house. Hole in the center provide playing and exploring. Perfect scratcher for indoor use.
In Short
Made from recycled cardboard
Suitable for all cats
Curves provide easy stretching
Easy for moving around
Indoor use only
BEST CARDBOARD TRIANGLE CAT SCRATCHER
Cosmo's Own Scratcher
Durable Design
This functional cardboard cat scratcher house will fit great in your house, and it is a great option if you have a large cat. It has a durable design, and it will naturally attract your cat, so she doesn't scratch your furniture anymore.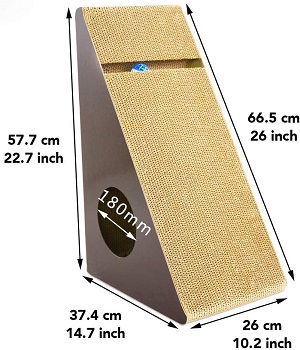 Large Surface
Triangle cat scratcher has a durable cardboard surface so your pet can enjoy loud scratching. It measures 27.2 x 14.5 x 10.5 inches, perfect for cats of all ages and activity levels.
Horizontal Or Vertical
Depending on your cat's preferences, place this triangle scratching post vertical to the wall, or horizontal on the floor, so she can have numerous stretching.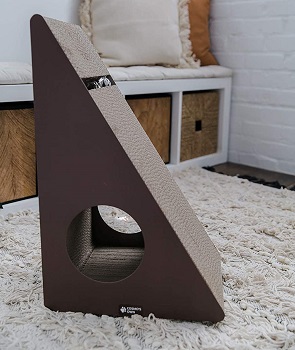 Rolling Ball
So your cat can have more fun between scratchings, there is a rattle rolling ball, which will provide playful time. A cat can use a hole for exploring and playing, or to have some rest and privacy.
In Short
Durable and functional design
Made of cardboard
Perfect for all cats
Vertical or horizontal use
Rattle rolling ball for fun
BEST SMALL TRIANGLE CAT SCRATCHER
ScratchMe Scratcher
Durable Design
If your pet is small and you want to pick a small cat scratching post, this one is for you. This lounge-shaped scratcher is made from recycled cardboard. There are 5 years of cardboard pressed with nontoxic glue for durability.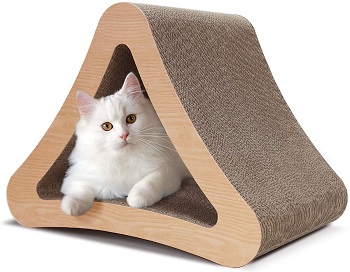 For Small Cats
This triangle cat scratcher measures 16. 8 x 13 X 12. 99 inches, so you can easily fit your small cat or kitten. This shape is perfect for activities like climbing and jumping, so your pet can stay healthy and happy.
Functional Shape
Scratching board can be placed horizontal or vertical, depending on how your cat prefers or how she is used to it. Scratching will provide so much fun and prevent damaging your furniture.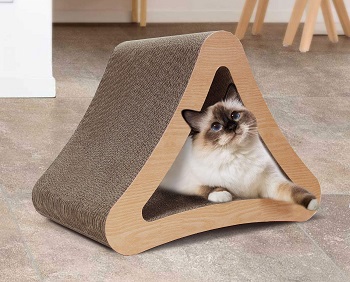 Lightweight Scratcher
It is lightweight, so you can easily place it where your cat prefers to scratch. Don't worry about safety, it is sable and this shape is perfect for easy use. A hole can be used for exploring or resting, as well.
In Short
Lounge-shaped scratcher
It is made from recycled cardboard
Durable design with 5 layers of cardboard
Perfect for small cats for kittens
Place it horizontal or vertical
BEST CARPET TRIANGLE CAT SCRATCHER
CD Pets Scratcher
Sturdy Base
If your cat is used to scratch the carpet, this scratcher is then the best choice for your furry pet. It has a large sturdy base that will make sure the scratcher stays in place because if it wobbles, a cat will not use it.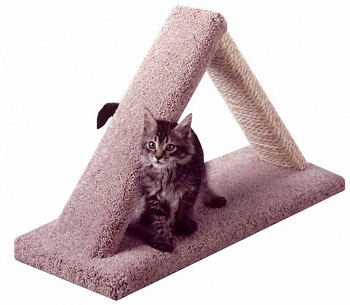 Soft Surface
The triangle cat scratcher has 6 x 24 inches and the triangle base is 16 inches wide, perfect for small cats or kittens. It is covered with a soft carpet surface, for loud scratching and easy stretching.
Combined Scratching Posts
On one side, there is a surface with natural sisal, so if you're pet love all kinds of surface, she can use it both, depending on preferences. Sisal is also a perfect material for loud scratching and it is safe for your cat.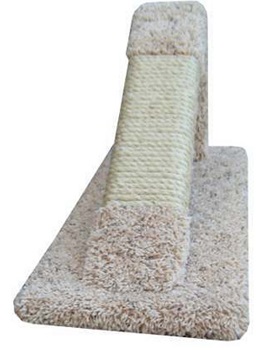 Quick Moving
It is easy for moving so you can place this carpet cat scratching post wherever your pet prefers. When the cat wants to have rest, a spacious base is a perfect place for sleeping and relaxation.
In Short
Sturdy base for safety
For small cats and kittens
Covered with soft carpet surface
One side wrapped with sisal
Lightweight for easy moving
BEST CUTE TRIANGLE CAT SCRATCHER
Furhaven Scratcher
Cardboard Surface
If you're looking for a cute cat scratcher for your pet – you found it. This Furhaven triangle cat scratcher is made of corrugated cardboard with a blue surface and a hole in the cat shape. Your cat will love this scratcher.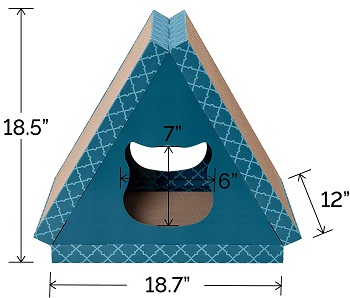 Small Scratcher
With a measurement of 21.65 x 12 x 18.7 inches, you can easily fit your small cat or kitten. It has a sturdy construction that is stable enough to not fall on your pet.
2 Sides
There are 2 side cardboard scratching surfaces, large enough so your cat can fully stretch all the muscles, and stay in good and healthy shape. The sound of scratching will relieve your cat's stress and provide healthy nails.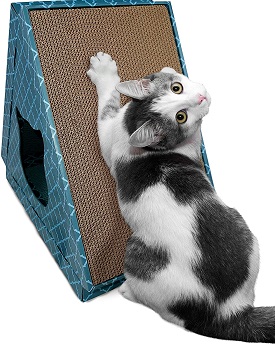 Included Catnip
For effective use, you can put included catnip to entice your pet, and to prevent damaging your furniture. Holes provide easy exploring and playing and they are wide enough so your kitten can easily access them.
In Short
Cute design in a blue color
Made of corrugated cardboard
For small cats and kittens
2 side scratching surfaces
Holes for exploring and playing
BEST DELUXE TRIANGLE CAT SCRATCHER
Etna Products Scratcher
Plush Cover
This triangle cat scratcher is covered with a plush so your pet can have maximum comfort while playing and exploring. It comes in a beautiful grey color, which will perfectly fit in every environment.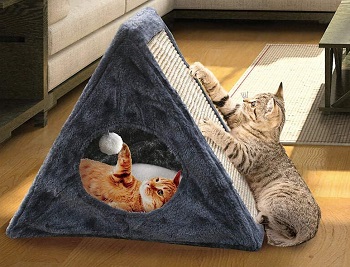 Small Area
With a measurement of 15 x 18 x 10 inches, this is a perfect choice if you have a kitten or smaller cat. It has a sturdy construction so your cat can easily scratch the surface without worries.
Outdoor Or Indoor
This outdoor cat scratching post can be used indoor, as well, depending on your preferences. Because it is lightweight, you can easily move it inside when it is raining.
Soft Bed
For more fun, there is a pom ball inside of this scratcher, which cats love to play with. The soft plush bed inside is the perfect place if your cat wants to have some rest and sleep.
In Short
Covered with plush in grey color
Perfect fit for small cats
Natural scratch surface
Pom ball for playing inside
Soft plush bed for sleeping
How To Pick The Best Triangle Cat Scratcher?
If you want a functional but simple scratcher, read our guide for tips. We research which are important features that you need to keep in mind before buying the perfect one for your cat.
Pick Perfect Size – One of the most important things you need to check before buying a triangle scratcher is size. There are different measurements for different sizes of cats. If you have an average and large cat, don't go under 24 inches. This is important so your cat can fully stretch while scratching, and stay healthy and happy
Scratcher Material – Depending on your possibilities and cat's preferences, pick the material which is the surface of a scratching post made from. Cat doesn't love to change their routine, so make sure she will use it. Pick the carpet, sisal, or corrugated cardboard cat scratcher. Make sure it is durable and safe for your cat's claws.
Functional Design – Triangle cat scratcher is a very functional shape, it can be placed vertical or horizontal, so you can satisfy your cat's needs. Make sure that the hole is wide enough so the cat can easily access inside, explore and play all day long. Make sure you pick the scratcher for indoor or outdoor use, depending on the material.
Safe And Sturdy – To make sure your cat can safely use it, check information about the base, what kind of material is used for it. Scratcher needs to be stable for the pet's safety. Also, triangle cat scratcher needs to be made from eco-friendly material. If it is made of cardboard, make sure that the glue is non-toxic.
To Sum Up
The best triangle cat scratcher in our opinion is the Petfusion scratcher. It is functional and large enough for cats of all sizes and ages. It is made of durable cardboard for enjoyable scrathing. If you want to check what kind of modern scratchers are on the market, read our article because we found the best modern cat scratcher for your pet. Also, if you want to check some cute shapes, read this post and found out about the best sunflower cat scratcher on the market.