You're planning on buying cute cat scratcher?
You are at the right place to pick the perfect one for your cat.
We reviewed 6 different models, so you can choose from round, sisal, vertical, cardboard, and angled. Read our guide, there are some important tips which will help you with buying.
The Summary
Best 6 Cute Cat Scratching Posts
BEST OF BEST CUTE CAT SCRATCHER
Petmate Scratcher
Colorful Print
If you need a cute cat scratcher that is functional and have a colorful print, this Petmate scratcher is a great option for your cat. This angled scratcher has a cute print on the sides, to catch your cat's attention. It is sturdy and stable for use.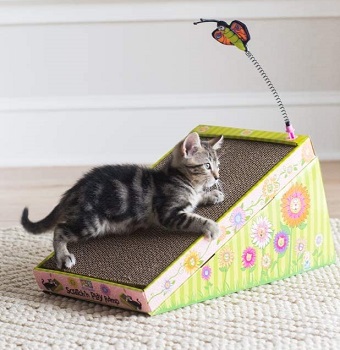 Angled Surface
Scratcher is fully made of durable cardboard and it is pet-friendly. There is an angled corrugated cardboard surface, so your cat can fully stretch her muscles while scrathing her claws.
Lightweight Scratcher
Scratcher is suitable for small to medium-size cats, so if you have a large one, this might not be a good option. This is a perfect choice if you want a lightweight and easy moving scratcher.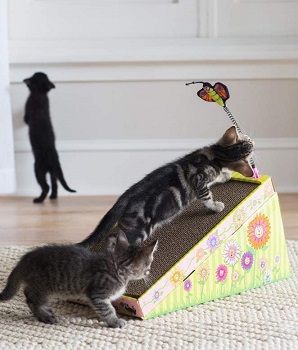 Reversible Design
At the top, there is a detachable toy in the shape of a butterfly, so your cat can have more fun, so if you have an active cat pick the cat scratch toy for playing. A box is reversible for durable use.
In Short
Colorful print and angled design
Made of corrugated cardboard
Suitable for medium-size cats
Detachable toy for fun
Reversible design for durable use
BEST ROUND CUTE CAT SCRATCHER
Mora Pets Scratcher
Cute And Colorful
Cute cat scratchers can be round as well, so if you're looking for a unique design, this Mora Pets scratcher can be your choice. It has a cute and colorful design, made of durable cardboard.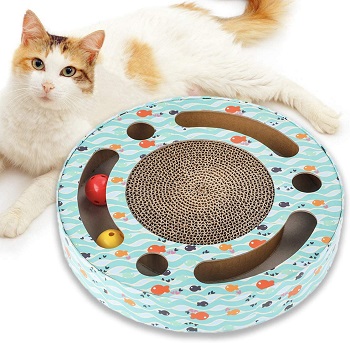 Cardboard Surface
This round cat scratcher measures 13.27 x 13.23 x 2.13 inches, and it is suitable for kittens and small cats. In the middle of the scratcher, there is a rounded cardboard surface for scrathing.
Quick Moving
A stable scratcher is easy for moving because of its dimension and lightweight construction. Make sure you find the best place where your cat is moving around the most, so she can use it every day.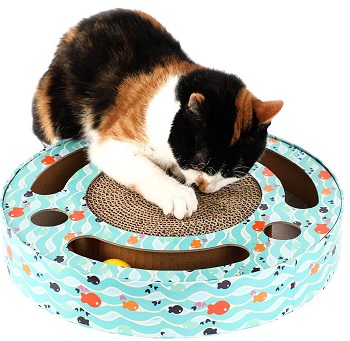 Interactive Toys
There are interactive balls with bells, perfect for playing all day long. In the package, you will also get catnip and 3 anti-slip stickers, so this cat scratcher doesn't move around while your pet is using it.
In Short
Cute and colorful design in a round  shape
Suitable for small cats and kittens
Round scrathing surface made of cardboard
Interactive toys for fun
Antislip stickers and catnip included
BEST SISAL CUTE CAT SCRATCHING POST
Pawz Road Scrathing Post
Cactus Shape
This cute scrathing post for cats has a very modern and unique design. It is made in cactus shape, which will definitely catch your' card attention, and perfectly fit with your home decor.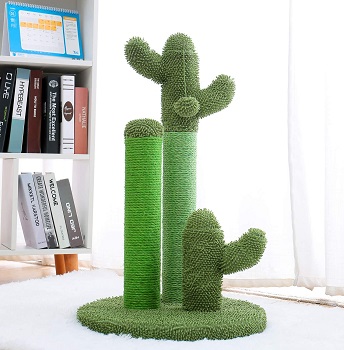 Stable Base
12.6 inches wide base is made will provide stability, so you don't have to worry about tipping or wobbling. The bottom base is covered with a green carpet so your cat has great comfort.
Natural Sisal
There are multiple scrathing posts of different heights, so depending on how large is your cat, she can use one of them, Scrathing posts are covered with green natural sisal and carpet. Sisal cat scratching post is suitable for average cats.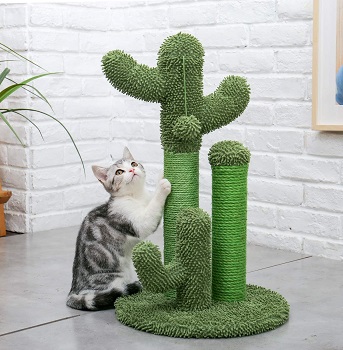 Hanging Ball
At the top of the scratcher, there is a hanging ball, so your cat can have a fun and playful time. Find the perfect spot where you can place this scratcher, and store it easily when is not in the use. Assembly is quick and easy.
In Short
Scratcher is a cactus shape
Stable base covered with carpet
Multiple scrathing posts wrapped with sisal
Suitable for average-size cats
Hanging ball for playing
BEST VERTICAL CUTE SCRATCHING POST
SSAWCasa Scrathing Post
Sunflower Design
I'm sure you never saw this cute cat scrathing post, so if your cat prefers this kind of style, this is a perfect choice. SSAWCasa scrathing post looks like a sunflower. It will perfectly fit in every corner of your house.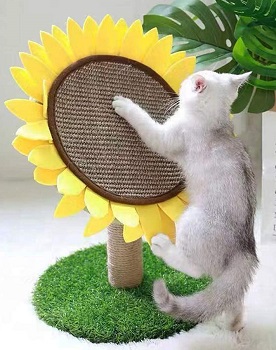 Sturdy Base
This sunflower cat scrathing post has a wide and sturdy bottom base, made of a thick board, so your cat can safely use it without worries of wobbling. The base is covered with fake grass for visual effect.
Natural Sisal
Scrathing post is wrapped with natural sisal, so your cat can have enjoyable and loud scrathing, which cats love the most. The flower of the scratcher has also a sisal surface, so your cat can fully stretch her muscles.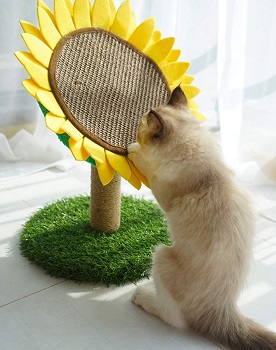 Quick Assembly
It is suitable for small to medium size cats, because of its 17 inches tall scratching post. Lightweight scratcher is easy for moving and storing when is not in the use. Assembly is quick, you will only need minutes for setup.
In Short
Sunflower design will catch the cat's attention
It has a wide a sturdy base for stability
Wrapped with natural sisal for scrathing
Suitable for medium size cats
Easy assembly and storing
BEST CARDBOARD CUTE CAT SCRATCHER
District 70 Scratcher
Unique Design
This cat corrugated scratcher comes in a unique design, it looks like a sardine can. Neutral colors will fit in every interior. At the front, there is a cute pattern, which will attract your cat to use the scratcher on daily basis.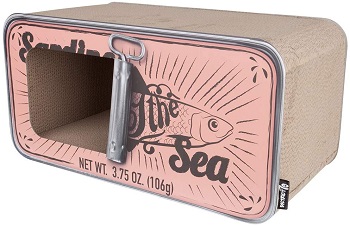 Cardboard Surface
Cute cat scratcher measures 11.81 x 23.62 x 11.81 inches, and no matter if you have a small or large cat, it is a perfect choice. Scratcher is made from corrugated cardboard and it has multiple surfaces for scrathing.
Fun Playground
If you have an active cat, she can climb on it, play around, and have so much fun. There are cardboard surfaces on the sides, so the cat can fully stretch her muscles and stay active and healthy.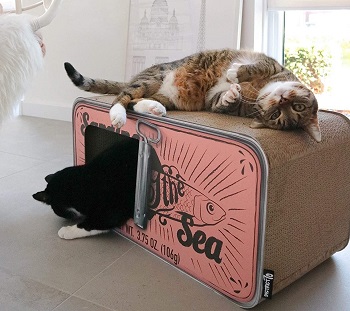 Hideaway Place
Don't worry about safety, scratcher is sturdy enough to prevent tipping and wobbling. You can place it in every corner of your home. For cat privacy, she can stay inside and have some rest. There are 2 doors for easy moving.
In Short
Cool sardine can design
Perfect fit for cats of every size
Playground for fun and climbing
Cardboard scrathing surfaces
A hideaway place for sleeping and resting
BEST ANGLED CUTE CAT SCRATCHER
Cosmo's Own Scratcher
Moon Shape
This cute scrathing post for cats than a moon-shaped structure. It is made of sturdy cardboard, so it is pet-safe for use. Place this cardboard wherever your cat mostly plays, it will fit perfectly with your home decor.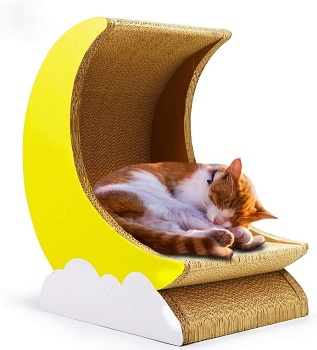 Fit In Every Corner
Cat scratcher measures 19.7 x 16.5 x 11.4 inches, suitable for small to medium-size cats. Because of the dimension, you can easily place the scratcher in every corner and quickly move it.
Scratcher Bed
Angled shape provides easy scrathing and stretching, and a lot of fun like climbing and jumping, When a cat gets tired, she can use a scratcher as a bed, it is comfortable for resting and sleeping.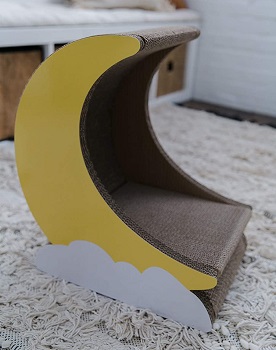 Lightweight For Moving
Because of the small dimension, it is lightweight, so you can quickly move the scratcher from side to side. Cute cat scratchers are always a great option to buy because they catch a cat's attention.
In Short
Scrathing post in a moon-shaped structure
Made of sturdy cardboard
Perfect choice for medium-size cats
Angled shape provides easy stretching
Can be used as a bed
How To Pick The Best Cute Cat Scratcher?
Cute cat scratchers always catch the cat's attention and fit perfectly with home decor. If you're searching for the one for your cat, and you don't know which one will be the best, read our guide with helpful tips.
Which Size To Pick? – One of the most important features to keep in mind before buying,. is the size of the scratcher. Cats love to have maximum comfort while scrathing their claws, playing, or climbing so make sure you check the information about measurement. For an average cat, the 24 inches large scratcher is a good dimension.
Sturdy And Safe – Besides the dimension, the scratcher need to be made of sturdy materials, so your pet can use it safely. If you're picking the vertical cat scratcher, make sure it doesn't move around, we recommend to pick the one with anti-slip stickers. If you're picking a vertical scrathing post, it needs to have a sturdy base and stable construction, so it doesn't wobble when the cat is using it.
Unique Design – Depending on your preferences, whether you prefer a simple or unique design for your cat, pick the one. You can choose a simple cardboard scratcher with a colorful print, or some unique design like a sunflower, moon, or a cactus shape. No matter what you pick, your cat will use it for sure, and it will perfectly fit in your home interior.
Scrathing Surface – Cats love to scratch their claws, so make sure you pick the best scrathing surface so they can have healthy nails. We recommend picking the cute cat scrathing post made of the material your cat is used to scratch. You can choose from cardboard, sisal, jute, carpet, and much more materials. Make sure it is made of high-quality material for longer durability.
To Sum Up
The best cute cat scratcher from 6 models that we reviewed is the Petmate scratcher. It is made of durable cardboard, with a colorful print and angled surface for enjoyable scrathing. If you want to check which are modern scratchers on the market, check our post, we found the best modern cat scratching post. If you're interested to check some other shape, like a triangle, read our post and pick the best triangle cat scratcher for your pet.