Do you find it annoying that most cat trees break the budget by a large amount and now you're determined to find a more affordable cat tree?
You've started well and you can end this journey well by continuing to read this article where we only reviewed the best and cheapest ones we could find. Hardly any break the 100 dollar mark but nonetheless, we made sure to provide you with a variety of trees not just in the price department but in the type department as well. Some of the models you'll find here are made for large cats, modern, furniture pieces, and that's only the beginning.
The Summary
Best 12 Affordable Cat Trees
BEST OF BEST CHEAP CAT TREE
Yaheetech 48 Inch Cat Tower
At first glance, you'd think that there's no way that this tree is cheap since it features a condo, ladder partially wrapped with sisal rope, 5 posts wrapped with sisal rope a 2nd level, and 2 platforms but it is. To top it all off, it even features a hanging ball cat toy.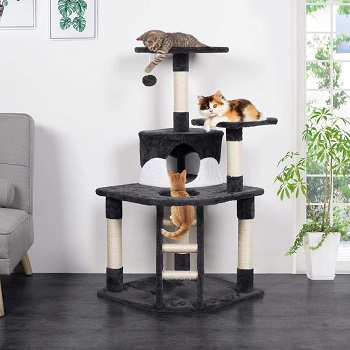 It's made with particle board which makes it sturdy and it's carpeted with black plush material. It's made so that it fits in corners and saves space as well as money with its 32-in long and 28-in wide base. You can even secure it to a wall with screws. If, in terms of design, this is not your cup of tea, read the cheap cat tree house article for more.
In Short:
Has a particleboard frame
It's carpeted with black plush material
Fits in corners and its base is 32-in long and 28-in wide
Features a ladder, condo, 2nd level, and 2 platforms
The ladder and 5 posts are wrapped with sisal rope
BEST CONDO AFFORDABLE CAT TREE
Hey Brother Sisal Rope Cat Tree
It's 16.5-in long and 12.6-in wide base is not a good pointer as to how wide it is since the hammock is not fitted into this imaginary frame. It is a basket hammock attached to the sisal rope-covered post that features a cushioned lounging bed on top. It does have more posts that are only carpeted.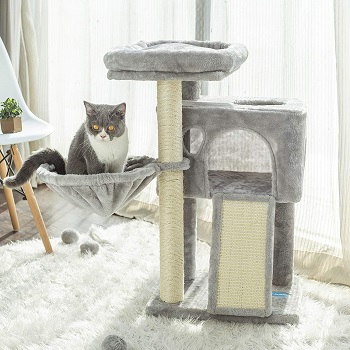 It has an elevated condo featuring one entrance and one smaller ventilation hole. Your cat can access it using the scratchboard ramp easily. At its highest point, it's 29-in tall so it's considered to be one of the smaller cheap cat condos. If you'd prefer to get a bigger model, read the cheap cat tree house article next.
In Short:
Fully carpeted with grey plush
The base is 16.5-in long and 12.6-in wide
Comes with a basket hammock and cushioned lounge bed
It's 29-in tall
The condo is accessible via a scratchboard ramp
Features one post that's covered with sisal rope
BEST FURNITURE CHEAP CAT TREE
Petmaker Ottoman Cat Furniture
In case you love leather but care for the environment, you'll enjoy this fully black faux leather furniture piece. It acts as an ottoman with its cushioned top and below it, you'll find a small entrance hole that lets cats inside the condo below it. The inside of the condo features a pillow that you can easily remove to wash.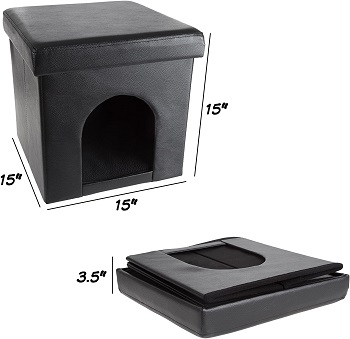 The ottoman can handle up to 100 lbs of weight. You can collapse it easily and the top comes of where you'll find another bottom that makes it sturdier than it already is. It's cube-shaped meaning that it's 15-in long, wide, and tall. If you'd prefer a shelf like cheap cat furniture, you can find others in the modular cat tree furniture article.
In Short:
It's 15-in long, wide, and long
Has a cushioned top
Covered with black faux leather
Has a 100 lbs weight limit
Features a condo with a removable bed on the bottom
It's easy to fold down for storage
The top cushion and an additional bottom can come off
BEST LARGE AFFORDABLE CAT TREE
Epetlover 52-inch Cat Tree
This is a full beige cat tree thanks to the plush carpets that are colored with this color. The sisal ropes have a naturally occurring color that consequently blends well with the plush carpets. If you'd prefer a different style, you can read the cheap cat trees for large cats article next.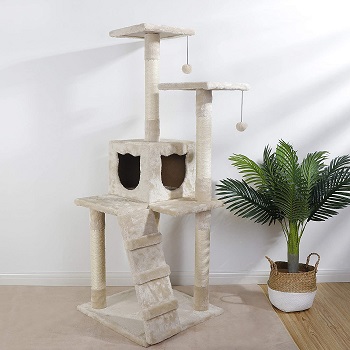 The sisal rope is featured only on the posts so a lot because there are 5 posts in total. It has 2 high-point platforms, a condo with 2 entrances/exits which lets us know that it is made for large cats truly, and a ladder to access the condo platform and condo. One other factor that determines this is its sheer size. It's 20-in long and wide and 52-in tall.
In Short:
It's fully beige-colored
It's plush carpeted and has 5 sisal rope posts
Has 2 platforms and a condo platform
The condo has 2 entrances
Comes with a ladder
It's 20-in long and wide and 52-in tall
BEST HOUSE CHEAP CAT TREE
Mellcom Indoor Cat Tree Tower
It would be great if every cat tree featured mental stimulating toys but it doesn't so that's why this one is so special with its branches of hanging cat toys at its highest point platform. If this form of the toy is not what you need for your cat, you can find simpler models in the cheap cat tree house article.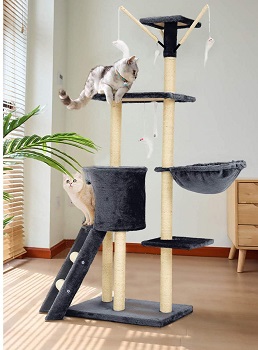 It has 2 sisal rope posts rising from its 19.7-in wide and 13.4-in long base, a ladder also wrapped with it, a condo 3 platforms, and a hammock. It is carpeted as well with black plush material and has a sturdy frame made out of particleboards. At its tallest point, it's 56-in tall. You can even secure it to a wall with wall anchors.
In Short:
Has a cat enrichment branch toy
The base is 19.7-in wide and 13.4-in long
Made with a particleboard frame
It's fully carpeted with black plush
Has a ladder and 3 posts covered with sisal rope
Features a hammock, condo, and 3 climb platforms
It's 56-in tall
BEST TALL AFFORDABLE CAT TREE
Pawhut Adjustable Height Cat Tree
It's not uncommon for a simple tree like this one to be cheap. It features a post on a base that is partially wrapped with sisal rope and features 3 platforms and a basket hammock. If you'd like to know just how cheap a tall cat tree can be, read the extra tall cat tree article for that info and more.

The post we said was partially covered with sisal rope is also partially carpeted with brown plush. This reigns true for its 3 platforms and hammock basket as well. The post top features a tension rod that allows you to adjust its height to fit ceilings with a height of 90.5-in up to 102.5-in.
In Short:
Has a tall rising from a small base
Features a top tension rod for adjustable heights
It can be 90.5-in up to 102.5-in tall
The post is carpeted with and covered with sisal rope
Has 3 carpeted platforms and a hammock basket
BEST SMALL CHEAP CAT TREE
Petpals Cat Activity Small Tree
The simplistic combination of dark brown paper rope posts and a felted tunnel condo and platform make this tree sort of a modern cat tree in terms of looks. If you're not interested in looks and a more focused on the content of your tree, read the cat trees for small spaces article next.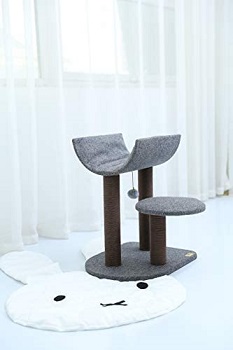 This affordable cat tower has 3 paper rope posts, 2 are used for the condo and one is used for its single platform. Due to the base, it's 20-in long and 15.5-in wide and at its highest point, it's 23-in tall. It's perfect for kittens and small cats that weigh up to 15 lbs. It even comes with a ball rope toy.
In Short:
Has 3 paper rope posts
The tunnel condo, base, and platform are felt carpeted
It's colored grey and dark brown
Made for cats up to 15 lbs
It's 20-in long, 15.5-in wide, and 23-in tall
Comes with a hanging ball toy
BEST WALL AFFORDABLE CAT TREE
Big Nose Wall Mounted Tree For Cats
The thing that you'll mount to the wall is a post that's wrapped in sisal rope and one that' 43-in tall. You'll mount it from 3 points using stainless steel brackets. This post features 2 platforms made out of solid wood while the hammock basket is made out of plush.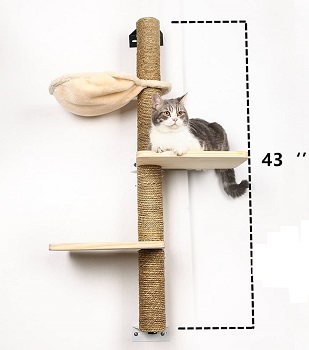 The solid wood platforms are 0.7-in thick and are 13.8-in wide and 9.9-in long while the hammock has a 12-in diameter. This affordable tree is designed for medium-sized cats since each platform can hold up to 15 lbs. If you'd like a cat jungle gym wall made for larger cats, read the linked article below for more.
In Short:
Features a sisal rope post that' 43-in tall
The post mount to walls using 3 brackets
The hardware is made out of stainless steel
Has 2, 0.7-in thick solid wood platforms
Comes with a plush hammock basket
Made for cats up to 15 lbs
BEST CEILING CHEAP CAT TREE
Downtown Pet Supply Deluxe Cat Tree
If stylish and crazy is your thing, you'll fully enjoy this liana leaves-wrapped post and faux grass carpeted platforms tree. That's all there is to it and it can go as high as your ceiling as long as the ceiling fits into the 93-in in height up to 97.5-in in height. This is possible due to the tension rod on top of the post.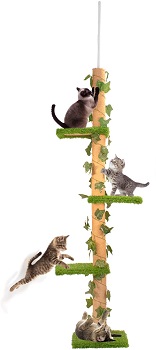 The post rising from its small base is wrapped with sisal rope while the whole thing is made out of durable cardboard. If you don't trust that cardboard can be a durable material. you can check out other similar products in the jungle cat tree article.
In Short:
The post is decorated with liana leaves
The 3 platforms feature faux grass carpets
It's made with cardboard
Due to the tension rod, it can be 93-in up to 97.5-in tall
The post is wrapped with sisal rope
BEST NON CARPETED AFFORDABLE CAT TREE
Pawz Road Luxury Cat Tree
It's easy to make any non carpeted tree look modern and luxurious but this tree does is just a tiny bit better by being made with wood that's colored with different shades of grey. Even the sisal rope posts of this cheap tree for cats are grey as well as the small removable carpets and cushioned top bed.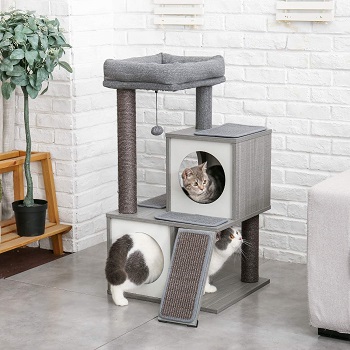 There are 3 posts and there's a ramp scratchboard allowing cats to access one of the 2 condos that feature 2 entrances. The base is 18.9-in long, 17.3-in wide, and the tree is 35-in tall so it's still considered a smaller tree. For bigger models, you can read the modular cat tree furniture article.
In Short:
Made with wood colored with different shades of grey
Features two, two entrance condos
Has a cushioned top bed and 3 sisal rope posts
Has a scratchboard ramp and small removable carpets
It's 18.9-in long, 17.3-in wide, and 35-in tall
BEST CORNER CHEAP CAT TREE
Armarkat Cat Tree Corner Model
Although its base isn't 1/4 of a circle shape, the condo is and there's nothing in the back that'll prevent you from placing it in corners. The condo is huge and sits on top of 3 sisal rope posts and 2 then further extend to the top. If you had a different place of use in mind, find other placement models in the cheap cat tree for large cats article.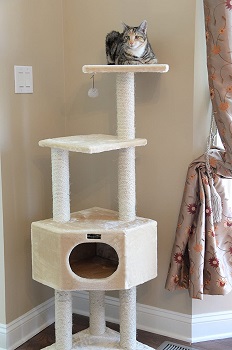 The frame is made with engineered wood and it is fully carpeted with faux fur. It has a weight limit of 20 lbs so it can easily house some larger cats. Its base is 20-in long and wide while the tallest point which is a platform perch is lifted 52-in from the ground.
In Short:
Made with engineered wood
It's carpeted with faux fur
The base is 20-in long and wide
Has two tall platforms, the highest one is 52-in tall
Features 5 sisal rope posts
Has a huge cat condo
BEST MODERN AFFORDABLE CAT TREE
Vesper Cat Furniture Box
Sometimes you can't wrap your finger around a cat tree shape but this is all avoided with this tree that's shaped like a box featuring 3 levels in total. The bottom level features a cat condo with a removable cushioned bed, the 2n level features a sisal rope post and a removable carpet, and the 3rd level features only a removable carpet.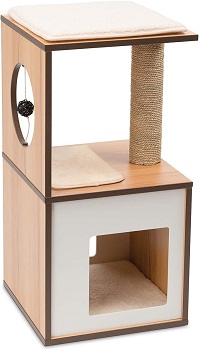 This affordable cat tower is walnut-colored but made with MDF wood which is a material commonly used in making regular furniture pieces. It's 14.57-in long and wide and 28.5-in tall. If you don't think you can fit it into your home, you might be able to fit one of the models reviewed in the modern wood cat tree article.
In Short:
Made with MDF wood and colored walnut
It' has a simple box shape
It's 14.57-in long and wide and 28.5-in tall
Hs 3 levels, one sisal rope post, a condo, and 2 removable carpets
The condo features a removable bed cushion
How To Pick An Affordable Cat Tree
Choosing the best possible cheap cat tree isn't all about picking one that has the lowest price. What you get for the price you'll pay is one factor that might help you decide better but that's not all we'll discuss in this buying guide. Some of the things we'll also mention are why cat trees are usually expensive, general cat tree use, and many other things.
Defining Cheap – In the case of this article and models reviewed here, we defined cheap and affordable trees as ones ranging anywhere from 60 dollars up to 120 dollars. If you think a 120 dollar is still expensive, the reason it's not is that cat trees are tremendously expensive, some can even cost 800 dollars.
Why Are Cat Trees So Expensive – Although it sometimes doesn't seem like it, cat trees are extremely stable and their design is thoroughly thought out to create one that's stable. These products are a wear and tear type of product so they're usually made with the intention of being able to put up with a lot of abuse coming from cats since that's what these trees are all about. The third reason they're expensive is shipping costs. They're large and usually bulky so their shipping and distribution are going to cost a lot more.
Necessary Features – We say that every cat tree, if it is a cat tree and not modular cat furniture, for example, should have at least one condo big enough for our cat, a lounging bed or platform, and at least one sisal rope post. These are the basics that will allow your cat to rest, play, and hide out in case they get scared. Everything else is a luxury or a replacement for one of these features. What we mean by that is that a hammock might replace a condo etc…
Cat Tree General Use – With a cat tree, you will save our furniture from cat damage, provide a safe haven for cats and get them their own territory. Cats are highly territorial animals and one other thing that these trees do is let them observe their surroundings especially if the tree is tall.
Best Tree Placements – A good recommended placement option for a cat tree would be in corners or at least next to corners. If that's not possible think about placing them next to a wall to avoid tipping. If you've decided on a corner placement, another great idea is to place them close or next to windows and or in corners that overlook the entire room.
Most Common Cheap Tree Types – It's only natural that a smaller cat tree is going to be cheaper than a large one. We'd define small trees as ones that are no taller than your average kitchen counter or sofa. Another cheap type is floor ceiling cat tree that is narrow and space-saving but tend to be scarce when it comes to their features.
To Sum Up
It goes without saying that the affordable cat tree you'll buy depends solely on how much you're willing to and can spend on it, the features you need, and based on design and your cat's needs so it isn't possible to recommend just one. Another reason for that is the fact that they're very different from one another. In case you can spend a bit more on one and wish to focus solely on excellent looks and design, be sure to read posts about the best modern cat trees or the best cool cat towers. In case you'd like to read about every possible tree out there to get the whole picture of what the market offers, we suggest you read the article on the best cat trees for sale.