Ever wondered if there's a chance to upgrade the looks of a regular cat tree and turn it into a stylish cat tree?
You can learn all about them, check out plenty of models that fit the description, and buy one if you'd like by continuing to read this article. We made sure to give you a large variety of options to choose from since aesthetics are always a question of personal preference. That's why, here, you'll find products that are cool cat furniture, condos, cat beds, carpeted products, and plenty of others.
The Summary
Best 10 Cool Cat Trees
BEST OF BEST STYLISH CAT TREE
CatastrophiCreations Climb Activity Tree
Place Of Use
The intended place of use for this tree is on a wall that is cool on its own. It comes with instructions on how to mount the bamboo frames on the wall and your cat will walk on the fabric bottoms. It's hard to determine its size but we know for sure it's 11-in wide.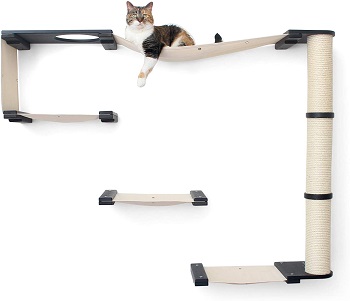 Assembly And Size
If mounted with instructions, it's 56-in long, and 69-in tall. It includes a sisal post that allows your cat or cats to scratch it and the fabric bits of the product can be removed so you can easily wash them. For alternatives to this wonderfully designed product, make sure you read the unusual cat trees article next.
In Short:
Made with a bamboo frame
Has fabric flooring
The fabric is removable and washable
Includes a sisal rope post
The place of use is on a wall
It's 11-in wide, 56-in long, and 69-in tall
BEST CONDO COOL CAT TREE
Sauder Natural Sphere Tree
Stand And Condo
The main theme of this tree is its condo that's shaped like a sphere and sits on top of a three-legged wooden stand. The stand has its own carpeted shelf that looks like a storage unit and one of the legs is covered with a sisal rope so your cat can climb it and scratch it.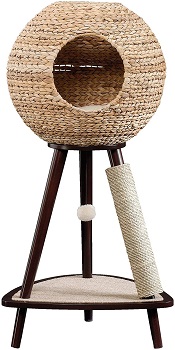 Materials And Dimensions
The sphere that acts like a condo is made with wicker so it's all-natural. It features 2 entry holes and on the inside, it contains a washable pillow. It's around 20-in long, 21-in wide, and 44-in tall. If you'd like more play things on your cool cat condo, read the sphere cat tree article next.
In Short:
Has a three-legged wooden stand
Features a sphere condo on top
One leg is covered with sisal rope
Features a carpeted shelf
The condo has 2 entry holes
It's around 21-in wide, 20-in long, and 44-in tall
The condo is made with wicker
BEST FURNITURE COOL CAT TREE
Sebastian Modern Cat Tree
How It Looks
If it weren't for the carpets and sisal scratch posts on this product, it would act only as a piece of furniture. It's made with stacked boxes that aren't just laid flat on top of one another but ones that create an interesting shape. This cool cat furniture is part of the unusual cat trees so make sure you read about others to make sure you're getting the best one.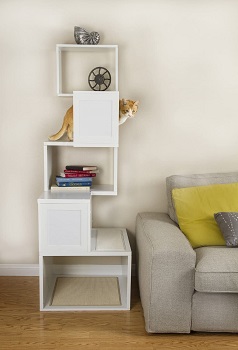 Assembly And Dimensions
It's easy to assemble with a Philips screwdriver and detailed instructions on how to do it. You can place plants on it, books, magazines, or whatever else you can think of. It's colored white but does come in black color as well and it's 22-in long, 22-in wide, and 67-in tall.
In Short:
It comes in white or black color
Made to look like stacked boxes with weird shapes
It features some carpets and sisal rope carpets
It's 22-in long, wide, and 67-in tall
It requires assembly using a screwdriver
Comes with instructions for assembly
BEST BED STYLISH CAT TREE
Fhasso Luxury Bamboo Cat Bed
Smooth And Round
With smooth and rounded edges all around, this bed looks like a sphere. Its bottom is flat so that it doesn't tip over easily and it's made with bamboo which makes it environmentally friendly. The inside is accessed through a half hole on top and overall, it's 17.5-in long, wide, and 13.5-in tall.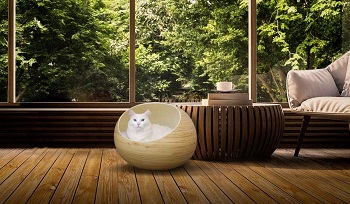 Inside And Cover
The inside can be equipped with a cushion that you will get with the bed. The cushion features a cover that you can remove to wash it. You can check out more than just this stylish cat bed if you read the luxury cat condo article where you'll find more detailed reviews of other models.
In Short:
Shaped like a sphere
Made with bamboo wood
It's environmentally friendly
Measures at 17.5-in long, wide, and 13.5-in tall
Features a cushion with a cover
The cover is removable and washable
BEST FOR LARGE CATS UNIQUE CAT TREE
PawHut 2-Level Cat Tree
Frame And Veneers
Thanks to the particleboard wooden frame, this tree is far more stable and durable while the dark wood veneers that cover these wooden frame sides make it look elegant and a unique cat tree for large cats. There are more models to be seen in the heavy-duty cat tree for large cats article we've linked below.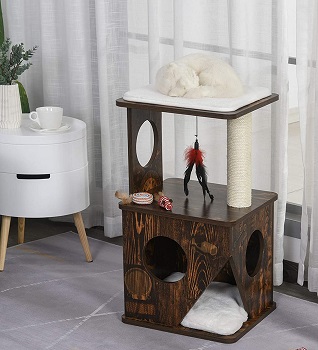 Condo And Other Features
The bottom level is a large box with 3 holes. The middle hole is placed in a corner and is triangle-shaped. This is the place where your cat can rest and on top of it, there's a post covered with a sisal rope, a hanging feather toy, a hole, and a cushioned top platform. It's 15-in long, 15-in wide, and 28.25-in tall.
In Short:
made with particleboard
Covered with dark wood veneers
Hs 2 levels
The condo features 3 entrance holes
Comes with a sisal rope post
Features a cushioned tallest point platform
Comes with a hanging feather rope toy
It's 15-in long, equally wide, and 28.25-in tall
BEST CARPETED COOL CAT TREE
Pawz Road Cat Tree
Plush parts And Frame
The plush bits of this tree come in the form of plush fabric carpets that are easily removable. It's not fully carpeted and showcases its wonderful frame made out of heavy-duty baseboard. It has a sisal rope ramp and 2 posts. The 2nd post top features a soft cushion platform.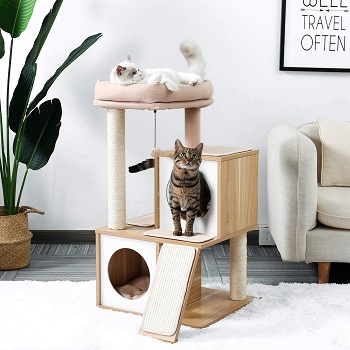 Condos, Platforms, And More
Apart from the cushioned top, it has 2 additional condos, one having a single entry hole and the other one having two. The top platform has a removable plush carpet as well. If you'd prefer a fully cool carpeted cat tree, you can check out the nice-looking cat trees article for more.
In Short:
Has a heavy-duty baseboard frame
Features removable carpets
Has 2 condos and a soft top bed
Features a sisal rope ramp and 2 sisal rope posts
It's not fully carpeted
BEST CLIMBING UNIQUE CAT TREE
Prevue Pet Products Flower Power Tree
Trunk Shape
The trunk of this tree sits on the highest point and it's made to look like a flower. The product is fully carpeted and with careful use of colors looks exactly like a unique flower cat tree. You can check out other models and their reviews in the flower cat tree article.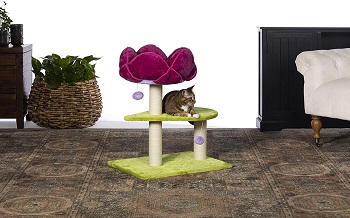 Base And Other Things
The baseboard and platform placed directly on top of it are color green. it features 2 sisal rope posts, 2 hanging balls, and as we said, a highest point perch/ platform. The carpets are made using plush material and the whole thing is 23.5-in long, 17.75-in wide, and 23.4-in tall.
In Short:
Fully covered with plush material carpets
Has a base, 2 platforms, and 2 sisal rope posts
Has a flower-shaped trunk on top
The base and platform is green to resemble grass
It's 17.75-in wide, 23.5-in long, and 23.4-in tall
BEST PERCHES STYLISH CAT TREE
Purrfect Perch Outdoor Cat Tree
Minimalist Post
Sometimes stylish and unique means minimal and so is the case with this perch tree. It has a tubular galvanized metal frame that's colored black and features stairs, or perches if you will, made out of cedarwood. These perches are all-weather resistant and so is the metal frame.

Perches Pattern
The perches follow a spiral pattern and the top perch is the largest one. You can adjust the height of the stairs but only with appropriate tolls like a pipe cutter. It's 66-in tall and it's made primarily for outdoor use. If you'd like to see indoor options of cool cat perches, read the spiral cat tree article next.
In Short:
Has a tubular galvanized metal frame
Features spiral pattern perches
The top perch is the largest
It's 66-in tall
Made for outdoor use
The perches are built with weather-resistant cedarwood
BEST WITH STAND UNIQUE CAT TREE
Pawhut Ceiling To Floor Cat Tree
Stand And Placement
The stand of this tree looks like a ladder and is made with steel tubes. It's made to be placed from floor to ceiling and you don't have to worry that much about whether or not your ceiling is tall enough due to the top spring loaded brackets that allow you to move it from room to room.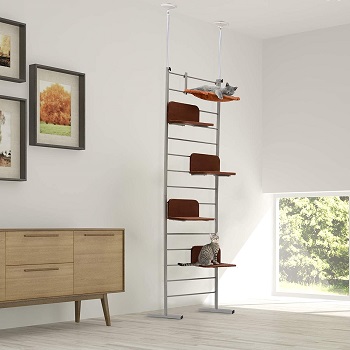 Platform Contents
The ladder stand has 4 platforms and a fabric hammock at the very top. Each platform can hold up to 11 lbs and each is covered with soft plush. You can remove the platform can be removed and placed it elsewhere. It's around 20-in wide. 12-in long, and 114-in tall. For more cool cat stands, you might want to read the unusual cat tree article next.
In Short:
Has a ladder-shaped stand made with steel tubes
Has 4 platforms covered with soft plus
Features a fabric hammock
The platforms can be placed elsewhere
Each platform holds up to 11 lbs
Features spring-loaded top brackets for  different ceiling heights
It's 12-in long, 20-in wide, and 114-in tall
BEST TRUNK AND MUSHROOM STYLE UNIQUE CAT TREE
Priority Culture Cat Mushroom House
Tower Durability
The base and frame of the product are made with engineered wood for more durability. It has 3 uniquely shaped posts, 2 represent flowers and one represents a mushroom. The mushroom stem features a sisal rope area while the flower stems are fully covered with it.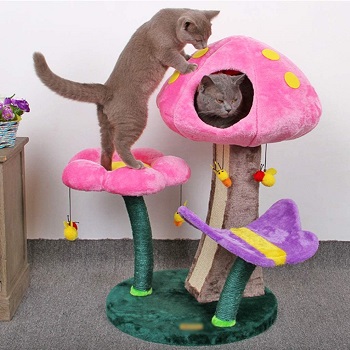 Flower And Mushroom
The flower and mushroom heads are made with soft flannel material. They act as platforms while the mushroom's head acts as a trunk and condo. It comes with 4 extra hanging balls that are made to look like little bees. This unique trunk and mushroom style cat tree is further reviewed in the mushroom cat tree article along with others similar to it so check it out for more.
In Short:
Has an engineered wood base
Features 3 stem shaped posts
The mushroom head acts as a trunk/condo
The flower stems are covered with sisal rope
Comes with 4 bee looking hanging play balls
The mushroom stem features a sisal rope part
Covered with soft flannel fabric
How To Pick A Unique Cat Tree
Choosing the perfect cool cat tree has more to do with primary function than it has to do with looks although looks are also important in this case. We're here to guide you through your shopping experience by offering information that you can use to decide on the best one first try.
Defining Cool – It's hard to define what's cool and what's simply plain so we decided to determine a basic cat tree and anything that stands out with looks, placement and functions is what we defined as cool from that point. Cool can mean a cat tree with a customizable build, one that can be mounted on a wall, or one that simply blends in perfectly into your home.
Basic Cat Tree Contents – Almost every cat tree will contain one or more of the following things: A cat condo, hammocks, perches, sisal rope posts, and carpeted surfaces. All of this can make it look tricky inside one's home since it will be the noticeable right way that it doesn't really belong in a home.
Tall Tree Benefits – Sometimes a narrow or tall cat tree can have very few things mentioned earlier but still be cool. It'll most definitely look cool indoors because of the simple design and it will also save you some space due to the narrow base and the common floor, to ceiling design.
Towers For Multiple And Large Cats – A large cat tree is easy to spot usually. If it features a condo, it'll have more than one entrance hole/exit and will be 5-6 ft tall. Smaller cats or kittens will only benefit from a 2ft tall cat tree because anything higher than that is considered unsafe for them at that age.
Overall Function And Benefits – To determine cool, it's also good to realize what a cat tree is actually for and why cat's like them. Cats are territorial so providing them with a tall point where they can climb allows them to better view their surroundings. One interesting fact about cats is that their hierarchy is based on height so if one cat is resting on a taller area than another cat, you can easily know who's boss.
Simplicity Is In – You can simplify your life, make the piece look interesting in your home, or be completely unnoticeable by getting a wall-mounted piece, a piece that connects to a door, or one that goes from the floor to ceiling. If those are too simple for you, you can always choose to get furniture-style pieces that can function as cat towers and your furniture.
To Sum Up
We can't think of a reason why someone wouldn't want a cool cat tree but since this is a subjective matter, we can' recommend one that we thought to be the coolest one. Make sure you check out the height and their contents and compare them to your cat's behavior and you should be fine. If you'd like to check out more but make sure that they are models that blend perfectly inside homes, you can read about modern cat trees or find out more about corner cat trees. To see the biggest offer of the best cat trees for sale, read this post.