Do you want your cat to be as active as possible indoors as it would be outdoors with a little help from a wooden cat tree?
Make it happen today by continuing to read this article where we made sure to review models that are highly different from one another. This way, it'll be much easier for you to find the one you like and you'll be learning something along the way as well. Some of the models we reviewed are cat trees for large cats, models with perches, real wood trees, and many others.
The Summary
Best 15 Wooden Cat Towers
BEST OF BEST WOODEN CAT TREE
Gutinneen Firwood Cat Tree
Outside Frame
You can think of this product as a fun and large cat cage. It has a firwood frame and wire sides and it's colored grey. It sits on wheels so you can choose to use it indoors or outdoors. The outdoors option is available since it has a waterproof asphalt roof on top.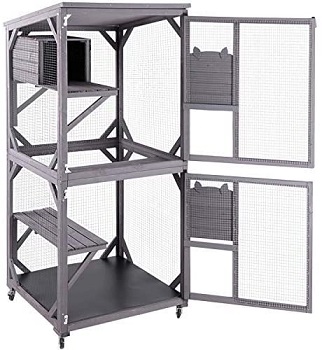 Bottom And Dimensions
The bottom is covered with PVC material so even if your cat were to litter inside, it won't be a problem with this 31.5-in long, wide, and 70.9-in tall wooden cat tree with no carpet. If you like what you see but want to check out other types, you can read the linked article below for more.
In Short:
Made with firwood and wire
Features 4 wheels, some are lockable
Has a weather-resistant asphalt roof
Can be used indoors and outdoors
It's 31.5-in long and wide, and 70.9-in tall
HAs a PVC covered bottom
BEST MODERN WOODEN CAT TOWER
Ecoflex Kitty Climber
Ecoflex Build
This tower is made with a material called eco flex that's a wood and plastic polymer material. It won't absorb nasty liquids and odors and also won't crack, split, or even warp. If you'd prefer to stick with familiar wooden materials, read the mid-century modern cat furniture tree article next.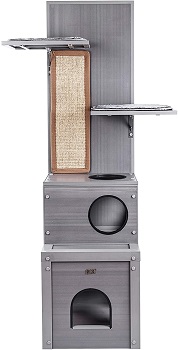 Tree Contents
The modern wood cat tree comes with 2 boxes with holes where your cat can rest, two shelves with cushions, and a little scratch post. All of the mentioned things are hooked on the back wallboard so you can easily blend this 16.5-in long and wide, and 60-in tall tree into your home.
In Short:
Made with wood and plastic polymer eco flex
The material doesn't absorb liquids or odors
Features 2 boxes, 2 shelves, cushions, and a scratch post
It's 16.5-in long, equally wide, and 60-in tall
It's colored grey
BEST NATURAL WOODEN CAT TREE
On2 Pets Cat Tree
Tree Design
This product literally looks like a tree with its plastic decorative leaves and a wooden log that acts as a stand. It has an additional stand that looks like grass. It's built primarily out of pressed wood and has some carpet parts as well. Any cat up to 32 lbs will enjoy it.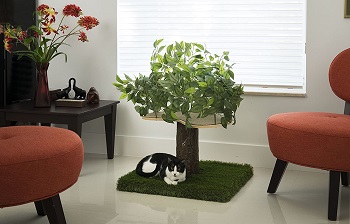 Tree Function
It's more of a hideout and resting spot in function than a play area but rest assured that your cat can still play with it. The platform it sits on is 24-in long and wide while the whole thing is 36-in tall. If this is not your first idea when you think of a natural wood cat tree, read the real wood cat tree article for more.
In Short:
Made to look like a tree with branches
Has a resting shelf hidden between tree leaves
Sits on a log-shaped stand and a grass looking stand
The grass stand is 24-in long and wide
Overall, it's 36-in tall
Made with pressed wood and carpet
Can be used by cats up to 32 lbs
BEST REAL WOODEN CAT TOWER
Pawhut 2 Level Cat Tree
Contents Of The Tower
The bottom large box where your cat can rest has a triangular corner entrance and two holes for ventilation and extra fun. On top of it, there is a second level that features a round stand that acts like a cat scratches, and on top of it, there is a cushion for additional resting space.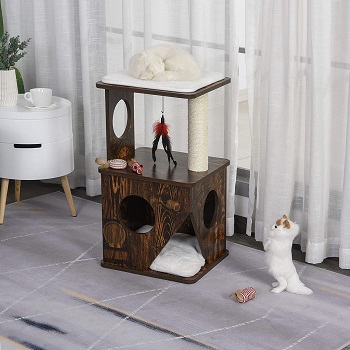 Posts And Wood
The scratch post, as it often is, is covered with sisal and a feather rope toy is included. It's made with particleboard but has the looks of a wonderful dark natural wood. It's 15-in long, equally wide, and around 28-in tall. If you want to make sure that your real wood cat tree is made with wood you like the most, read the solid wood cat tree article next.
In Short:
Made with particleboard
Has 3 levels
Features a box with a corner triangular door and 2 vent holes
It's 15-in wide, long, and around 28-in tall
Has a sisal scratch rounded stand and a rope feather toy
At the very top, there is an additional rest area
BEST FOR LARGE CATS WOODEN CAT TREE
Yaheetech Luxury Cat Tree House
Frame And Stands
The frame of this cat tree is made with wood, particleboard to be specific but to make it last longer and to make climbing funner for your cat, it's covered with plush. It has 5 separate stands that feature sisal rope to an extent. If you'd prefer your wood cat tree for large cats without plush, read the sturdy cat tree for large cats article next.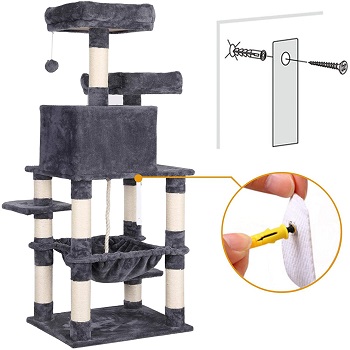 What It Consists Of
It has a condo, 2 perches, a hammock, and 2 platforms that you can easily adjust the height of. The stand baseboard makes it more stable and there's even a wall anchor included to prevent tipping. It's 24-in long, 19-in wide, and 59-in tall.
In Short:
The platforms are of adjustable height
Features a condo and hammock
Has a base stand and a wall anchor for stability
It's 19-in wide, 24-in long, and 59-in tall
Made with particleboard and covered with plush
The 6 rounded stand feature some sisal rope
BEST FURNITURE WOODEN CAT TOWER
Petellow Cat Tree Tower
Geometry Build
This is a geometry piece of art along with the fact that it's a cat tower. It consists of 3 weirdly shaped boxes that let you customize how the tree is going to look. As it is, it'll look breathtaking in your home so it's easy to consider it wood cat furniture. If it's not your cup of tea, read the modern wood cat tree article next.
Customizable Design
The wood used is burlywood and you can actually expand the whole thing if you buy more. We advise attaching it to a wall somehow so that it's more stable but it does come with instructions on how to assemble it. it can be a tunnel, tower, or playground and it's 11.5-in wide and long, and 36-in tall.
In Short:
Made and looks like burlywood
Has a weird geometry box shape
Consists of 3 separate boxes
You can expand it and customize how it looks and functions
It's 36-in tall, 11.5-in wide, and 11.5-in long
BEST CONDO WOODEN CAT TREE
Go Pet Club 62-Inch Cat
Condos And Other Pieces
In the cat tree world, a condo is defined as an enclosed space where cats can rest. This one has one that's enclosed from all sides except for the front, one tubular condo, and the hammocks of carrying sizes. It also features a stand for stability, a ladder, and 3 platforms. This wood cat condo is not the only type so if you don't particularly like it, you might like another one reviewed in the multi-level cat tree for multiple cats article.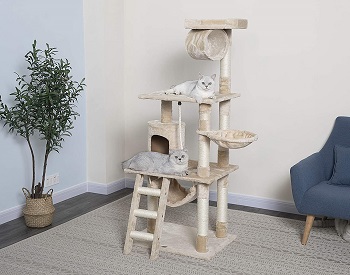 Compressed Wood Build
The wood used to make it is compressed wood that's durable but is covered with fake fur so that cats can climb it with claws with no problems. Some of the posts are covered with a sisal rope so that it acts as a stretch post as well. Overall, it's 38-in wide, 27-in long, and 62-in tall.
In Short:
Made with durable pressed wood
Has a fully enclosed condo, tubular condo, and 2 hammocks
Features sisal rope on some of the 5 posts
Has a baseboard and features a ladder and 3 shelves
It's 38-in wide, 27-in long, and 62-in tall
Covered with faux fur
BEST TALL WOODEN CAT TOWER
Made4Pets Cat Tree
Condos And Platforms
The condo of this tree is fully wooden and comes with 2 levels which allows multiple cats to use it. It's made fully with visible particleboard and so is the base and 4 platforms. The platforms do feature removable small carpets and each platform sits on a post covered with sisal rope.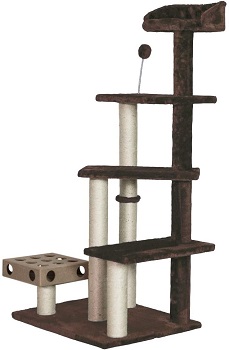 Materials Used
It has multiple hanging toy balls, 4 upright balls made with plush material, and at the very top, you'll find a transparent capsule that acts as a hammock. It's 31.5-in wide, 15.7-in long, and 51.2-in tall. If you'd like more carpet coverage and beds on your tall wooden cat tree, make sure you read the cat bed tower article next.
In Short:
It's 51.2-in tall, 15-in long, and 31.5-in wide
Has a 2 level condo and transparent capsule
Features multiple hanging and upright ball toys
Made with particleboard and covered with small carpets
The posts where the platforms sit are covered with sisal rope
BEST CASTLE WOODEN CAT TREE
Llnn Cat tree Castle
Firm Wood Build
Built with solid wood, there's no doubt that this castle isn't durable. On the base, you'll find a rounded castle with a conical roof, typical for the design of a castle. This area features 2 condos on 2 levels. The conical roof also features an entrance hole for resting.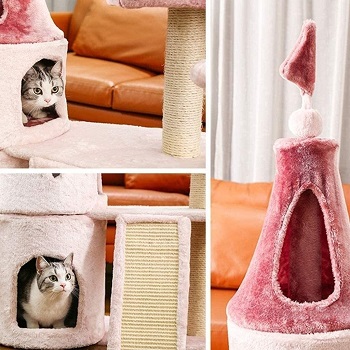 Tower Contents
There's a small scratch post ladder to access the 2nd level and to the right of this plush material covered product, you'll find a post with a top platform. This post does act as a scratch post and it features a hanging play ball as well. It's also made to keep your cat warm. Want to make sure you're getting the best possible wooden cat castle? Read the castle cat tower article for more.
In Short:
The castle bit has 3 levels
The conical roof is an additional area
Made with solid wood
It's covered with plush material
Made to keep your cat warm
Has a scratching ladder and post with a rest platform on top
BEST CLIMBER WOODEN CAT TREE
SmartCat Multi-Level Cat
Saving Space
This is one hell of a space saver if you ask us. It attaches to doors and has a wooden panel backside where platforms are attached. It's made with solid and natural wood and attaches to any standard door with spring-loaded brackets situated on the bottom and top.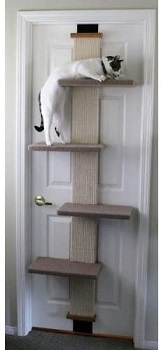 Location Of Use And Size
It's hard to speak of its dimensions but we do know that it's 82-in tall. It has 4 platforms your cat can climb onto and the back wall we mentioned earlier is a scratching post as well. If you'd like your wooden cat climber to be attached to a wall, read about other cat climbing structures in the linked article below.
In Short:
Made to attach to any standard door
Buil out of natural solid wood
Has 4 climbing platforms
The back wall is a sisal rope post
Attaches to doors with a spring-loaded bracket system
It's 82-in tall
BEST PERCH WOODEN CAT TOWER
Armarkat Solid Wood Cat Tower
Scots Pine Wood
The primary build material of this tree is scots pine wood. The baseboard and condo feature no carpet while its posts are covered with sisal rope. It has multiple platforms and a perch on top, sitting at a height of 54-in. It's also 36-in long, 32-in wide which makes it suitable for large cats.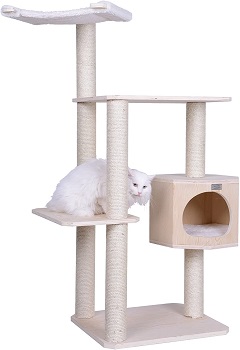 Tree Assembly
You'll get all of the tools needed for its assembly and the instructions to do so. The condo features a soft bed so that your cat can relax with maximum comfort. If you'd like to learn more about these and this wooden cat perch model, make sure you read the cat perch for large cats tree article.
In Short:
Made with Scots pine wood
The baseboard and condo aren't carpet covered
Features multiple posts with sisal rope
Has 2 platforms and a perch at the very top
it's 54-in tall, 36-in long, and 32-in wide
Made for large cats
Comes with a soft bed for the condo
BEST OUTDOOR WOODEN CAT TOWER
Petsfit Outdoor Cat House
Outdoor Wood Choice
Finnish spruce is a great wood for outdoor use since it's a natural wood that doesn't have to be fully replaced to be vital and highly functioning again. The top of this tower house is house roof-shaped and covered with an asphalt roof so that it's protected from different weather conditions and water build-up. If you want to make sure you get the best possible one, we suggest you read the weatherproof cat tree article next.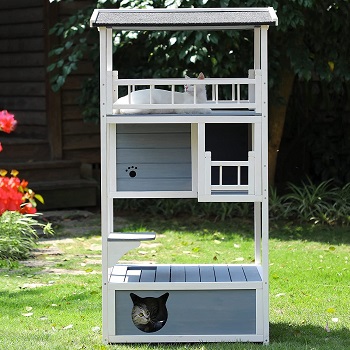 Sides And Doors
It's an open concept wooden cat tree outdoor model and features a condo on the bottom, a play area with a platform on top of it, and an additional condo and another play area on top of it. It's 30.3-in long, 28.7-in wide, and 56.4-in tall. Each condo and play area are almost equally long and wide. It's also raised from the ground with 4 legs to prevent mould damage by moisture build-up.
In Short:
Made with Finnish spruce wood
Has a house-shaped asphalt rooftop
It's elevated from the ground
Has 2 condos and 2 play areas
It's an open concept house
It's 30.3-in long, 28.7-in wide, and 56.4-in tall
BEST WALL WOODEN CAT TREE
Enjoy The Wood Cat Tree
Shape And Place Of Use
Not only will this be a fun little play space for your cat but will look amazing with other home appliances and home decor. It has a honeycomb shape meaning each piece of this product is hexagonally shaped. If you can't possibly blend it in, read about other models and designs in the rustic cat tree article.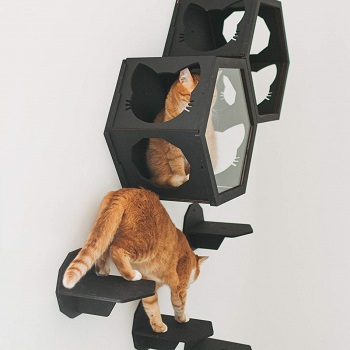 How The Combs Are Built
Each hexagon has an acrylic front and 4 holes that allow you to connect more. They're made with birchwood and you can choose between 6 colors. You can also choose to have something written on the acrylic bits. Each hexagon is 17.9-in wide and 15.5-in tall and you'll get a small pillow as well.
In Short:
Shaped like a hexagon
Each hexagon is 17.9-in wide and 15.5-in tall
There are 4 holes on each one
There's no limit to hexagon connection
Made with birchwood
Has an acrylic front side
Comes in 6 colors
BEST CHEAP WOODEN CAT TREE
Petmaker 3 Tier Cat Tree
Frame And Carpet
Probably the most common wooden material used to make cat trees, particleboard, is used to make the frame of this tower that's then covered with carpet made of plush and colored with different shades of brown so your cat can easily grip it and climb it. The base is rounded and it's 21-in long and 13.5-in wide.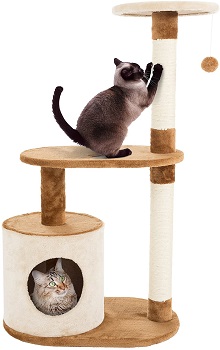 Tower Features
At its highest point where you'll find a rounded platform sitting on top of a post, it's 37-in tall. It comes with one more platform a post, and a cat condo as well. It even has a hanging ball for your cat to play with it and it can be used by large cats and kittens as well. For a wider range of products to choose from in this category, read the cheap cat tree house article next.
In Short:
Made with a particleboard frame
Has a 13.5-in wide, and 21-in long base
It's 37-in tall
It's covered with a brown plush carpet
Features 2 platforms, posts, and a cat condo
Can be used by kittens and large adult cats
BEST INDOOR WOODEN CAT TREE
Pawhut Cat Activity Tree Condo
Cat Exercise
Although almost any cat tree can take on the function of an indoor one, this one does it especially well since there's an additional exercise feature on it. This feature is the cat running wheel whose inside is covered with scratch-resistant sisal rope carpet. If you want to check out other models that are excellent indoor cat trees, you can read the article linked below for more.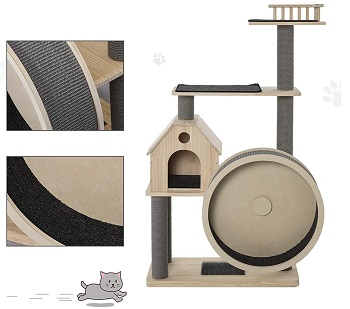 Total Dimensions
This wooden indoor cat tree sits on a solid p2 particleboard and the house-looking cat condo and other platforms are made from it as well. The platforms are partially carpeted but its posts are fully covered with sisal rope. The outside of the run wheels is also covered with it. It's around 31-in long, 20-in wide, and 56-in tall.
In Short:
Can be secured to a wall
It's 31-in long, 20-in wide, and 56-in tall
Comes with a cat run wheel
The wooden frame is made with p2 particleboard
Has a house-shaped condo
features posts covered with sisal rope, the run wheels as well
How To Pick A Wooden Cat Tower
There are plenty of things to learn about any cat tree and so is the case with a wooden cat tree. We'll talk about their benefits, where the wood is usually found, things to keep an eye on like size, most common components, and plenty of other things we haven't already mentioned.
Who Needs One – While we'd recommend anyone who can get a cat tree, it's not a thing that's a must all of the time. Indoor housed cats will benefit plenty from it since it'll keep them entertained and allow them to exercise and get tired when they're actually active.
Tree Height Benefits – One fun fact before we start. Did you know that cat hierarchy is determined by who is sitting at the tallest point? If your cat tree is taller than you, both you and your cats can now know who's in charge. One thing to benefit from tree height is that they can save you a lot of space while still having plenty of fun pieces of equipment.
Condo Use – Many cat trees include cat condo houses and condos are nothing more than a resting spot for your cat. We all know cats like boxes and tight spaces to crawl into so this can become another fun thing to have. Condos will offer them a sense of security as well and give them a place to call their own. Think of them as dog crates but for cats. If you're getting a tree with a condo for multiple cats, make sure that multiple entry holes can then act as exits.
Size Determining – Tree size is mostly determined by cat age and secondly by cat weight. An ordinary cat will benefit most from a tree that's 5-6 ft tall while a kitten should have a tree that's no more than 2 ft tall. Another thing to think about is the size of the space your cat will sleep in on the tree. If the space for sleeping or the condo entrance hole is too narrow, it's time to look for a bigger cat tree.
Wood Gripping – Cats can stretch manufactured wood but can't really grip on it. Solid wood is always the sturdiest and most stable choice but if you'd like your cat to climb, you need to think of having the wood frame covered with a material like plush. Sisal rope that acts as a scratching area is also a good choice.
Where Is Wood Most Used – If you had difficulties finding a wooden cat tree so far, this might be because wood is mostly used as the frame of the cat tree. You can get cardboard frame trees but just know that wood is going to be the long-lasting option in this case.
Cat Distracting – If you provide your cat with enough fun and interesting playthings on your cat tree, it will be easy to avoid your cat destroying your furniture and the rest of your home. That's actually the main point of these apart from being just plain old fun for cats.
To Sum Up
What's the most determining factor of which wooden cat tower you'll get is your cat's behavior and their needs. If your cat likes sleeping focus on condos, if they prefer to scratch, give them something to scratch on, and if they prefer heights, give them a tall tree. Take your time and you're sure to get it right. If you want to learn more about different types o cat trees around, read the cat trees for large cats article or the heavy-duty cat tree article. If you'd prefer to read about each possible type of tree available now, you can read the post about the best cat trees.