You love cute models and you're planning on buying castle cat tower?
If you're not sure which one to pick, keep on reading.
We choose 6 models from the market, so you can pick the best modern, tall, corner, cheap or for kittens. For more tips and recommendations, check our guide at the end of this post.
The Summary
Best 6 Castle Cat Condos
BEST OF BEST CASTLE CAT TREE
Trixie Cat Tree
Purple And Beige
This cute castle for cats will fit perfectly in your home and your cat will enjoy using it. It comes in a beige and purple color combination. The cat tree is made of high qualilty materials so cats can use it for a long time.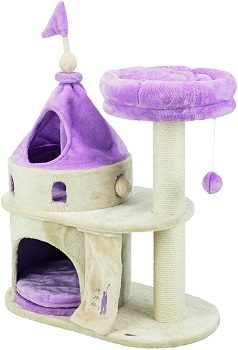 Easy Fitting
The sturdy oval bottom base is made of pressed wood and covered with a plush, as well as the whole construction. With a measurement of 27.5 x 14.75 x 35.25 inches, you can fit this beautiful cat tree in every corner.
Padded Bed
Castle cat tree house has an access ramp with softcover, for easier climbing. There is a wide perch at the top, with a padded plush bed, so your cat can have comfort while observing around the house.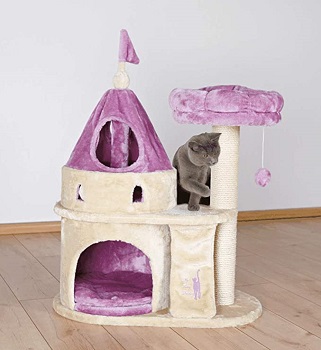 Sisal Post
The condo base comes in a shape of a tower that has a large front opening for access. the condo also has a soft bottom, and both beds are removable so you can clean them easily. A scratching post is covered with sisal and it has a hanging ball for playing.
In Short
Modern design in beige and purple color
Oval base covered with soft plush
Easy fitting in every corner
Top perch with padded plush cover
Scratching post wrapped with sisal rope
BEST MODERN CASTLE CAT CONDO
LLNN Cat Tree
Pink Color
If you love pink color, then you definitely need this condo for indoor use. This beautiful model is made of high qualilty materials so your cat can enjoy playing around for a long time.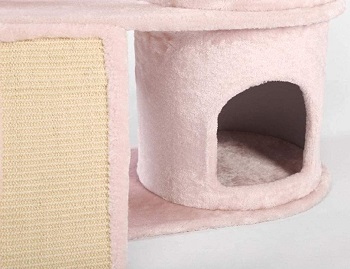 Soft Plush
This chic cat tree has sturdy construction with a large oval base that will provide stability. Setup is quick and easy. It is fully covered with the most comfortable plush for your cat's sensitive feet.
3 Levels
Medium princess castle cat tree is suitable for small to medium size cats. It has 3 levels with an incline ramp for easier climbing. A the top there is a perch with a padded plush bed for comfort.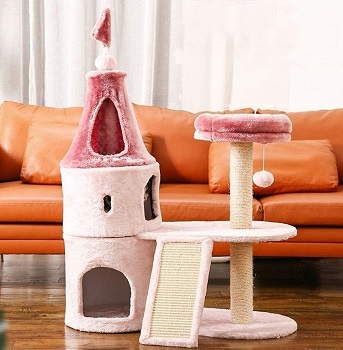 Easy Stretching
The large tower condo has 2 doors for easy access, and it is a perfect place for sleeping.  A hanging ball will entertain your cats for hours. When is time for scratching, there is a sisal post as well as an angled scratcher for easier stretching.
In Short
Beautiful design in pink color
Sturdy and durable construction
Covered with soft plush
3 levels for medium size cats
Scratching post and scratcher for daily routine
BEST CORNER CASTLE CAT TREE
LLNN Cat Tower
Purple Color
If you're searching for the purple cat tree, this model can be your option. This color combination goes perfectly in most interiors, and you can place it in every corner of your home.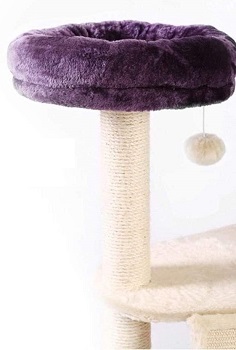 Plush Cover
The oval bottom base is made of sturdy material so you don't have to worry about the stability of the construction. This castle cat tree is fully covered with soft plush, so your cat can have enough comfort while walking on it.
Easy Climbing
For easier climbing on the top level, there is an angled ramp with a sisal scratcher so the cat can use it for stretching, as well. Cat tower has a perch with a hanging ball for playing. This model is suitable for medium size cats.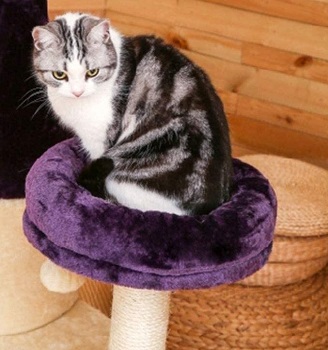 Sisal Rope
The large tower condo has a soft bed at the bottom, so cats can enjoy sleeping inside. A scratching post is wrapped with sisal, so cats can do their pet routine and always have healthy nails.
In Short
Purple with beige color
A sturdy model with a plush cover
Easy climbing with access ramp
Top perch for observing
Large condo for sleeping
BEST TALL CASTLE CAT TOWER
Tghy Wooden Cat Castle
Natural Design
If you prefer a natural wood cat tree, so you can easier combine it with your home decor, this Tghy model is the then perfect choice for your lovely pet. The neutral wood color goes well with any type of interior.
Stable Model
This castle cat condo has a wide square bottom base that will make sure the whole construction is stable for use. Don't worry about assemble, you will need a short time for the whole setup.
Wooden House
Castle tower measures 23.6 x 15.7 x 44.5 inches. There is a wooden house in the middle, with 2 openings for easier access. For quicker climbing, there are 2 small platforms that can be used as stairs.
Multiple Scratching Posts
On the top of this giant cat castle is a rounded perch, where the cat can sit and have better look around the house. Multiple posts wrapped with natural sisal will provide easy stretching and scratching. This model is suitable for all cats, except for small ones.
In Short
Natural design for easy fitting
Sturdy construction suitable for all cats
Wooden house for napping
Large perch at the top
Multiple posts for scratching
BEST CHEAP CASTLE CAT TOWER
Omega Paw Cat Castle
Graphic Print
If you want to buy an affordable castle cat tower that can be functional for playing and napping, this Omega Paw model is a perfect choice. A neutral color with graphic print can fit well with any type of interior.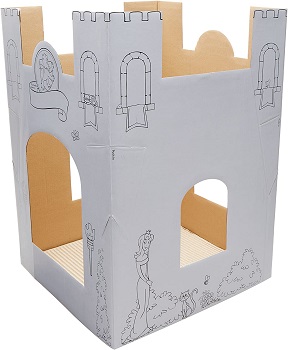 Easy Storing
This cat house is made of durable cardboard and glued with nontoxic glue for the pet's safety. Because of the lightweight material, you can easily move it around the house and store it when it's not in the use.
Carpet Roof
With a measurement of 12.5 x 12.5 x 17.75 inches, this minimalist cat tower is suitable for small and medium-size cats. On the top of the house is a carpet roof, so cats can sit on it and have better look around.
Cardboard Bottom
2 doors will provide easy access, and it has 2 windows so you can always check your cat. The whole bottom is covered with cardboard, so cats can scratch their claws and have healthy nails. The model comes flat so you can assemble it in a minute.
In Short
Affordable model made of cardboard
Neutral color with graphic print
Suitable for small and medium-size cats
Carpet roof on the top
2 doors for easy moving
BEST WITH TOY CASTLE CONDO
Midlee Castle Cat House
Simple Design
If you have kittens or smaller cats, and you want to buy some simple but still fun models, this Midlee one has great features. Light purple color with cute graphic print will catch the cat's attention. This model can easily fit with your home decor.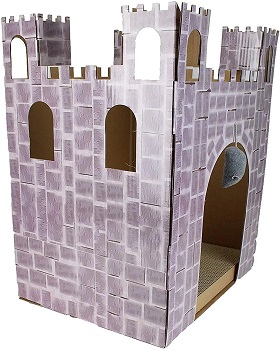 Durable Cardboard
The castle cat condo is made of durable cardboard with non-toxic glue, for pet safety. With a measurement of 20 x 16 x 13 inches, you can place this cool cat condo anywhere you want, it will not take much space.
Removable Scratchpad
At the bottom, there is a corrugated scratchpad that cats can use for scratching. It is removable, so you can change it when it wears off. With the package, you will get a small bag of catnip.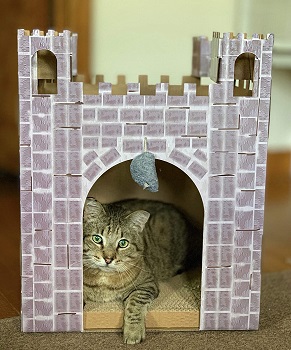 Hanging Toy
There are large doors at the front for easy access. Multiple windows will provide great air circulation. Hanging mouse toy will provide fun and keep your kittens entertain for a long time. The model can be easily assembled.
In Short
Purple color with cute pattern
Made of durable cardboard
Removable scratchpad at the bottom
Large doors for access
Hanging toy for playing
How To Pick The Best Castle Cat Condo Tower/Tree?
If you're still not sure about the material, size, or some other features, keep on reading. In our guide you can find some helpful tips and recommendations, that will help you with buying.
Castle Quality – No matter which model you're picking, one of the most important features you need to check is the quality of the construction. Make sure it is made with a sturdy bottom base, so the whole construction is stable. This feature is especially important if you're picking a higher model. If you choose a cardboard model, it needs to be made of thick cardboard.
Which Size To Pick? – Always check the dimensions of the model that you're planning to buy, o you're sure it will fit inside your home. Also, depending on the size of your cat, pick the model that is large enough so the pet can have enough comfort. Check the dimensions of platforms, perches, and condos. If you have small cats or kittens, don't buy a model with multiple levels.
Type Of The Material – There are so many great models on the market, and you can pick between few materials. Make sure that the material and the color match with interior. If you want something fun, you can pick the medium cat tree in pink or purple color. Simple design is always trendy, so you can choose a wooden one. If you want something affordable, choose a cardboard castle for your cats.
Functional Design – The castle cat tree needs to be functional for your pet, otherwise she will not use it that often. Make sure it has comfortable platforms and perches for observing. Scratching is a daily cat routine, so make sure there is at least one scratching post wrapped with sisal rope. Include some toys for playing. Make sure it is lightweight for easy moving and storing.
To Sum Up
The best castle cat condo that we picked from our list is Trixie cat castle. This cute castle tree for cats in a purple color has a beautiful construction and functional design for cats of all sizes. If you want to check similar models, we picked the best pink cat condo, so make sure you check it. Pick the best cat tree for a small apartment if you're looking for a space-saving model.