Have you been looking to find quality and functional pink cat condos and towers?
Look no more because you have come to the right place! Our article will help you choose the perfect model of a pink cat tower or a condo for your best fur friend. By reading our reviews, you will learn all about the six best models on the online market and get to know how to choose the right product.
The Summary
Top 6 Pink Cat Condos And Towers In 2021
BEST OF BEST PINK CAT TOWER
Tangkula Pink Cat Tower
High-Quality Material
Tangkula cat tower comes in pink color. It is made of high-quality engineered wood. It is a durable and firm unit for up to 2 adult cats. Its heavy base makes sure that the tree doesn't collapse during your cats' play and other activities such as climbing and scratching.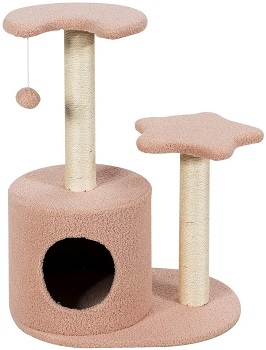 Ideal For Scratchers
If you are tired of your cats scratching your furniture, then think no more. Tangkula pink cat tower includes two large scratching pillars made of natural sisal rope. Pillars will satisfy your cats' needs to scratch and at the same time keep their claws healthy.
Multi-Functional Tower
As you can see from the photos, this pink cat tower by Tangkula includes a bottom condo, two perches, and an interactive hanging ball. Cats spend most of their time sleeping and resting. The condo included will be an ideal private space for your cats and the platforms and the ball will allow them to stay active.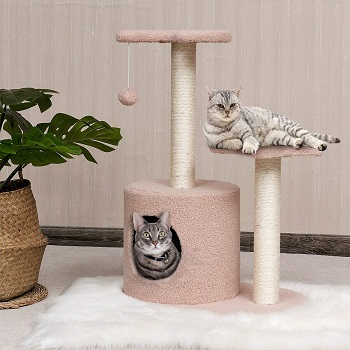 Comfortable And Warm
The tree is covered in pet-friendly and warm plush. Cats love this material. It makes them feel comfortable and cozy. Both cuddly and playful cats will love this unit. This wide cat tree is very stable. Place it next to a wall for extra stability.
In Short:
wide and heavy-base make it stable
ideal for up to 2 adult cats
includes a condo and two perches
comes with 2 scratching pillars
there is one hanging ball included
BEST FOR LARGE CATS PINK CAT CONDO
GEX Condo For Big Pet Cats
Large And Spacious
Looking for a pink cat condo that will be of the right size for your large cat? GEX condo measures 23.6 x 15.6 x 20.5″. It s spacious and fits one very large cat or two smaller-sized ones. It has one entrance door and three small windows that come shaped like paws.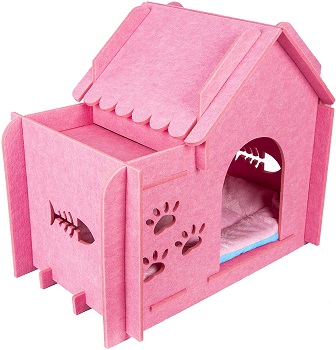 The Simple Setup
The unit ships unassembled. The package includes 10 pieces of polyester felts and one soft and warm cushion. The setup takes no more than a few minutes. Also, the unit is space-saving and folds and stores easily just like many other space-saving cat trees and condos.
Cozy And Warm
The condo by GEX is a comfortable and large private space that cats love. It is warm and relaxing. The soft pillow that comes included is cozy. It is simple to wash it and dry it. This condo will look cute in your home.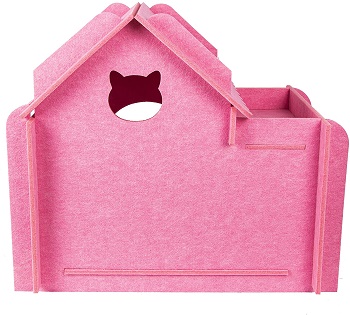 Easily Portable
This is a lightweight unit that is easy to carry if necessary. Disassemble the unit if necessary and take it with you and your cat if traveling. The unit's weight is approximately 4.7 pounds.
In Short:
assembles in less than 5 minutes
fits one large or two small cats
it is a soft and cozy cat house
one warm cushion is included
lightweight and easy to carry
disassemble it easily if you need to travel
BEST JUNGLE GYM PINK CAT TOWER
Sararoom Small Pink Jungle Gym
Small Pink Playground
Sararoom tower for cats includes one hanging hammock, a basket, a raised perch with an interactive hanging ball, and scratching posts and pillars. The material used is high-grade sisal, wool, and flakeboard. It is comfortable and small. Ideal for one or two adult cats.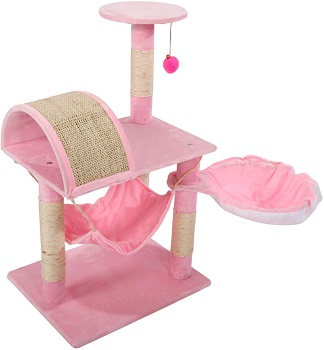 Wide And Stable Base
This small pink cat tower is heavy-based. The base is wide and provides great stability. You can feel relaxed about your cats' safety. The unit won't collapse or overturn easily. It is durable and long-lasting as long as you use it properly. Do not use this unit if you have large and heavy cats.
Size And Setup
This tree's overall measures are 0.08 x 16.14 x 32.28 inches. Just like almost any other model, you will need to assemble it. Follow the step-by-step instructions to put this tree together. Assemble it well enough to make sure the unit will last.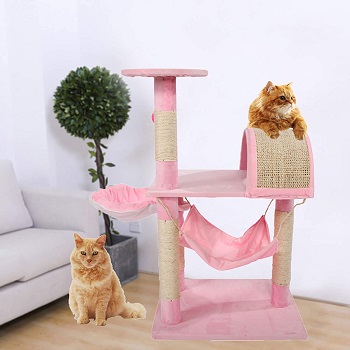 Keeps Your Cat Healthy
This unit will help your cats stay active and occupied which is very important for their overall health. Moreover, this is a washable cat tree. It is simple to clean it. Vacuum the surfaces from time to time. Cats love hygiene, so make sure the tower is in a good state.
In Short:
small and stable cat tower
includes perches, pillars, and a ball
easy to assemble and clean
helps with keeping your cats active
promotes daily exercise and healthy life
BEST TALL PINK CAT TOWER
Pet Supplies Deluxe Entertainment Tower
Tall And Narrow Tree
If you are looking for a tall tree because your cats love spending time in high places, this model might satisfy your cats' needs. It is made of high-quality chipboard. This tree is covered with a flannelette covering. It is strong and stable.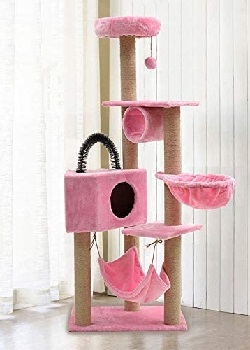 Stable And Heavy-Based
This is a heavy-duty tall skinny cat tree. It will last you a long time and provide your cats with a spacious activity playground area. The Pet Supplies tree will protect your furniture from being damaged. Cats love climbing this tree and playing on it.
For Two Adult Cats
Ideally, get this tree if you have two adult cats of normal size. Also, households with 3 smaller-sized cats will benefit from this tree as well. Although this pink cat tower tree is highly-stable, we recommend you put it next to a wall if your cats are very active.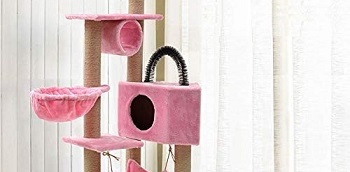 Easy To Install
All the necessary screws and hardware, as well as the instructions for the assembly, are included in the package. Follow the guide step by step and you will be done with the setup in no time. The tree includes a pink cat condo, platforms, soft perches, scratching posts, and many more.
In Short:
tall, narrow, and stable cat tree
includes perches, posts, and a condo
the tree is made of strong and quality wood
ideal for 2 adult cats
easy to set up, and includes all hardware
BEST SMALL PINK CAT CONDO
Laamei Small Pink Condo For Cats
2 In 1 Unit
Laamei pink condo for cats is a two-in-one product. It will serve your cats as a cat cave bed with just enough space for one adult or two small cats. On the other hand, if your cats prefer, this unit can be folded and serve as a cuddler bed. It looks nice on cat trees of similar colors such as on purple or red cat trees.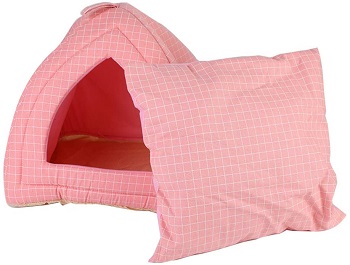 Warm And Soft
The material that is used for designing Laamei pink cat condo-bed is the pet-friendly polyester fabric for the exterior and warm and cozy plush for the interior. It is no-slip and stays in one place. The condo is stuffed with PP foam. Cats love such material.
Plush Cushion Included
The package includes a removable plush cat cushion. It is soft and warm. It creates an even cozier inside space. The cushion can be taken out when in need of cleaning or during summer. Simply put it back when necessary.
A Water-Resistant Condo
The bottom of this condo by Laamei is completely waterproof. So, even if your cat knocks over a water bowl or any other accident happens, the condo won't get wet. Wash the condo with cold water. Do not use bleach or any other toxic product.
In Short:
this is a two in one product
use it as a cat bed or cat condo
it is a soft and warm cat unit
includes a cozy cat cushion
wash it with cold water only
BEST MODERN PINK CAT CONDO
All Fur You Unicorn Cat Cave
Interesting Unicorn Design
All Fur Your condo will be an interesting addition to households with children. It comes with a unicorn design. It has a large entrance-exit door. Its unique design will be a central point of your room. This condo is made for indoor use only.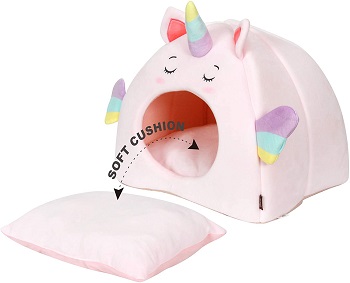 Anti-Slip And Pet-Friendly
The bottom part of this condo is dotted with a no-slip base. This house for cats stays in one place, especially if you place it on a smooth base. The material used is pet-friendly. It is made of crystal microfibre, polyester, and spandex.
For Cats And Kittens
The polyurethane cushion filler comes included. Your cats or kittens will like this condo. It makes cats feel relaxed and warm. The condo will fit one adult cat or two kittens or smaller-sized cats. It will look cool with your funny cat posts or trees.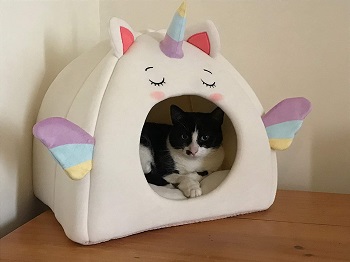 Lightweight, Small, And Affordable
It is simple to carry this unit. It doesn't weigh more than 1.21 pounds. The unit is simple to fold and if you need to take it to travel, it will be no hassle. The price is budget-friendly and this pink cat condo is affordable for anyone.
In Short:
small, lightweight, and easy to carry
the cost of the condo is affordable
it fits one adult cats or 2 small cats
the unicorn design makes it unique
comes with the anti-slip bottom part
How To Pick: Pink Cat Condos And Pink Towers
Besides the color of your preference, in this case, pink, there are a few other things that you should always have in mind before you click "buy". Consider your cat's personality and the number of cats in your household and it will be easier for you to choose the right size, material, and shape of the pink cat tower or condo.
Benefits Of Cat Towers And Condos – Calmer, cuddly, or less active cats will prefer warm and soft inside condos for relaxing. Cat condos make cats feel safe, healthy, stressless, and comfortable. On the other side, cats that are playful will enjoy their waking time climbing and scratching the cat tower posts or play with hanging toys. These units encourage the cat's natural instincts and help to keep it occupied and healthy both mentally and physically.
The Right Condo Or Tower Size – The right size of the condo or a cat tower you are looking to buy should be the one that fits all the cats of your household. In other words, if you have one cat of medium size, a particleboard tower or a smaller-sized condo will be just fine, whereas if you have more than one cat, you should get a taller and larger unit. Be sure to buy a sturdy and firm tower if you have active cats. Natural wood cat trees and spacious condos are the best ones if you have several playful cats.
Safe And Pet-Friendly Material – We recommend that you get a cat condo or tower that is made of safe and non-toxic materials. Ideally, the manufacturer guarantees that the unit is made from natural or recyclable materials. Also, be sure to check if the condo or tower comes with smooth surfaces. Avoid getting a unit with sharp edges and never buy if you are not sure the tower or the condo is pet-friendly and paw-friendly.
Extra Features And Cat Toys – You will notice that many models already include interactive toys. For example, there are many cat towers that feature a hanging rope or a hanging toy. Furthermore, if your cat is a scratcher, be sure that you get it a product with scratching posts or pillars. Also, you will most probably like to get a condo or a tower that includes a soft and fluffy cushion. We all know how cats love those.
Where To Buy And How Much To Spend? – It is suggested that you get pink cat condos and towers from a manufacturer that you trust or have experience with. Read our reviews and check customer reviews as well. Buy from reliable online retail websites. Never be afraid to spend more than a penny for a quality pink cat tower or condo and it will last you a long time.
To Sum Up
To conclude, before you buy a pink cat condo or tower, make sure the nice color and design are not the only characteristics that you have considered. Units like Pet Supplies Deluxe pink cat tower are best to buy if you are looking for a combined condo-tower model. It keeps your cats active and allows them to perform daily exercises. If you want to check out more similar models, we invite you to read our article about tall cat trees for large cats or multi-level cat trees.