Are you in search of the best plastic cat tree, tower, or other furniture such as cozy cat condos?
Then you will have to look no more. In our article, you will get to read all the important details of such models. We have gathered the five best products and divided them into different categories. Learn more about the best of best, large, modern, and a cat tree for large cats. Check out the best small cat condo.
The Summary
Top 5 Plastic Cat Trees & Tower Furniture
BEST OF BEST PLASTIC CAT TREE
Co-Z Climbing Cat Tree
All That Your Cat Needs
Cats are big sleepers. They spend most of their time resting and relaxing. But when they are awake, they love to play, climb, and scratch. The Co-Z tree includes all the content that will satisfy your cat's daily needs. There are two spacious sleeping areas, a climbing ladder, a scratching post, and a platform included.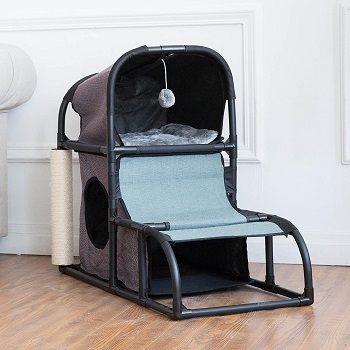 Heavy Duty And Firm
Co-Z plastic cat tree is made of strong PVC tubes that make this unit strong and firm. This tree will carry up to 2 adult cats or 3 small cats or kittens. This is a space-saving tree that measures 27.6" x 15.8" x 31.5". As long as it is used properly, this tree will last you a long time.
Fun And Cozy
Your cats will not only be able to sleep and rest on this tree, but also have fun and play. This unit includes one interactive hanging toy and a scratching pillar made of sisal which will save your furniture from damages. Your cats will never be bored with the Co-Z tree. However, we recommend you don't get this tree for large cats that are very active.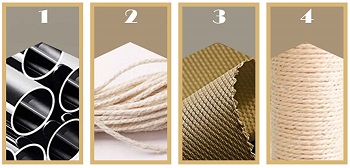 Easy To Assemble
You can easily attach this unit. It will take no more than 10 minutes. Detailed instructions are provided within the package. All the installation parts are included. The tree is simple to detach when it needs to be cleaned. The is a washable cat tree. The fabric is simple to maintain clean and can be washed in a machine.
In Short:
includes all the content a cat needs
the assembly is quick and simple
the fabric can be washed
includes cozy condos and a scratching post
there is one hanging toy included
Co-Z tree is made of strong PVC tubes
BEST LARGE PLASTIC CAT TREE
LBLA Plastic Stable Cat Playground
Product Overview
If you are looking for a large cat playground for more than one cat, you will love the LBLA plastic cat tree. It is here to help to relieve boredom and anxiety. This tree will encourage your cats to play and stay active on an everyday basis. This tree is ideal for cats of any size and age. The dimensions are 47.2 × 31.5 × 42.1 inches.
Outdoor And Indoor Use
You can install this tree inside of your living room or anywhere indoors. It is a unit that will help indoor cats to stay active and occupied. If you prefer, you can also put this unit outdoors. However, if you plan on leaving it in your garden or backyard, we suggest you remove the pads if you are expecting bad weather.
Simple To Maintain
As already noted, all the pads can simply be removed. This helps with cleaning and washing. You can wash the tower pads in a washing machine. They are simple to put back on. Every cat owner knows how important it is for a cat to live in a clean environment. Make sure that you maintain the unit clean at all times.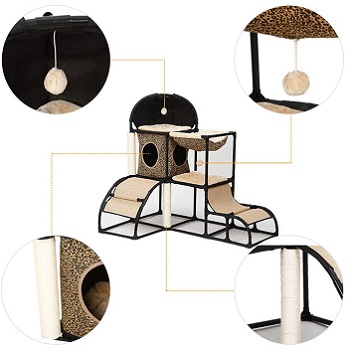 Durable And Sturdy
LBLA outdoor cat jungle gym is another unit that is made of premium PVC tubes. The tree is wrapped with sisal which helps to maintain your cat's nails strong and healthy. The unit is covered with high-quality carpet fabric. The tree is strong and long-lasting.
In Short:
this is a spacious and large cat tree
made of indoor or outdoor use
the pads can easily be removed
this tree is made of PVC pipes and sisal
LBLA tree is covered with the carpet fabric
carrying capacity is up to 2 large cats
BEST MODERN PLASTIC CAT TREE
On2Pets Plastic Cat Tower Tree
Unique Design
On2Pets model looks like a regular small tree. It has a round base that makes it stable. The tree includes artificial leaves and three carpeted perches. This unusual cat tree comes unassembled and the assembly is easy and fast. The size of the On2Pets tree is 24 x 24 x 60 inches.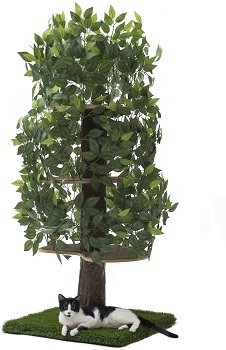 For Indoor Use
This unit is designed to be used indoors. It is perfect to have at home if you have indoor cats and you want them to be more active. This tree is interesting and we are sure it will be a fun addition to every modern home. Also, households with children will love this plastic cat furniture as well.
The Tree's Capacity
If you have one or two cats of small or medium size, then this tree will be great for you. It will be stable and last you a long time. Also, it will make your cats happy and help to relieve feline conflicts. On the other hand, if you have more than 2 cats of larger size, we don't recommend you get this tree. It could break soon.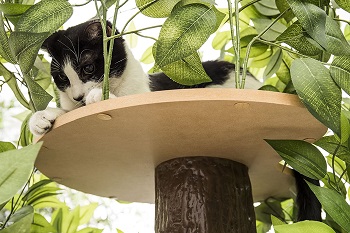 Encourages Cats To Play
Cats love spending their waking time grooming and playing. The tree by On2Pets allows cats to spend time as they wish – climbing, resting, or doing other activities cats love. Also, forget about having damaged furniture. This plastic cat tower is great for scratchers as well.
In Short:
comes with a special design
it looks like a regular tree
this tree is made of plastic and carpet
it has three carpeted levels
made for active indoor cats
saves your furniture from scratches
BEST SMALL PLASTIC CAT TREE
isYoung 2-Tier Plastic Cat Condo
The Simple Installation
Just like every other model, you will need to assemble the isYoung condo for your cats. The installation takes about 10 minutes. The video with the easy-to-follow instructions will help you. Also, this tree is simple to disassemble as well which helps with storage or travel.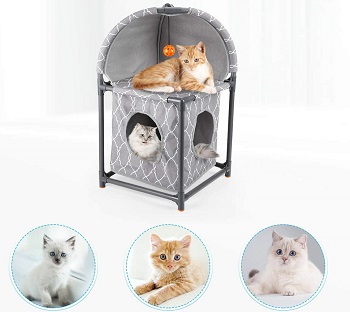 A Spacious Cat Condo
This is not a huge cat condo, but it is spacious enough. It has two levels. The ground floor condo looks is a spacious sleeping house and the top platform is open. This plastic cat condo fits 2 cats. It includes a ball that hangs from the top. It is a fun interactive cat toy that almost all cats love.
Safe And Pet-Friendly
The material used is eco-friendly and safe for pets. We are talking about PVC pipes, ABS joints, and linen cloth. This condo includes a cushion that is simple to clean and wash. The capacity is 33 pounds. Thanks to the sturdy and firm material, this plastic cat tree condo will last you a long time.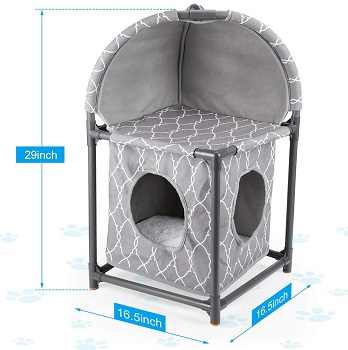 Well-Ventilated
The ground-floor condo has two entrance-exit doors. They allow the fresh air to circulate the condo all the time, which is very important for your cat's health. This condo will help to relieve cats' anxiety and reduce stress. isYoung comfy and warm condo will be your cat's favorite sleeping place.
In Short:
small but spacious enough for a cat
it has two levels and fits two cats
the ground floor condo is well-ventilated
there is one hanging ball included
it is a warm and comfy sleeping house
made of PVC and ABS
BEST FOR LARGE CATS PLASTIC TREE
Kuranda Expandable PVC Cat Tower
Sturdy PVC Tubes
Made of PVC pipes and tubes, the Kuranda plastic cat tower will be a long-lasting unit that your cats will love to play on. It is a 2 in 1 product. Build your cats an interesting and fun tree and a comfy resting space. It is made for indoor use only. It keeps your indoor cats occupied and encourages them to be more active.
Easy To Clean
This unit is made of an easy-to-clean material. Simply dust off the PVC frame. The durable fabric made vinyl can stand up to repeated cleaning. Be sure that your cats are staying in a clean environment and maintain the unit as often as possible.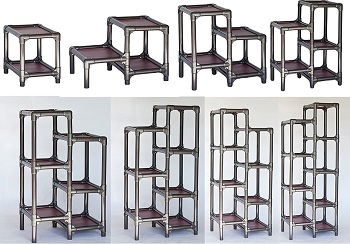 Easy To Expand
In case you want to enlarge this cat unit, simply get more Kuranda products, expand the unit, and build a heavy-duty cat tree for large cats. Kuranda's plastic cat furniture is stackable. The dimensions of one product are 48 x 7 x 7 inches. The unit doesn't come already assembled, but the installation takes only a few minutes.
In Short:
made of PVC long-lasting tubes
this unit is made for indoor use only
you can expand this unit easily
the assembly takes only a few minutes
each product measures 48 x 7 x 7 inches
the vinyl fabric can be cleaned easily
How To Pick: Plastic Cat Trees, Towers & Furniture
Cat trees, towers, beds, condos, and other cat furniture that include a plastic part are ideal for households with one or two cats that are not very active. Cuddly and gentle cats prefer relaxing and sleeping. They will not overturn or damage plastic cat towers easily. Before you decide which product to buy, read more about other features that we consider important – safety, stability, extras, and size.
Ideal For Gentle Cats – We strongly recommend that you do not buy plastic trees and towers if you have active and playful cats. Such units are made for cats that prefer relaxing, cuddling with their human, and grooming while awake. Ideally, get a plastic unit if you have only one cat, an older cat, or an inactive cat, and you don't plan on getting another one very soon.
Pet-Friendly Material – The plastic that the unit is made of should be strong, sturdy, and of high-quality. Moreover, the manufacturer should guarantee that the tree or condo is pet-friendly and made of non-toxic plastic. Be sure that your new product does not come with sharp edges that could possibly harm your cat.
The Right Size – If you have notices that your cat likes to climb to high places and keep an eye on its surrounding, then it is highly recommendable to get a tall narrow cat tree with a condo and perches on the top. On the other hand, your cat may be shy and likes to hide under the bed. In this case, get a small cat tree or a smaller-sized and cozy cat condo.
Stability And Durability – We are talking about plastic trees and condos and we know that these units are not as sturdy or strong as wooden or metal ones. Still, the quality should be high. It is suggested to buy a tree with a wide base or a non-slip condo with a water-resistant bottom. If you want to be sure that your tower won't overturn, place it next to a wall.
Extra Toys And Other Content – Cats will most probably like to play with other toys. Some plastic cat trees and furniture already come with interactive toys such as balls and ropes. There are many models of condos that include a soft cushion. In case your unit doesn't include such products, you can always purchase them separately and attach them to your new tree, condo, or other furniture.
To Sum Up
As you know by now, the plastic cat trees are perfect units for cats that have a cuddly and calm personality. Trees like the ones we have reviewed in our article are some of the best trees made of plastic that you can get for your indoor cats. The On2Pets Plastic Cat Tower Tree is the model we liked most. Modern cat tree furniture is always interesting to have at home. If you liked this unit as well, read our article about funny cat trees and find more similar models.