Are you in search of a firm, sturdy, and heavy-duty cat tree?
In our article, you will find different models of all sizes. They will all fit cats of both small and large sizes. Read on and find out more details about each model. While you are here, be sure to check out our buying guide as well.
The Summary
Top 6 Heavy Duty Cat Tree For Large Cats
BEST OF BEST HEAVY DUTY CAT TREE
Amolife Multi-Level XL Cat Tree
Cozy And Warm Tree
Amolife's cat tree includes 2 spacious cat condos. They can fit up to two smaller-sized cats each. Apart from the cozy condos, this unit comes with perches and baskets that cats love as well. This tree is covered in skin-friendly plush and keeps cats warm.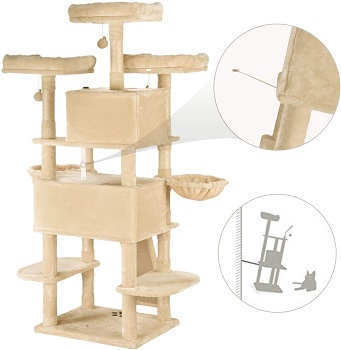 Large And Spacious
This is an extra-large cat tree. it is wide, spacious, and tall. Households with a lack of space will hardly fit this unit. If you have enough space for such a large cat tree, we highly suggest you consider getting it. It provides cats will endless fun and keeps them active.
Provides Hours Of Play
Amolife is a multi-level cat tree that apart from the already listed perches and condos, includes multiple teasing toys and scratching posts. Cats that love to climb and jump between levels will surely love this unit. It is a heavy-duty cat tree with a big baseboard that keeps it stable.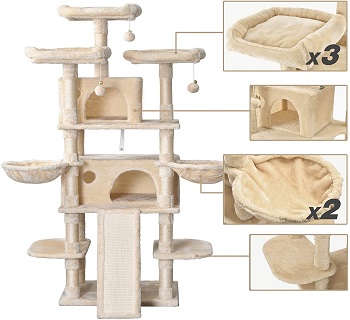 Size And Capacity
Always know the cat tree's size before buying. The Amolife XL cat tower measures 23. 6″ Lx 19.7″Wx 68″H. Simple and fast assembly is required. Follow the detailed instructions and set this unit up in no time. Make sure you install it properly.
In Short:
a big and extra-large cat tree
includes perches, condos, and baskets
this tree is fun and interactive
the teasing balls hang from the perches
Amolife tree is covered in soft plush material
BEST MODERN HEAVY DUTY CAT TOWER
Feandrea Cat Tower Condo
Large Top Perch
The Feandrea cat tower comes in three colors. You can choose between light grey, beige, and dark grey colors. The unit comes with a wide base and multiple columns that keep it stable. The top perch is large and it will fit a cat of any size.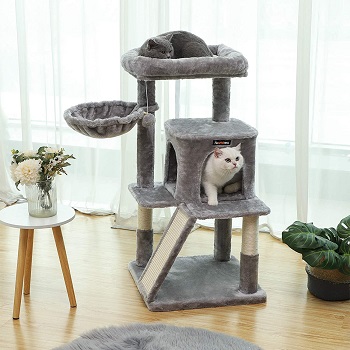 For Scratcher Cats
If your cats love to scratch and you don't want your furniture to get damaged, make sure you buy your felines a cat tree with scratching posts. Feandrea's posts are covered in natural sisal. Such material will attract your cats and allow them to maintain their claws healthy.
Ideal Sleeping Space
Apart from being fun and entertaining, this heavy-duty cat tower by Feandrea is a perfect warm sleeping space. There is one spacious condo included, a top perch, and a cat basket. When your cats get tired of playing, they will enjoy their new safe and private resting space.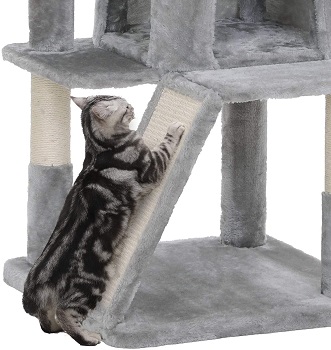 Stable And Firm
This large perch cat tree is made of engineered wood and a reinforced base plate. It is sturdy, firm, and stable. The unit is well-proportioned and it will fit cats of all sizes. The unit is covered in soft and warm plush that keeps cats safe and comfortable.
In Short:
this cat tree includes a large top perch
it is ideal for cats of all sizes
this tree is covered in soft and warm plush
there is a spacious cat condo included
ideal tree for playing and resting
BEST TALL HEAVY DUTY CAT TREE FOR LARGE CATS
BestPet Cat Tree Playground
Stable And Firm
The BestPet cat tree is stable and incredibly hard to overturn. It is a cat tree with a wide base and multiple columns. This heavy-duty cat tower for large cats is well-proportioned and made of sturdy material. It is safe for cats of all sizes – from small to large!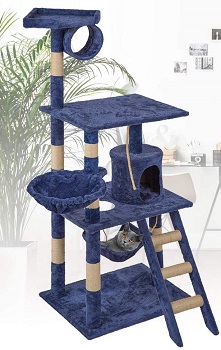 Soft And Comfortable
The unit is covered in soft and warm plush. The material is safe for the cat's skin. Apart from that, it will keep your cats warm and relaxed during their sleep. Such a material reminds cats of their mother's fur that they used to knead to stimulate milk.
Fun And Interactive
This unit by BestPet will meet all of your cat's needs. If you have shy cats, they will surely like to spend time inside of a cat condo. On the other hand, active and social cats will play with a hanging rope and like to climb to the elevated perch.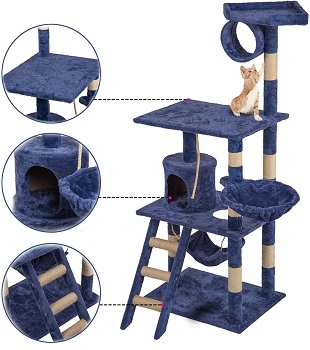 Affordable And Quality
The unit comes at an affordable price. The quality is fine and general customer satisfaction is quite high. This blue cat tree comes in two more colors – brown and beige. This indoor cat tree will hold cats of small, medium, and large sizes.
In Short:
a tall tree with a cat condo
covered in skin-safe material
fun and interactive toy included
the price is quite affordable
choose between three colors
BEST SMALL HEAVY DUTY CAT TOWER
PawHut Sturdy Cat Tree Condo
Ground Floor Condo
PawHut's cat house tree comes with a spacious condo, a platform, a raised perch, a scratching column, and a teasing cat toy. The unit is suitable for cats of all sizes. This nice cat tree combines dark and light colors and it will attract everyone's attention quickly.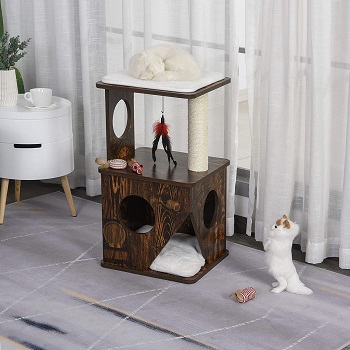 Strong And Durable
This is another high-quality natural wood cat tree. It is constructed of a dark wood veneer. The scratching column is wrapped in natural sisal rope. Its rough texture will make sure that your cat's claws remain safe, strong, and healthy. This is another long-lasting cat tree.
Medium Size
Households with a lack of space will love this unit. It does not occupy too much. The PawHut heavy duty cat tree for large cats measures 15″ L x 15″ W x 28.25″ H. This cat tree can fit up to two adult cats and provide them with a warm and cozy environment.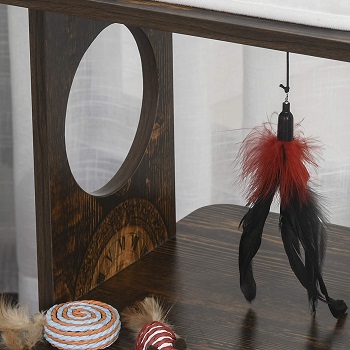 Soft And Comfortable
The package includes two soft and warm cat cushions. One for the condo, and the other one for the top floor. The cushions are removable and easy to clean. You can wash them in a washing machine. The hanging toy will tease your cat and keep it active and entertained.
In Short:
a cat tree that includes a large condo
it combines dark and light colors
the design is attractive and unique
two cat cushions are included
warm and cozy environment for cats
BEST HOUSE HEAVY DUTY CAT TREE
Tangkula Cat Kitty Tower Condo
Activity Tree For Cats
The Tangkula is a medium cat tree that is suitable for cats of all sizes. The maximum carrying capacity is up to 40 lbs. This is another fun and entertaining heavy-duty cat tree. It includes all that cats need for active and occupied life.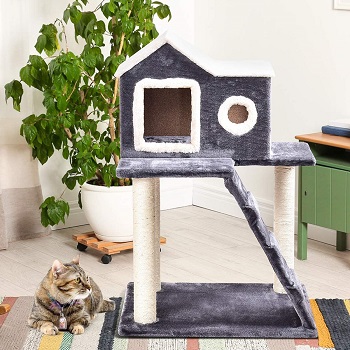 Tree With A House
This tree comes with a wide base, scratching columns, stairs, and a spacious cat condo that looks like a house. The unit is soft and warm. It is an indoor cat playground and a safe private space for cats. Your cats will love to scratch these posts which will help to keep your furniture undamaged.
Unique And Nice
Tangkula's cat condo tree house is different and interesting. It looks nice with almost any home decor. It is incredibly interesting for households with multiple cats and children. This unit has caught our eyes immediately. The price is affordable which is a big plus as well.
Easy To Set Up
You will have no trouble setting up this unit. The package includes detailed instructions. Follow them step-by-step and make sure you assemble this sturdy unit correctly. This tree is made of strong flakeboard, sisal, and skin-friendly plush.
In Short:
indoor playground for active cats
cat house condo is included
this tree includes scratching posts
it is made of strong material
this unit is strong and sturdy
BEST FOR LARGE CATS HEAVY DUTY CAT TOWER
Pawz 2 Super Large Condo Tree
Tree With Two Condos
The Pawz cat tree has two spacious condos. It includes two elevated perches that are supported by scratching columns. There is another cat basket included. This unit has a wide and heavy base that keeps it stable and prevents wobbling.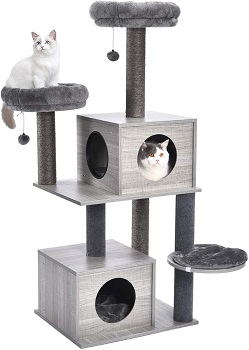 Safe And Strong
This heavy-duty cat tower is constructed of strong and sturdy material. It is a wooden cat tree that is partially covered in skin-friendly plush. This tree is pet-friendly and completely safe. Your cats can jump between two levels and sleep on this unit.
Modern And Attractive Design
We loved this tree's design. It combines light grey and dark grey. This heavy-duty cat condo tower is modern and blends in with similar furniture. The condos have two large circular entrances. Cats of all sizes can fit this 2-condo tree by Pawz.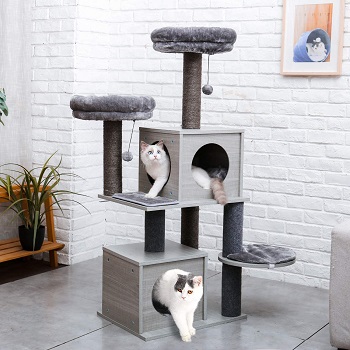 Set Up And Cleaning
The setup process is simple and quick. It takes no more than 15-20 minutes to assemble the unit. When it comes to cleaning – use a clean and soft cloth. The mats are removable and you can wash and dry them. This washable cat tree is one of the best heavy-based units on the market.
In Short:
made of wood and plush
the unit comes with cushions
it will fit cats of all sizes
the unit comes in grey colors
simple to assemble and clean
How To Pick: Heavy Duty Cat Tower
Be sure you buy a heavy-duty cat tree of the right size. Not every cat likes or is able to climb to high locations. On the other hand, active cats will feel bored if they don't have enough space for climbing and jumping. Before buying, check the unit's maximum holding weight. Know your cat's habits and be sure the tree includes the content that will satisfy all of your cat's needs.
Cat Tree Size – The ideal tree for your household depends on its size and the space available that you have. If you have a lack of space, we suggest you get a small or medium-sized cat tree. Such trees are ideal for households with one or two cats that are not very active. However, if you have multiple active cats, we suggest you get a taller version. In case you have a small apartment, there are many tall and narrow space-saving cat trees available on the market.
Check Unit's Capacity – Households with one cat will easily find suitable heavy-duty cat furniture. However, if you have more than one cat, be sure you check if the tree you like can hold all the cats you have at home. Most heavy-duty units of medium size will be strong enough to hold at least two or three cats. Larger-sized units will surely hold at least three or four cats.
Material And Stability – Trees that are made of strong and quality material will last the longest. For example, wooden cat trees are usually expensive, but hard to break or collapse. However, there are many quality units made of particleboard or chipboard as well. Units that come with a wide and heavy base are usually well-balanced and stable. They are more affordable as well.
Condos And Toys – Most cat towers and trees will include at least one cat condo, oftentimes two. In case the unit you like comes without a condo, don't worry. Cats like sleeping on soft perches, in spacious baskets, and hanging hammocks as well. If you have playful cats at home, choose a tree that includes interactive toys. They will attract the cats' attention and keep them active for hours.
Scratching Posts – Cats' natural need is to scratch. They scratch several times a day and for different reasons – to maintain their claws strong or to mark their territory. Before you get a heavy-duty cat tree, be sure it includes jute, sisal, or hemp scratching posts. Rough material will attract your cats and they will choose to scratch on the post, rather than your furniture.
To Sum Up
As our top choice, we pick the Pawz 2 Super Large heavy-duty cat tower. This is a unit that will fit nicely into any modern household. The Pawz cat tower grey is sturdy and firm. It is made of top quality materials – plush and wood. This cat tree for adult cats provides cats with multiple scratching posts and climbing possibilities.