In our article, read more about the cat towers with hammock for small to large cats.
Learn the important details about the best six models and follow our tips. You will find them within the buyer's guide.
Hopefully, one of the listed models will be right for your lovely fur friends!
The Summary
Top 6 Cat Towers With Hammock
BEST OF BEST CAT TOWER WITH HAMMOCK
Bewishome Cat Tree Condo Tower
Equipped Cat Tree
Bewishome's cat tower with hammock includes all the content that will keep your cats satisfied and busy on a daily basis. First of all, there are platforms, dangling balls, climbing layouts, scratching pillars, and a hammock. Then, there are condos and a hammock to help your cats feel rested as well.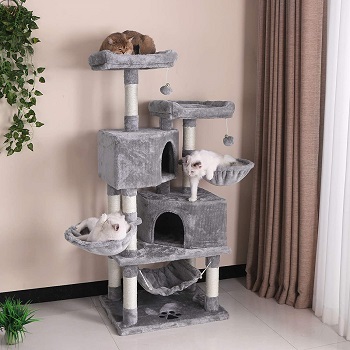 Multi-Level And Fun
This is a multi-level cat tree that will easily accommodate two large cats or three small to medium-sized ones. The unit is incredibly fun and invites your cats to play. It also helps cats stay active and healthy. All in all, Bewishome's cat tree with hammock for large cats satisfies all of the cats' needs.
Easy To Assemble
When it comes to assembly, don't worry because it is pretty simple. One or two adults will set the tree up with no hassle. Also, the instructions are included. They will help you to put the pieces together properly. This sturdy cat tree basket model will certainly last you a long time.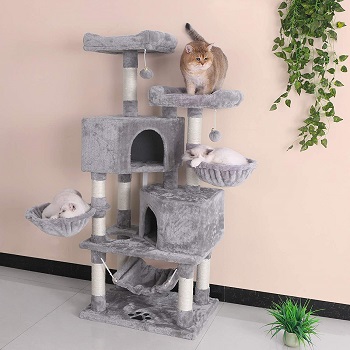 The Dimensions
Before buying, be sure to know the tower's dimensions. This one measures approximately 23.8″L x 18.1″ D x 57.1″H. Also, it weighs about 40 pounds. As you can assume, the unit is heavy-based and this will keep it in one place even if two cats jump off of it at the same time.
In Short:
well-balanced and heavy construction
includes multiple levels and toys
comes with two condos
ideal for large and medium-sized cats
simple to put it up
BEST MINIMALIST CAT TOWER WITH HAMMOCK
AmazonBasics Cat Condo Tree Tower
Basic Beige Design
Unlike the previous model, this is a simple cat tree with a minimalist design. Also, it is quite small and ideal for ooms that lack space. The AmazonBasics cat condo tree tower with hammock bed and scratching posts stands on a baseboard that allows you to place the unit in a corner if you wish.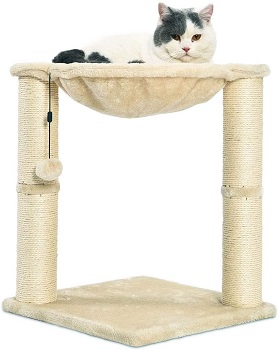 Soft Plush Hammock
The hammock of this unit is incredibly cozy and soft. It is covered in skin-friendly plush material. Cats love such material because it often reminds them of their mother's fur. Also, it keeps cats warm and makes them feel relaxed and comfortable.
Scratching Posts
The two pillars are carpeted in natural jute fiber material. Thanks to its rough texture, cats love to scratch this material. They scratch to maintain their nails and claws healthy. Also, they do it to stretch after waking up from a nap. This cat tower with hammock will satisfiy your cats' needs.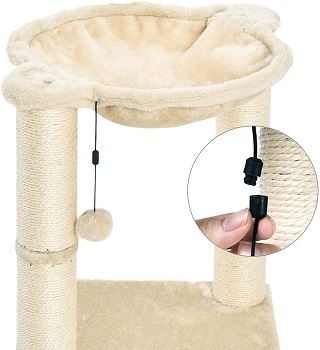 Useful Details
You can choose between beige and grey colors. Pick the one that best looks with your household. Moreover, the size of this small cat tree with hammock for large cats is 15.75 x 19.69 x 15.75 inches. It is a one-cat tree. Both small and large cats can use it as their sleeping space.
In Short:
small tower for medium and large cats
simple beige or grey design
the hammock is soft and warm
includes two scratching pillars
made of skin-friendly materials
BEST SMALL CAT CONDO WITH HAMMOCK
Trixie Baza Grande Cat Tree
Small With Condo
Trixie's small tower for cats includes a ground-floor cat condo. It is not only fun but cozy as well. Such a unit is perfect for cats that cannot climb to high locations or simply prefer staying under the bed. For example, shy, cuddly, or senior cats will love this tree for sure.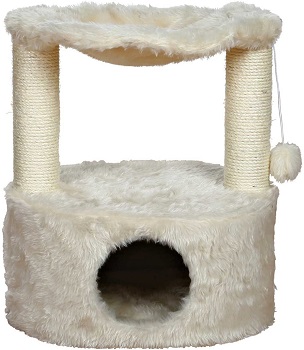 Cozy And Soft
Just like most cat condos with hammock, Trixie's hammock is covered with a soft and warm plush material. As already said, such a material reminds cats of their mother because they used to knead her fur in order to stimulate milk. So, plushy hammocks will keep your cat relaxed and safe.
Interactive Toy
There is a dangling toy included. It hangs from the hammock. The reason why cats love such toys is that they swing back and forth. This attracts cats' attention. As a result, cats play with the toy and try to catch it which keeps them occupied sometimes for hours.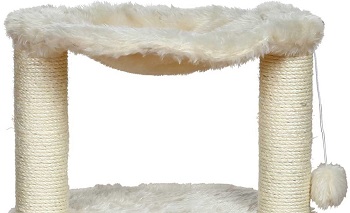 Affordable Price
We are sure this short cat tree will fit into any household with no problems. The overall size is approximately 20.47 x 15.75 x 12.2 inches. Also, the unit's price is pretty affordable for anyone. So, if you have a limited budget, one cat, and a lack of space, this unit is a saver.
In Short:
short tree with a cozy condo
includes a plushy hammock
there two scratching posts
a dangling toy is included too
ideal for one cat
BEST TALL CAT HAMMOCK TOWER
Scratch Me Cat Tower With Scratching Post
Tall And Multi-Level
Looking for an attractive multi-level cat tree? Then read more about the Scratch Me unit. It is another cat tower with hammock that will satisfies all the needs of active and playful cats. Thanks to the multiple levels, this unit allows cats to climb and jump between levels easily.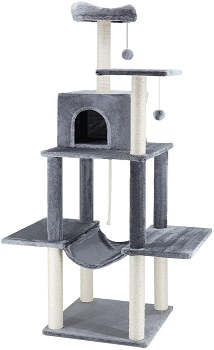 Quality Material
First of all, the tower has a sturdy and stable construction. It is made from plywood. This material keeps it strong and firm. Moreover, the tree is almost fully covered with soft faux fur material. You have already guessed – this material will make your fur friends feel cozy and warm.
A Condo And Toys
Apart from the hammock, the unit has a lot more to offer. For one thing, there is a cat condo with hammock and a large entrance included. Also, two jingly balls hang from the two elevated perches. Lastly, the perches are wrapped in natural sisal material to keep cats' claws strong and sharp.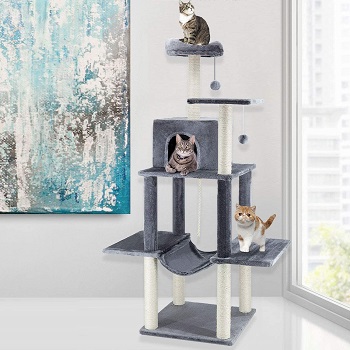 Dimenions And Capacity
The Scratch Me cat activity tree has the following dimensions: 23.6"L x 20"W x 59.1"H. It is a perfect size for adult cats of medium and large sizes. Also, the tree is easy to access, and cats of almost all life stages can climb and perch without problems.
In Short:
multi-level and fun activity tower
includes a condo, perches, and toys
scratching posts are covered in sisal
accommodates cats of all sizes
perfect adult-cat indoor tower
BEST EXTRA-LARGE CAT CONDO HAMMOCK TREE
Bwm.Co Big Cat Playground Tree
Huge Cat Tower Design
Make room for the Bwm.Co's cat tree with hammock because you will require a lot of space to fit the unit. The dimensions of this unit are as follows: 75" x 20" x 103"(LxWxH). This multi-cat tree is another unit with all the possible content included to satisfy the needs of the most active and playful cats.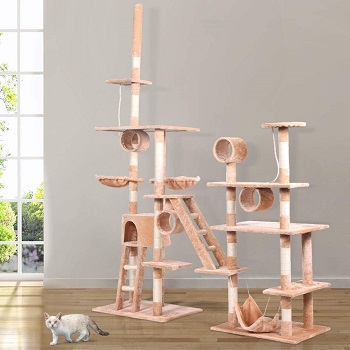 Fully-Equipped And Fun
The included content of this unit is the following: a hammock, two ladders, multiple levels, numerous scratching posts as well as tunnels, baskets, and dangling toys. There is one cat condo included as well. This massive cat tree is not only fun but incredibly cozy too.
Ideal For Cozy Naps
The condo, baskets, and hammock offer your cats comfortable places to sleep. The tree is a soft and warm resting environment. It is an all-inclusive playground for multiple cats. Each cat will have just enough space to perform its favorite activities on a daily basis.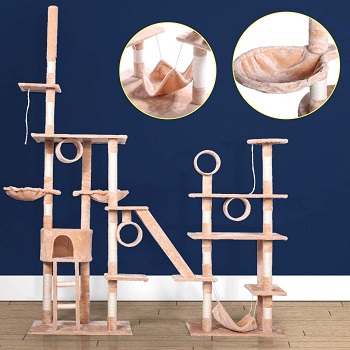 Durable And Proportioned
Bwm.Co's cat condo with hammock and other content is made of particleboard material. It is stable and well-balanced. In order for you to feel more relaxed, we suggest that you place this cat hammock tower next to a wall because it will add extra stability.
In Short:
massive activity playground for cats
adequate for multiple cats
the unit comes fully-equipped
includes both fun and cozy content
sturdy particleboard construction
BEST FOR TWO CAT TOWER WITH HAMMOCK
Catry Perch Hammock Scratching Post Tree
Fine Quality
First of all, it must be stated that the Catry tower for cats is made of fine quality materials – fleece and paper rope. It is a unit that will easily fit two cats at the same time. Secondly, you must know that the tree will hold two cats of small to medium size. Unfortunately, this is not a tree for large cats.
Elegant Design
Thanks to the simple, yet attractive design, this cat tower with hammock will look nice in any home. The heavy baseboard allows you to place the tree in a corner if you wish. There are a hammock and an elevated perch included. Two scratching columns support them and help them to stay in one place all the time.
Small And Space-Saving
Catry's space-saving cat tree measures 15.7-inch L/ 15.7-inch W/ 27.8-in/H. Also, it will hold cats up to 10 lbs. Place the unit either in a corner or next to a wall. You will want to make sure that the tree won't overturn even if both cats jump on it from distance.
The Setup
In the end, this is another model that requires assembly. But the Catry tower is one of those that get set up in less than 10 minutes. Also, the tools are provided by the manufacturer as well as the instructions for the easy assembly. Lastly, the unit's cost is pretty affordable.
In Short:
made of fleece and paper rope
ideal for up to two cats
small and fits everywhere
attractive and elegant design
setup tools are includes
the cost of the unit is affordable
How To Pick: Cat Tower With Hammock
Cat towers with hammocks and are amusing. Cats love them for many reasons. First of all, most cats love to play on the hammocks with their friends. Moreover, they love to sleep and rest inside of them as well. In order to buy the best unit, read on. In our guide, you will learn more about these units and why cats love them so much. They are perfect both for play and sleep. Be sure to buy a tree that will meet all of your cats' needs.
Fun And Entertaining – Cat trees with hammocks and other fun content are just what indoor cats need. They are here to provide your cats with a fun activity center. A cat tree is a must in households with multiple cats. Not only will they help your fur friends to stay active, but they will make them happy, occupied, and healthy too.
Cozy Sleeping Space – A hammock on a cat tree is here to make your cats feel cozy and warm. Some hammocks will accommodate only one cat, while others may hold up to two cats. Check out the models of cat trees and towers with hammocks and be sure to buy the best unit for your pets.
Choose The Right Size – Households with one or two cats will prefer small to medium-sized units, whereas multiple-cat homes will require a large tree. If you are not sure which unit is the best for your cats, you cannot be wrong if you get a multi-level one. But first, be sure it fits into your household and check the dimensions.
Make Sure The Tree Is Stable – A sturdy cat tree is one that is made of the quality and firm materials. Moreover, your new cat tower should be well-balanced in order to stay in one place all the time. If you want to be sure the tree will not tip over easily, place it next to a wall or in a corner.
Where To Buy? – The best cat tower with hammock can easily be found online. However, not every manufacturer makes quality units. Check out the offer on reliable websites and buy from a manufacturer people trust. Also, read customer reviews. They will certainly help you bring the right decision.
To Sum Up
All in all, the cat towers with hammocks that we have reviewed are well-rated online. They are made of quality materials and are completely safe for your lovely fur friends. If we were to pick between these six models, we would go with the Scratch Me Cat Tower With Scratching Post cat condo with hammock tower. The reasons are simple: this is a fun cat tree and it keeps cats occupied and active. Moreover, it includes all the equipment to make cats of most sizes satisfied and healthy. This is an awesome cat tree and perfect for most households!