Are you in need of a massive cat tree for your multiple cats?
In our article, we talk about the best six models that you will find on the online market. Our buying guide will help you find the most appropriate tree for your household. Read on and learn more.
The Summary
Top 6 Massive Cat Trees And Towers
BEST OF BEST MASSIVE CAT TREE
CoziWow Massive Cat Tower
The Size And Capacity
CoziWow is a large and tall cat tree that will fit up to three adult cats of medium to large size. The overall measures of this unit are 67" H x 19.7" L x 19.7" W. The unit comes in a Smoky Gray color and looks nice in almost any household. It is functional and practical.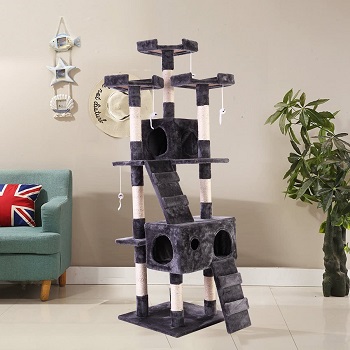 Made Of Strong Material
This massive cat tree is made of high-quality particleboard material. It is a long-lasting unit that will keep your cats safe. The unit is covered with soft and skin-friendly flannel. Such material is cats' favorite. It reminds them of their mother's fur.
Comfortable And Warm
The tree includes two spacious cat condos. Each condo comes with large openings. Cats of any size or breed can access the condo easily. Cats are big sleepers. They will love to rest inside of these condos. Your cats will feel relaxed and safe.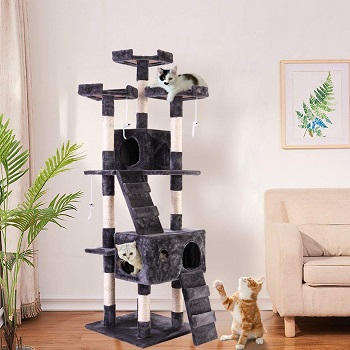 Interactive And Fun
Apart from the resting space, this unit will be your cats' favorite indoor cat playground. There are scratching posts that your cats will use for scratching and climbing. Also, three teasing toys hang from the top perches. They keep cats active.
In Short:
this is a large and tall cat tree
fits multiple adults cats
includes condos and perches
there are three interactive toys
scratching posts makes it easy to climb
BEST BIG MASSIVE CAT TREE
Topeakmart Multi-Level Cat Tree
Choose The Color
This unit comes in five colors. You can choose the unit that looks nicest with your home decor. The colors are light gray, dark gray, navy blue, beige, and brown. The plush that the tree is covered with is pet-friendly and soft.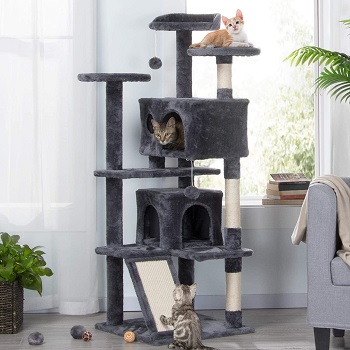 Elevated Perches
There are three elevated perches. They are supported by the scratching columns. This massive cat tree is ideal for cats that love to stay in high places and climb a lot. Also, thanks to the columns, the tree is well-balanced and stable.
Two Cat Condos
There are two condos included. Each condo has large entrances. Cats will love to sleep and rest inside of them. The condos will keep them safe and comfortable. This multi-level cat tree can accommodate up to three adult cats at the same time.
Safe And Fun
The unit is made of pet-friendly materials. The posts are wrapped in natural sisal and the tree is covered in plush covering that is safe for your cats' skin. This unit comes with two hanging cat balls that will make your fur friends feel occupied.
In Short:
the unit comes in five neutral colors
three elevated perches are included
scratching columns keep the unit stable
it is a multi-level and multi-cat tree
safe, fun, and pet-friendly unit
includes two hanging toys
BEST TALL MASSIVE CAT TREE
Go Pet Club Cat Furniture Tree
For Three Cats
Another massive cat tree that will accommodate three cats of any size with no problems. This unit comes with a wide base and many columns that keep it stable and well-balanced. The dimensions of this tree by Go Pet Club are 33″ W x 22″ L x 72″ H.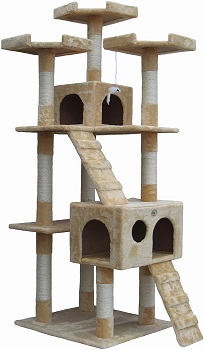 Quiet And Private Condos
The Go Pet Club tall cat tree comes with two condos. The condos are spacious and include two entrance doors each. They make cats feel comfortable and safe. One of the condos is larger and it will fit two cats of smaller size at the same time.
Sisal Posts
The scratching posts are pillars are covered in natural sisal of rough texture. Cats scratch for different reasons. It is their natural instinct. This tree will prevent your furniture from being scratched.
Simple To Set Up
Just like any other model of a cat tree, this tall cat tree for large cats needs to be assembled. All the tools and detailed instructions are included in the package. We suggest that two adults do the job.
In Short:
tall tree that holds large cats too
two spacious cat condos are included
the posts are wrapped in sisal posts
easy and quick assembly is required
the unit is pet-friendly and safe
BEST FOR LARGE CATS MASSIVE CAT TREE
Potby 80" XXL Cat Tree
Stable And Firm Unit
Potby's huge cat tree is one of the tallest on the market. It is constructed of CARB-certified natural particleboards. The material is eco-friendly and long-lasting. The base is thick and heavy. It ensures stability and keeps the tree balanced.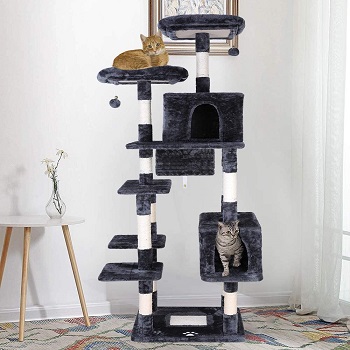 Tall And Large
The overall size of the Potby massive cat tree is 32.7*26.4*80". The net weight is approximately 65 lbs. The unit includes multiple platforms, two roomy cat condos, a tunnel, elevated perches, and teasing cat toys. It is perfect for households with a lot of space.
Pet-Friendly And Safe
All the material used for constructing this unit is completely safe for pets. No toxic material was used. Also, the soft covering is safe for cats' skin. It makes them feel cozy and safe. We suggest you place the unit next to a wall for extra stability.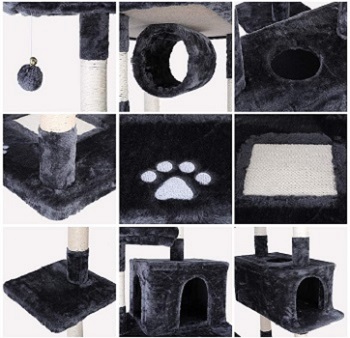 Quality And Price
We consider that this 80-inch cat tree is made of quality materials. We liked the fact that it is tall and includes multiple levels and all other fun content. There is an anti-dumping rope included that allows you to fix the tree on the wall. The price is medium. We don't consider this unit expensive.
In Short:
one of the tallest trees on the market
stable and includes an anti-dumping rope
you can fix the tree on the wall
includes levels, perches, and condos
made entirely of pet-friendly material
BEST MODERN MASSIVE CAT TREE
Amolife X-Large Tree For Cats
Cozy Cat Tree
The unit comes with 2 condos. They are spacious enough to accommodate up to two smaller cats. The elevated perches will satisfy all the needs of cats that love to climb and rest in high places. Cats will surely love to sleep on this tree.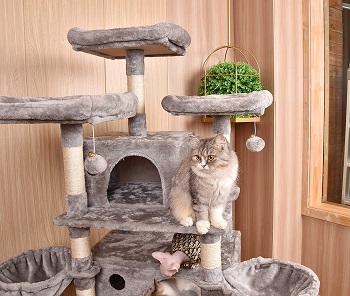 Size And Stability
This massive cat tree by Amolife measures 23. 6″ Lx 19.7″Wx 68″H. It will fit in large spaces only. The tree is well-proportioned which keeps it stable. This sturdy cat tree for large cats will surely last a long time.
Comfortable For Resting
The cat condos included are covered in fluffy and warm materials. Cats love plush because it reminds them of the times when they used to knead their mother's fur in order to stimulate the milk flow. The Amolife is a tree that will provide your cats with a warm and relaxed feeling.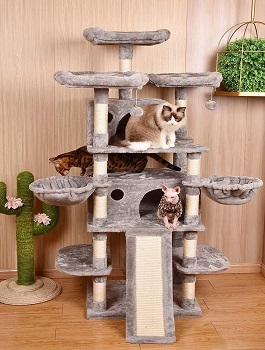 Easy To Assemble
You will need no more than 20 minutes to assemble the unit. We suggest that two adults set this unit up. The package includes easy-to-follow instructions. Follow the instructions step by step and install the unit properly.
In Short:
cozy, warm, and soft cat tree
ideal for sleeping and resting
fun and interactive toys included
there are multiple scratching posts
easy and fast to assemble the tree
BEST CARPETED MASSIVE CAT TREE
GleePet GP78700621 Cat Tree Tower
Carpeted And Soft
GleePet's cat tree is entirely covered in safe and warm faux fur plush. This is another unit that keeps cats comfortable, warm, and relaxed. The soft material is the cats' favorite. Always make sure it is skin-friendly and easy to clean. Vacuum the unit when necessary.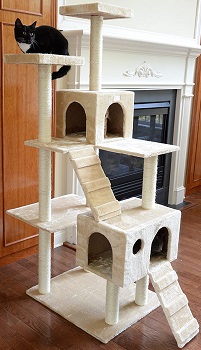 Easy To Climb
This massive cat tree is easy to climb. Apart from the multiple scratching pillars, the GleePet's cat tree includes two large ramps. The top of the tree has two elevated perches that most cats love to climb. Cats that love high places will enjoy observing the area that surrounds them.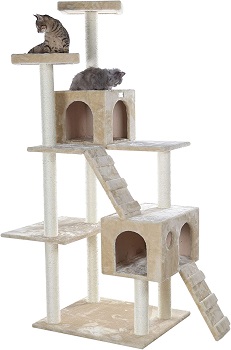 Three Colors
The unit comes in beige, coffee brown, and silver gray colors. Choose the one that you like most. Also, before you buy, make sure you have enough space for such a tall and large unit. This huge cat tree measures 48.3 X 27.5 X 70.3. The size of the base is 27.2 X 23.2 X 0.6.
In Short:
it is entirely covered in faux fur
soft, warm, comfortable cat tree
the surface is simple to clean
vacuum this tree regularly
includes posts and ramps
How To Pick: Ideal Massive Cat Tree
Tall, roomy, and massive, these cat trees are perfect units for homes with a lot of space. Such units will make your active and social cats happy. Big cat trees often include interesting content that will satisfy all of your cats' needs. However, before purchasing, ensure the unit is stable and firm. It should be made of safe and skin-friendly material. Read on and find out more.
For Large Spaces – Logically, if you have a small apartment there is only a slight chance you will manage to fit such a large tree into it. This is why it is important that you have enough space at home. Know where you are going to place your new cat tree. Check the tree's size and be sure it is appropriate for your household.
Elaborated Design –  Big and spacious cat trees are everything but ordinary. They include multiple levels, cat condos, hanging hammocks and baskets, elevated perches, interactive cat toys, and scratching posts. They come in different colors or with different patterns. You can easily choose the model that best fits your home decor.
For Multi-Cat Households – Such cat trees are designed to meet the needs of multiple cats at the same time. Most cats are active and playful animals. They love to climb to high places and observe their surrounding. Also, they love to play with interactive toys but also sleep in a private and safe environment. Massive trees and towers will provide your cats will all they need for a healthy life.
Stability And Sturdiness – Wide cat trees, trees with a heavy base, and those that can be secured to the wall are the most stable ones. Be sure that your new unit is made of firm and sturdy material. Also, the manufacturer should guarantee that the tree won't tip over easily if more than one cat jumps off of it at the same time.
Interactive And Cozy – Massive cat trees are fun and entertaining. The scratching posts are here to keep your cat's claws strong and healthy, but also they make it easier for cats to climb to high perches. The teasing toys will attract your cat's attention and keep it occupied. Most units include carpeted and soft perches or cat condos. They keep cats relaxed, warm, and safe.
To Sum Up
Before you buy a massive cat tree you must check its stability and quality material. Trees with a wide and heavy base are the most stable ones. Our top pick is the CoziWow Massive Cat Tower. We liked it because it is safe, fun, and warm. If you liked this unit as well, we invite you to check our articles about the sturdy cat towers and extra-tall cat trees.