Are you in search of an extra-tall cat tree that will satisfy the needs of your climber cats?
In our article, you can read more about the six best models that you can find available online. Learn all about the best of best, playground, 3-tier, carpeted, modern, and multi-cat tree. Know your cat's nature and buy the right model for your household.
The Summary
Best 6 Extra Tall Cat Tree
BEST OF BEST EXTRA-TALL CAT TREE
Pawhut Tall Cat Tree
Tall Activity Center
The Pawhut's tree for cats comes with five carpeted platforms and a cozy cat basket. It is ideal for households with more than one or two cats that love to play, climb, and explore. Get this indoor cat tree and make your cats active and happy.

Adjustable Height
This unit ranges in height from 90.5"-102.25". Adjust it as you need to and secure it to the ceiling. The included tension rod will keep this extra-tall cat tree stable. Detailed instructions for the installation are included as well.
Cozy And Warm
This cat tree is almost entirely carpeted and covered in skin-friendly plush material. Your cats will love to sleep in the basket or on the perches. Such a fluffy material will make your lovely fur friends relaxed, warm, and safe.

A Scratching Column
The unit's column is made of P2 grade particleboards. It is almost entirely covered in sisal material. Its rough texture promotes scratching. This unit helps to maintain cats' claws strong and healthy.
In Short:
tall and multi-level cat tree
promotes active life
invites cats to scratch
almost entirely carpeted
adjust the tree's height
BEST PLAYGROUND EXTRA-TALL CAT TREE
Furhaven Extra Tall Cat Condo
Keeps Cats Active
Furhaven's cat tree is fun and amusing. It keeps cats entertained and active. The unit includes all the fun and cozy content and satisfies all of your cats' needs. It is a cat tree for cats of all sizes, ages, and breeds.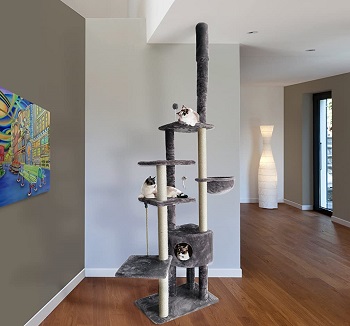 Multiple Scratching Posts
Cats' natural need is to scratch on a rough material. Cats scratch to maintain their claws strong and healthy, to leave a visual mark, or to stretch after waking up from a nap. The Furhaven's extra-tall cat tree includes multiple posts and satisfies cats' natural needs.
Cozy And Carpeted
This unit is made of the quality and pet-friendly material. It is strong and sturdy and cats can play for hours. When cats get tired, they can choose a perfect space for napping and sleeping. This unit includes a condo, a basket, and perches.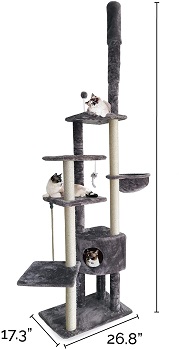 Useful To Know
The measures of this multi-cat tree are 26.8″ x 17.3″ x 100″ to 113″. You can choose between two colors – gray and cream. A dangling prey mouse toy is included as well. It attracts your cats' attention and keeps them occupied.
In Short:
tall and multi-cat tree
includes platforms and perches
a roomy cat condo is included
this tree is carpeted and warm
ideal for scratchers and climbers
BEST 3-TIER EXTRA-TALL CAT TREE
Cat Craft 12400301GRCOM Tall Tree
Simple Design
If you are looking for something simple and quality, then you might like the minimalist cat tree design of the Cat Craft unit. It includes three tiers. The unit is carpeted with a skin-friendly and warm faux fur cover. It is smooth and warm.

For Climbers
Most cats love to climb and stay in high places. Cats love to observe their surrounding from high locations because it makes them feel confident. It is their natural instinct. Indoor climber cats will love this extra-tall cat tree. It will satisfy their natural needs.
Choose The Color
The Cat Craft's cat tree comes in four different neutral colors. You can pick between charcoal, dark chocolate, earth tones, and gray. Choose the unit that best matches your home decor and looks nice with your other furniture.

Dimensions And Capacity
This unit will fit all ceilings up to 9 feet tall. The unit will be stable enough even if three cats play on it at the same time. Mount this unit in no time. Attach it to the ceiling and keep your cats safe and happy.
In Short:
this tree's design is simple
this tree comes in 4 colors
extra-tall cat tower for three cats
entirely carpeted cat tree
ideal for climbers and scratchers
BEST CARPETED EXTRA-TALL CAT TREE
Roypet Floor To Ceiling Cat Tower
Dimensions And Capacity
Roypet's extra-tall cat tree measures about 18.11″Lx11.81″ Wx 90″-116″H. This tree is stable and durable and it will accommodate more than 2 medium-sized cats. This tree is space-saving and fits nicely into almost all homes.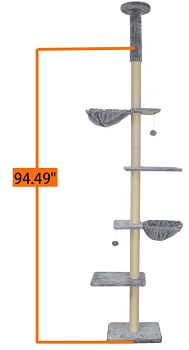 Covered In Faux Fur
This extra-tall cat tower is covered in soft and warm material and natural sisal. The faux fur platforms make cats feel comfortable and warm. The sisal scratching column will attract your cats' attention and invite them to maintain their nails strong.
Promotes Healthy Behavior
Indoor cats are not as active as those that go outdoors. If you are an indoor cat owner, then it is highly advisable that you own a piece of cat furniture that will make your felines happy and active. The Roypet's amazing cat tree is a healthy activity center for your fur friends.
Easy To Install
The instructions are included, as well as the tools and hardware. This cat tree is easy to fix with security tools. We suggest that you install this cat tower with another adult. Take your time and make sure the tree is safe and stable enough.
In Short:
adjustable height (90″- 116″)
fits almost all ceilings
easy to attach and install
ideal for multiple cats
this tree is cozy and pet-friendly
BEST MODERN EXTRA-TALL CAT TREE
Kinbor Sisal Scratching Cat Tower
Carpeted And Deluxe Design
Kinbor's cat tree is covered with soft and fluffy plush material. It offers a comfortable napping and sleeping experience. The unit includes a heavy a wide baseboard. It comes with a ladder and a cat condo. There are multiple platforms included too.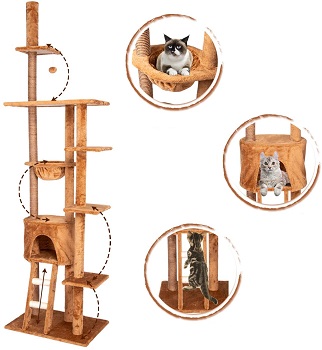 Sturdy And Stable
This is a solid-wood cat tree. It is stable and hard to tip over. The tree is going to last you a long time. For extra stability, we always suggest that you place the unit next to a wall. This is another floor-to-ceiling model and it will fit in almost any home.
Fun And Cozy Content
This indoor cat playground tree includes scratching posts, multiple levels, large perches, and an interactive cat toy. The toy hangs from the top and swings back and forth. This will attract your cat's attention and keep it occupied sometimes for hours.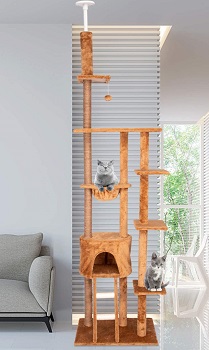 All Tools Included
Just like any other extra-tall cat tree, you are going to need to assemble and install this unit. It is recommended that two adults do the job. The assembly is simple and quick. All the tools and hardware are included as well as step-by-step instructions.
In Short:
the unit is carpeted and warm
pet-friendly and skin-friendly material
scratching posts are included
there is one cat condo
it is easy to install the unit
BEST MULTI-CAT EXTRA-TALL CAT TREE
S-Lifeeling Climbing Multi-Level Tree
Three Colors
Choose between 3 colors of the S-Lifeeling cat tree – beige, purple, and black. One of these colors will surely fit nicely into your household. This is another extra-tall cat tree that comes with a simple and minimalist design.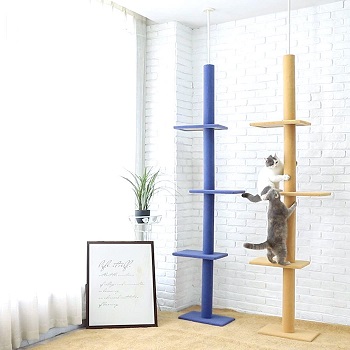 Made Of Safe Material
The material the S-Lifeeling cat tree is made of is the eco-friendly board. The material is safe for your cats and the environment. The baseboard is heavy and stable. The unit is covered with a thick carpet covering as well.
For Multiple Active Cats
This 3-tier cat tree will accommodate up to three cats with no problem. Indoor cats need to be as active as outdoor cats. This cat tree will allow your cats to climb, scratch, and play between levels. The unit can be attached to the ceiling.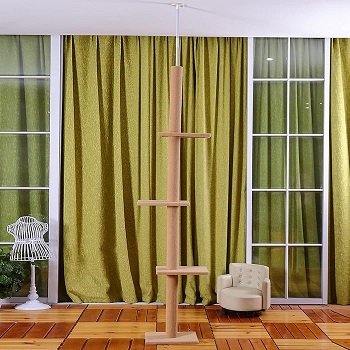 The Installation
All the hardware and tools are included. The easy-to-follow instructions come with the package too. This unit is easy and quick to assemble. We suggest that two adults do the job.
In Short:
choose between 3 colors
this tree is stable and firm
made of eco-friendly material
covered in a thick carpet
the tree is completely safe for cats
How To Pick: Extra Tall Cat Tree
In the following few paragraphs, you can read more about the benefits of owning an extra-tall cat tree. Besides that, check out which models and types you can choose from. Make sure your unit is safe and stable. Install it properly and allow your indoor cats to have fun and climb and play for hours.
Benefits Of Tall Cat Trees – Young, active, and playful cats love to climb and explore. If you have indoor cats and you still don't own a cat tree, then your cats probably run around the house and climb and scratch your furniture. This is normal. It is a cat's need and its natural instinct. Tall trees and towers will satisfy all of your cat's needs, keep it active, and save your furniture from damages.
Different Types And Models – Today, there is a large variety of cat trees on the market. When it comes to tall cat trees, you can choose between tall narrow cat trees that occupy almost no space. There are floor-to-ceiling models that get attached to the ceiling in order to stay more stable. You may like a tall and wide cat tree which is perfect for a multi-cat household. Lastly, there are tall wall cat trees that are ideal for small spaces and active cats.
Multi-Level And Fun – All tall units for cats include multiple levels and platforms. Some of them include elevated perches. Cats love to climb there, stay in a high location, and observe the area that surrounds them. It makes them feel confident and safe. Your new unit will probably include multiple scratching posts, columns, and pillars. Apart from that, some tall trees come with interactive cat toys too.
The Setup Process – Most cat trees need to be set up. But don't worry. Usually, the assembly lasts no more than 30 minutes. All the tools and hardware must be included in the package. Follow the instructions step by step and make sure you install the unit properly. It must be stable and safe.
Ease Of Maintenance – If your new tall cat tree is entirely carpeted, you are going to need to vacuum it from time on time. On the other hand, some extra-tall cat trees include no carpets but may come with cushions. They are usually easy to remove and can be machine-washed. Clean your new unit regularly. It is important for your cats' health.
To Sum Up
The Furhaven Extra Tall Cat Condo is the extra-tall cat tree that we like the most. It is modern, fun, includes a cat condo, and all other content that every indoor cat needs for a healthy life. This cat activity tree looks nice with most home decors and keeps cats safe. If you want to check our more similar models, then we invite you to read our article about cat condo tree houses.