Have you been looking for elegant cat trees that will blend nicely with your home decor?
Look no more! Read our article and find out everything about high-end cat furniture. We have made the top list of the six best models and divided them into different categories. Check out all about the best of best, tall, condo, house, small, and cat tree without carpet.
The Summary
Best 6 Fancy Cat Trees And Towers
BEST OF BEST ELEGANT CAT TREE
Polis Bebe Cat Tree Fancy
Grey Corner Cat Tree
This grey medium cat tree by Polis Bebe has three floors and includes two spacious cat condos. This unit has a special design and can be placed in a corner. If you have a lack of space at home, this can save space. The Polis Bebe's cat tree is ideal for households with multiple cats.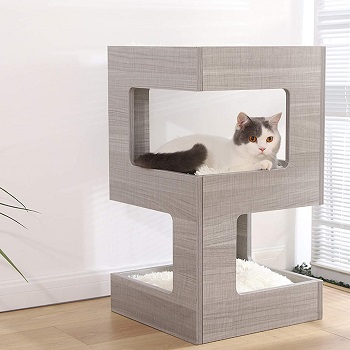 For Three Cats
If you have up to three adult cats at home, this fancy cat tower could be the right for you. Each cat can stay on one level with no problems. The unit is well-balanced and sturdy. Place it in a corner or next to a wall. This will add extra stability.
Includes Soft Cushions
There are three cushions that the unit includes. Each one fits one level perfectly. The cushions keep your cats warm and make them feel safe and comfortable. They are easy to remove which will help when you need to clean the tree. The cushions are machine washable.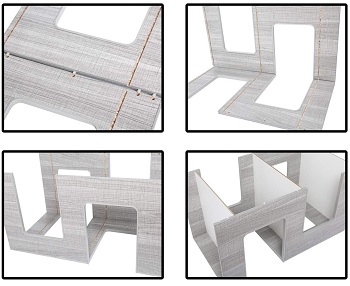 Setup Process
Simple and quick assembly is required. Follow instructions step by step. One or two adults will do the job quickly. The assembled size of this elegant cat tree is 16*16*28''(L*W*H).
In Short:
modern three-level cat tree
includes two spacious condos
there are 3 removable cushions
can be placed in a corner
accommodates up to 3 adult cats
BEST TALL FANCY CAT TREE
Made4Pets Elegant Cat Tower
Multiple Levels
This beautiful cat tree made by Made4Pets is tall and includes 6 levels. It is an ideal cat tree for large spaces and households with multiple cats. Cats are active animals and their natural need is to climb, jump, and play. This unit will satisfy all of your cat's needs.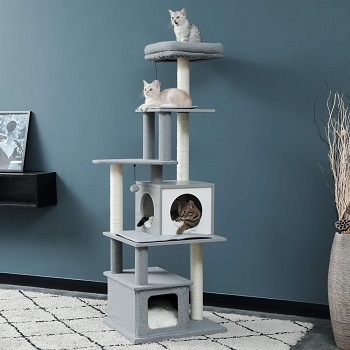 For Active Cats
If your cats are playful and love to run around the house, then this unit will be a perfect match for you. Cats that love to climb will get to jump between levels, climb the posts, and stay on top platforms. There are two teasing toys included as well that attract cats' attention.
Sisal Scratching Posts
This fancy cat tree includes multiple scratching posts. They are wrapped in natural sisal rope. Such rough material will attract your cats and allow them to maintain their claws strong and healthy. Cats' natural need is to scratch and with no scratching posts, your cats may damage your furniture.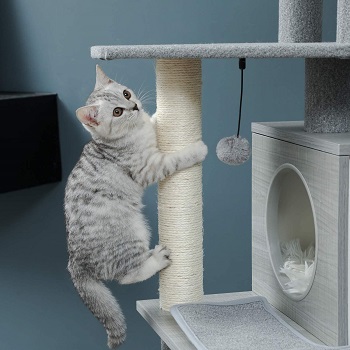 Sturdiness And Durability
This unit is made of heavy and quality particleboard material. The base is heavy and wide and keeps this multi-level cat tree stable. The unit is sturdy and made of strong material. It is well-proportioned as well and it does not wobble when cats jump off of it.
In Short:
this is a 6-level cat tree
ideal for multiple cats
for active and playful cats
the tree includes interactive toys
there are multiple scratching posts
BEST BED HIGH-END CAT FURNITURE
Penn Plax Fancy Cat Bed
Modern Design
Penn Plax's bed is a piece of mid-century cat furniture. It is beautiful, modern, and looks nice in any elegant and stylish household. This cat bed is suitable for one or two adult cats. It will be their new favorite resting location.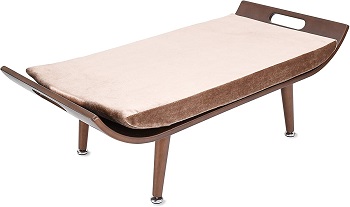 For Cuddly Cats
Our suggestion is that you get this cat bed if you already have a suitable cat tree at home. Also, it may be a great unit for shy and cuddly cats that don't like to play a lot. Senior cats will love this bed as well. It is easy to climb and comfortable to sleep on.
Soft And Cozy
The Penn Plax's fancy cat condo bed includes a removable cushion. The cushion is made of foam. It is soft and makes your cat feel safe and cozy. The cushion can easily be washed. Keep it clean to make your cat feel comfortable.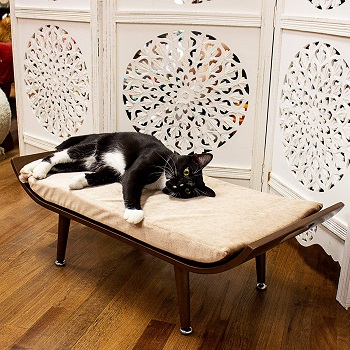 Sturdy Construction
The framing is made of durable fiberboard material. It is lacquered in a brown finish. The unit stands on four legs. You will need to set this high-end cat tree bed up. Simply attach the legs to the main unit and your cat is ready to use the bed.
In Short:
mid-century modern cat bed
ideal for one or two cats
perfect for cuddly or senior cats
the unit is sturdy and freestanding
this cat bed stands on four legs
a removable and soft cushion is included
BEST HOUSE HIGH-END CAT FURNITURE
Catry Fancy Cat House
Safe And Private Place
Catry's elegant cat tree includes a wide base, a ground floor cat condo, a scratching column, and a top perch. This unit provides your cat with a safe and comfortable private sleeping space. There is a teasing toy that hangs from the top perch and keeps your cat active.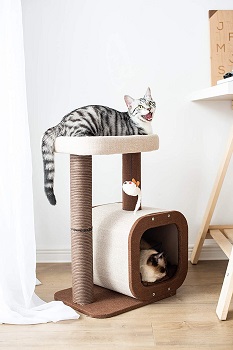 Quality Construction
This unit is made of top-quality particleboards. It is covered with a skin-friendly cover that keeps cats warm and cozy. It is an ideal cat tree for up to two adult cats. The mats are easy to remove which helps with cleaning.
For Scratchers
If you want to prevent your cats from scratching your favorite sofa or other furniture, the Catry short cat tree is ideal for your household. The side scratching column is wrapped in paper rope. It attracts your cats and allows them to scratch and maintain their claws healthy.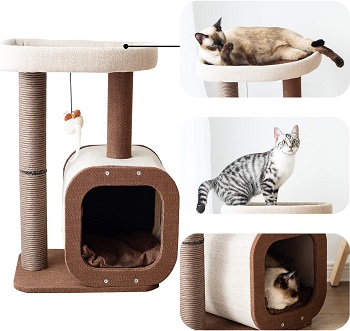 Durable And Stable
The unit is stable and hard to overturn. It will last you a long time, as long as you use it properly. It is not recommendable for households with more than 2 adult cats. Also, if you have large cats such as Maine Coon, we advise you to look for another unit.
In Short:
cat tree with a condo house
includes a top platform
there is a side scratching post
a hanging cat toy is included
this is a two-cat tree
BEST SMALL FANCY CAT TOWER
Oak & Paw Elegant Cat Furniture Tree
Deluxe Tree Design
This unit by Oak & Paw is small but spacious enough. It includes a ground floor cat condo and two elevated perches. The perches are supported by scratching columns. This luxury cat tree will look nice with your other modern furniture.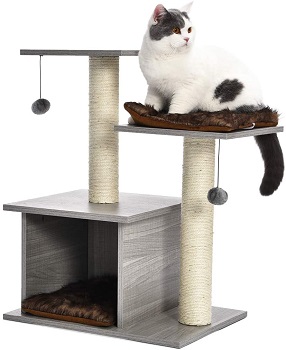 Cozy Tree And Sturdy Material
This cat tree is made of durable compressed wood. It makes the unit stable and sturdy. There are two faux fur cushions included. You can place them both on perches. One of the cushions will fit inside of the cat condo as well and keep your cat warm.
Size And Capacity
This high-end cat tree measures approximately 18" x 18" x 24". Its net weight is about 15 lbs. This tree will hold two adult cats or up to three smaller-sized cats with no problems. If you place it next to a wall, it will be hard to overturn.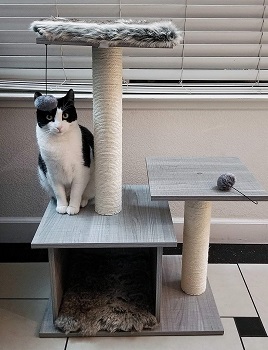 Fun And Interactive
Each perch includes bouncy plush cat balls. The toys will swing back and forth and keep your fur friends occupied. Some cats will love to play for hours. The scratching posts ease your cat's climbing and help them maintain their claws strong.
In Short:
small and luxury cat tree
includes a condo and two perches
the unit holds up to three cats
this tree is interactive and cozy
two removable cushions are included
BEST WITHOUT CARPET HIGH-END CAT TREE
Catforest Elegant Tree For Cats
Made Of Natural Material
Catforest's fancy cat tower tree is made of natural pine wood. It is pet-friendly and non-toxic. This unit is strong and durable. It is hard to collapse or overturn. It will accommodate cats of all sizes and breeds and stay in one place even if two cats jump off of it at the same time.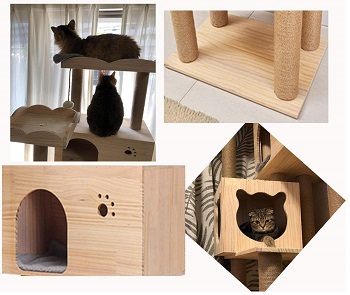 Tall Design
Catforest's unit is a tall and eco-friendly cat tree. It includes multiple levels, perches, scratching posts, and many more. It is a cat tree that keeps active and playful cats occupied. This tree is approximately 62" tall.
Interactive Content
This great piece of high-end cat furniture comes with multiple scratching posts, perches, and an interactive teasing toy. It will keep indoor cats active for hours. The scratching posts will help your cat to stretch after waking up from a nap and to leave a visual mark.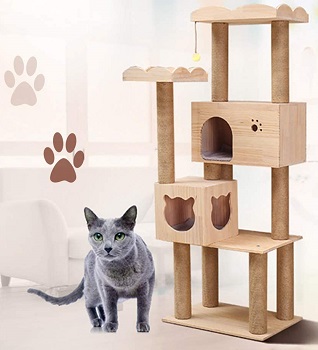 Cat Condos
There are two condos included. Each condo is spacious enough for one adult cat. The condos provide your cats with a safe and private space for sleeping and resting. There is a soft sheet included which makes your cats feel more comfortable.
In Short:
this unit is eco-friendly and safe
made of natural pine wood
ideal for multiple cats
includes scratching posts
there are two cat condos
How To Pick: High-End Cat Trees
Buying a fancy cat tower or tree is easy. The market is full of interesting and elegant models. However, not every elegant cat tree is made of fine materials. There are a few qualities that you should look for in a fancy unit before you buy. It is the appropriate size and right holding weight, the quality construction, and extras such as condos or scratching posts. Read on and find out more.
Beautiful And Stylish Design – Today, you can choose between a variety of elegant and stylish products for your fur friends. Modern cat tree furniture will satisfy your cat's needs and look nice with your home decor at the same time. What happens sometimes is that customers like the product's design so much that they forget to check if the unit is safe and made of quality materials. Do not make the same mistake! Be sure you check the product's maximum holding weight as well.
High-Quality Construction – Sometimes modern and fancy pieces of cat furniture and cat trees look nice from the outside but are not made of the material that you can consider durable and quality. Units that are constructed out of natural wood are most durable and sturdy. Such units will last you a long time. There are more affordable units as well. They are mostly made of particleboards, veneer, or MDF.
Choose The Appropriate Model – Small, shy, senior, or cuddly cats will prefer spending time on a cozy and short cat tree. A condo with a cushion and a scratching post will be just enough for them. However, active, playful, and social cats have the need to climb, play, jump, and stay in high places. Make sure you find an appropriate piece of cat furniture for such cats. A tall and wide cat tree will include all the content that will keep them occupied.
Check Carrying Capacity – Not every cat tree or condo will accommodate more than one cat. A smaller-sized unit will mostly fit one or two small cats. On the other hand, tall and spacious units may sometimes hold up to four cats at the same time. To make sure your new piece of cat furniture is going to last, check how much it can hold.
Extra Cat Tree Content – Many fancy cat trees include at least a cat condo and a scratching post. Such simple units will be great for cats with calm personalities. However, if you want to get an elaborated cat tree for active cats, we suggest that your new cat tree includes platforms, perches, baskets, hammocks, and interactive toys. Most other cat furniture pieces such as single condos and beds include a removable cushion or a hanging toy. Know which content your cat needs most.